In this article, we compare Mailchimp vs Constant Contact to see which of these popular email marketing tools comes out on top.
Both are solid options that have been around for a while, but they each have their own unique combination of features, which means that one will undoubtedly suit you better than the other.
To help you decide, we're going to be comparing the features, along with the usability, customer support, pricing, and integrations so that you can select the best option for your business.
In a rush? Don't worry. Here's a quick TL;DR:
Overall, Mailchimp offers better value for money and a great user experience, so for bloggers and most small business owners, Mailchimp is a no-brainer.
However, if you are a business that runs ticketed events, you will love the features that Constant Contact has to offer.
Although it's slightly more expensive than Mailchimp, it makes organizing, promoting, and accepting payments for your events a breeze.
You can get a free trial of Constant Contact right here to see if it's right for you.
Mailchimp has a forever free plan, as well as great value paid plans. Try Mailchimp Free Here.
Both Mailchimp and Constant Contact have been around for a good while now, so you can feel confident that when it comes to email marketing, either one will do a great job.
That being said, although both have similar features on the surface, there are some subtle differences you should be aware of. It's important to research both options to ensure you choose the one best suited to your needs.
Mailchimp
Mailchimp is a popular email marketing tool that was founded back in 2001 with the aim of making email marketing accessible to all.
It has come a long way since its early days, evolving from a simple email service provider to a sophisticated marketing automation platform with world-class customer support.
It was recently acquired by Intuit, but despite its now impressive size (and impressive market share), it still has a heavy focus on helping small businesses grow.
Constant Contact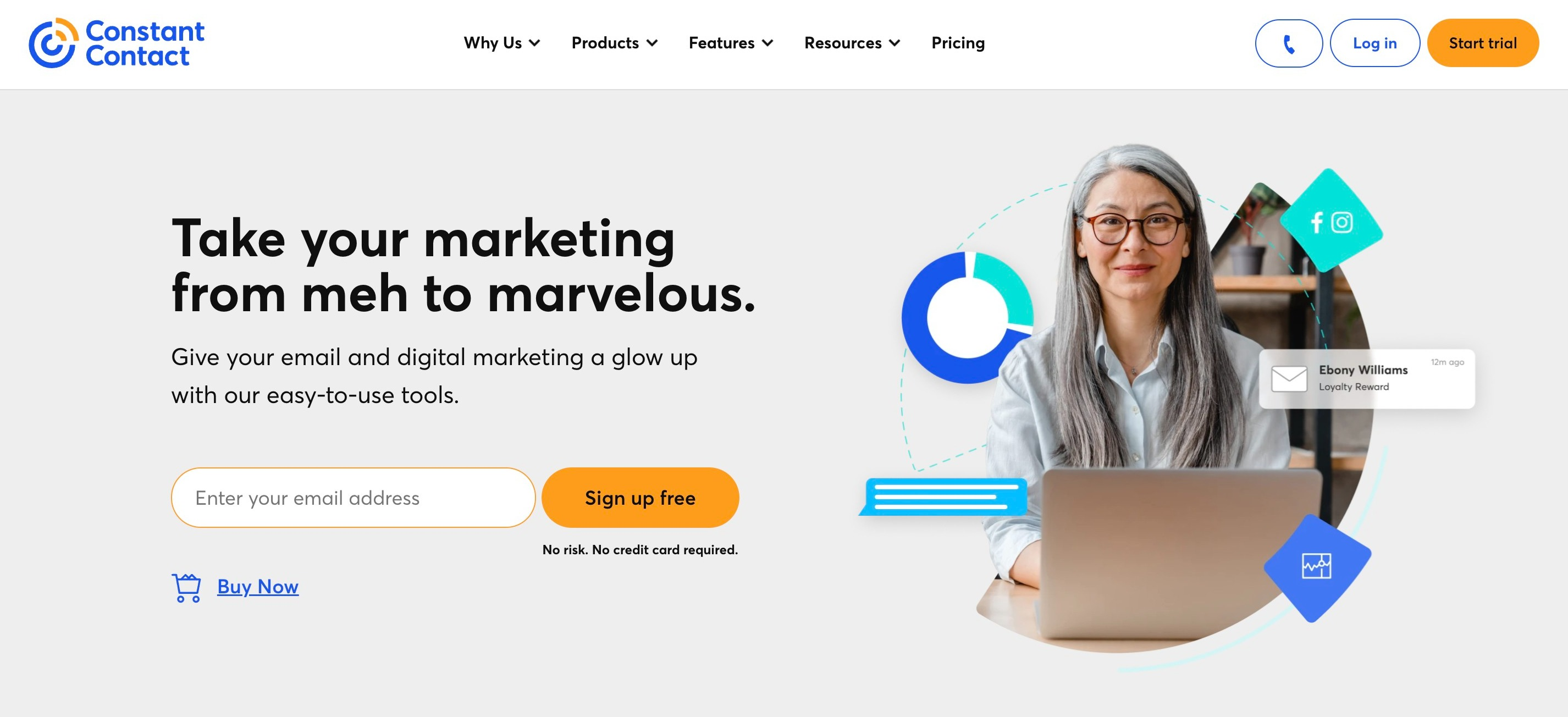 Like Mailchimp, Constant Contact is designed as an all-in-one email marketing and marketing automation tool. It's renowned for being easy to use and is just as popular with beginners as it is with more seasoned marketers.
It has some excellent features for event marketing, making it easy to create landing pages, email invitations, and paid tickets for your event without the need to use integrations.
Now, let's dive a little deeper and take a look at the features on offer from Mailchimp and Constant Contact.
Mailchimp's Main Features
As you might imagine, this email marketing platform has a hefty range of features. This means you have everything you need in one place.
Mailchimp's main features include:
Email marketing
Landing pages
Website Builder
Marketing automation
A/B testing
Campaign manager
Drag and drop editor
Dynamic content
24/7 email and chat support
If you're a blogger or small business and only need up to 500 contacts, then you'll be thrilled to hear that you can take advantage of the completely free plan that Mailchimp offers.
And don't worry if you need help with using Mailchimp; their customer service team is contactable via email on all plans. 
Set up automated email campaigns, resend emails easily, and even take advantage of over 100+ email templates to quickly and easily send professional emails that can help increase your sales numbers.
The reporting tool lets you keep track of how many of your emails have been opened, what people click on following your email, and even how many of these emails have converted to sales.
You can even test different subject lines, send names, and send times to see which helps your emails perform the best.
Mailchimp users can also take advantage of generative AI to enhance their marketing campaigns. It uses Intuit Assist, which works across Intuit platforms to generate engaging emails that your customers will love at the click of a button.
This innovative platform also uses AI to predict the best send times for your audience, recommend the best products, and segment customers to create personalized campaigns.
Together, these features can help you optimize your open rates and conversion rates and grow your business effortlessly.
Constant Contacts Main Features
Much like Mailchimp, Constant Contact offers an impressive list of features, including automated emails and over 200+ email templates for users to take advantage of.
Constant Contact's main features include:
Email marketing
Email templates
Marketing automation
Landing pages
Event marketing
List building tools
A/B testing
CRM
Reporting
E-commerce
SMS marketing
Social Media Marketing
Mobile app
One of the most popular features is the drag-and-drop email builder. This makes it simple for you to put together an email that looks exactly the way you want.
Audience lists and an AI generator also help to ensure that not only is your email content top-notch but that the emails you send are super organized and reach the right audience.
Constant Contact has some fantastic new AI features. It can use AI to generate content for you based on your keywords, and it can even recommend subject lines that are likely to get you the high open rates you're looking for.
Constant Contact doesn't have a reporting system quite as extensive as Mailchimp. However, you do get access to email open rates, clicks, and conversion rates.
This makes it perfect for basic data and those that are new to email marketing software. It also has basic A/B testing abilities, allowing you to test subject lines to see which converts the best.
Both Constant Contact and Mailchimp are known for being easy to use.
Mailchimp's user interface is famous for being super intuitive and easy to navigate, making it easy for even complete beginners to create effective email campaigns.
Both of these tools offer a variety of beautifully designed email templates. This is great for beginners or those looking for a little inspiration on what email to send because it helps put together an email quickly and easily.
The fact that they have a themed template for pretty much any occasion also means that reaching out to customers is made as easy as possible.
Customer Support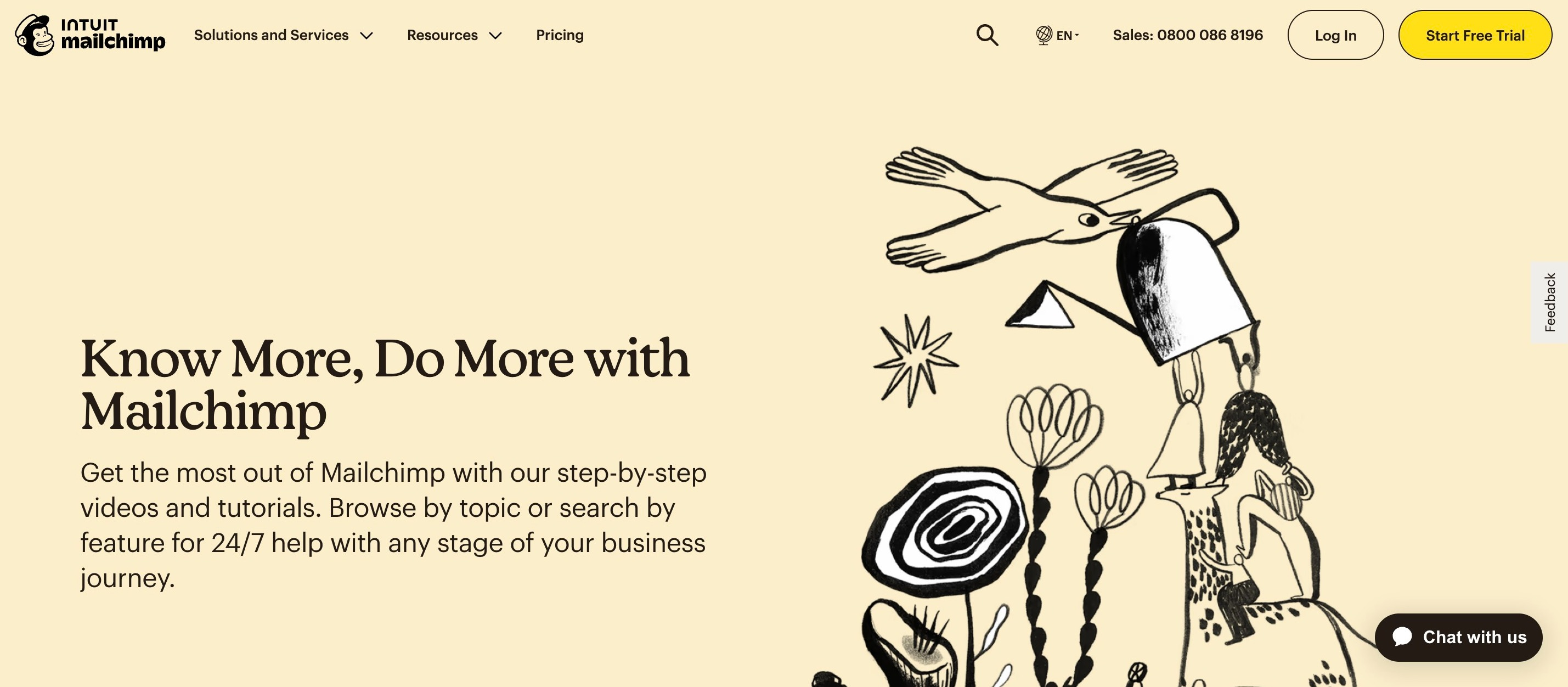 Whether you're new to email marketing or not, it's important to know that if you have any questions about using a tool, you can contact someone. Both Constant Contact and Mailchimp have fantastic customer support options. 
Constant Contact offers both live chat support, email support, and phone support, although it is worth noting that their phone lines are only open Monday to Friday.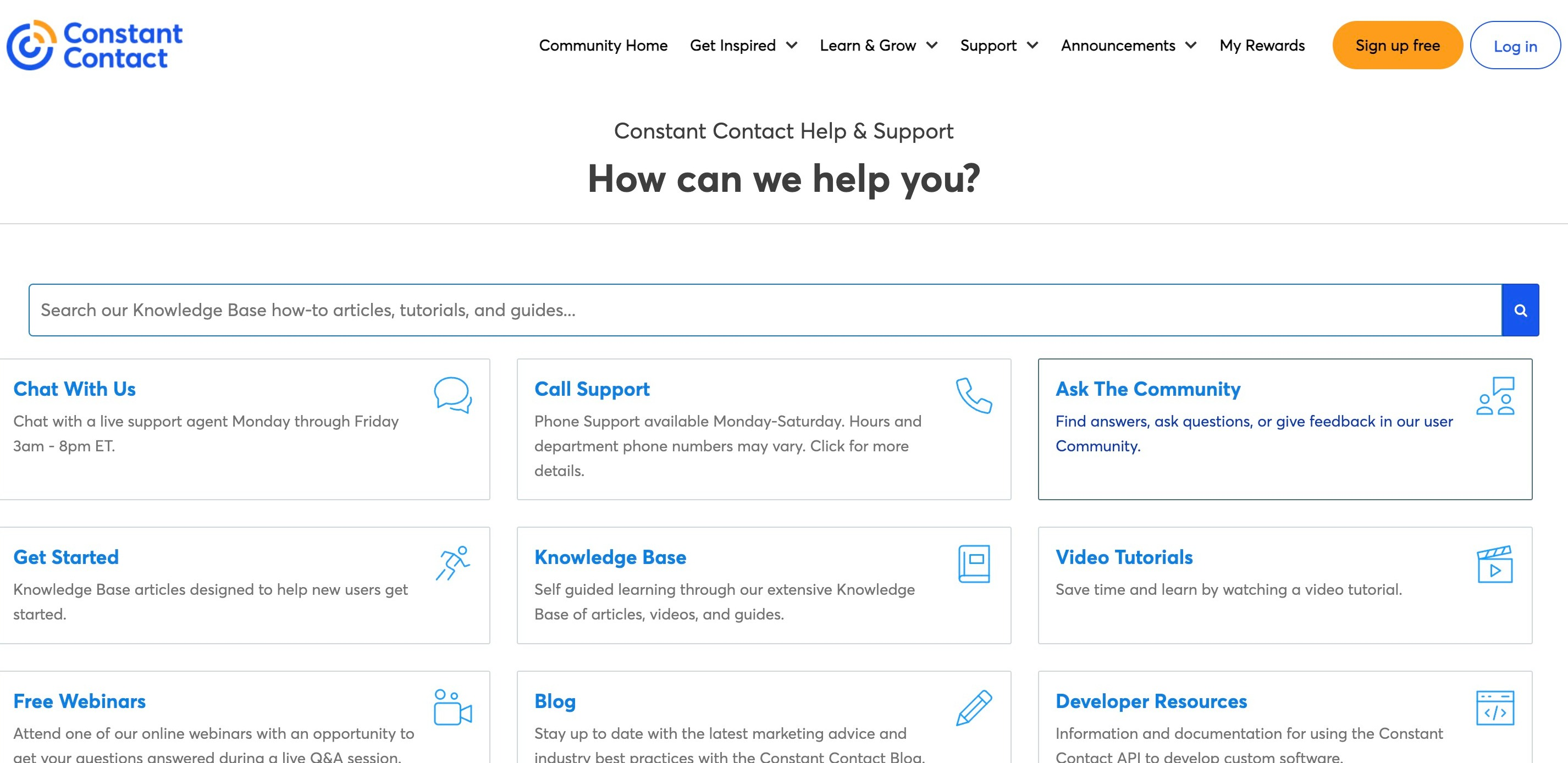 Mailchimp also has a range of ways to be contacted. However, the options available to you can depend on the plan you're subscribed to. For example, chat support is available to any plan 24/7.
But… if you want to speak to someone on the phone, then you need to be subscribed to their highest-paid tier.
If you're on their free plan, then you'll be able to email them for just the first 30 days of being a member. After that, your options for contacting Mailchimp are limited.
That said, both have extensive resources on their websites. There is also plenty of information on both tools online, so finding answers to non-account-specific questions should be relatively easy.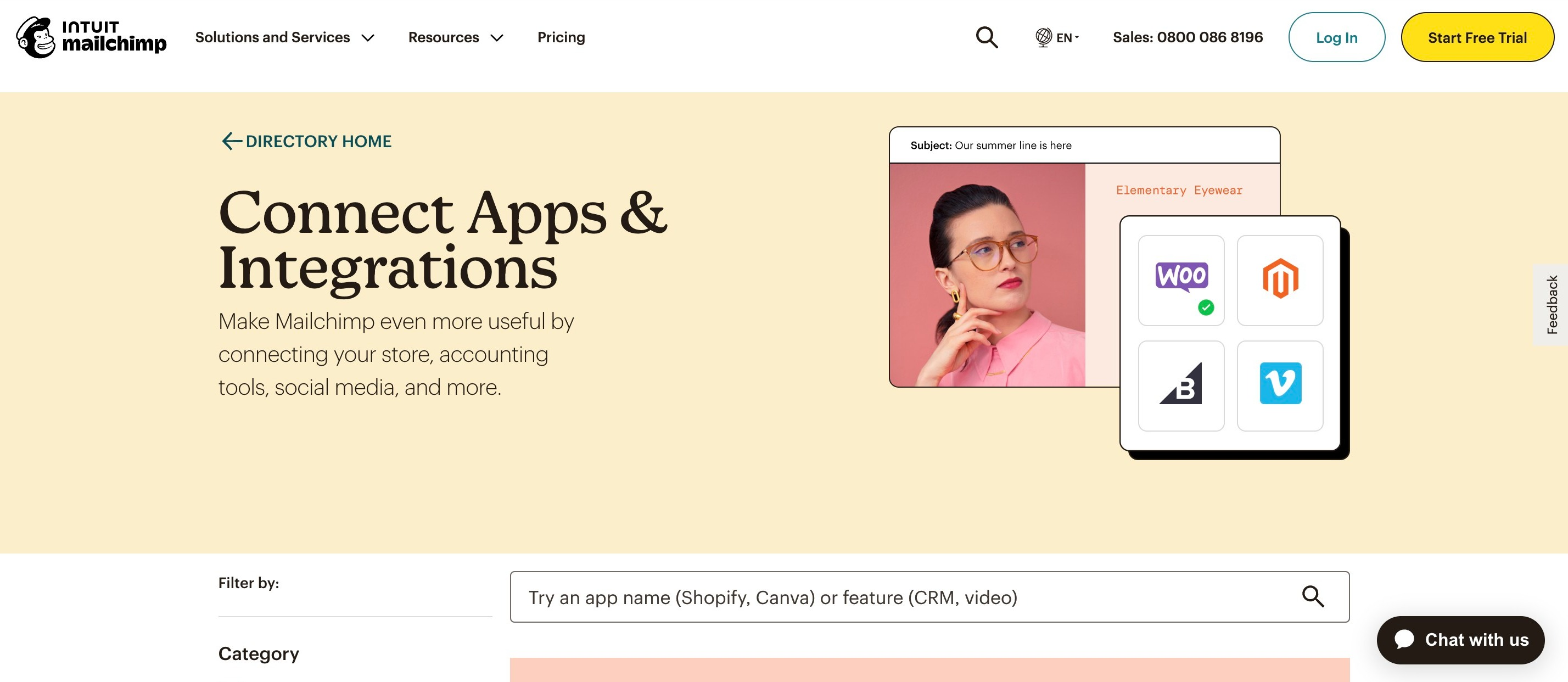 Although both tools have an impressive list of features, the fact that they both integrate with a number of third-party software options is great news.
Mailchimp has a comprehensive array of integrations that will cover the vast majority of users' needs, including: 
Facebook – This integration gives the ability to place posts straight to Facebook, engage your audience with Instagram content, and increase your following.
X (Formerly Twitter) – Integrations give the ability to broadcast tweets (Now referred to as "posts" by the platform) linking to your emails directly and take advantage of your existing X content.
WooCommerce
Eventbrite
Canva
Zapier 
Google Analytics
SurveyMonkey
Squarespace Commerce 
The great news is that Constant Contact offers its own pretty comprehensive array of integrations with similar features and benefits, including: 
Facebook
WordPress 
Instagram
Google
BigCommerce
eBay
Shopify
Shipstation
Stripe 
Wix Ecommerce 
WooCommerce
Etsy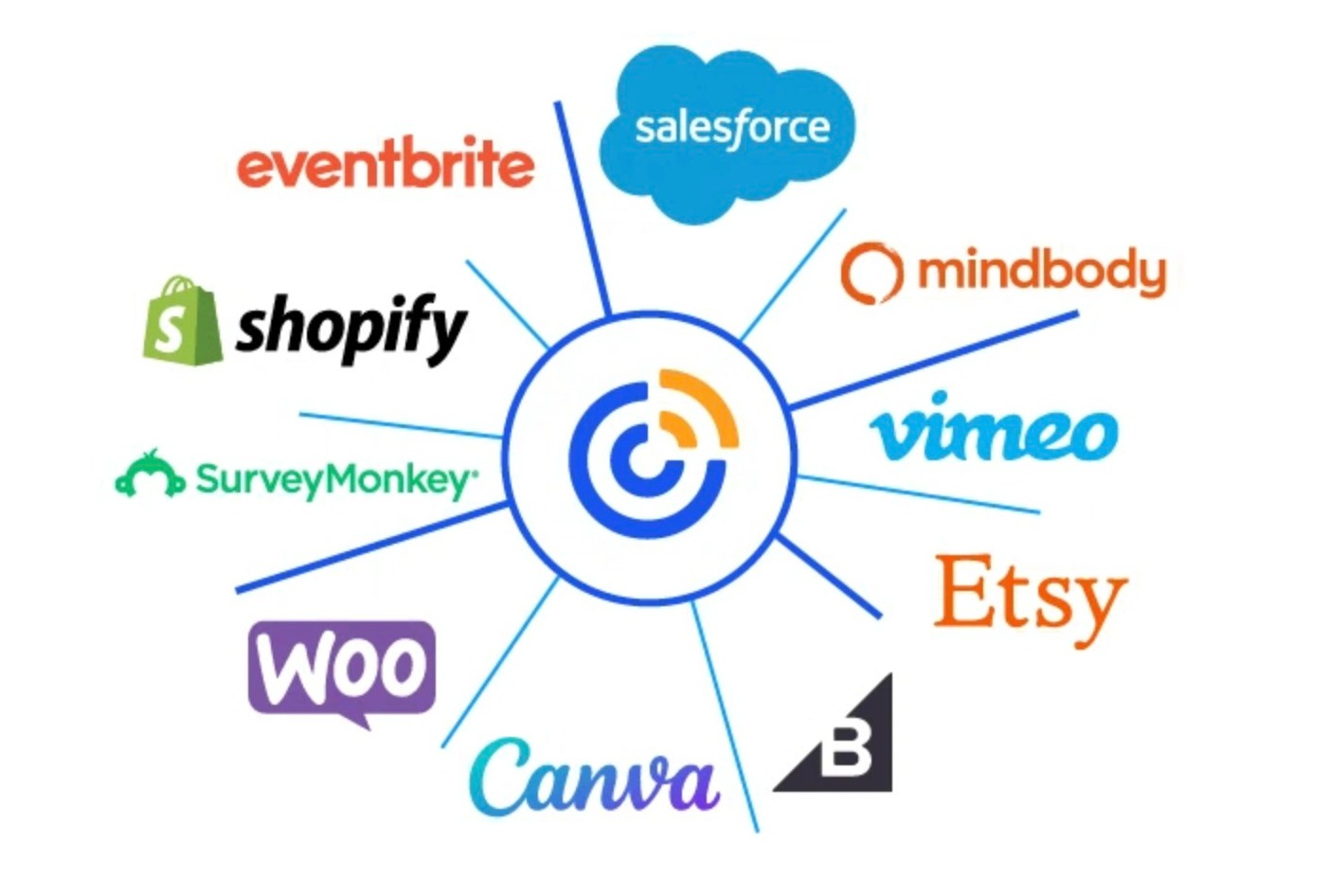 Both Mailchimp and Constant Contact have their own pros and cons. After all – none of us is perfect. Many of the pros and cons will vary depending on what your own needs and expectations from a tool like this are.
However, they're definitely worth being familiar with when deciding which email marketing tool is right for your needs.
Mailchimp's Pros and Cons
Free plan available
Great value paid plans
Contact segmentation
Super easy to use
Simple-to-use website and landing page triggers
Multivariate statistic solutions
A/B testing abilities
Marketing automation
Behavioral targeting via visitor browsing habits
Conversion tools to help make the most of leads and boost sales figures
Contact import and management over many platforms
Email scheduling is only available on paid-for plans
Free plan templates are somewhat limited
The free plan includes Mailchimp branding on all emails
Constant Contact's Pros and Cons
Simple to use and great for beginners
Excellent deliverability rates
Up-to-date and efficient email template editor
A good range of social media integrations and management
Survey tool
Accept payments and online donations
Customer relationships are well managed within the Constant Contacts system
Simple to read and understand data available on the effectiveness of your campaigns
Increasing costs for those with large contact lists
No free plan
Somewhat limited customization features
Limited and formulaic email templates that may not prove suitable for your needs
Mailchimp Pricing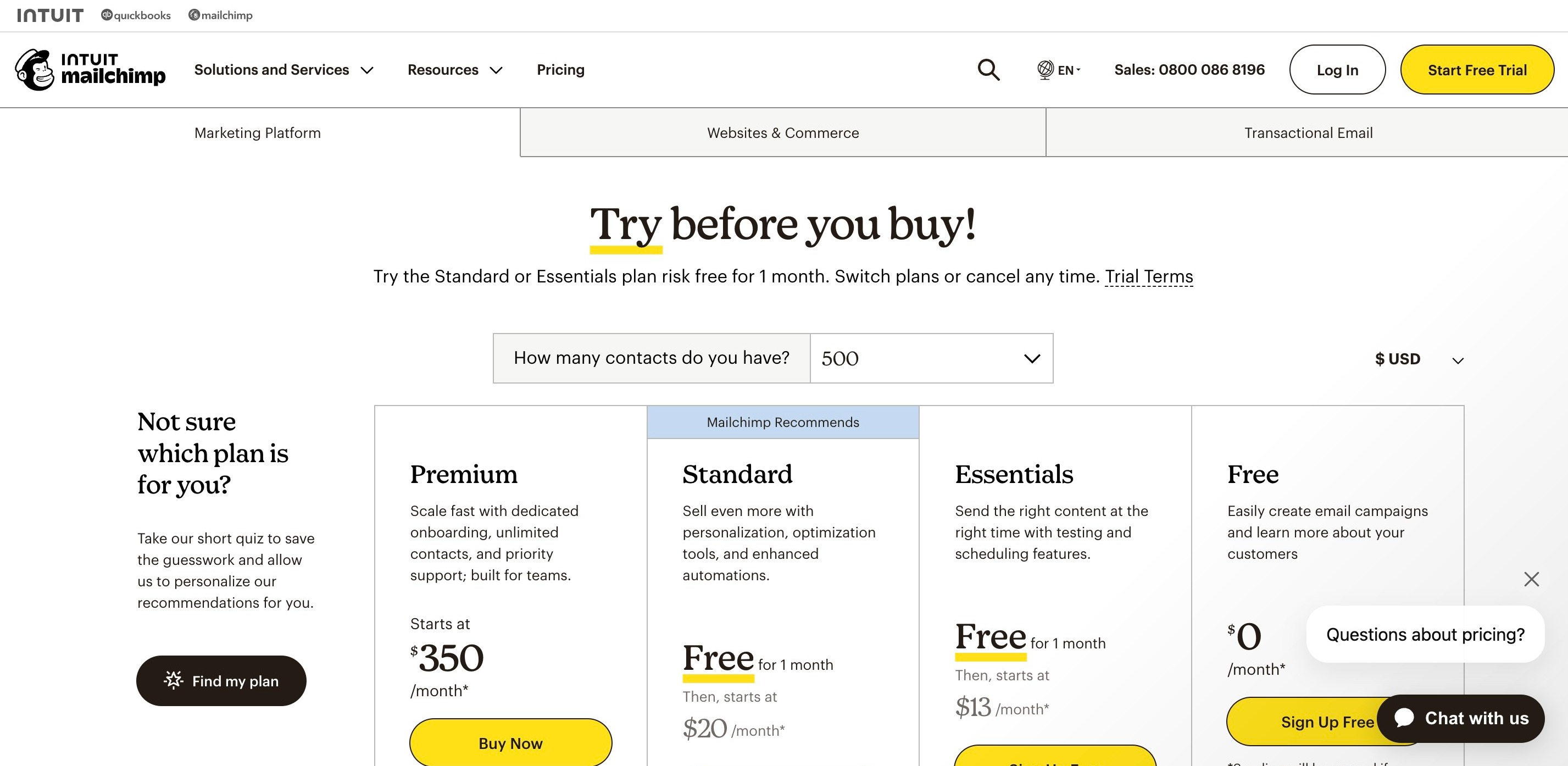 Unlike Constant Contact, Mailchimp offers a completely free plan. This is ideal for small businesses, newbie bloggers, and anyone else who's starting out on a budget.
The free plan has limited features and includes Mailchimp branding in the footer. Nevertheless, it's well worth taking advantage of this free plan if you're looking to boost your marketing efforts.
For access to all features and to remove the Mailchimp branding, you will need to sign up for a paid plan.
Plans start from as little as $13/month for up to 500 contacts and increase depending on the number of contacts you have.
The Standard plan for up to 10,000 contacts would cost just $135/month.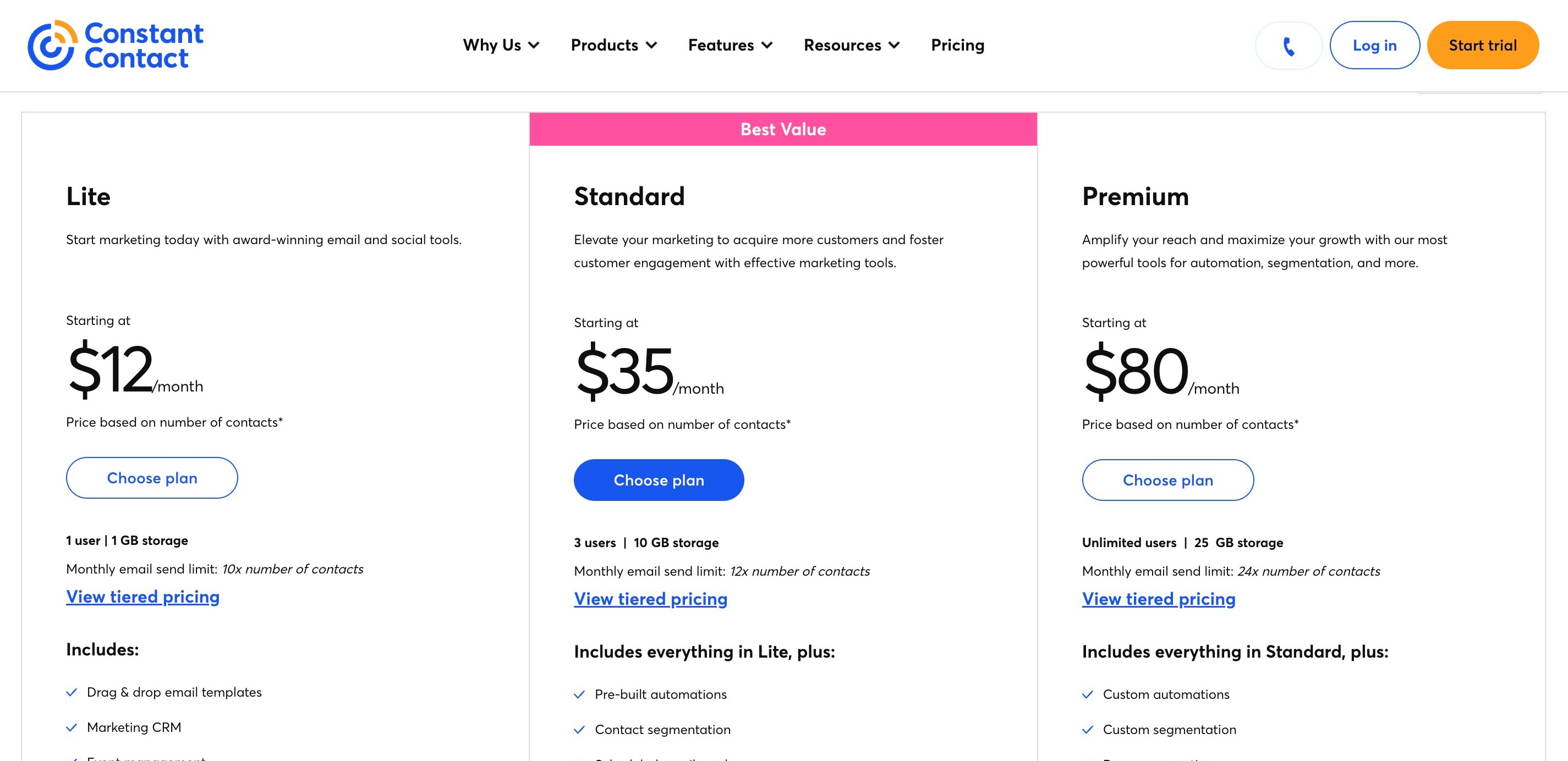 Constant Contact offer three types of paid plan: Lite, Standard, and Premium.
The Lite plan starts at just $12/month for up to 500 contacts.
The Standard plan starts from $35/month, and the Premium plan starts from $80/month.
To give you a better like-for-like comparison to Mailchimp, the Standard plan for up to 10,000 contacts will set you back $160/month. This is substantially more than Mailchimp costs ($135) for the same number of contacts and features.
Who is Mailchimp Best For?
If you're looking for help with email marketing and other marketing tools but are on a budget, then you can't go wrong with Mailchimp.
Although there are different packages available, it has a completely free basic plan, which is great for those who are just starting out or who have a smaller budget.
Not only that, but its paid packages offer a range of features and benefits. These include being able to schedule emails to be sent at set times, take advantage of optimization tools, and even have extensive email analytics.
This makes it a great choice for those who want to keep an eye on how their email marketing and business sales techniques are performing. 
Ultimately, Mailchimp is a great choice for anyone who wants to look into email marketing for their business no matter the industry they are in. 
Although Constant Contact is a great tool, it is particularly useful for small businesses and those just getting to grips with email marketing.
One thing that really stands out is its ability to organize events and take payment. This makes it a great choice for hospitality businesses and event organizers. Particularly those who have organized events as part of a fundraising campaign or similar.
Constant Contact also works seamlessly with Shopify. If you're already a Shopify user (or planning to become one in the near future), then Constant Contact would be a great choice.
Its drag-and-drop tool and list management services mean that it is considered an easy tool to get to grips with, so it is great for those just starting out in the world of email marketing.
So, what's the verdict?
Well, overall, it has to be said that Mailchimp wins. It offers excellent value for money, and it's a breeze to use. This makes it a great choice for beginners as well as larger, well-established businesses. 
If you want a tool that offers extensive analytics or you simply need a plan that is affordable, then it could well be the choice for you.
The choice of which software to use is always going to be an individual choice based upon personal preferences for things like layout and what users are used to.
Some of the decision-making on which is best and which to use will depend on the type of business you're running, too.
For example, Constant Contact is great if you're looking for a tool to help with fundraising or events or if you use the eCommerce platform Shopify.
If, after reading this comparison of Mailchimp vs Constant Contact, you're still unsure, it's definitely worth taking advantage of the free trials on offer to see which is the best fit for you. And be sure to check out our Constant Contact review for more info.
You can also check out our list of the best Mailchimp alternatives for some other options to try.