Have you tried the Kartra LMS? In this post, I will talk about Kartra and its learning management system.
Kartra isn't made to work as a complete Learning Management System (LMS) independently. It doesn't have all the necessary features and tools.
But, if you still want to use it as an LMS, you can enhance its capabilities by adding third-party apps and plug-ins.
What is Kartra?
Kartra is an all-in-one marketing and online business platform founded by Genesis Digital in 2018.
At its core, Kartra is a tool for creating sales funnels, but it comes with a lot of extra features. You can use it to make:
Landing pages
Squeeze pages
Webinars
Membership sites
Any sales funnel you can imagine, including order bumps, upsells, and downsells.
If you go for the top-tier Kartra Diamond package, you'll have even more capabilities.
In essence, Kartra provides everything you need to promote and sell your products online without hiring expensive developers. Many people are using Kartra and finding success with it.
Also Read: Kartra Review
Is Kartra a good LMS?
The platform is not focused on nor was it designed as an LMS solution.
An LMS commonly contains features such as tracking scores and reporting progress for educational content that usually includes courses or lessons.
In contrast to an LMS, Kartra is an all-in-one marketing platform that allows you to build pages, import customer leads, and build campaigns and funnels.
Kartra's features are mainly helpful for marketing automation.
But, Can you use Kartra as LMS?
Kartra lets you share video courses and make playlists. But, it mainly uses time tracking and completion stuff for marketing, not for following rules.
Even though it tracks how users progress, it's more about pushing them to the next sales step. So, using Kartra alone as a learning system isn't a good idea.
If you're already using Kartra and want a learning system, you can use automation tools to get what you want.
Main Kartra LMS Features:
Kartra has some features that might seem like what you'd want in a regular learning system, but they were actually made for different stuff:
Membership Area: This is where you can put your content, courses, and things for your customers to use.
Surveys and Quizzes: You can make them, but they're more for getting feedback and sorting your audience, not so much for learning.
Video Hosting: This is mainly for making video sales pitches to tell your customers about your products on your lead pages.
How does Kartra LMS work?
First things first, if you want to use Kartra, you need something to sell – a product or service. If you don't have that yet, Kartra won't be of much use unless you're planning to promote someone else's stuff as an affiliate.
Once you've got something to offer, be prepared to spend both time and money on creating a "value ladder" and setting up your whole sales process. This means making something to attract customers (like a freebie or a cheap product), and figuring out other offers (upsells, add-ons, etc.) that make sense alongside your main product.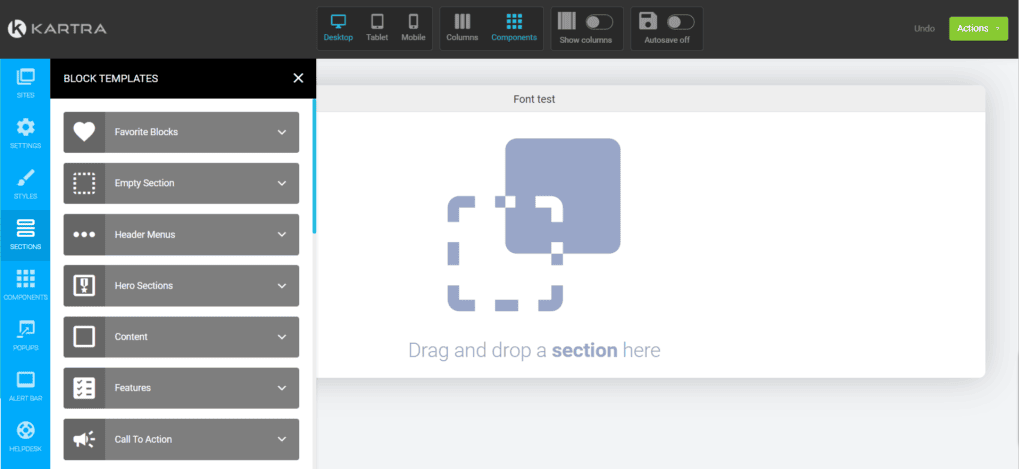 If you're unsure where to start, check out successful sales funnels for inspiration. You can even read the book "Kartra" to learn how to create sales funnels and tell stories to sell your products and services based on the founder's experience.
As you explore these sales funnels, pay attention to how they lead from something low-cost (like Kartra) to the main product (Kartra itself).
Once you've seen how it's done, take what works for your own business and plan out your sales funnel. When you've got it all set up, you can start making money with Kartra.
Conclusion
The choice of software depends on what you need and how much work you're ready to put into your business.
If you're selling single products and don't want to invest your effort in creating an efficient sales process, Kartra might be more than you need. You can get leads or sell your main product using cheaper alternatives.
However, if you're all about increasing the long-term value of your customers, then Kartra is worth a shot. It's not just about the software; the coaching you get can be both motivating and eye-opening.
FAQs:
Can I Use Kartra as an LMS?
Kartra doesn't have all the features you'd find in a traditional Learning Management System (LMS) because its main focus is on sales automation and guiding potential customers to make purchases. So, if you're using Kartra and you're looking for LMS capabilities, it's recommended to use another platform that specializes in learning and connect it to Kartra through integration tools like Zapier. This way, you can have the best of both worlds.
Is Kartra free?
Kartra is not entirely free but offers a 14-day trial for $1.
Further Reading: