It's hard to believe that a week has already passed since the success of our Affiliate Marketing Leaders event, in London– AMLeaders 2023.
Held on Monday 23 October, a day before the industry juggernaut that is PI Live Europe, we were joined by some of the brightest minds in Affiliate Marketing. The Affiverse/ Hello Partner collaboration was founded in order to educate, inform and inspire the next generation of Affiliate Program Managers.
Key learnings on the day
We were joined by insightful speakers and eager-to-learn delegates as we gathered in one room to enjoy debate, practical learnings and captured those all-important key take aways.
Lee-Ann Johnstone, Founder of Affiverse, said: "I'm thrilled that we were able to connect Affiliate Managers from companies like QVC, Mango, Tails.com and more, together with industry veterans, to talk about their program performance and dig deep into their combined decades of knowledge, in order to help them grow their program brands! Not only did I enjoy presenting new trends and insights for the group, I also enjoyed learning what challenges we are all facing from my peers in the room, too!"
Our workshop sessions were hosted by industry champions:
Sarah Bundy – Founder (All Inclusive Marketing)

 

Kevin Edwards (Founder of The APMA)
Anna Hecht (Editorial Director at Global Savings Group)
Lee-Ann Johnstone, Founder of Affiverse
Leanna Klyne (Agency Director, Affiverse)

 

Sanchit Sareen (EMEA Director, impact.com)
Dean Seddon (Founder of Maverrik)
Ian Sims (Founder, Rightlander)
Dan Staples (VP Client Development, CJ.com)
Wade Tonkin (Director, Global Affiliate Marketing at Fanatics, Inc.)
Sarafina Wolde Gabriel (CSO, Rightlander and Non-Executive Advisor, Affiverse)
Topics covered, included a discussion using our Affiverse marketing flywheel approach to discover and grow new affiliate partnerships for your program. Along with identifying the key areas that often get neglected when running an affiliate program.
Our Triage Sessions saw delegates gather to gain short, sharp bursts of expertise! This was all about finding workable improvements with stewards who have tactical experience. Highly interactive and collaborative, questions were asked and knowledge was shared.
Triage table talks included: Reactivation tactics that will help your affiliate program grow, Auditing your Affiliate Program – Finding areas of growth and bringing new partners into the mix, Embracing Influencers as part of your Affiliate Program, and Mitigating fraud and implementing better compliance practices.
You Say…
The event was a huge success and we are delighted to have received such positive feedback from so many of you, including: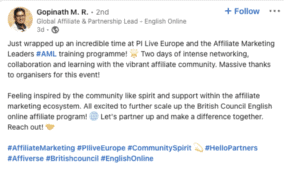 Sarafina Wolde Gabriel, (CSO, Rightlander and Non-Executive Advisor, Affiverse) adds: "In customary fashion, Lee-Ann and the team at Affiverse and Hello Partner curated a great learning event at the inauguration of AM Leaders. The quality of presentations, panels and dialogues were practical and rich in insights. I am always amazed at how well Lee-Ann is in tune with affiliate marketing trends and the manner in which she networks and brings great speakers to share their views. Thank you for the learning and look forward to the future events!"
____________
Helping the world do affiliate marketing, better!
Make sure you sign-up to receive our newsletter to ensure you are the first to hear about all of our future events.