Are you curious about the Everwebinar pricing? Well, you're in the right place! In this guide, I'll delve into EverWebinar pricing and its fantastic features.
EverWebinar stands out as one of the top choices for automated webinar platforms. It lets you create webinars in advance, which means they're not actually happening live, but they sure feel like it!
That's what makes EverWebinar so popular these days.
With EverWebinar, you can give your customers the fantastic experience of a live webinar, even though it's pre-recorded. This clever software makes your audience feel like they're with you in real-time.
This is super remarkable because it helps you advertise to your customers in a way that feels engaging and interactive.
EverWebinar's many benefits have earned it a well-deserved reputation as a leader in providing the best automated live webinars.
What is EverWebinar?
EverWebinar is designed with simplicity in mind. You can easily set up your webinars on your custom pages in the cloud. Plus, you have the option to offer help through live chat autoresponders.
You can even share files with your audience, and they can get them instantly.
But that's not all! EverWebinar has some cool advanced tools. These tools make it easy for people to sign up for your webinars, and you can invite them hassle-free. You also get detailed info about how your webinars are doing, like how many people attend and how engaged they are.
Whether going solo or working with a team, EverWebinar lets you run automated webinar campaigns without spending time on live events.
Is there any EverWebinar Discount?
While there are no direct EverWebinar discounts, the plan choice can lead to substantial savings.
Here's a breakdown of potential savings based on the available plans:
Annual Plan: By selecting the Annual Plan at $499, you can save nearly $100 compared to the monthly installment plan.
Biennial Plan: Opting for the Biennial Plan at $399.50 per year can result in savings of close to $200 compared to the Annual Plan.
It's worth noting that EverWebinar occasionally runs special offers, and you might be fortunate enough to access a 14-day trial for just $1.
 What's included in EverWebinar Plans?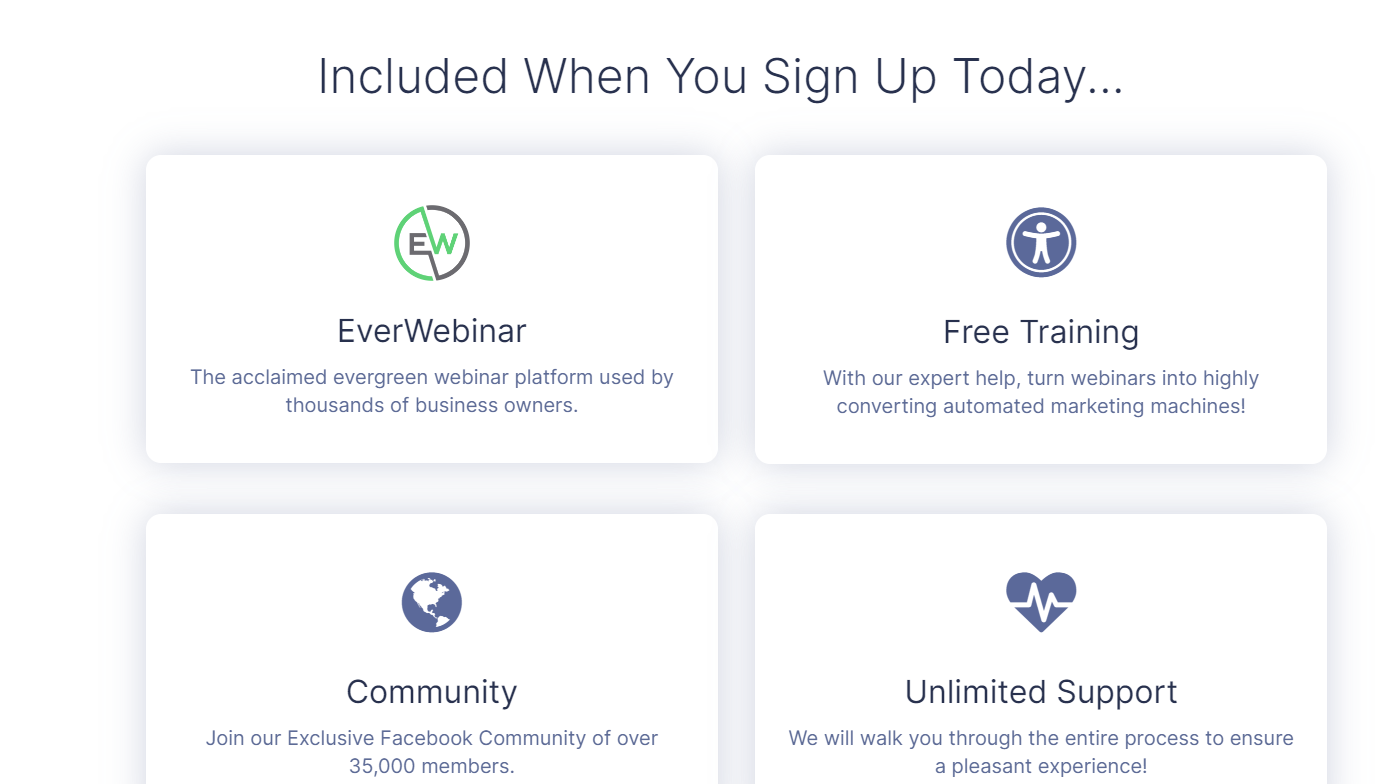 Here is what's included in the pricing plans:
Live Chat Simulator: This tool helps you boost your sales by pretending to have a live chat with your audience.
Clickable Offers: You can schedule special deals to appear during your webinar, so people can click and buy right away.
Pre-landing Pages: EverWebinar has ready-made, beautiful web pages that look professional and help you get more people to sign up for your webinar, without needing to know how to code.
Urgency and Scarcity: You can make people feel like they need to buy your products quickly by setting a timer or saying there are only a few products left.
Hybrid Webinars: This feature lets you run a webinar that looks live, even though it's pre-recorded, and people can chat with you in real-time.
Just-In-Time Webinars: You can make it seem like people joined your webinar at the perfect time, so they don't miss anything.
Page Builder: Create mobile-friendly and attractive pages easily to get more people to attend your webinar.
Polls & Surveys: You can ask questions during the webinar to see what your audience thinks.
Community: Join a special Facebook group where you can learn from other experts like you.
Flexible Scheduling: Host your webinar whenever you want, on different days and times, even every 15 minutes.
Email & SMS System Notifications: Send automated emails to remind people about your webinar and follow up with a recorded version.
Dynamic Attendee Display: Make it look like there are lots of people in your webinar room to create excitement.
Waiting Room Video: Show a video to your attendees while they wait for the webinar to start.
Detailed Analytics: See how long people stayed at your event and if they clicked on any offers.
Seamless Integrations: EverWebinar works well with other tools like Aweber, Getresponse, Kartra, Mailchimp, Infusionsoft, and ActiveCampaign.
Which is the best EverWebinar Pricing Plan for you?
The EverWebinar plan you should pick depends on how you want to pay and how your business is doing.
If you're just starting and want an affordable webinar solution, go for the Monthly plan.
If your business is doing well and making money regularly, consider the EverWebinar Annual or Biennial plans.
The Annual and Biennial plans let you use all of EverWebinar's features at a lower cost. With these plans, you can save up to $200 compared to the Monthly plan and even up to $1,577 compared to the Monthly plan over a year or two. It's a good way to save money for businesses that are more established.
Who Should Use EverWebinar?
EverWebinar is best suited for:
Business Owners and Entrepreneurs: EverWebinar is a valuable tool for business owners and entrepreneurs who want to leverage webinars for marketing, lead generation, and sales.
Marketers: Digital marketers can use EverWebinar to create automated webinars that engage and convert their target audience.
Product Creators: If you have digital products or services to sell, EverWebinar can help you showcase them effectively.
Sales Teams: Sales professionals can use EverWebinar to deliver compelling sales presentations and engage potential customers.
Content Creators: If you create educational or informative content, EverWebinar allows you to repurpose it into engaging webinars.
Individuals and Coaches: EverWebinar is also the best choice for individuals, coaches, and consultants looking to share their expertise and attract clients.
Final Thoughts 
EverWebinar offers affordable pricing with three options that all provide the same features. These features allow users to make pre-recorded webinars that seem to be happening live.
No matter your plan, you can create webinars with interactive chat, polls, surveys, and clickable offers. You can also do hybrid and just-in-time webinars to boost your sales.
You have choices in how you pay, whether saving money with the Biennial Plan by paying for two years at once, sticking with the Annual Plan, or going with the Installment Plan to pay in three parts. It's all about what works best for you.
FAQs:
Does EverWebinar give money-back guarantee?
If you're not satisfied with EverWebinar, you have a 30-day money-back guarantee, no questions asked. However, it's essential to know that the refund policies can be different depending on your payment plan.If you choose the Annual or Biennial Plan, you can receive a full refund as long as you request it within 30 days of purchasing the product.
How can I cancel my EverWebinar subscription or update my EverWebinar Account?
To cancel your EverWebinar subscription or update your EverWebinar account, you can typically do so by logging into your EverWebinar account on their website and navigating to the account settings or billing section. Look for options related to subscription management or account updates. There, you should find the necessary steps to cancel your subscription or make changes to your account information.
What is the difference between EverWebinar & WebinarJam?
WebinarJam is primarily designed for live webinars, allowing you to engage with your audience in real-time. Once you've conducted a successful live webinar on WebinarJam, you can then take the recording and transform it into an automated webinar using EverWebinar. EverWebinar is designed to simulate the live webinar experience, making it look identical to your audience even though it's pre-recorded. This allows you to continue to engage and convert viewers with your webinar content, even when you're not hosting it live.