Imagine a world where your writing tasks become effortless, and your best friend is a smart computer program – a robot. It takes the reins and crafts engaging content that hooks your readers. Sounds like something straight out of a sci-fi book, right? But, in this AI Writer review, you'll discover how this can be your reality.
AI writing tools are changing the game for content creators everywhere. This article is your all-access pass to understanding how AI Writer works and, more importantly, whether it fits you well.
I'll delve into the specifics of this AI content writing tool and share my real-life experiences with it. I'll also compare it with other popular tools and show you how it can help captivate your readers.
So, sit tight as we embark on a journey in this AI Writer review and explore what this tool can do for you.
---
Ease of Use

Stability

Customer Service

Price
Pros
Easy To Use
Generates Well Written Articles In Just A Few Minutes
Built-In SEO Functionality
Sources Listed For Each Article
Free Trial With No Credit Card Needed
Cons
Text Requires Fact-Checking
Paid Plans Can Be Pricey
Extensive Editing Required Before Publishing
Lacking In Writing Templates
Who Is AI Writer Best For?
Whether you're a student looking to improve your academic writing, a content creator seeking inspiration and assistance, or a professional writer aiming to enhance your productivity, AI Writer has got you covered.
Here's a closer look at who it can help to unlock their creative potential:
Businesses, publishers, and marketers who want to create high-quality content easily and quickly, freeing up their resources for other tasks.
Writers who sometimes get stuck for ideas. AI Writer can suggest what to write about and how to say it.
Companies that want to save money. AI-Writer produces excellent content without burning a hole in your pocket.
Marketers who want their website to show up in search results. AI Writer's SEO-focused text editor can help by including relevant keywords in your content.
Personalized content creators aiming to appeal to individual reader preferences. AI Writer can tailor content to match specific likes and dislikes.
Bloggers and solo entrepreneurs who run their own blogs or small businesses. AI Writer can seriously speed up the process if you require regular content every month.
Anyone publishing content that requires an official, up-to-date source attached to it. AI-Writer offers a comprehensive compilation of relevant citations and references, empowering you to verify their accuracy.
Is AI Writer Easy To Use?
Yes, AI Writer is easy to use, even for beginners.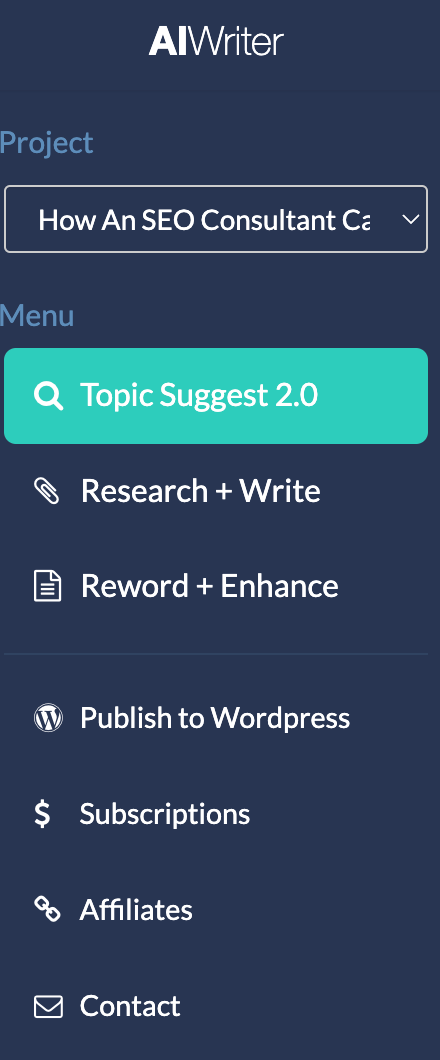 It has a straightforward user interface with the following functionalities in its menu:
Topic Suggest: Identifying popular internet search topics is simple. It utilizes search engine auto-completions and Google Ads data for high SEO relevance.
Research & Write: Use "1-Click Article" to generate content effortlessly. For a personalized touch, opt for the "Tailor-Made Article" option and effortlessly organize your text to suit your needs. Both options offer unparalleled ease of use.
Reword & Enhance: Copy and paste an article into the input field or use a website link. Sit back and wait for entirely new and unique content to be generated.
WordPress Integration: AI-Writer's "Publish to WordPress" feature seamlessly connects your editor to a WordPress site. After selecting an approved article, it automatically gets published on your site.
AI Writer Pricing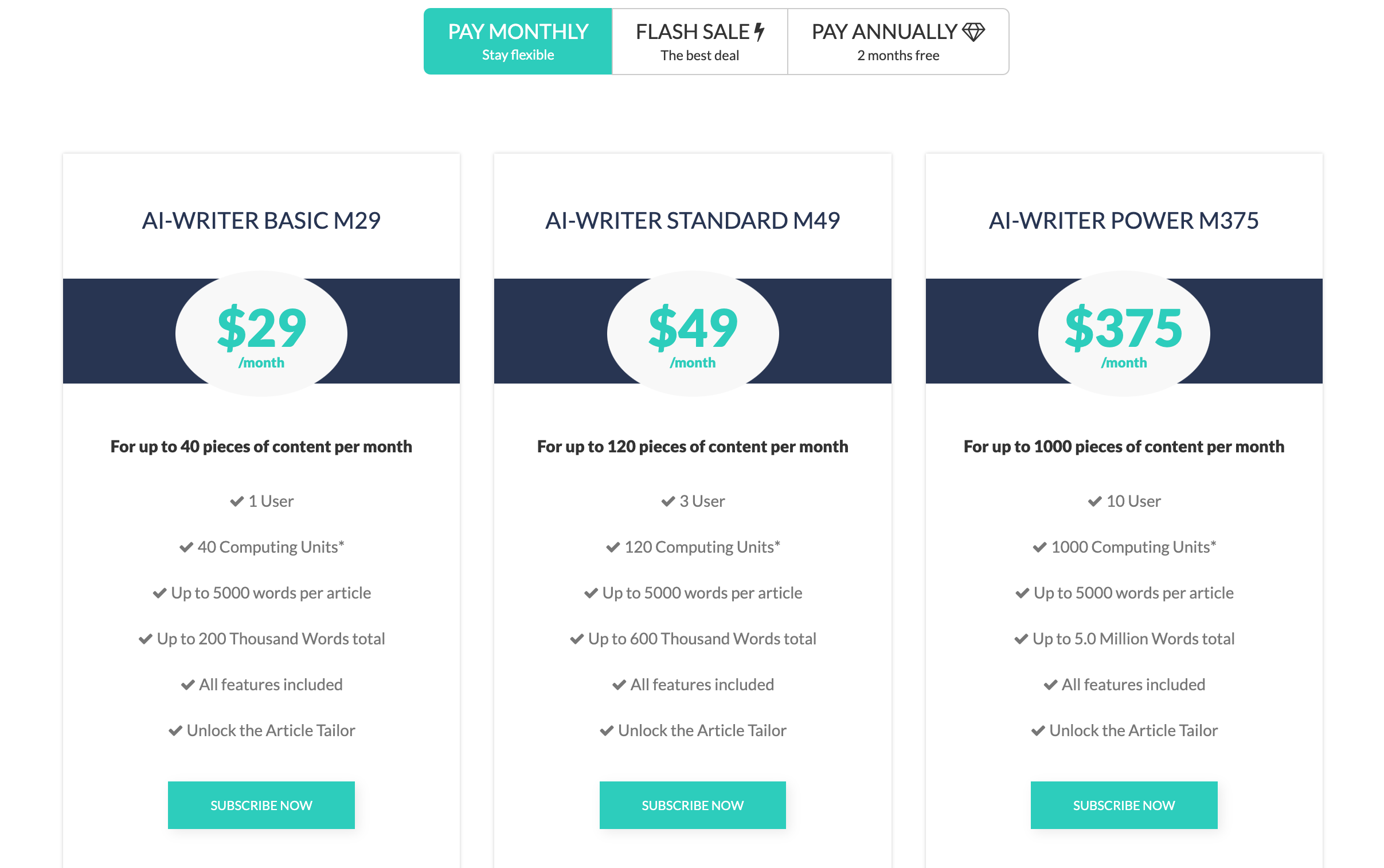 Below is AI Writer's pricing structure. I'll start from the core features that all plans share and then briefly explore the Basic, Standard, and Power plans.
Core Features Of All AI Writer Plans
Regardless of your chosen plan, all come with the following features:
AI-Powered Content Generation: Its advanced AI technology generates high-quality, unique, original, and captivating content in record time.
SEO Editor: Enhance your visibility on search engines with SEO-optimized content. Every writing assignment begins with a comprehensive analysis of search engine results to gain insights into what Google is looking for.
Text Rewording: If you have a specific piece of content or a blog post you'd like to re-publish, submit it. Wait two minutes, and your article will be skillfully reworded while retaining its original essence.
Topic Discovery Feature: Unearth new subtopics to enrich your content, keeping your audience engaged and intrigued.
API Access & WordPress Publishing: Seamlessly integrate AI Writer into your existing workflow and publish directly to WordPress.
Up to 5,000 Words Per Article: Every article you create with AI Writer can have up to 5,000 words, providing ample space for thorough, comprehensive content.
Yearly Subscription Bonus: Sign up for a year and enjoy two free months.
Free Trial: If you're still on the fence, you can experience the power of AI Writer firsthand with a one-week free trial. No credit card is necessary.
Basic Plan
Designed with startups, bloggers, and solopreneurs in mind, here are the details of the basic plan:
Ability to generate up to 40 articles per month
User-friendly interface designed for single users
Standard Plan
Freelancers requiring high-volume content will find the Standard Plan ideal:
$49/month
Generate up to 120 articles per month.
Supports up to three users
Power Plan
For large teams or agencies with a serious demand for fresh content, the Power Plan is a great option:
$375/month
Offers a staggering limit of 1,000 articles per month
Accommodates up to 10 users
My Personal Experience With AI Writer
I dove in and explored this tool's various features for this AI Writer review.
Here's a breakdown of the experiments I ran with it.
Experiment #1: 1-Click Article
I was instructed to enter an article topic within the sign-up form for my free trial. I decided to enter "ADHD and Migraines".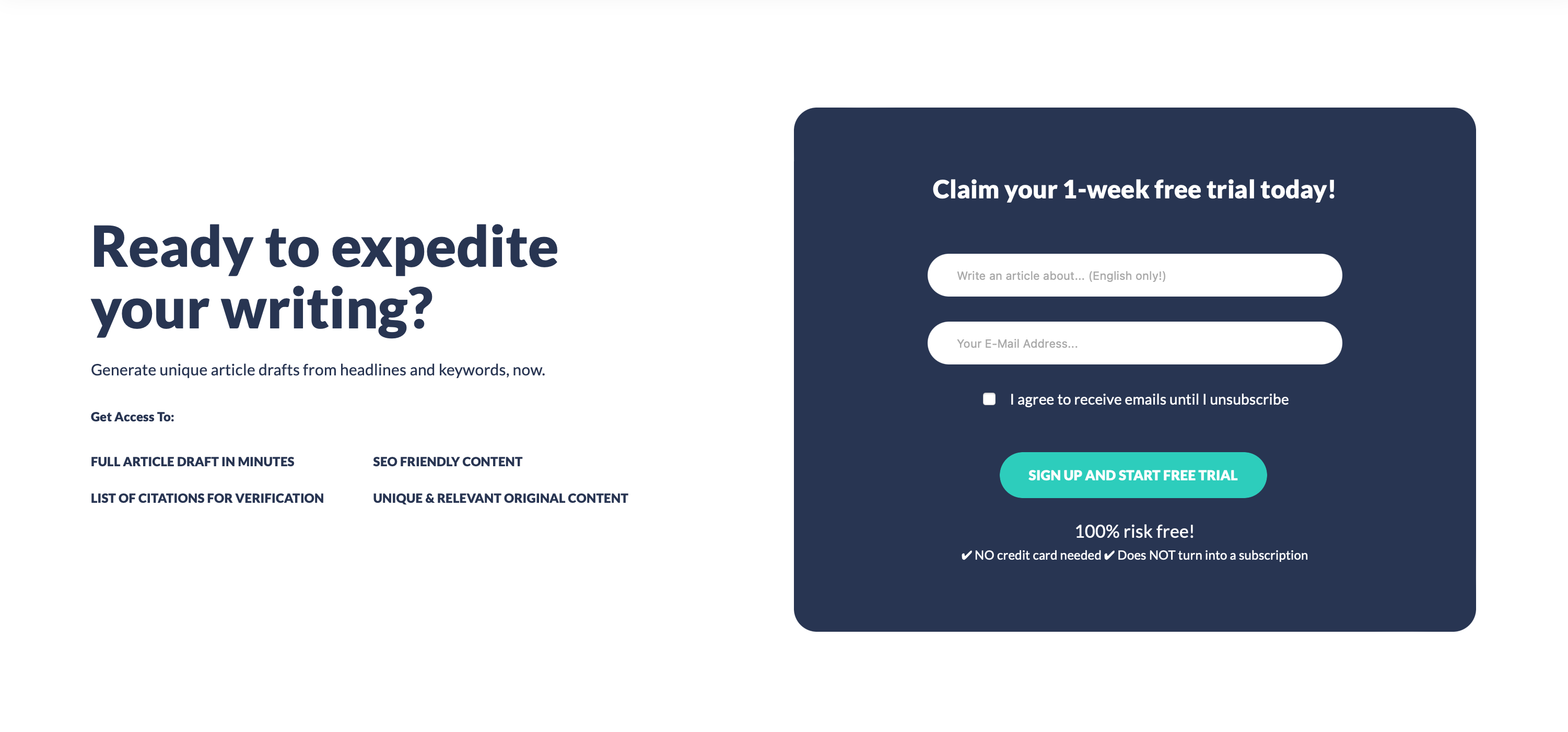 After entering my email address, I clicked the "sign up and start free trial" button. The next screen revealed that AI Writer was diligently crafting an article for me.
This must be what it means by '1-Click Article'. I waited for it to finish putting the article together, which took a few minutes. Afterward, it brought me to a screen where I could see an entire article written.
The text was nearly 2,000 words in length and included a list of 38 sources. At the bottom, in small print, it stated that AI can occasionally provide inaccurate information and that AI Writer cannot be held responsible for any inaccuracies.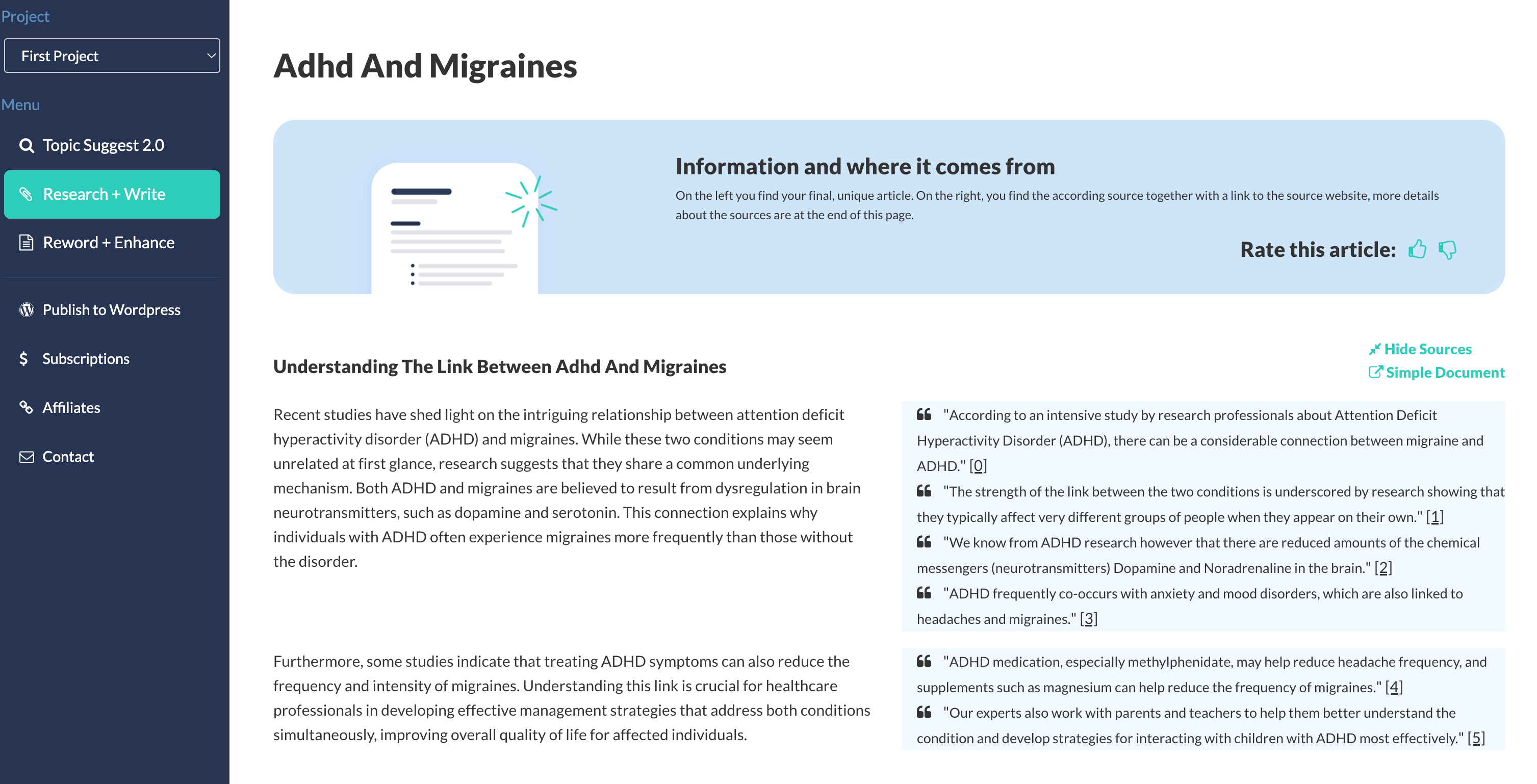 I felt slightly overwhelmed by the amount of sources that were listed. Do I have to go back and check every single fact? While the article was very well written, I wouldn't publish it as is. I wouldn't feel comfortable doing so unless I first double-checked every fact listed.
I wouldn't worry about it if the topic was "5 Qualities To Look For In A Plumber". But this was medical-related, and it's a whole different ballgame.

So, while AI Writer provides source listings, it is important to verify the accuracy of the information independently.
Experiment #2: Tailor-Made Article
For my second experiment in this AI Writer review, I created a "tailor-made article." Once again, I was instructed to enter a topic for a 600-word article.
I fed my plumber topic into AI Writer, and three steps followed:
Step 1: Choose A Headline
After entering the title "5 Qualities To Look For In A Plumber" into the topic field, AI Writer generated a list of five headlines. I liked "Choosing the Right Plumber: 5 Essential Qualities To Consider" and went with that.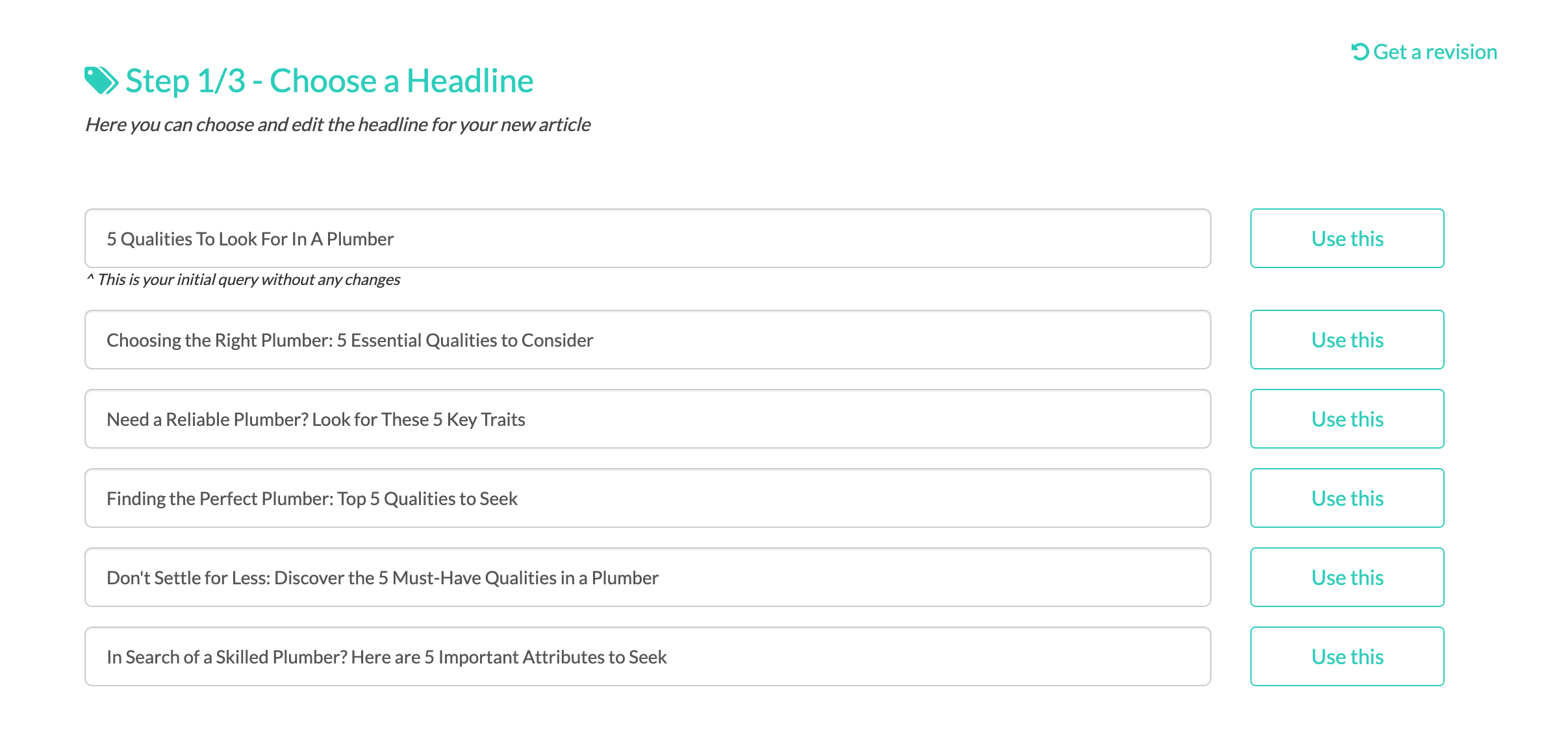 Step 2: Choose Keywords To Focus On
After choosing a title, I was presented with 35 keywords to focus on. This is clearly where the SEO-optimized content comes into play.
My first impression was that the four keywords that weren't blurred out were generic and not targeted to the plumber topic.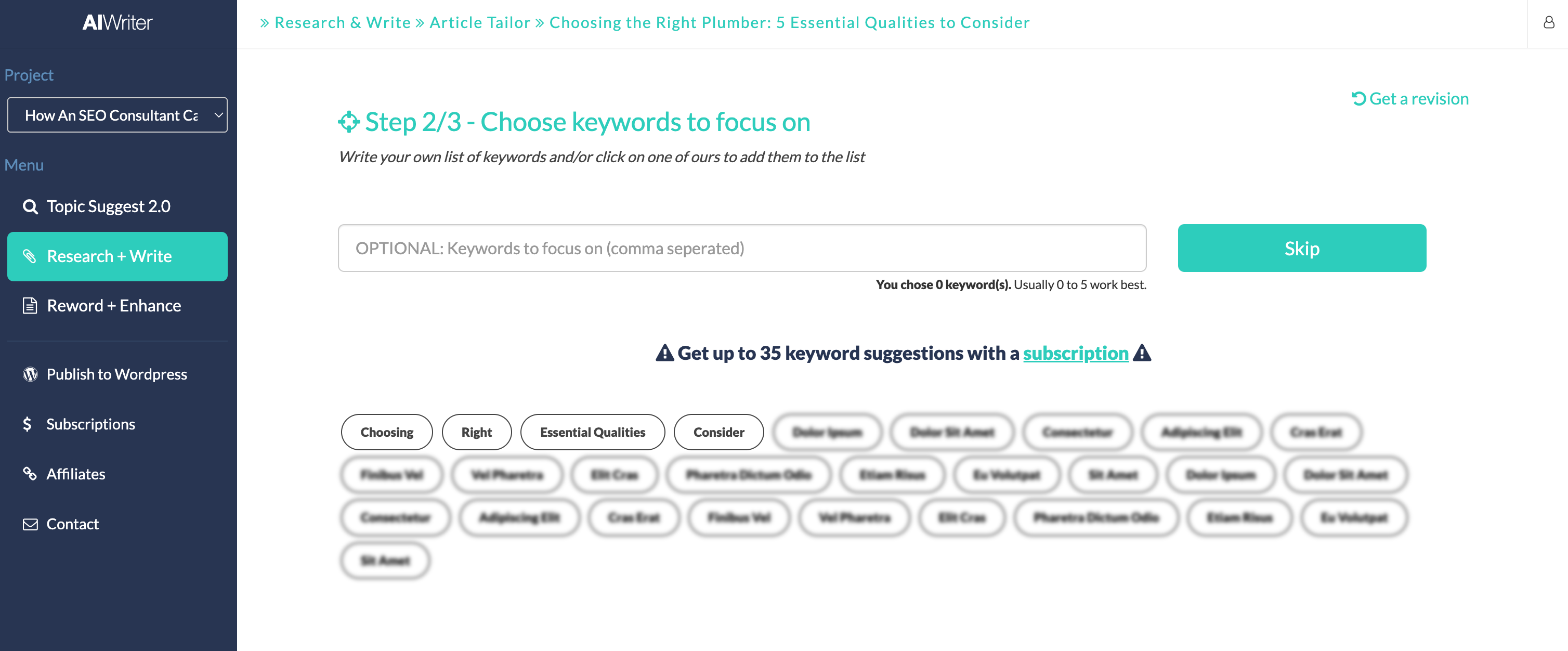 I could have used some guidance on best practices regarding SEO optimization for this AI Writer review. A knowledge base or tutorial would have been greatly appreciated.
Step 3: Choose Subtopics
The final step in creating a tailor-made article involved choosing subtopics. Looking at the options, I felt stumped.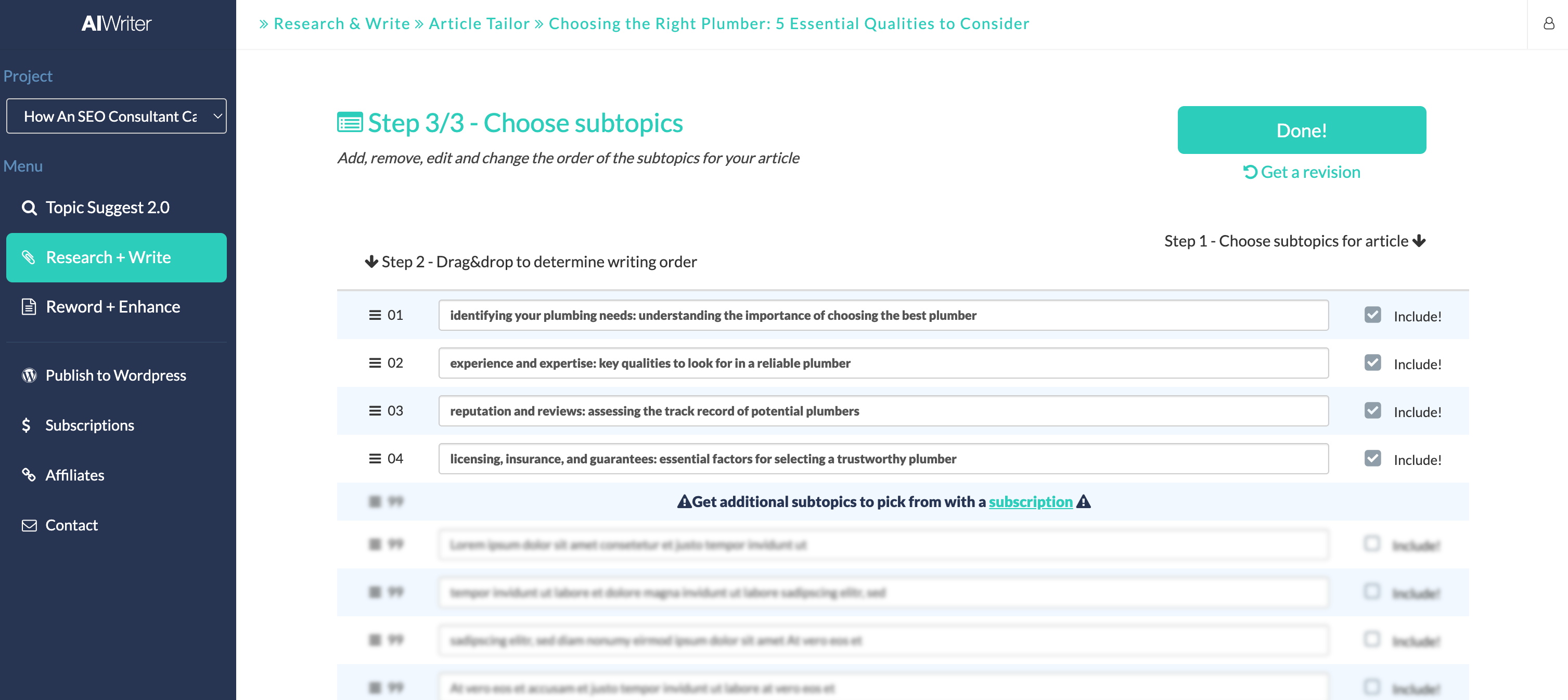 Was I supposed to reorganize them or keep them in the order they were in? Did it even matter?
I just kept them in the order they were initially in.
Final Touch: Word Counts
I gave AI Writer the go-ahead to craft this 600-word piece, allocating 150 words per subtopic.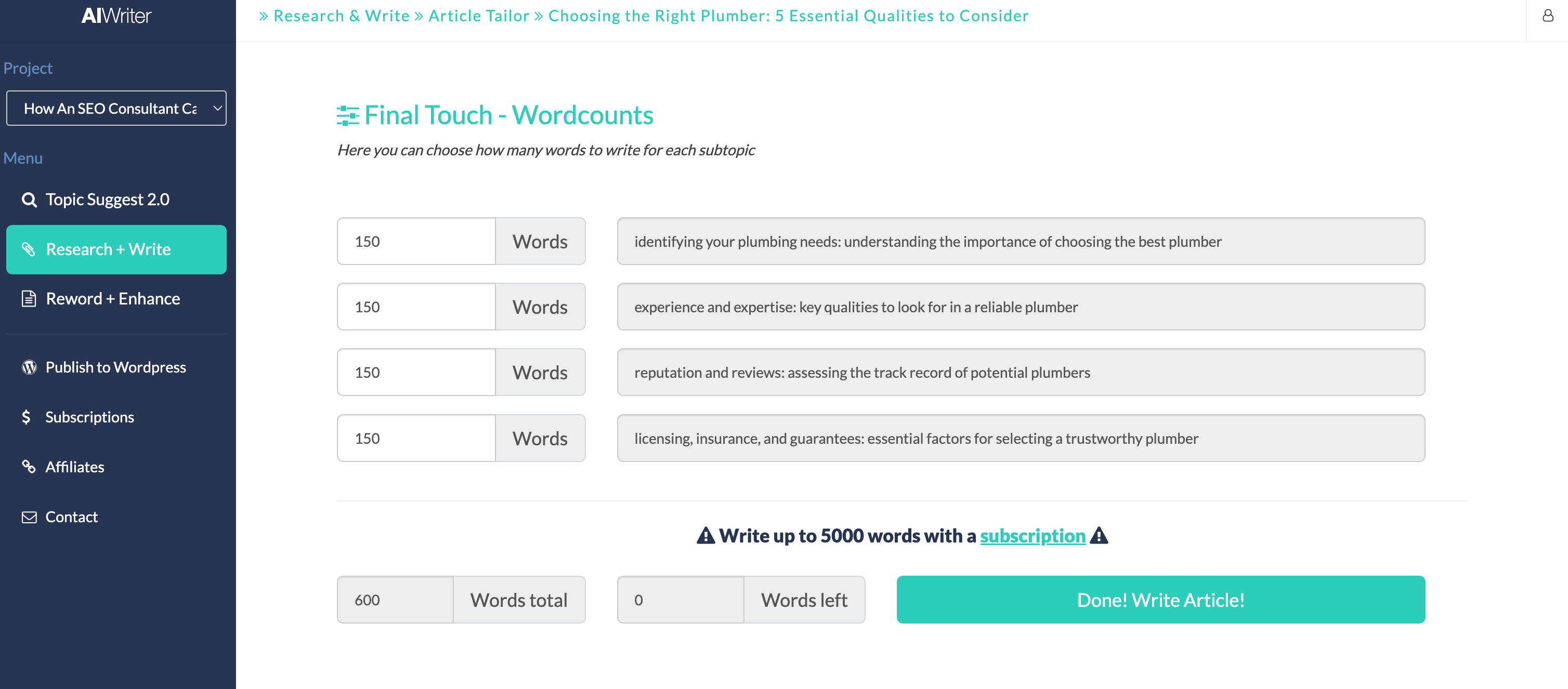 The result? A slightly overextended 700-word article with a list of 24 sources.
In my opinion, an AI tool spitting out that many references was a bit excessive for such a broad topic.
Additional Observations
I want to highlight an oversight. Despite my specific request, the article failed to list the '5 qualities to look for in a plumber.'
I'd have chosen the qualities to be very obviously listed as H2s like this:
Proper Certification & Licensing
Fantastic Reputation
Great Problem-Solving Skills
Communication Skills
High Level Of Experience
Instead, I got three unnumbered qualities as headings. This would mean substantial editing on my end.
Experiment #3: Reword & Enhance
I took an article about the 5 most popular used cars you can buy at a Muncie dealership. I copied and pasted the text into AI Writer using the "Reword & Enhance" option.
After about a minute of waiting, I had a brand new article.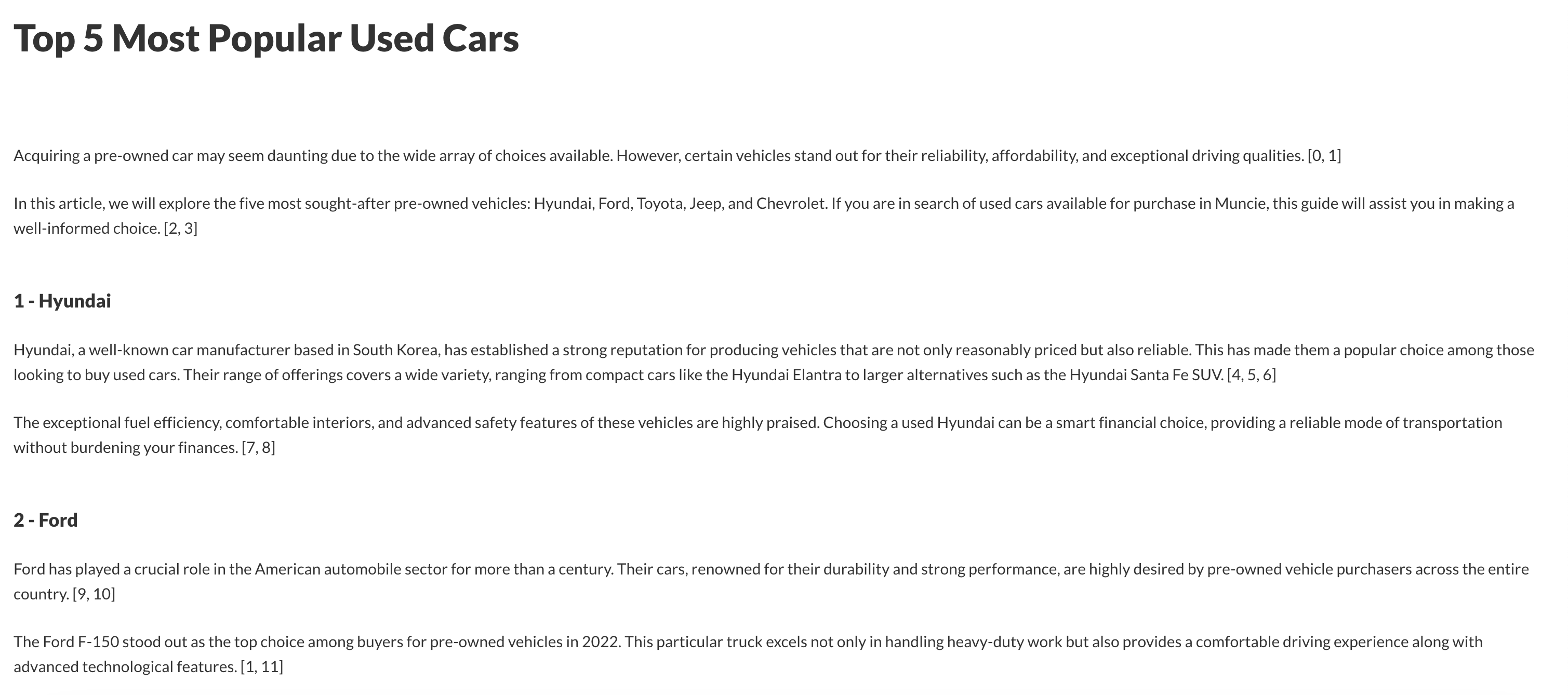 This time, it listed all five cars from the original article, and I found the final product to be really solid.
In addition, I checked for plagiarism, and it turned out to be 100% original and plagiarism-free.
Experiment #4: Topic Suggest
For my last experiment in this AI Writer review, I used the "Topic Suggest" tool. I entered "Universal Studios Tickets" into the search bar and got this result.
It provided me with relevant topics and the search volume for each topic on Google & Bing.

After selecting "Universal Studios Tickets Costco," I was redirected to the main page to opt for a '1-Click' or 'Tailor Made' article.
This was a bummer, as I hoped there'd be more to it. I'm not sure exactly what the value is in knowing the search volume of these relevant keywords without a solid plan on what to do with them.
AI Writer Alternatives
Here are some of the best AI Writer alternatives on the market.
Jasper
Jasper stands out as a superior choice in the AI content writing arena. It's got a massive selection of templates that can help with all kinds of writing needs.
Whether writing content for social media posts or crafting ad copy, Jasper covers all bases. Its broad functionality appeals to a wide audience, from small business owners, bloggers, marketers, creatives, and more.
Users have lauded its transformative impact on their content creation process.
This makes it not only efficient but also innovative. So many incredibly useful features are jam-packed into this software that I could write a book listing them out.
So, if you're seeking an AI tool that delivers incredible quality with unending versatility, Jasper is incredible. Check out this complete Jasper AI Review to learn more.
Anyword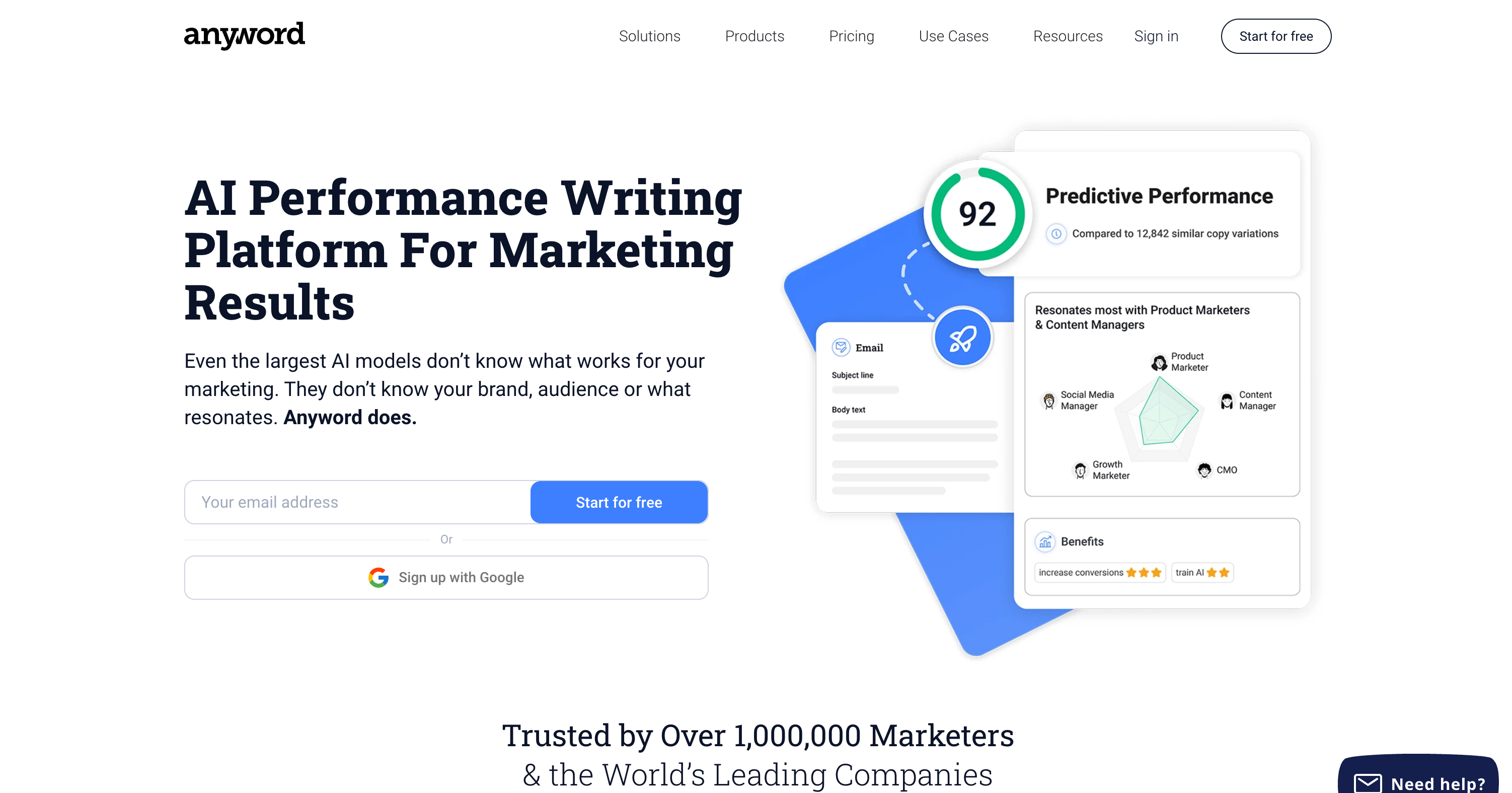 Anyword is a user-friendly AI writing tool great for marketers and content creators.
It generates engaging, varied text for different platforms and formats, including blog posts, social media, and emails.
It offers keyword suggestions and performance predictions. It's best for short text pieces, and advanced features require a Data-Driven plan upgrade.
Also, integrating with other tools needs APIs. Here's a full Anyword Review where you can learn more.
Writesonic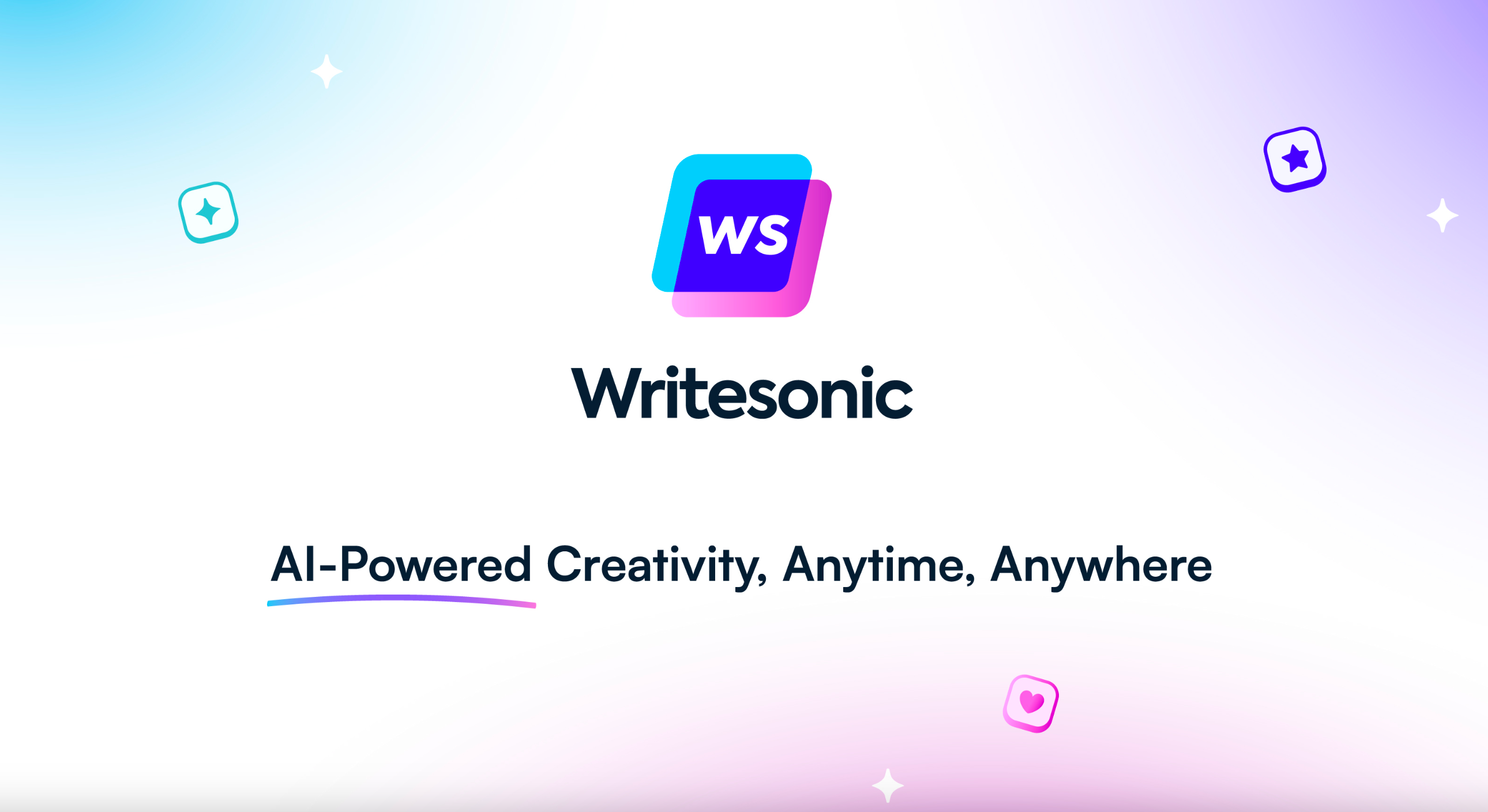 Writesonic is one of the top-rated AI writers, even by Linkedin. This distinction positions it as a leading solution in the market.
It's perfect for people who aren't tech experts, as it simplifies content creation. Writesonic is excellent at generating high-quality marketing and long-form text quickly.
It's perfect for business-related content, making it ideal for startups, eCommerce, and agencies.
Writesonic can generate ideas, create intros and outlines, rephrase and expand content, fix grammar, check readability, and more.
It's easy to use, has awesome customer service, and a strong community of users. It uses a credit system for pricing, with different packages available.
Learn more at this complete Writesonic Review.
AI Writer Review: Concluding Thoughts
As we navigate our tech-driven world, content creation tools redefine how we write. AI Writer is an advanced tool that can become your trusted ally in pumping out fresh content.
We've unpacked its features, and I've shared my personal experience with it. If you're looking for alternatives, there are other writing tools on the market to choose from that are fantastic.
While content writing tools can't replace human writers, solutions like Writer AI can make your writing easier and more engaging for your readers.
So, if you're ready to transform your writing process, try AI Writer for free. It could be just the tool you've been looking for.
.