Are you a college student looking to earn extra money but don't have time to get a part-time job? Reaching financial stability while studying is tough but not impossible, and these passive income ideas for students could be your golden ticket!
Passive income is a source of revenue that keeps flowing into your bank account even after the initial work is complete.
This means it's an ideal source of income for college students to focus on, as you can support yourself, have money for books and extra activities, and still have time to study and have fun!
Best Passive Income Ideas for Students
Thanks to the internet, there are many different ways to generate passive income in your spare time as a college student.
Focus on one passive income idea at a time, and when it starts to earn money consistently, you can turn your attention to a new passive income opportunity to continually grow your income.
Read on to learn about the best passive income ideas for students.
1. Start a Blog
An excellent way to earn passive income as a student is to start a blog.
You can share your expertise or passion on a subject and write articles to educate others. Choose a niche for your blog that aligns with your interests or target audience.
A few ideas include:
Recipe blog
Fitness and health
Tech reviews
Student life
Hair and makeup
Once you have your niche, start to consistently put out content and promote your articles on social media.
As your blog gains traffic, you can use various blog monetization strategies to start earning passive income.
While blogging does take some initial effort, over time, it can become a top money maker.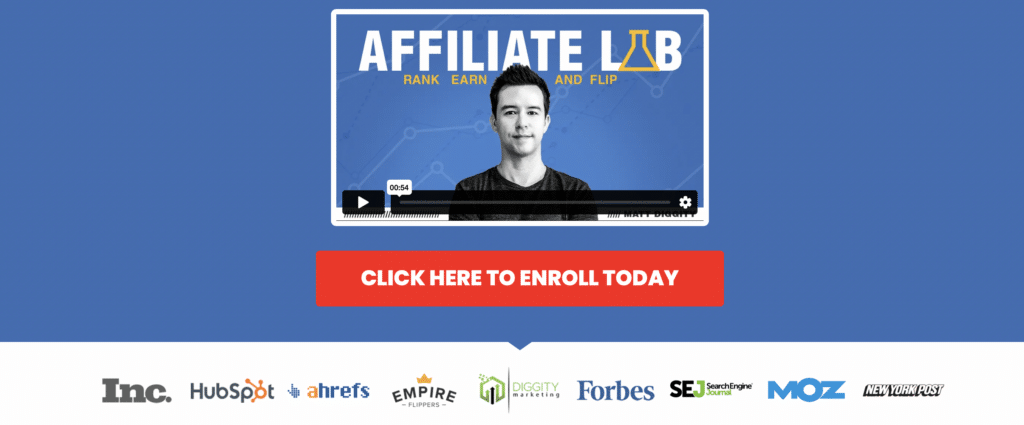 Learn more in the Affiliate Lab taught by Matt Diggity. This course teaches you how to start, grow, rank, and monetize affiliate sites.
---
2. Affiliate Marketing
As an affiliate marketer, you're tasked with promoting products and services from different companies in exchange for a commission.
This is one of the best passive income ideas for students because you can do the work when it suits you, in between classes, or late at night if that works better.
Affiliate marketing goes hand in hand with blogging, as you can promote affiliate products to the readers of your site.
However, you don't need a blog to get started with this passive income idea. You can make money on social media with affiliate marketing, as long as you have an engaged audience.
Check out these companies to find affiliate partnerships:
Awin
CJ Affiliate
ShareASale
FlexOffers
Learn more in this affiliate marketing for beginners guide.
Take a look at the Affiliate Lab for the exact steps to build, rank, and monetize affiliate sites.
---
3. Sell Stock Photos
Content creators and businesses are always in need of stock photos to use on their blogs, social media accounts, and marketing materials.
If you have an eye for capturing great imagery, you can start earning passive income from this talent.
A few of the best places to sell stock photos online include:
A few popular photo themes that sell well are nature, landscapes, food, technology, fashion, and portraits.
This is one of the easiest passive income ideas because once you've taken photos and uploaded them for sale, they can be purchased over and over again with no more effort from you.
Interested in selling photos on a larger scale?
Learn how to start a stock photography website that earns money around the clock.
---
4. Educational YouTube Channel
Starting a YouTube channel is one of the best passive income ideas for students.
To get started, you should find your YouTube niche and create content that either educates, entertains, or both!
A few profitable channel ideas include:
DIY tutorials
Product reviews
Video game walkthroughs
Meditation
Fitness
Cooking and recipes
Illustration and animation
And the good news is that you don't even have to show your face if that scares you! Take a look at these faceless YouTube channel ideas that really work.
Once you have your YouTube channel and start getting a decent following, you can monetize it with advertising, affiliate marketing, and influencer sponsorships.
You can even make money on YouTube without making videos!
---
5. e-Commerce Business
Anyone can learn how to make money with e-commerce, even with zero experience selling online.
As a student, this is an excellent passive income strategy because once your store is set up, you can earn money 24/7 and automate the majority of tasks needed to run the business.
This means more time to focus on your studies and have time with your friends!
To get started, explore e-commerce niches and choose one that is profitable and you're passionate about. A few ideas include:
Pet products
T-shirts and mugs
Home decor
Eco-friendly products
Fashion and jewelry
Take a look at these niche e-commerce websites to see what's working.
Next, you need to set up your store on a platform such as Shopify or BigCommerce. These sites give you all the tools you need to start, run, and grow an online store quickly.
Learn more in this Shopify review and BigCommerce review.
---
6. Print on Demand Store
Print-on-demand is a top way to earn passive income as a student that can become a lucrative income stream.
Companies such as Printify and Redbubble work as the middleman between creators and people who want to purchase merchandise.
All you need to do is upload your designs to a print-on-demand site, select which items you want them to be printed on, and when a customer makes an order, the company takes care of printing, delivery, and customer care.
This means you can enjoy earning passive income every time you make a sale without having to do any more work!
A few items that sell well for print-on-demand include:
T-shirts
Hoodies
Caps
Phone cases
Mugs
Backpacks
Check out these print-on-demand business name ideas for inspiration.
Learn more in this Printify Vs Printful review.
---
7. Vending Machine Business
With the global vending machine industry predicted to hit $129.4 billion by 2030, this is a passive income idea worth looking into.
You will need to make an upfront investment to get your vending machine business off the ground.
However, you can start with a single machine that costs around $2,500, and once you start earning, you can re-invest your profits and buy more machines.
But well-placed machines can earn hundreds of dollars each week, so you can get your investment back quickly!
A few popular types of vending machines to get are:
Snack vending machines
Hot beverage vending machines
Cold beverage vending machines
Small toy vending machines
Once you have your machine, you must decide where to put it and approach the business to strike a deal.
If you still feel stuck, check out this article detailing how to start a vending machine business.
---
8. Sell Online Courses
The e-learning industry is booming, with many people choosing to learn online rather than in a traditional class setting.
If you have a niche talent such as drawing, painting, public speaking, creating websites, building social media accounts or anything else, you can earn passive income by creating and selling your own course.
You could even create a course related to college and help your fellow students to:
Study
Pass exams
Talk to girls
Organize themselves
Excel in a particular subject
Once you've recorded your course, you can sell it on popular platforms such as Skillshare and Teachable.
Check out this Teachable review for more information.
---
9. Start Investing
Investing is one of the best passive income ideas for students, and you can start with small amounts to learn the ropes.
One great way to start as a beginner is to use robo-investors that make suggestions according to your preferences to help you grow your investments.
Check out the Acorns app, which rounds up your purchases to the nearest dollar and invests your spare change. No prior investment knowledge is needed as it's done for you automatically!
Different types of investments to consider include:
Real estate investments
Mutual funds
Stocks and shares
Exchange-traded funds (ETFs)
---
10. Rent Out Storage Space
Do you have a spare room, garage, or storage space currently not in use?
If yes, this can be rented out to generate income. This is a great passive income idea for students, as it'll make money almost immediately if you market it in the right place.
Check out the following platforms to make money renting space:
Neighbor.com: Best for renting out garages, bedrooms, and storage facilities.
StashBee: Best for renting out unused storage space.
SpotHero: Best for renting out your parking space.
---
11. Advertise on Your Car
Advertising on your car is one of the best passive income ideas for students because you can earn while driving around in your car like you normally do.
All you need to get started is to contact a car advertising company, such as:
Visit the car advertising website and follow the sign-up process. Once they learn about your driving habits, your car will be wrapped with ads, and you'll earn passive income each month.
Car advertising reportedly makes drivers between $181 and $452 a month, which is nice, considering you don't have to do any extra work.
---
12. Rent Out Your Gadgets
As a student living in the digital age, you probably have a few gadgets lying around that don't get used anymore.
If so, these can be turned into passive income streams by renting them out on dedicated rental sites like the Fat Llama.
A few items that rent well include:
Drones
DJ equipment
Projectors
Electric scooters
Camera equipment
Depending on the type and quality of the item, you can earn between $20 – $400 a day, which is a nice little earner while still in college.
---
13. Sell Your Class Notes
Are you great at taking class notes and have tons of old ones lying around? Then don't throw them away just yet!
These can generate passive income if you sell them to others taking the same courses or who might need extra help with the same subjects.
Take a look at sites like Study Soup and Documerit, which provide a safe platform for students to buy and sell notes online.
Some elite note takers earn up to $500 per course, selling notes on Study Soup!
---
14. Peer to Peer Lending
Peer-to-peer lending is a risky way to earn passive income, but if you manage your risk and only lend to those with strong credit ratings, this can become a lucrative side hustle.
To get started, you need to:
Choose a peer-to-peer lending site
Pay some money into the account
Set the interest rate you'd like to receive
Lend an agreed amount of money for a fixed period of time
The passive income you make depends on the amount borrowed and the interest rate that's been set.
---
15. Survey Sites
While taking surveys isn't a completely passive way of earning, it's extremely easy, and there are many surveys that pay cash instantly, so you always have money rolling in.
When you have a few spare minutes between classes, you can take surveys and earn between $1 – $5 for each.
Take a look at these survey sites worth your time:
Make even more money with this big list of the best survey sites.
Final Thoughts on Passive Income Ideas for Students
At the end of this list of passive income ideas for students, it's now over to you to put in the work up-front so you can enjoy extra cash when things start to gain traction.
Have a think about the skills and resources you already have.
If you have cash to invest upfront, peer-to-peer lending, investing, or starting a vending machine biz could work for you.
If you have minimal capital, leverage your time by starting a blog, YouTube channel, affiliate marketing, or selling online courses.
Or, if you have assets such as space, gadgets, or your class notes, these can be dusted off and turned into income.
And remember, there's no limit to the amount of passive income you can make!
Set up one income stream, perfect it, and move on to the next, and you'll be leaving college debt-free and stress-free!
Want more ways to make money as a student?
Check out these simple and fun ways to make money in college.