In this blog, I am going to discuss WP Event Manager Plugin Review 2023.
WordPress offers several plugins that allow you to include events on your WordPress site and you can get many features.
Event management features like an event calendar, event registration, or a designated events page, by using a single event management plugin.
One such efficient plugin is WP Event Manager, which you can find for free in the WordPress Plugin store.
So, if you are looking for a solution that helps you seamlessly manage your events on your WordPress website, then you are reading the right post.
In this post, we will give you an expansive overview of the plugin, its features, setup, usage, and more.
WP Event Manager Plugin Review – A Quick Intro!
The WP Event Manager is a free plugin developed for WordPress users who are looking for free and reliable solutions for efficiently managing online events on WordPress websites.
This is a free, feature-packed plugin with an option to add premium add-ons if you want.
WP Event Manager was developed by a team in Germany and highly trusted and recommended across the WordPress platform, and currently has over 7,000 downloads with a staggering 5 out of 5-star rating on the WordPress Plugins Store.
Silent Features of WP Event Manager 
As mentioned earlier, the WP Event Manager Plugin is one of the most feature-rich plugins of its kind.
Users and critics have praised this plugin to be perhaps the best free plugin available on the WordPress store.
It is smooth, lightweight, and easy to use. But before we get into how you can use it, let's first quickly go through some of the key features that the plugin currently offers.
Easily drag and drop your events with shortcodes anywhere on your WordPress site 
 

Templates for your WordPress theme
If you are looking forward to integrating your template more tightly into your WordPress theme, you get instant access to plenty of template tags.
The plugin is fully compatible and responsive with cross-browser support like Google Chrome, Safari, Mozilla Firefox, etc.).
The plugin has been designed keeping the aspect of SEO in mind and is fully compatible with popularly used SEO plugins like All In One SEO, Yoast, etc.
 

Multiple language support
Use the plugin in your preferred or native language, thanks to its multilingual support
With the WordPress interface, you're already familiar with, you can add, manage, and categorize event lists.
 

Preview and manage events
As you do for WordPress updates, you also have the option of previewing any event before you make it live on your website. Associate the activities with an email address or website address where participants can register.
 

Smooth browsing and filtering
Driven by AJAX, which means a seamless browsing experience, everything can be searched and filtered.
 

Widgets to stay up to date
For all items, such as future activities, featured events, and recent events, widgets.
It completely supports third-party WordPress caching plugins as well as server-level caching from WordPress hosts such as Kinsta that are managed.
One thing very good about WP Event Manager is that the creators have designed this plugin keeping developers in mind.
All are coded to standard and along with endpoints and template files, the plugin uses custom post forms.
There is also a debug mode, and also bootstrap compatibility with the plugin. In addition, it is also completely customizable and supports overrides for templates.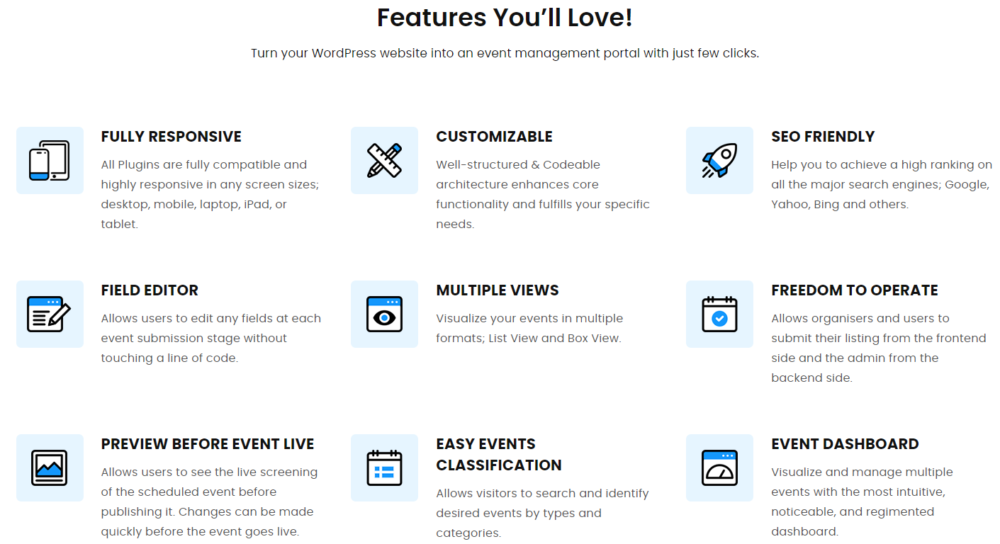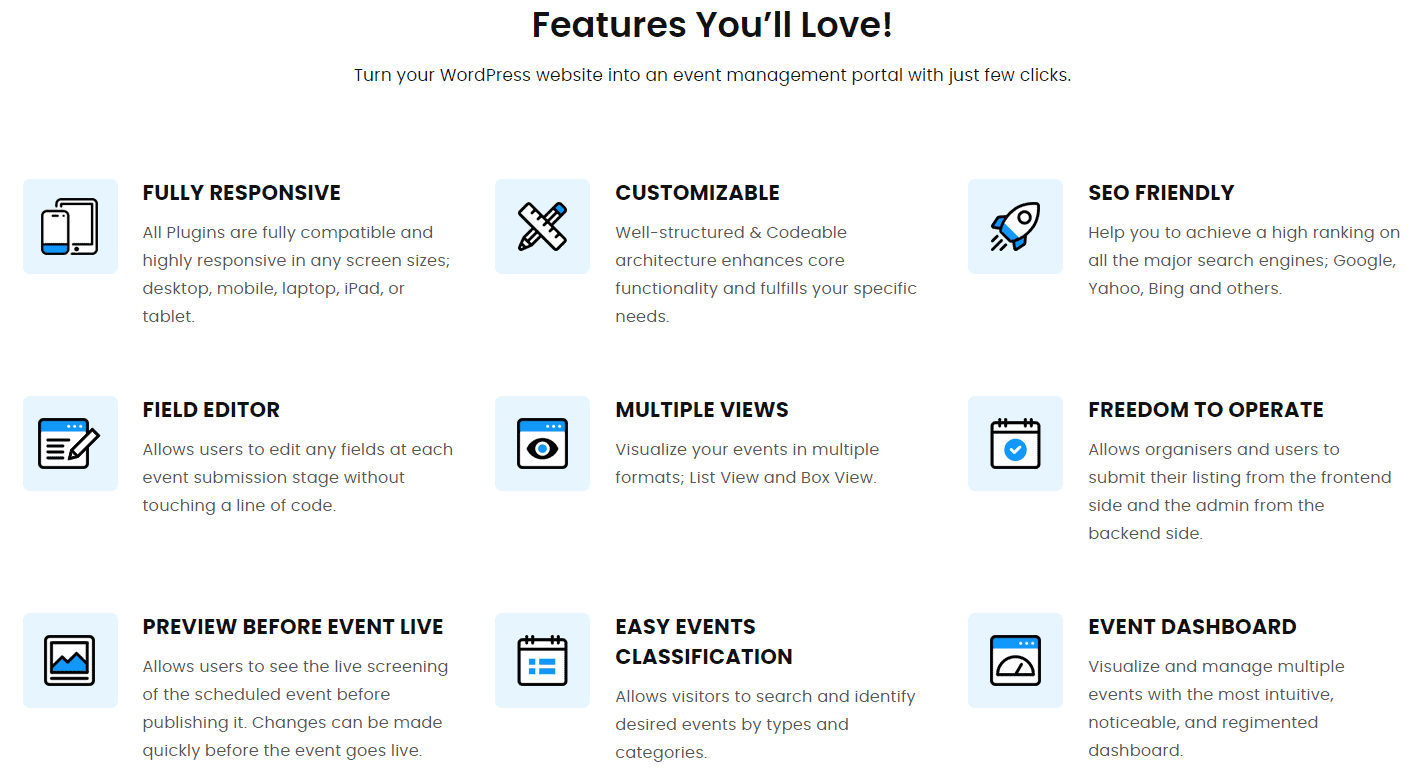 Setting Up WP Event Manager Plugin
The first and foremost thing you will like about WP Event Manager is that it is extremely easy to use!
Getting started with the plugin is quick and easy.
This is one of the very few event management plugins that is very organized and has a very flat learning curve.
Plugins like these are expected to have numerous features built into them. So, the developers of WP Event Manager have played it really smart on where the things should be put.
Coming to the setup, everything is quite simple. All you have to do is just follow the following two steps and you will be up and running with the plugin in no time.
Step 1 – Download the Plugin
There are two ways of downloading WP Event Manager.
You can either directly download it from their official website or on your WordPress dashboard, just go to "Plugins → Add New" and install it. The latter way to install WP Event Manager is easier.
Step 2 – Activate the Plugin
Once you have successfully installed the plugin, search for "WP Event Manager" and hit "Activate"
Creating an Event
Once you have activated the WP Event Manager, you are ready to start creating events for your WordPress Website.
Let's talk about how to create events using this plugin.
Configure Important Plugin Pages
     

Once WP Event Manager has been installed and activated on your site, the plugin will automatically start an installation wizard.

     

You can also choose to skip this by hitting the requisite button, but if you want to set up the plugin correctly, we recommend you go through the process.

     

So, simply click on "Continue to page setup". This will lead you to the screen where you can start creating pages.
Create Pages
     

At this point, you can customize which pages the plugin should build as well as their names. You have the choices like Event submission form, Event dashboard, Events.

     

Setup as needed and move on. Don't worry, if you think you made a mistake, you can make improvements to it easily later.

     

The final page clearly includes a message of progress as well as links in the documents to sign the next steps.

     

You also get some references to locations where you can support the WP Event Manager's further growth.

     

Furthermore, when you go to your Pages menu now you can find the pages you just created there.

     

You will see when you click on each of them that the shortcode has been applied to them automatically.

     

Keep this in mind if you want to use those components of the plugin in other locations on your web.
Create a New Event
     

After setup, a new menu item called Event Listings can be located on the left sidebar. When you click on it, you get to the currently empty list of events you have made.

     

Click on Add New at the top to build one. You can also get there by directly using Event Listings > Add New. Any of them takes you to this screen:

     

Anyone who has worked for a while with WordPress can easily find their way around the screen.

     

At the top, you can enter a name for the event and then fill it in the editor below with content.

     

Here you have access to all the normal formatting options, including inserting images.

     

You can configure an organizer logo on the right, which is like a featured image for your event and will show up prominently.
Configure Event Data
Now that you have almost created your event, there is one important part left to do. That is to configure the details concerning your event. You'll find the options for these at the bottom.
This is the most important part of creating an event and you will have access to the following options:
     

Organization Name

     

Organizer Description

     

Online Event

     

Venue Name

     

Organization Email

     

Address

     

Facebook

     

Registration Email/URL

     

Start Date

     

Start Time

     

End Date

     

End Time

     

Link to Event Page
**And more!
Once you have filled in all the necessary data, you will find an option "Publish".
Click on it and will instantly publish the event to your website.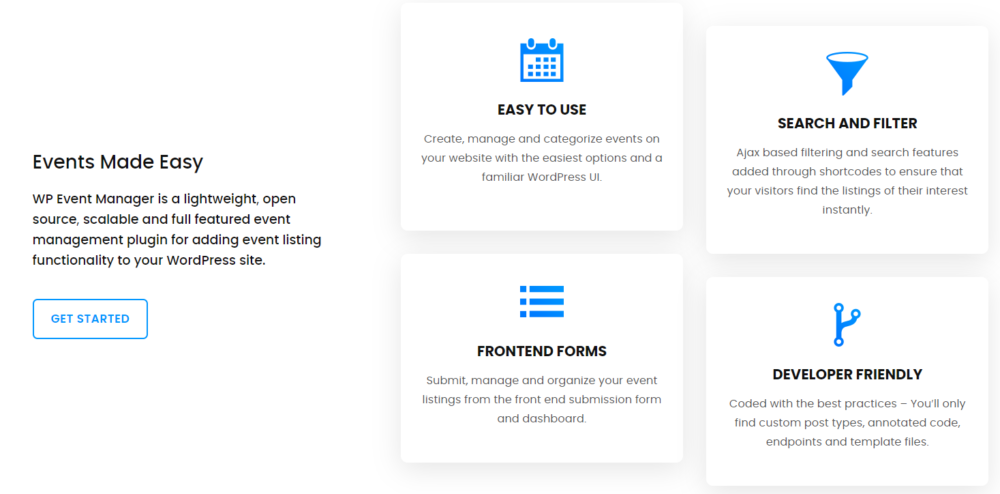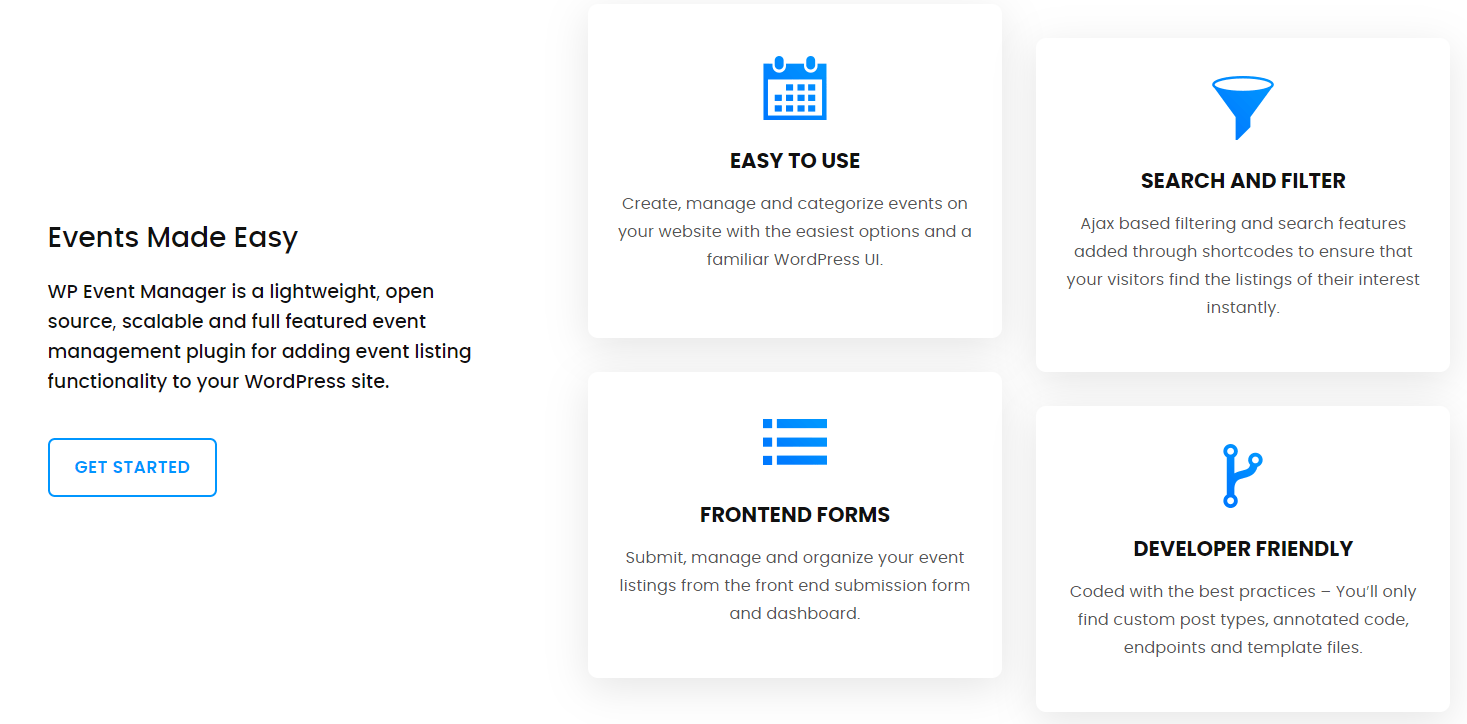 Who can use WP Event Manager?
Now that you have seen how easy it is to set up WP Event Manager and create events with it for your WordPress website, you would be interested to know who all can use this cool plugin and benefit from it.
So here is a quick list of who all can use this plugin and for what type of events:
     

Organize a local meetup.

     

Hosting a marathon or cycle race.

     

Sell tickets for an event.  (You can use the WP Event Manager WooCommerce add-on for this).

     

Educational or marketing conferences by a reputed speaker.

     

Charity events

     

Dance or theatre performances in your town.

     

Tour events or concerts with your musical group or band.

     

Sports gym with fitness events, weekly exercise programs.
These are just a few examples of when and for what all you can use this plugin.
Basically, WP Event Manager is ideal for anyone who is planning to organize a medium to large scale event on a public scale, that can be given a countdown and requires people participation.
This plugin can really be used for just about any type of event you can think of.
You can even use WP Event Manager more like a framework if you develop WordPress themes.
You can make money from it by seamlessly integrating the plugin with your WordPress theme and letting your customers know.
Optional Addons (Paid) for WP Event Manager
In general, WP Event Manager is a FREE plugin, and you get instant and unlimited access to all of its features absolutely free of cost.
However, the plugin does also offer many paid addons which you can purchase to add some additional functionalities to the already feature-rich plugin.
You can simply go to Event Listings > Add-ons and find a number of them in your dashboard.
Once you click on "Add-ons", you will be redirected to the official WP Event Manager shop, where you also find all the available addons like:
     

Google Map

     

Sell Tickets 

     

Calendar 

     

Event alerts

     

Registration

     

Paid listings
The prices of these add-ons range from $19 to $99 if you are looking to purchase a developer license.
You also have the option to buy all these addons as a bundle, which will cost you $235.
If you do so, it will save you more than half the money it will cost you if you intend to purchase each add-on separately.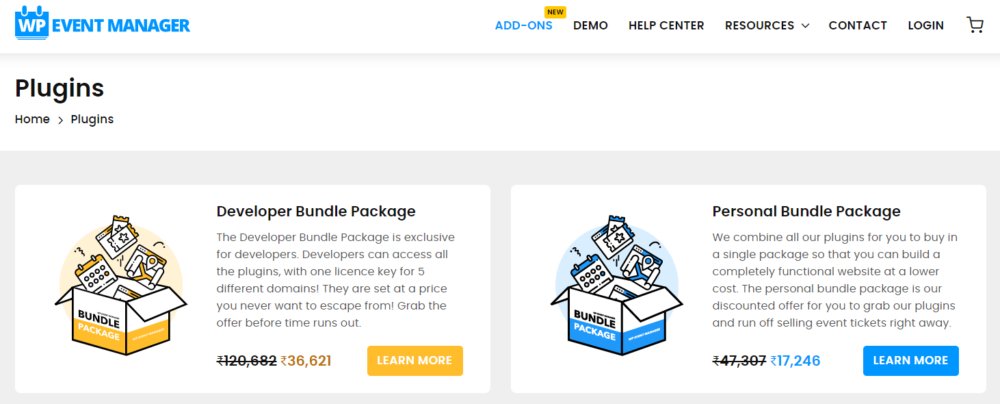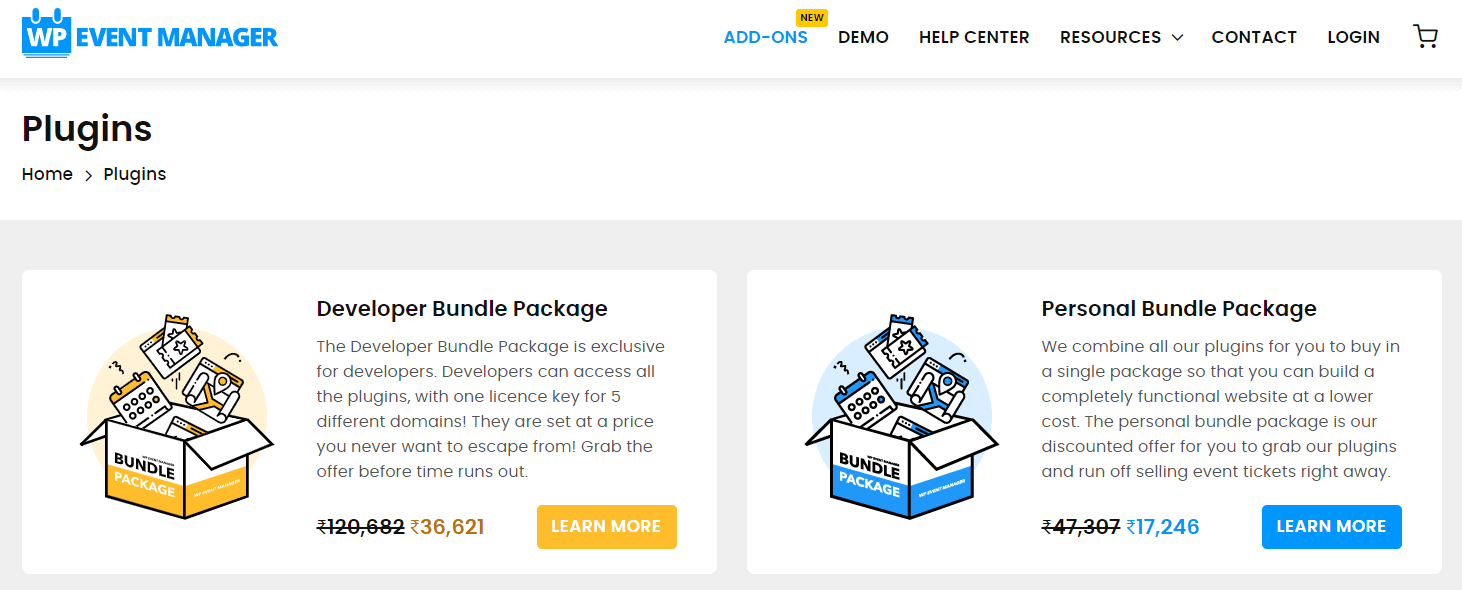 Support | WP Event Manager
When it comes to free plugins in the repository, one thing I always look for first is how open the support team is.
I was shocked when 100 percent of the tickets on their help forum were answered.
So, you can rest assured that if you have trouble, these developers can get back to you.
And of course, if you buy a premium add-on, direct assistance is also separately included.
And speaking of assistance, this also means providing excellent documentation. As a writer myself when developers take the time to lay out all their documentation, I really appreciate it.
Many of us who are crazy busy really want our own time to do stuff.
At 1 am who wants to build a help ticket and then have to wait?
Oh, nobody. It is always super helpful to read a short tutorial! If you check out the documentation area of WP Event Manager on their website, you can see that someone has taken the time.
Is WP Event Manager Worth It?
There are countless free event management plugins available on the internet, some of which I have personally used for my website.
But without having to pay a penny, I believe that WP Event Manager really does deliver quite a bit.
And if you intend to buy a premium add-on, you can certainly install this plugin and get a better idea of how to use it beforehand where things are, etc.
It has all the features that you need on your platform to build and manage event listings. It also comes with sophisticated alternatives that allow you to generate income with them.
Quick Links
FAQs | WP Event Manager Plugin Review
How do I set up WP Event Manager?
View the getting installation and setup guide for advice on getting started with the plugin. In most cases, it's just a case of adding some shortcodes to your pages!
Can I use WP Event Manager without frontend event submission?
Yes! If you don't set up the submit_event_form shortcode, you can just post from the admin backend.
How can I customize the event submission form?
There are three ways to customize the fields in WP Event Manager; 1. For simple text changes, using a localization file or a plugin such as Say What. 2. For field changes, or adding new fields, using functions/filters inside your theme's functions.php file: Read more. 3. Use a 3rd party plugin that has a UI for field editing.
How can I be notified of new events via email?
If you wish to be notified of new postings on your site you can use a plugin such as Post Status Notifier.
Conclusion | WP Event Manager Plugin Review 2023
WP Event Manager is a lightweight, scalable, and full-featured event management plugin for adding event listing functionality to your WordPress site.
The shortcode lists all the events, it can work with any theme and is really easy to set up and customize.
The settings pages let you select how you want the event displayed.