In the digital world, the best site search software for your platform can make or break your online success. Whether you're a beginner or an advanced user, finding a powerful and affordable platform is crucial.
So, we've rounded up the 11 best site search software options to help you find what you're looking for.
From budget considerations to UX to analytics, each of these diverse options will help you unlock the potential of your website's search functions.
These 11 options are all great tools to help you get the most out of your website. Read through the specs to choose which one is best for you:
1. SearchSpring
SearchSpring is one of our favorite site search tools. It's made specifically as an intelligent site search solution for eCommerce retailers.
This enterprise search software comes with a unique combination of predictive visual autocomplete. This includes natural language processing and visual merchandising capabilities. These help site visitors effortlessly find their favorite products on your site, which often leads to more sales.
It even offers search previews, eliminating the need for page redirection to verify search accuracy.
Key features of SearchSpring include:
Advanced search functions: Utilizing natural language processing for quick and precise search results.
Customizable sorting options: Allows shoppers to browse your products based on criteria like price, size, or category.
Shopper scenario mapping tools: Helps entrepreneurs set up and manage real-time product recommendations based on user behavior.
In-depth analytics: Tracks customer browsing behavior and most searched products, providing data-driven insights to enhance marketing efforts.
Pricing for SearchSpring ranges from $599 to $999 per month, depending on desired features and functionality.
2. AddSearch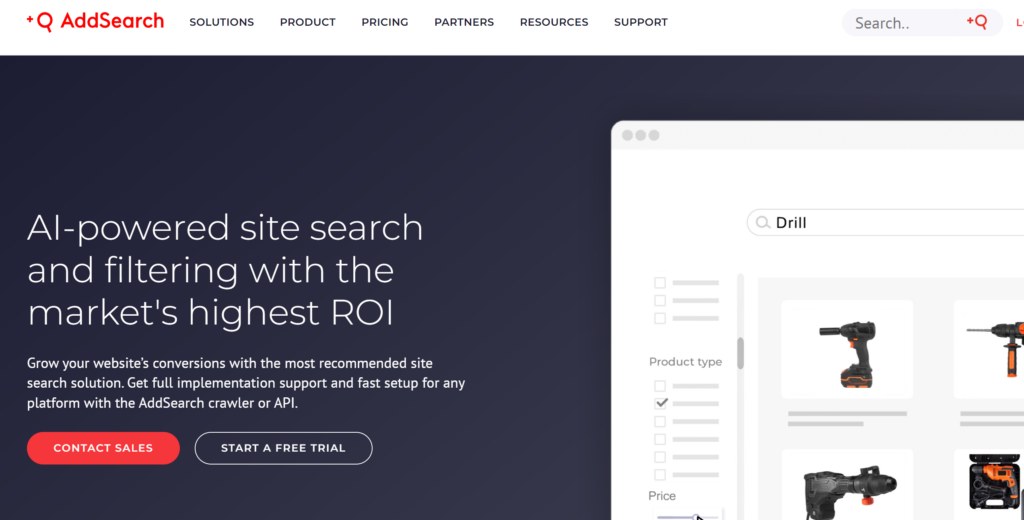 AddSearch is a popular and versatile site search tool that works for both websites and apps. The company offers relevant website search results that reduce customer service costs.
A few impressive features AddSearch offers are real-time reporting of website visitors, multilingual support, mobile capabilities, and unlimited access to your analytics history.
Here are a few benefits that this AI-powered search engine can offer:
More sales: AddSearch can help your website sell more by letting you customize search results.
Total control: You can tweak your search results to show the most relevant pages to your visitors.
Works on all devices: AddSearch adjusts its layout to work well on any device, like phones or laptops.
Understand your users: AddSearch lets you see what your users are looking for, helping you improve your content. It can also work with Google Analytics for even more insights.
Pricing starts at $99, and a premium plan costs $499. For those with enterprise search needs, message Addsearch for a customized quote for this search tool.
3. Elasticsearch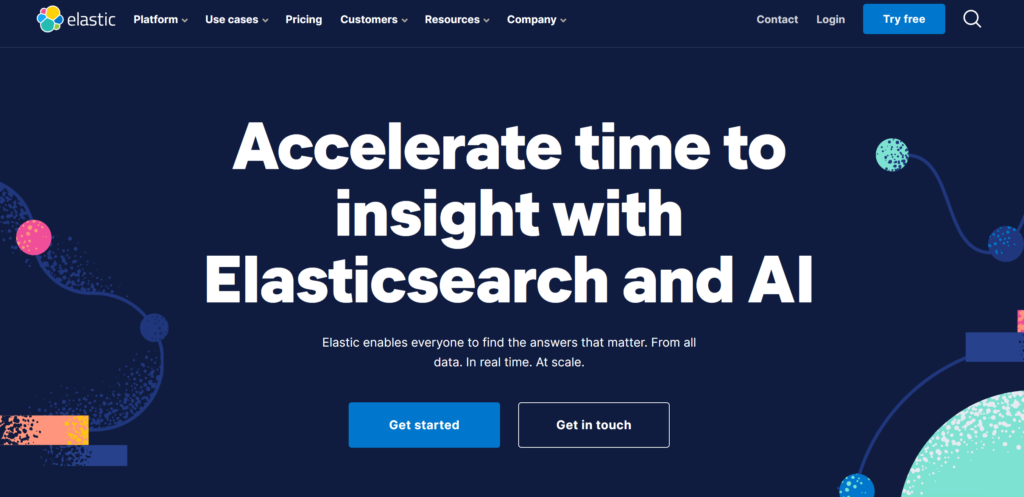 Elasticsearch is a cloud-based site search tool that's super easy to manage and can scale up or down, depending on what you need. It's like a Swiss Army knife for data – it lets you store all your data in one place, dig into it with different types of searches, and even analyze it to spot trends or patterns.
Some features we like when it comes to Elasticsearch include:
Various search types: Whether you're doing structured or unstructured searches or even geodata and metric searches, Elasticsearch can handle a variety of search queries.
Speed and flexibility: It doesn't matter if you're working off your laptop or running a 300-node cluster; Elasticsearch adjusts accordingly. It's quick and distributes your data and queries consistently and automatically.
Extra features: With the Elasticsearch Xpack, you can add a layer of security with usernames and passwords, identify anomalies with machine learning, and keep an eye on overall search performance.
Pricing starts at $95 a month and goes up to $175 each month for enterprise search software.
4. Luigi's Box
Luigi's Box is a user-friendly tool that's great for beginners and experienced web builders alike. It comes equipped with advanced technology such as natural language processing and machine learning. This means it can provide you with accurate search results with minimal glitching.
It also offers a suite of features, including multi-language support, a Google Analytics alternative tool for customer browsing baits, and typo correction.
Want to dig even deeper into search analytics? Luigi's Box offers A/B testing tools as well as ranking business metrics. It's well integrated with popular platforms like Shopify, WordPress, and WooCommerce, making it an ideal site search tool for eCommerce businesses.
It's one of the best site search software options because of its:
Typo and synonym features for more relevant search results
AI tracking of customer behavior for increased conversion opportunities
An easy, code-free setup and integration process
For pricing, you'll need to contact Luigi's Box for a custom quote. The company only provides custom quotes to avoid charging users for unused features.
5. Amazon CloudSearch
The well-known brand Amazon offers its own high-quality site search tool that's worth considering. This handy cloud-based service is easy to use and highly customizable and allows you to organize and search data quickly to make helpful adjustments to your site search engine.
The software is also secure and offers a multi-availability option that backs up your data in real time.
Here are a few additional highlights of the Amazon CloudSearch software:
One of the easiest site search tools to set up: As with other Amazon services, this tool is easy to set up and has automatic and default features so that you can get started quickly.
Highly scalable: The program instantly adjusts according to the size of your search index and the volume of search requests.
Customizable ranking: You can control the order of search results based on relevance.
Versatile search queries: It supports various types of searches and returns results in different ways.
Amazon CloudSearch offers a pay-as-you-go model with no setup fees or upfront commitments, where you're billed primarily for search instance usage and data transfers, while data storage on Amazon S3 is free, significantly reducing costs.
6. Cludo
Cludo, a site search tool powered by artificial intelligence, is designed for management and organization lovers. You'll get adjustable page rankings, cross-site searches, instant content updates, and adjustable page rankings.
This is the ideal search software for those who appreciate an easy-to-use design experience. It's sleek, intuitive, and accessible for site owners who don't have a technical background. Is blogging still relevant when it comes to search tools?
Absolutely, and Cludo is also designed to help visitors browse articles more effectively.
Some additional features of this site search tool include:
Cludo, powered by artificial intelligence, is a site search engine crafted for those who want to manage the search results their customers see. It comes with adjustable page rankings, immediate content updates, cross-site searches, and analytical tools to improve your content. Its interface is intuitive, eliminating the need for extensive technical knowledge.
Advanced search capabilities: With features like spell check, bigram matching, and smart autocompletion of search suggestions, Cludo ensures your website users can quickly find the information they need.
Insightful analytics: Cludo monitors searches and delivers comprehensive reports, enabling you to fine-tune your site search outcomes.
Smart 404 pages: Cludo improves upon 404 errors by suggesting relevant content alternatives when the required URL is unavailable, helping to avoid potential customer drop-offs.
Cludo offers customized packages starting at $5,000.
7. Coveo
Coveo is another popular customizable site search tool that has been around since 2005. It integrates with more programs than any other site search software on this list, including but not limited to:
Dropbox
Jive
Lithium
Office 365
JIRA
Atlassian
Google Apps
Sitecore
Salesforce
Here are some more perks you can expect with this powerful search solution:
Access to all information: Coveo allows you to automatically access all your content and products, no matter where they are located.
Broad connectivity: Coveo's wide range of connectors securely indexes each content source and application in your organization, whether they are on-premise or in the cloud.
Intelligent and self-adjusting technology: Coveo uses machine learning to analyze usage patterns, automatically anticipating which content will be most relevant to different visitors.
There is a Pro and Enterprise plan available, but you must contact Coveo for specific pricing of their search tool.
8. Algolia
Algolia is considered one of the best site search software options available and is well-known in the Saas and eCommerce industries.
Established in 2012 and based in San Francisco, Algolia is trusted by over 5,000 companies, including Under Armour, Twitch, Periscope, Medium, and Stripe.
Algolia does more than provide search suggestions and results; it offers predictive and intuitive interactions that immerse website visitors in a discovery journey through your content.
You'll love this site search tool for its:
Broad search capabilities: Algolia's comprehensive APIs allow teams to create custom search experiences across all platforms and devices.
Developer-friendly: Algolia provides simple tools to create fast, relevant search results. Its extensive FAQ documentation, robust community, and 24/7 support make it easy to get help when needed.
Highlighted materials: Algolia enables teams to highlight the latest and most relevant content, improving user satisfaction.
Unlike other site search tools on this list, Algolia offers a free plan. They then charge $0.50 per 1,000 search requests in their paid plan, offering additional features.
9. Hawksearch
Hawksearch is a cutting-edge search software most frequently used by developers, eCommerce platform owners, and content publishers. It offers an unparalleled search experience with tools like guided navigation and relevant search suggestions that keep your site visitors clicking.
Some of its impressive features include:
"Did you mean" feature: Hawksearch can interpret the intent behind user queries, even accounting for misspelled words or typographical errors.
Boost and Bury Rules: Hawksearch allows you to control search result placements, enabling you to customize product rankings for specific queries and promote preferred content.
Dynamic filtering: This customizable site search engine lets you narrow search results quickly and effectively, reducing the time it takes your users to find what they are looking for.
This custom search engine software will cost between $450 to $1250 a month, depending on the plan you select.
10. Prefixbox
Established in 2014, Prefixbox has almost a decade of experience boosting online sales with their search solution. It's ideal for eCommerce shop owners who need advanced site search tools.
This includes the ability to recommend related products, prioritize certain products of your choice, and integrate ads into your search results.
Prefixbox also offers:
Merchandising tools: Allows alteration of search outcomes for product promotion and ad placements.
Detailed analytics: Offers insights into shopper behavior, purchasing patterns, and keyword usage.
For pricing on this site search solution, reach out to Prefixbox for a custom quote.
11. Squiz
Squiz is a site search solution that has been around since 2000 and has been staying relevant by developing helpful search capabilities over the years.
It's one of the most advanced site search tools, and it also incorporates top-tier web governance tools like Content Auditor, Accessibility Auditor, and SEO Auditor.
It's the best site search software option for large organizations, government agencies, and academic institutions.
So why should you consider Squiz as your site search choice?
High-capacity: Squiz's Enterprise Search technology can index unlimited documents and manage complex queries.
Smart ranking: Uses over 70 factors and machine learning to tailor its algorithm to your site, delivering the most relevant content.
Customizable: Offers pre-built Stencils for quick, cost-effective deployment of search solutions, including social media content ingestion, geo-spatial search, and product promotion.
Squiz doesn't provide pricing on their site, so book a call to discuss a quote.
And the Best Site Search Software Is…
Ready for our opinion on the best site search tool option?
We love SearchSpring! It's the best site search software option because it's:
Scalable as your website grows
Beginner friendly but also equipped with advanced site search tools
Affordable in comparison to site solution tools that cost thousands of dollars, and offers an annual discount
Final Thoughts: Best Site Search Software
Finding the best site search software can feel daunting, but once you identify the features that matter the most for your search parameters, you'll be able to find the perfect solution that meets your needs and budget.
We recommend searching for reviews, asking customer service questions, and trying a few different search solutions before making an investment in the best site search software for you.