In this blog, I am going to discuss How to Change Font Style in WhatsApp 2023– Easy Trick
WhatsApp is one of the most used messaging apps in the whole world and it has over one Billion downloads in over 180 countries. It is very easy to install and use for free.
In this you can chat, you can share your photos can send your location to others or any relevant document to others.
Here you can also make free voice and video calls.
The set up requires you to grant it access to your contacts so that it will automatically populate your contact list.
There will be privacy and security to the user along with end-to-end encrypted chats.
WhatsApp always gets updated with funny things like you can add your stories and introduces various emojis which definitely give more fun in chatting with friends and family.
No, you can also pay money using WhatsApp to your family and friends which features in UPI.
WhatsApp Business is also there in the market so that you can chat with your clients easily.
Do you know you change the font of the text sent on WhatsApp?
Now bold, italicize, and strike through a text with these simple steps.
Here in this guide, you will know how to Change Font Style in WhatsApp. So let's started with the guide here.
Steps to Change Font Style in WhatsApp
Step 1: Open WhatsApp
Just unlock your phone and open up the Menu and open the WhatsApp application here.
Step 2: Tap Contacts
Here in the second step, just after opening WhatsApp open the contact list in the app.
Step 3: Select a Contact
All you need to do here is to select a contact and open it in WhatsApp.
Step 4: Scroll Down and tap Send Messages
In this step, you will have to scroll down the list and tap the contact to send them messages. It is basically located below the contacts information section.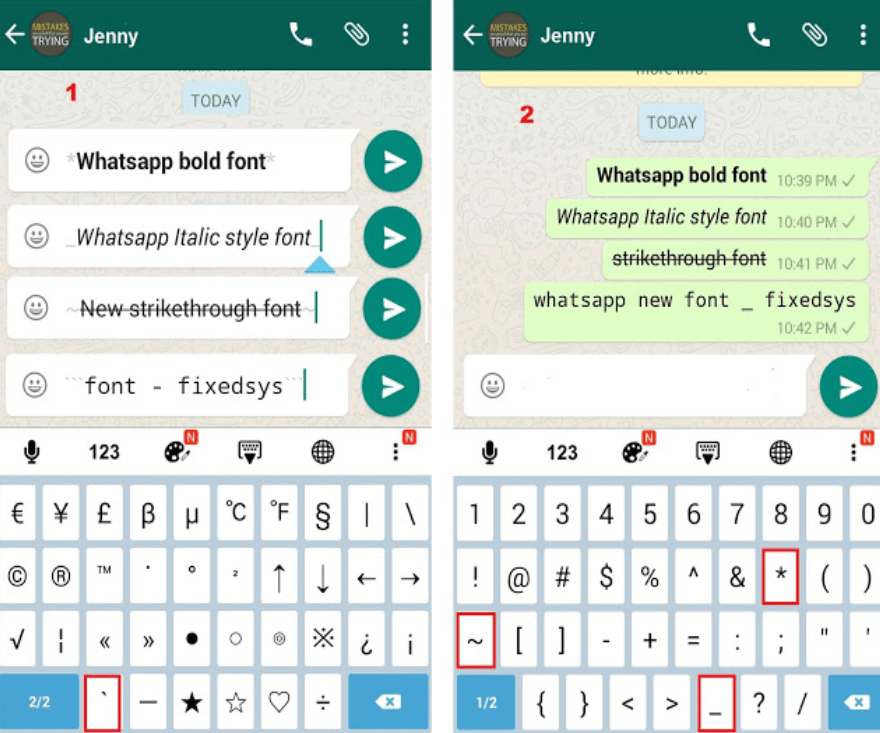 Step 5: Tap the Text Field
Now you will have to tap the text field which is basically at the bottom of the screen.
Step 6: Write your Message
Here you will have to write any message you want to send to your contact. Write anything, we should try to write WhatsApp here.
Step 7: Change the Text
This is the most important section of this guide, just to change the font style you will have to surround the text with specific symbols.
If you want to bold the text then, add an asterisk (*) just before and after the text. Suppose you want to write WhatsApp in bold then you should write it like this.
*WhatsApp* Don't use semicolons here.
If you want to italicize the text then, add underscore (_) just before and after the text.
Just to use WhatsApp new Fixed Syns fonts, then just type three backquotes (´´´) before and after the desired text.
For example ´´´ WhatsApp´´´ here this text will change to FixedSyns font.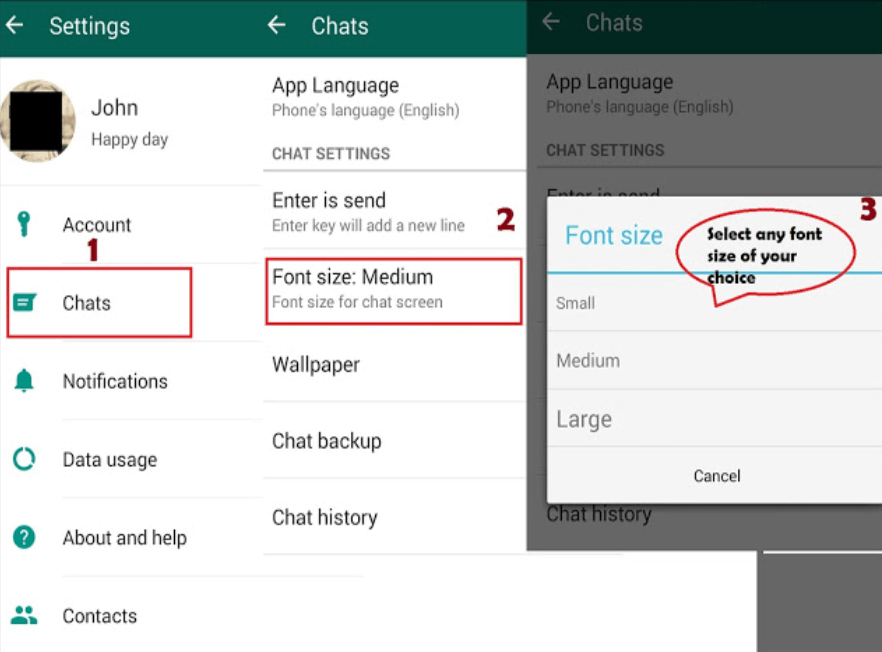 Step 8: Tap to Send the Message
Now, at last, you all need to send the message to your contact.
Here your message will be sent with the enclosed text has now changed.
The receiver will see the changed text instead of the formatting of the symbol.
Here, just when you will send the message you will be able to Change Font Style in WhatsApp.
Quick Links 
FAQs | Change Font Style in WhatsApp
🤙 How do you change the font style?
In the "Settings" menu, scroll down and tap the "Display" option. The "Display" menu may vary depending on your Android device. In the "Font Size and Style" menu, tap the "Font Style" button.
🙋‍♀️ Which font is used in WhatsApp?
Helvetica Whatsapp Font is → Helvetica®
🤷‍♂️ Which is not a font style?
A superscript is a character, symbol or number set slightly above the normal line of text. It is always smaller than the usual font and is typically found in mathematical or scientific formulas.
👍 How do I use the hidden font on WhatsApp?
WhatsApp has rolled out a new type of font which was earlier spotted in the beta versions of the app. This new font called FixedSys is similar to what Microsoft uses in many of their Windows applications such as Notepad. To write in this new font you have to use the ` symbol three times before and after the word.
Conclusion | Change Font Style in WhatsApp 2023
Now with these simple steps, you will able to Change Font Style in WhatsApp.
Just send the message in an all-new bold, italics manner and you can also strikethrough a text. When you will use these common tricks you may feel a more interesting chatting experience.
I hope you like this post. Share this post with your friends and family on trending social media platforms like Facebook, Twitter, and Google Plus.