We all like to know that we're getting what we paid for. And when it comes to paying for a grammar checker, quality couldn't be more important. 
In this detailed ProWritingAid Review 2023, I'm going to take a year's subscription to ProWritingAid for a test drive to see if it's worth the hype (and your hard-earned money).
We'd all love to be able to write flawless content first-time with no grammar, style, or spelling issues. Unfortunately for most of us, this isn't a reality—but there's nothing wrong with needing a little help along the way. 
To put forward flawless content for your audience, you need a grammar checker tool that goes beyond your average spell-checker. Could ProWritingAid be that tool?
Keep reading to find out how ProWritingAid works, why it's different from other editing software out there, and—most importantly—if it's worth your money.
Let's get started.
ProWritingAid Review 2023– Is It A Worthy Grammar Checker Tool?
Overview Of ProWritingAid
ProWritingAid is an incredible grammar checker and style editor for content writers, business writers, and novelists. Not only that, but it also helps you learn as you edit, building your vocabulary, and explaining the changes it suggests using videos, articles and quizzes.
This tool eliminates errors from typos to sentence structure mistakes, optimizes word choice, and lets you edit your punctuation and grammar at blazing speed so you can create flawless, engaging content with just a few clicks.
The best part? Despite boasting over 20 writing reports, all with their own tailored features and suggestions, it is actually pretty straightforward to use. All you need to do is upload your document and click on a report to start editing.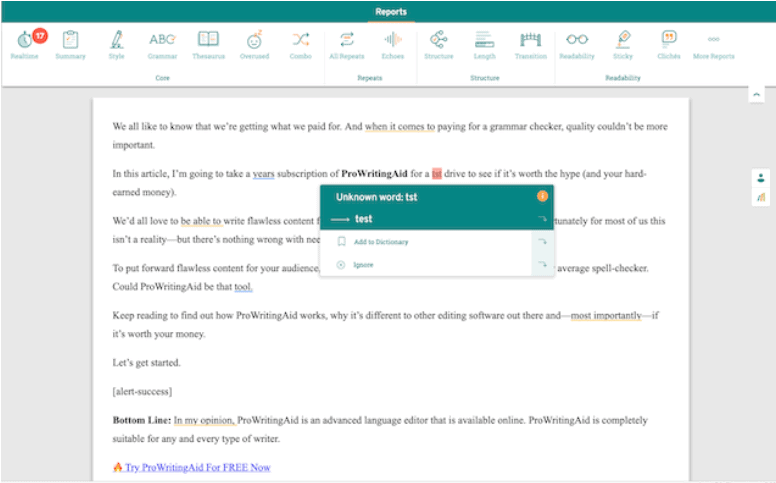 The ProWritingAid Reports
Every ProWritingAid user will use different reports to make their writing fit for purpose. Here are some of my favorites for when I'm writing articles and copy:
Realtime 
The Realtime report helps you fix grammar, spelling and style errors quickly. It scans your document as you write so you can edit on the go, which is handy when you're on a deadline. 
Style 
When I'm writing articles, clarity and readability is key. Sometimes we use complicated language or sentence structures without meaning (or needing) to. The Style Report spots words that you can omit or replace to make your sentences easier to read. This report also highlights passive verbs so I can change them to active ones, making my writing snappier. 
Cliches and Redundancies
Cliches are boring. We use them because they are familiar, but that means writers have used them hundreds of times before. This report highlights any cliches in your work so you can make sure your writing is fresh. 
If you're writing for audiences in different countries, this also prevents confusion when certain cliches get lost in translation. 
Repeats
We all have words and phrases we rely on when writing to help us get our point across. But for a reader, repeated words can distract. Instead of thinking about your next point, they'll be thinking: "Didn't they just say that?" This report gives me a list of all the words I've used multiple times so I can decide whether they're the most effective word to use. 
Sticky Sentences 
This is one of my favorite reports. Sticky sentences use lots of "glue words". These are the 200 most commonly used word in English like conjunctions, prepositions, and "to be" verbs
These words ensure your sentence makes sense—they "stick" them together. But when you use too many, they slow your reader down and hide your point. The Sticky Sentences report makes sure you're making the most out of every word you write.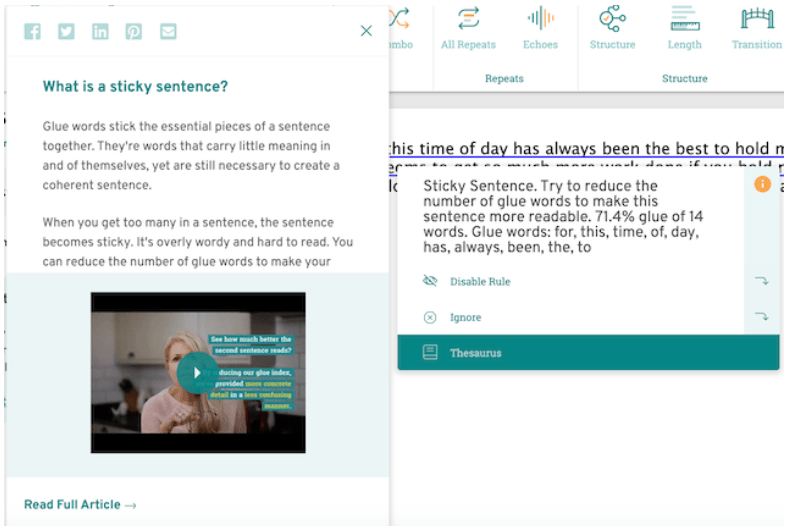 Pronouns
You know when you're writing an article and you want to make it as relatable as possible for your readers? Using pronouns like 'you' is great to include your reader in your article, but using them repeatedly can get old. ProWritingAid shows the percentage of pronouns in your document so you don't use too many. 
Consistency 
I write for a lot of different clients and audiences. This means I have to use different variations of English, different capitalization, punctuations and hyphenation rules—it's a real headache. The consistency report makes sure you use consistent spelling, punctuation and style throughout your document so you know it's ready to send to your client. 
Transitions 
Transitions guide you through an article, novel or report and stop you getting lost along the way. With this tool, you get a transition score for your document that tells you what percentage of your sentences start with or contain transitions. 
It recommends that 25 percent of your sentences should contain transitions. I like to run my articles through this report to make sure I've kept my reader in mind at every stage. 
Readability 
For your article to be successful, your reader has to be able to understand it easily. It might seem like a good idea to write complexly, but this will actually turn readers away. The Readability report helps me work out which parts of my document are difficult to read, so I know where to focus. When I'm working to a deadline, this helps me prioritize where I need to work to make the most improvement in the shortest amount of time.  
Acronyms
It's easy to forget to introduce an acronym when it's really familiar to you. "Of course my reader will understand what SEO means!" The Acronyms report makes sure you introduce your acronyms and then tells you if you have punctuated them differently throughout the article. 
Combo
The Combo report lets you create a set of ProWritingAid reports that you can run on every article you write.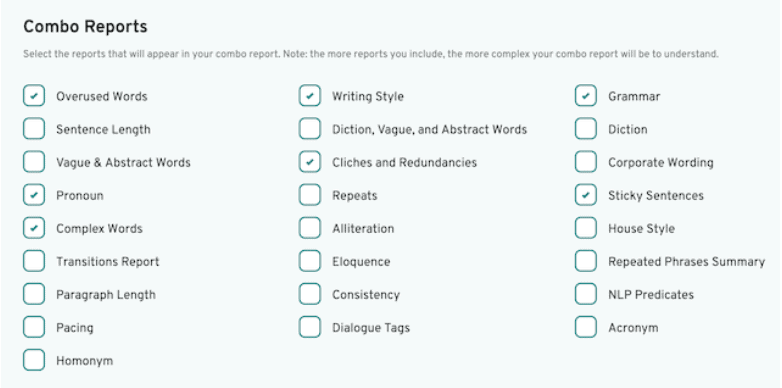 Just select your favorite or most used reports in your settings, then when you hit 'Combo' in ProWritingAid, they all run at the same time. This saves time waiting for each report to load separately and makes sure you don't miss anything. 
Where Can I Use ProWritingAid?
ProWritingAid has more integrations than any other app. Along with their own Desktop App for Mac and Windows, there is also a Web Editor you can use in your browser, an add-in for Outlook and Word, a Google Docs add-on, and browser extensions for Chrome, Safari, Firefox, and Edge. 
The Word add-in appears directly in Word, allowing you to edit as you write without any uploading or copying and pasting.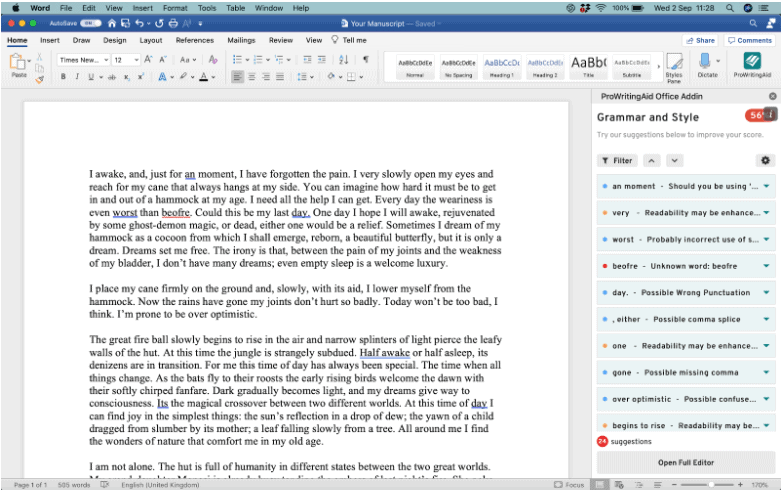 They've also just released their Word Add-In for Mac too, which is something that lots of users have been waiting for. 
With the browser extensions, highlights appear wherever you write. If you've ever sent out a LinkedIn or Facebook post and then realized that you made a grammar error, this is perfect for you. Here's a screenshot from their website of the editor in action: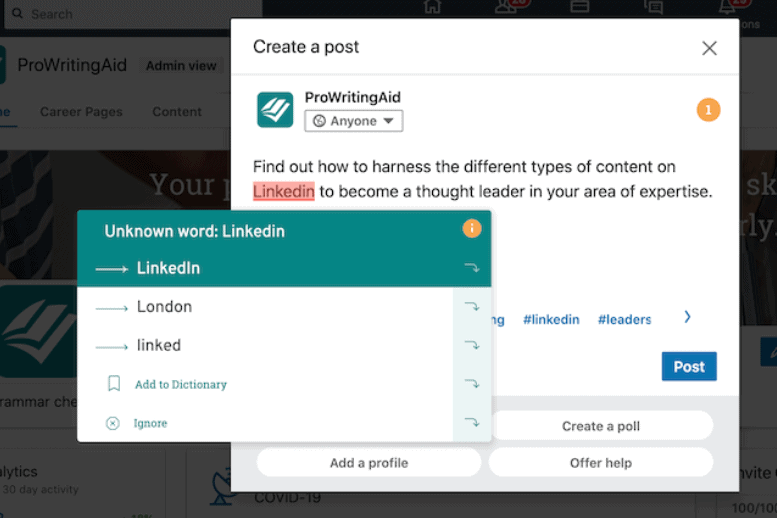 Who Can Use ProWritingAid?
Most writers could use ProWritingAid. Students will find it useful for checking their work for grammar issues that Word wouldn't catch on its own, and they'll be able to learn as they write with the in-app learning resources. Fiction authors will find reports like the Pacing and Dialogue checks useful for making sure their manuscript will keep their reader gripped. 
There are special features like the jargon buster for business authors, and content writers will find that the combo report makes their final checks before submission easy. 
Pricing Of ProWritingAid
So, how much do all of these features cost?
ProWritingAid has various subscriptions available. There are three pricing plans for the app. 
A monthly subscription costs $20 and a yearly subscription is $79. A yearly subscription is a one-time payment, but if you break that down, it'll cost you the equivalent of $6.58 a month. 
ProWritingAid is a little different from other grammar checkers because it offers you a Lifetime subscription for $399 upfront. 
This sounds a little pricey on the surface, but it's definitely working it in the long run. It includes all future updates, and if you were to use it for say 60 years, you'd only be paying $6.65 per year. That's definitely one of the most competitive prices I've seen.
This is perfect if you really like ProWritingAid and want to use it for years to come.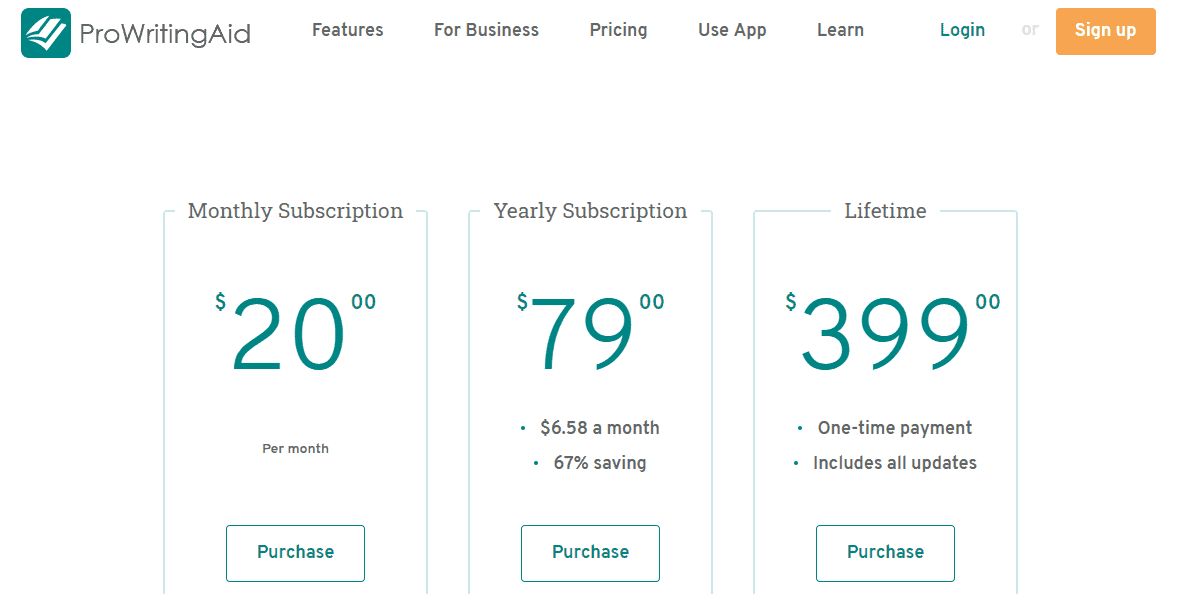 Quick Links
FAQs Related ProWritingAid Review
🖥 Can I use ProWritingAid on more than one device?
Yes, you can use ProWritingAid on more than one device with the same license. The condition is that only one person should be using it. ProWritingAid is compatible with Windows and Mac so you can use it with any laptop or computer. You also have the option of using the Web Editor in your mobile browser. You also get extensions for Firefox, Chrome, Edge and Safari—all of this is included in one license.
👉What are the differences between paid and free plans?
There are two key differences. If you opt for a free plan, you can only edit 500 words in one go. If you are a Premium user, there is no word limit for you, but if your document is longer than around 30,000 words, you may need to break it down into smaller documents before running it through ProWritingAid. The second difference is that free users can only use the Web Editor and don't have access to the other apps and integrations.
💁‍♂️Is my data secure with ProWritingAid?
Yes, your data is entirely secure with ProWritingAid. It encrypts your data so that you get better security and privacy. Only you can access your data, and once you delete your data, it is not stored on their servers.
Final Thoughts: ProWritingAid Review 2023
All in all, ProWritingAid is one of the most advanced editing tools available right now. It's also one of the most comprehensive, and their pricing plans won't set you back as far as their competitors. The 25 writing reports will genuinely make you a better writer, without making your writing sound generic. I'd recommend ProWritingAid to any writer. 
Have you used ProWritingAid? What did you think?