Today, with Google generative AI in the SERP, having a "People Also Ask" SEO strategy is becoming ever more important. And the competition over the "SERP estate" has become more complicated.
In this article, we'll take a deeper look at PAA: what it is, the theory behind it, and why it is so important. And, of course, some of our best tips to get you into the PAA box.
Finally, we'll cover some helpful information on tools you can use and discuss how generative AI influences People Also Ask SEO.
So read on to discover how to take advantage of PAA and double your SERP real estate!
What is "People Also Ask"?
"People Also Ask" (PAA) is a featured snippet commonly found in search engine results pages (SERPs). It is a section that appears below the main part of Google's search results and displays additional queries related to the original search query.
Each question can be expanded to reveal a brief snippet of an answer. When users click on a question, the answer expands, providing more information.
The "People Also Ask" section provides additional relevant information to users by displaying related queries or queries on different aspects of a topic. This enhances the user's search experience and helps them discover more information on a given subject.
It saves users time by addressing common follow-up questions or related inquiries without further searching.
The questions in the "People Also Ask" section is typically generated algorithmically based on popular search queries and user behavior.
The section may continue to expand as users interact with the questions and seek more information. And the questions that appear can vary depending on the search query and may cover various subtopics or related concepts.
Why is PAA Important for Your SEO Strategy?
PAA has gained significance in the field of search engine optimization (SEO) due to the following reasons:
Increased Visibility: When your website appears in the PAA section, it increases the chances of attracting organic traffic and gaining exposure to a broader audience.
Enhanced Click-through Rates: By optimizing your website's content to appear in the PAA section, you can improve your click-through rates (CTRs) and drive more traffic to your site.
Featured Snippets Opportunities: PAA results are closely related to featured snippets – concise summaries of the information displayed prominently at the top of the SERP. Featured snippets can significantly increase your website's visibility and establish you as an authoritative source.
User Intent Alignment: By analyzing the questions and optimizing your content to address them, you can better align with user intent and improve the relevance of your website. 
Enrich Your Content Strategy: PAA provides real questions people ask, which can inspire new content ideas.
Control Branded Searches: Answering questions about your brand in PAA helps establish authority and provide accurate information.
Occupy More SERP Estate: PAA allows you to appear multiple times on the first page, giving you additional free links to your site and increasing your visibility.
Best Tips to Get You Into the PAA Box
To be included in the PAA feature, you must do some research. You can do the research by hand, but it will save you time to use one of the tools mentioned later in this article.
Remember, the idea behind the process is unique; the tools have different capabilities. In other words, the process shown by Semrush may look completely different from the one shown by Ahrefs because the tools are different.
Let's assume you have a list of keywords by now. The next question is which of the keywords are worth investing time in to optimize.
Which Keywords to Select for the PAA Feature
Steps that you should follow in selecting keywords for PAA:
Search Google for your articles ranking in the top 3 positions.
Select the articles which rank for many extra keywords besides the seed keyword. 
Are your competitors ranking for the same seed keyword, and do they have answers featured in the PAA? 
If you are not mentioned in the PAA with an answer to the same question, then include the question and an answer in your article.
Optimize the question and answer to beat your competition.
Tools To Help Improve Your People Also Ask SEO Strategy
Before embarking on the content creation and optimization process for People Also Ask, it is important to identify relevant questions that users may have about your business or product.
While logical thinking can help anticipate some questions, it isn't easy to gauge their traffic potential accurately. Therefore, it is advisable to utilize alternative methods to discover keyword ideas and questions more likely to generate substantial value and attract clicks.
Here are some applications that can help you.
RankRanger
Using RankRanger's "Rank Insights" tool, you can find your keywords that rank at the top of the SERP.
Semrush's study in 2020 shows that "13% of sites that were present inside the PAA box also had a top 3 ranking".
At the same time, you must select the keywords that your competitors are appearing in the PAA box for (and you are not).
For example, if we look at the site allrecipes.com:
We can see that allrecipes.com is ranking at the top of the SERP, but only competitors are in the PAA boxes.
In this case, Google considers the content relevant to the keyword. Now, PAA questions are topically related to the keyword as well. All that allrecipes.com has to do is find the PAA questions in the Google SERP and optimize the answers.
If they did that, they would have two places on Google SERP estate: the blog post and the answer in PAA.
---
Semrush
The Semrush strategy is similar to RankRanger's.
Use Organic Research, a tool provided by Semrush, to find keywords you rank for but which do not produce PAA results on Google search. Now include an optimized FAQ section with those Keywords in mind.
If you want to know more about Semrush, read our full Semrush review and tutorial.
---
Alsoasked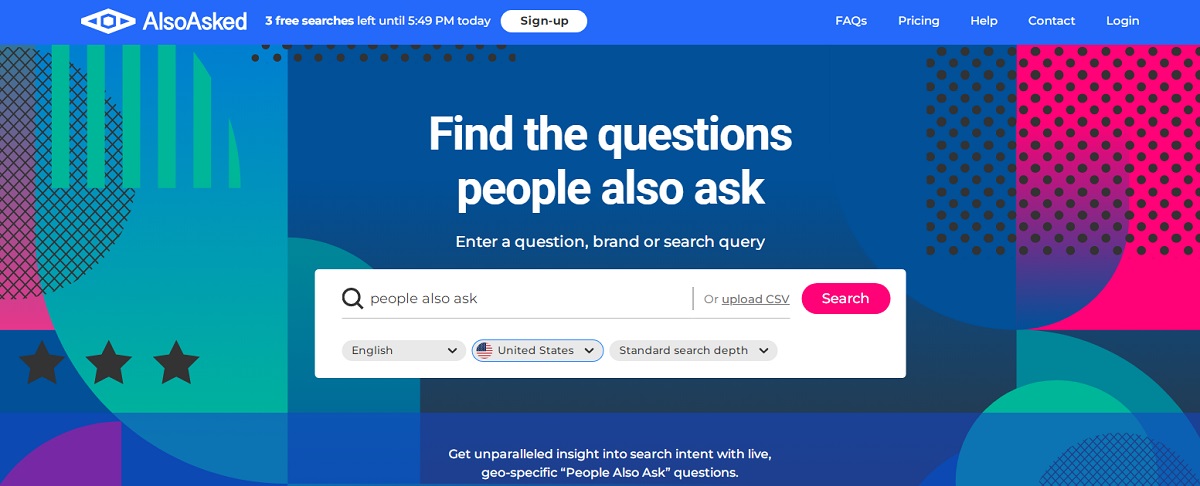 AlsoAsked will generate a comprehensive list of PAA questions based on your target keyword. With AlsoAsked, you can initiate three sessions daily with the free version.
Here's how it works:
Enter your target keyword into the tool's search bar.
Choose the desired language, location, and search depth parameters to refine the generated questions.
AlsoAsked will generate an extensive list of questions related to your keyword. Explore the list of questions.
Enrich your content. Analyze the questions to identify relevant and valuable topics that can enhance your content strategy.
Using tools like AlsoAsked, you can discover unique insights and new content ideas to supplement your posts with PAA questions.
---
AnswerThePublic
With the free version of AnswerThePublic, you can initiate three searches per day. Follow these steps to use AnswerThePublic effectively:
Enter your target keyword in the search bar provided by AnswerThePublic.
Customize your search by selecting the desired language and location.
AnswerThePublic will provide a list of related questions – explore the list.
---
Google Search Console
For example, I have an article with a seed keyword, "Best slippers for women," ranking in position one. This article is probably also ranking for extra keywords.
Google Search Console will present you with all the queries that generate impressions. If we, for example, look at search queries that include "slippers for women," one of them may be "What are the best slippers for women with diabetes?". This is a candidate for PAA, and if optimized property, it could be chosen by Google to appear in all the PAA boxes of the extra keywords.
Content Creation for PAA Query
You should provide your response using a format Google expects:
Make sure to incorporate your query into the content. 
Writing out the question in your content is considered best practice.
Using the exact phrasing from a People Also Ask box is unnecessary. 
Although Google has advanced algorithms that can understand the intent behind a user's search query, it is still crucial to communicate your thoughts in a simple and straightforward manner.
When asking a question, it is essential to use proper punctuation and format it as a clear question (with a question mark rather than implying it).
To improve your chances of Google selecting your content for a PAA answer, it's best to include your answer immediately after the question and use language indicating you are providing a response.
Format for PAA Question and Answer
Google often follows a specific format to provide quick and concise answers when presenting information. Analyze the format chosen by Google in the PAA box. It can be:
Semrush found out in their study that:
Text length will be about 41 words
Lists will have 6 items with about 7 words per item
A table will have, on average, 8 rows and 2 columns
You should adopt a similar structure when creating your content for PAA. For example, if Google presents the information in a bulleted list, you can follow suit and present your content using the same format.
By aligning your content format with Google's, you enhance its readability and make it easier for users to find the necessary information. Whether it's a text answer, an ordered list, or a video, adapting your content format can improve its presentation and user experience.
FAQ Schema
Incorporating FAQ markup into your content is a valuable technique for informing search engines as it tells them about the nature of your information. Schema markup allows you to present your content in a structured and machine-readable format, enabling search engines to understand and display it more effectively.
Implementing FAQ schema is a straightforward process that can yield significant benefits. By adding FAQ markup, you can enhance the visibility and presentation of your frequently asked questions, making them more prominent in search engine results. This markup provides a clear structure to your FAQ content, allowing search engines to display it in a user-friendly manner.
Use Classy Schema to generate FAQ markup and Rich Results Test to validate your FAQ markup. Or explore other tools – read about the best schema markup generator tools.
How Generative AI Influences People Also Ask SEO
Google Generative AI takes up a big chunk of the SERP estate. In addition, it includes related questions and a list of websites from which Google gathered the information for the Generative AI block.
So, what does this mean for SEO and, specifically, People Also Ask SEO?
To have your page chosen as a source of information for this new feature (Generative AI), the People Also Ask SEO optimization effort becomes more complicated.
You must provide even more detailed and relevant answers to PAA questions than ever. Since the old PAA feature will now be positioned lower on the SERP and receive fewer clicks, having your page featured in the Generative AI block can help you maintain or potentially increase your traffic, allowing you to stay competitive in the evolving search landscape.
Additional Ways PAA Can Improve Your SEO Strategy
The research you do can lead to discovering additional ranking opportunities.
By utilizing, for example, the Semrush Organic Research tool, you can identify high-ranking keywords used by your competitors that do not result in their appearance in SERP features.
This presents an opportunity for you to optimize your content to fill the vacant space in those SERP features.
To obtain a list of these keywords, follow these steps:
Use an organic research tool or platform that provides competitor analysis and keyword data.
Identify your primary competitor whose keyword rankings you want to analyze.
Generate a report or enter your competitor's domain into the search field.
Apply the "Domain doesn't rank" filter to the report results. 
Optimize to steal the above SERP feature: Video carousel, local pack, top stories, or knowledge panel.
Facts about Googles People Also Ask Box
Here are some facts you may not be aware of.
The PAA box has no fixed location on the SERP; it usually appears between positions one and four. But it can appear anywhere and sometimes even on the second page. 
The "People Also Ask" answer box appears in approximately 65% of SERPs.
A PAA box is dynamic. A PAA question can disappear from the box and reappear after some time.
The PAA box may look infinite, but it is not. At some stage, you will have questions getting off the subject. 
Google sometimes uses the same answer for different questions. In other words, one answer can cover different keywords. (It may appear that Google always gives the same answer from a single source.)
Queries that activate PAA boxes are those beginning with question words like "what," "why," "when," "where," and "who."
The Theory Behind Google's People Also Ask Box
You may ask yourself, "How does Google select the questions in the PAA box?"
The late SEO expert Bill Slawski answers this question in his article from 2017, "Google Related Questions or 'People Also Ask' Patent."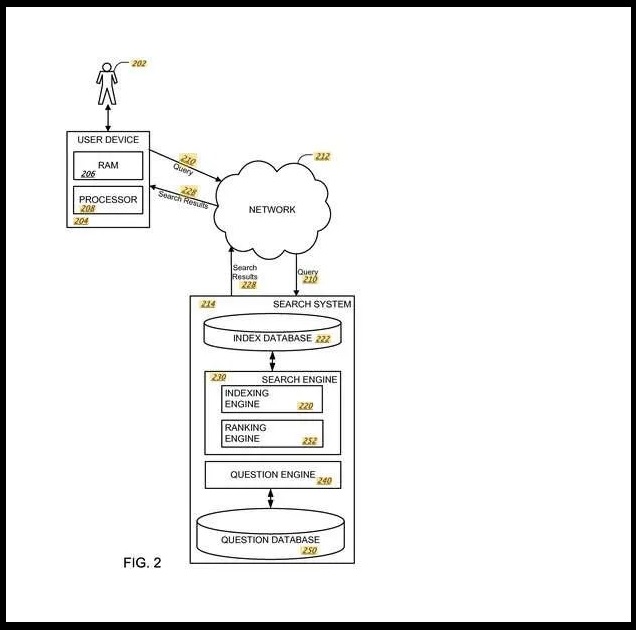 Image source "Google Related Questions or 'People Also Ask' Patent"
Delving into Bill Slawski's article is beyond the scope of this blog, but a few facts are worth mentioning:
Questions are selected from a database based on how many times the question was submitted.
The answer selected by Google is based on a quality score generated by Google. The quality is based on the length of the answer and the terms included and repeated in other answers to the question. 
People Also Ask SEO: Conclusions
Being included in the PAA listing has definite advantages. When calculating your potential ROI for optimization, you should take into consideration the following factors:
Do you have content ranking in the top three positions on the SERP?
Is the content attracting a big search volume? 
Is the content ranking for many secondary keywords? 
Are you using a paid tool like Semrush or Ahrefs?
Do you have the budget to invest in one of these tools for this goal?
Is your SEO strategy up to date?
If you can say "yes" to most of these questions, go ahead and optimize for PAA – you will probably have a great ROI.
In case you have a few "no" answers, my advice would be to invest time and effort in your SEO strategies and return to People Also Ask SEO at a later stage.
All the best with your SEO efforts!