Are you considering using Infolinks to monetize your blog? If you're undecided, this Infolinks review will dive deep into what Infolinks is, how it works, and whether it's worth your time.
As a new blogger or website owner, you might wonder how to monetize your content.
In-text advertising is one way to go, and there are multiple advertising networks that will take care of ad placement for you.
Infolinks is one such ad network that claims to have 240 million monthly users. However, is it a good way to monetize your content, or are there better options?
If you're in a hurry you can quickly check out Infolinks here!
Ease of Use

Performance

Customer Service

Profit Potential
Summary
Infolinks is an ad network with a fast approval process with no minimum requirements and is free and easy to set up. If you're a new blogger or website owner with under 10,000 page views, it's worth looking into. However, if you have over 10K monthly site views, there are far better ad networks that will help you earn a lot more.
Pros
Zero setup and signup fees
Ads are customizable and relevant to your brand
Wide range of Infolinks ad formats to choose from
Fast approval with no minimum traffic amount required
Can use Infolinks alongside another ad network such as AdSense
Cons
Control panel is a little outdated
Some ads have been reported as being intrusive which may harm user experience
You'll need a decent amount of traffic from the US and UK to make any money
What is Infolinks?
Infolinks is an advertising network established in 2007 to help publishers monetize their content.
Many creators turned to Infolinks when it was hard to get approved with Google AdSense.
Plus, many big marketers got banned from Google AdSense from 2012 – 2014 for no good reason, which is why many started to search for alternatives.
Businesses use Infolinks to promote what they do through text ads, and bloggers use Infolinks to make money by placing those ads within their content.
Infolinks uses various types of ad units, such as in-screen, in-frame, and in-text, to name a few.
And, Infolinks ensures these ads are contextual, meaning that they fit the content of each page for a seamless customer experience.
Infolinks Review: How Does it Work?
Infolinks provides a wide range of in-text ads that show up in different areas of your website.
Ads are made relevant to each website visitor according to their browsing history.
To get started as an Infolinks publisher, you must sign up and integrate a given code into your website that allows ads to show.

Follow these simple steps:
Fill out a short publisher form
Your application will be reviewed within 48 hours
After your Infolinks account is approved, you'll receive an embed code to place Infolinks ads on to your site
Your site will start showing ads and earning revenue
Track your earnings in the Publisher Center
Infolinks Features
You can use different ad formats on Infolinks to monetize your blog content. These include:
In Text Ad
In-text ads are a type of contextual ad where keywords within the content of a specific page are matched with the ad unit.
You can choose the Infolinks ad style, including dotted or double lines and the color.
A maximum of 12 of these types of Infolinks ads are allowed per page.
Infold Ad
Infold ads are banner ads that sit above the fold and stick to the screen to stay in one place while the user scrolls through a page.
Inscreen Ad
Otherwise known as an interstitial ad, this type of ad is typically shown in transitional stages, such as when a viewer clicks over onto another page on your site or when they leave.
You have complete control over when you want your Inscreen ads to trigger.
Inframe Ad
Inframe ads are banner ads that can be added to different pages on your blog or website.
They usually sit on the side of pages and provide a solution to unused space on wide screens.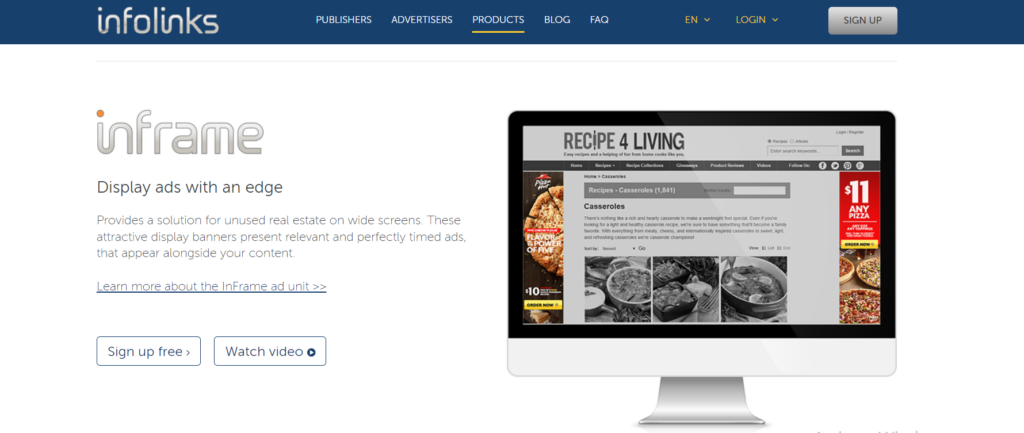 Intag Ad
These types of ads are banner ads that sit within the content of your blog posts.
You can choose the link colour, advert colour, and where you want it to be placed.
Inarticle Ad
Inarticle ads open up once a reader engages with the content on your blog.
The different ad formats include native and video. They help to boost revenue and engagement on each page.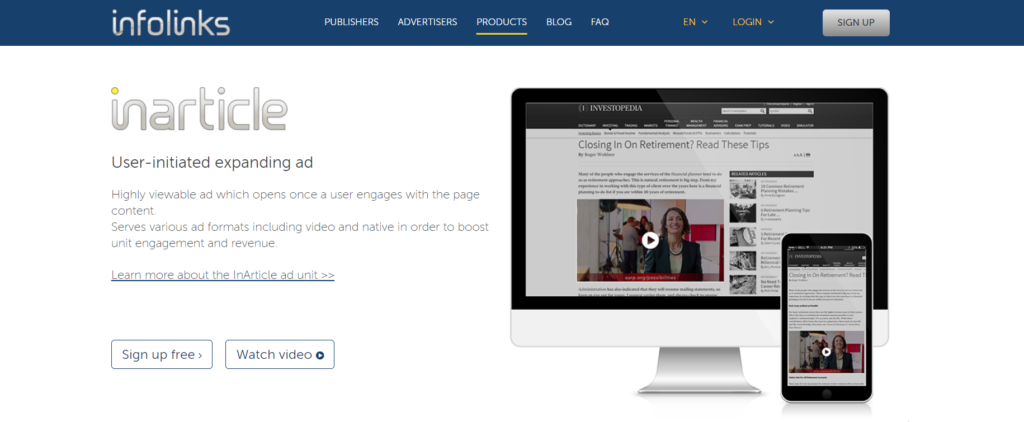 How to Integrate Infolinks Ads into Your Site
It's easy and quick to integrate Infolinks ads into your website.
You have two options:
Install a free plugin given to you after signing up. These are available for all the main site-building platforms, such as WordPress, Blogger, Joomla, and Drupal
Put a unique Infolinks script into your site's HTML. Copy and paste the code just before the closing