Are you searching for a Copyscape alternative tool?
While Copyscape (read our review) is a popular plagiarism software tool with thousands of happy users who love its ease of use and slick results, other options are available.
Some alternatives offer free plans, and some provide all-in-one solutions, including a grammar checker. However, which one you opt for will depend on several factors. So, I have listed 18 plagiarism detector options for you to consider to help.
Here they are.
18 Best Copyscape Alternatives Software
Sidenote: Most of the 18 Copyscape alternatives mentioned below are great to use as a stand-alone option, or you can use them in addition to Copyscape.
Grammarly
Grammarly is the most popular grammar checker tool available today. It also lets you check for content mistakes and integrate with most browsers and content management services like WordPress and Google Drive.
There is a very popular free version of Grammarly. But to use the excellent plagiarism tool, you'll need to be a premium member, which costs around $140 per year. However, once you become a premium member, you can run as many plagiarism checks as you like with no extra cost.
Grammarly is an excellent alternative to Copyscape with an all-in-one solution for your grammar and plagiarism checking needs. It works well and produces fast, accurate results. And you can learn all about it in our complete Grammarly review.
Originality.AI
Originality.AI is the newest tool on the list of Copyscape alternatives and offers exciting, unique features.
It's built by longtime content publishers specifically to help other website owners. And so not only does it help check for plagiarism, but it also helps detect AI content.
This is an exciting new prospect considering the rise of AI content generators. So now, as site owners, you don't have to worry about paying per word for AI content. You can save both and money with Originality.AI.
ProWritingAid

ProWritingAid is a popular AI (Artificial Intelligence) tool for writers, and includes a plagiarism detector feature. It's packed with numerous features and is regarded by many as the biggest competitor to Grammarly.
The software offers multiple integrations, API, and over 20 writing reports to improve your content. In addition, you get plagiarism detection for up to 60 searches per year.
However, its plagiarism detection is only available with the premium plus plan, which costs around $20 monthly.
ProWritingAid is best suited for those who write long scripts or books due to the pricing structure, but the plagiarism tool works well, albeit a bit more expensive than Copyscape. Learn more in our ProWritingAid review.
Copyleaks

Copyleaks offer an anti-plagiarism AI solution for those wanting to stop copy theft. The software also detects paraphrasing and mosaic forms of plagiarism which are great for checking school reports and business documents.
Each plagiarism check gives you a full report with a side-by-side analysis of the findings.
You can scan over 100 languages, integrate with numerous LMS platforms, and collaborate with your team.
You can use a free trial, and pricing starts at $9.16 per month for multiple page scans.
Plagtracker

Plagtracker is another plagiarism tool that detects copy theft pretty quickly. Many users of the software point to the fact that it's excellent for students, which is true, but it's also great for website owners.
You can check your academic paper against a database of over 5 million articles, but even more impressive is that you can check your website content against 14 billion websites.
The software works in six languages; you can check small files for free. However, you must purchase a premium plan starting from $7.49 monthly to check larger files with faster results and grammar correction.
Small SEO Tools

Small SEO Tools provides many valuable tools, including a plagiarism checker. You can check up to 1000 words for free; however, to check more than this requires a pro license which starts from $19.80 per month.
The tool comes with a WordPress plugin, API (for higher plans), grammar checker, paraphrasing tool, and in-depth reports for each piece of content checked.
A unique feature of this tool is that you can check your content, and if it detects plagiarism, you can auto-correct it using the free paraphrasing tool they offer.
You can also search by URL or ignore specific websites completely. Again, the results are fast and accurate.
Dupli checker (Free Plagiarism Checker)

Dupli Checker is a completely free plagiarism checker with a limit of 1000 words. It lets you upload various files, including text, doc, pdf, and many others. You can also paste your URL, and the software will perform copy checks.
While Dupli checker has some benefits, including a free grammar checker, the top-line alternatives, such as Grammarly and Copyscape, are more reliable. That's not to say the software is worthless, but you may want to use this tool in addition to another option for the best and most accurate results.
The main area for concern if you use this tool is that it may only pick up some plagiarism results and miss content that is syndicated online.
CopyGator

CopyGator is a decent tool that will scan a website's content via the RSS feed. It works by checking who is using your content by checking the feed online. You can see your content being used illegally without any linking to you as the primary content source.
The software is easy to use and free if you add the logo badge to your website. It's less robust than others mentioned on this list of copyright checkers, but it is worth using as a free alternative and a second line of detection for people stealing your content.
Plagiarisma

Plagiarisma is targeted as a free content theft plagiarism checker tool and is regarded as one of the best alternatives to Copyscape. The free tool lets you check web pages, academic papers, and essays. If you visit the website, you might think it's best suited for students, which may be the case; however, it still works great for bloggers and other business owners looking for a decent free plagiarism checker tool. There is a premium version in addition to the free plan, which gives you 100 scans per month and costs $25 per month. Personally, I would stick to the free plan because there are better options out there for a paid service.
Plagium

If you are looking for a free plagiarism checker tool that offers a basic search, then Plagium could be useful. The free version is limited by the number of uses and word count; however, it's another free Copyscape alternative to consider if you require occasional use only.
It will find matching content, but you need the premium plans for deep search options, a more accurate plagiarism report score, and file comparison features. Moreover, you also get access to Google docs integration and Plagium API. The cost for the premium version starts at $0.04 per page of text, and you can purchase prepaid credits.
Plagscan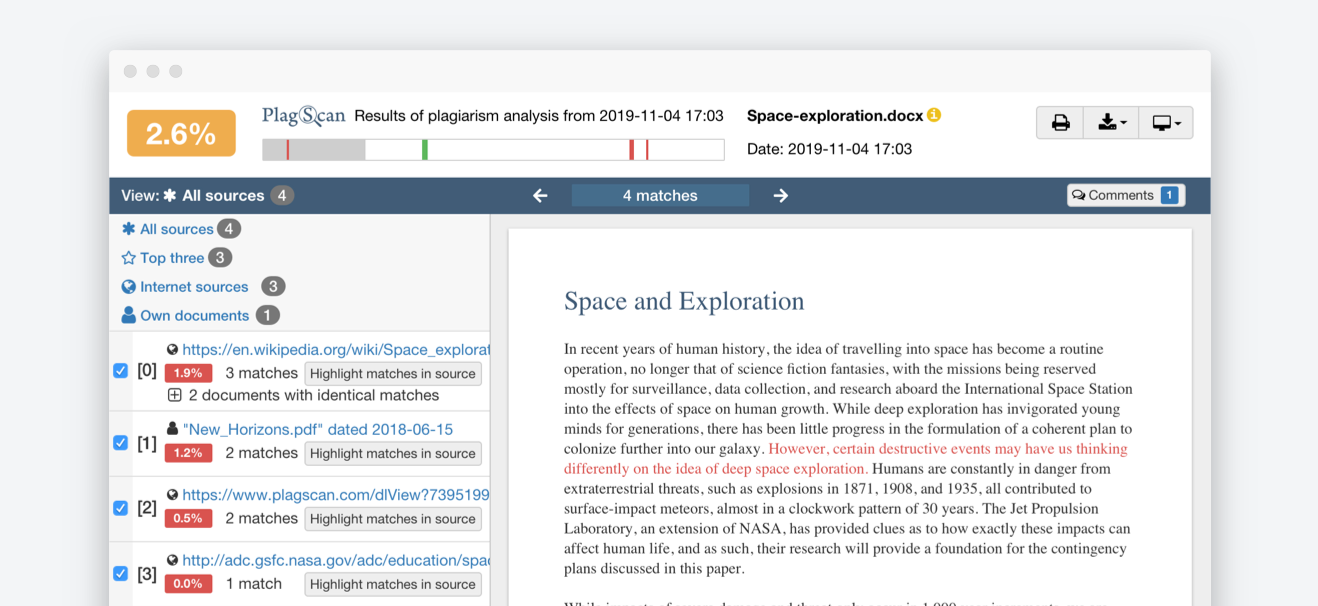 Plagscan is an easy-to-use tool that will perform adequate checks for plagiarism. The tool is created by Turnitin and supports multiple file formats uploaded from multiple places, such as Google docs, Onedrive, and desktops.
It's not a free option, but you receive twenty free plag points (used for up to 2000 words) once you sign up for an account. The interface is regarded as one of the easiest to use, and the results are pretty accurate. You have access to an API, side-by-side comparisons, and data protection.
The price for premium use starts from $5.99 for 6000 words. Plagscan is a serious competitor for Copyscape and works well for students and bloggers.
Easybib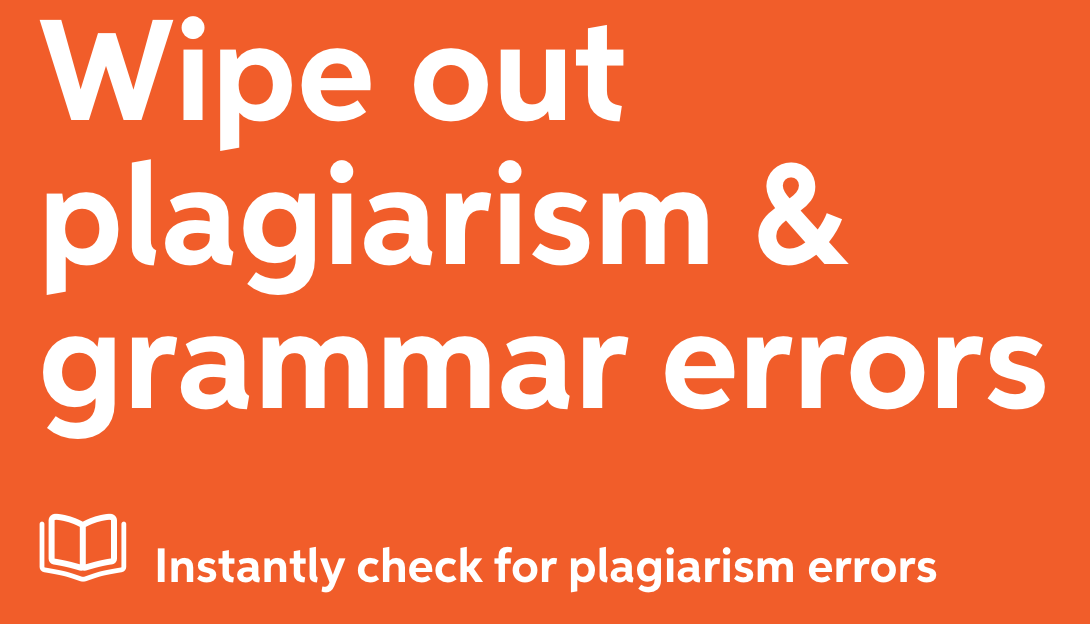 Easybib is another plagiarism checker tool that, at first glance, seems to be for students only. However, this isn't the case, and you can use the grammar checker tool for deep search plagiarism, duplicate content, grammar mistakes and more.
The software will also give links to the potentially copied content and advise a citation (link to the source). Easybib is fast and has all the main features of the top Copyscape alternatives.
You can get a free 3-day trial, and then you will have to pay $9.95 per month for Easybib plus, which offers unlimited searches for plagiarism and errors.
Plagly

Plagly is a plagiarism checker that claims to be the easiest, fastest, and best among all other plagiarism-checking tools. The software claims to be free, but after doing some research, there are better and truly free Copyscape alternatives that fare better.
Like most plagiarism checkers, you can sign up for their premium service, which will cost you $20 per month. You will receive a deep search of web pages online, and the detection will detect plagiarism to a decent standard; however, for the price, you are limited compared to other options.
For example, you have a 1000-word limit, and support is lacking. They do have a help center link on their homepage; however, it isn't working, so you effectively have no support.
Quetext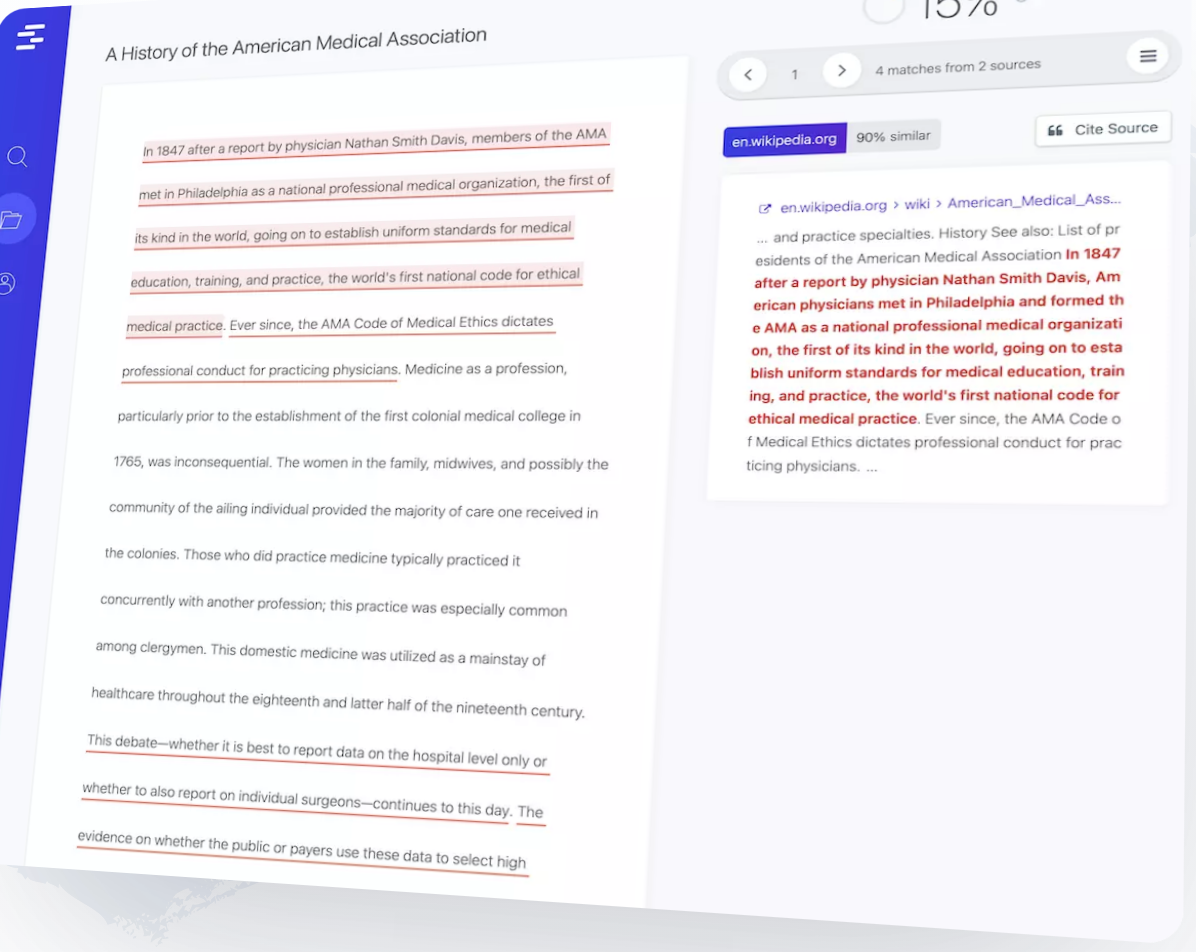 The first thing to say is that Quetext does offer a genuine free version, but it's limited to one page of 500 words per month, so for many, this won't be suitable.
However, the premium version starts at $14.99 per month and gives you 200 pages to scan consisting of up to one hundred thousand words. You get a chrome extension and the ability to upload files in bulk. The software has an easy-to-use interface and uses deep search technology to filter out results of possible plagiarism.
Like many other tools, you can access useful features such as grammar checking, citation, and a pdf report of your findings. The plagiarism checker will flag multiple sources and numerous types of plagiarism. And it also offers seven language options, accurate results, and the ability to use the software on a desktop or through the browser.
Viper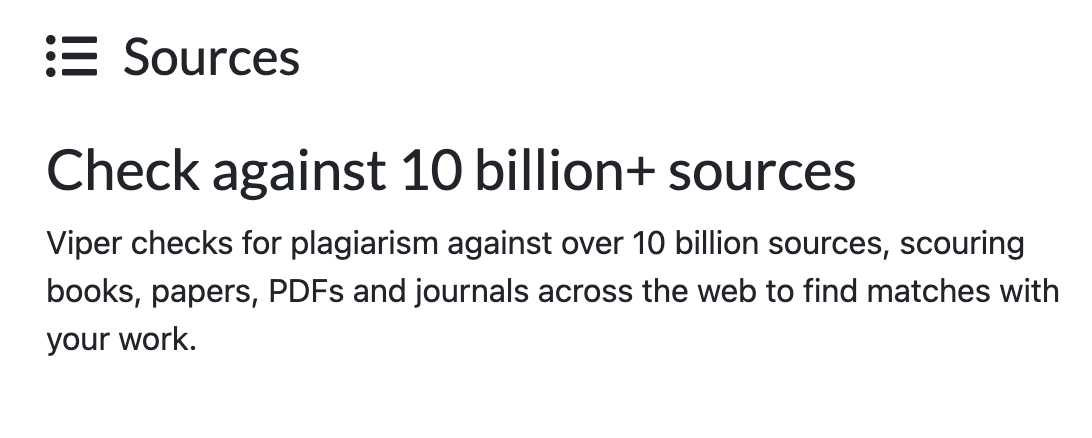 Viper is a plagiarism checker for students and business owners that offers a free and paid version. The paid version is based on credits, with one credit costing $3.95. This one credit will allow you to scan five thousand words.
The tool will check against 10 billion sources, and the results are pretty accurate and fast. You can import from Google Drive or upload from your device. The software also enables the use of 56 languages, and you get direct matching and good support.
A free version is available and a genuine option; however, you're work will be put online within a few months, so if total privacy is needed, you will need to use the premium version.
Whitesmoke

Whitesmoke is similar to Grammarly and Pro Writing Tools in that it is a Grammar checking tool with an in-built plagiarism checker feature.
There is no free account available, but pricing is affordable for most and starts at just $5 per month, which includes 500 credits to use on the plagiarism detection tool. As an estimate, 500 credits will get you around forty pages of content to check — you can purchase additional credits at the cost of $10 for eighty pages of content.
The tool checks against 17 billion sources and is fast when using the browser version — subsequently, the desktop app has been reported to lag a little. Whitesmoke is worth considering if you are looking for an all-in-one solution.
Plagiarism Checker

Plagiarism Checker is another one of the great Copyscape alternatives and does a good enough job as long as you're happy with the one-thousand-word limit for each search. If you have larger files, you will need to break up the content and perform separate scans, which can become tedious for many people.
The results are fast, and a report is given with a percentage of uniqueness. You can search by pasting in text or by website URL (I did try to add an RSS feed, but an error occurred), and you also have the option to exclude a web page which is a nice feature.
Plagiarism Detector

Plagiarism Detector is up there with the best free Copyscape alternatives to consider.
Like Plagiarism Checker, you can search and exclude websites and web pages. You also have a limit of 1000 words per scan, but you can turn on Pro, giving you more features and removing content limits.
The price for the pro version starts at $20 per month and offers premium features such as deep search, multiple languages, data encryption, and more.
How Do These Alternatives Stack Up with Copyscape?
Copyscape is a plagiarism-checking tool that starts at 3c per search. Its sole purpose is to detect plagiarism and helps you detect content theft.
(Plagiarism is using someone else's ideas or content and passing it off as your own without using a citation or link back to the original source.)
You can also use the included API for auto-searching and pasting offline content into the search area and uploading word and PDF documents.
It's a quality product, but as seen from this list, many competitors have caught up with and surpassed Copyscape's offerings.
Does Google Check For Plagiarism?
Yes, Google can check for plagiarism and will likely penalize your website if you plagiarise content without properly clarifying the source. They will check your content against other websites and online textbooks, so it's not worth taking the risk — it's also illegal and can get you into a lot of trouble.
You now have 18 Copyscape alternative tools to consider to check plagiarism. Free and paid options are available, and nothing stops you from using more than one. The best option for most is Grammarly Business. But you may also want to look at the others and take advantage of those offering free trials.