Looking for the BEST rich snippet WordPress plugins? Look no further.
These were the best and most up-to-date that we found.
In each review, we'll look at:
Some of their best features (and why they matter)
Specific types of schema data they support
Special uses, like review boxes
And more
By the end of this post, you'll be able to make an informed choice and know which rich snippet plugin is best for you.
Let's dive in.
9 Best Rich Snippet WordPress Plugins
After reviewing all the options, we found these were the best rich snippet WordPress plugins.
Even though many of these produce similar results, they differ in user interface, available Schema options, and pricing for their premium versions.
1. Rank Math – Overall Best Rich Snippet Plugin for WordPress
Rank Math is our top pick on this list because it is specifically designed to optimize every aspect of your website's SEO.
It's an SEO plugin with an advanced set of free and premium features to add rich snippets and structured data to posts and pages.
The options make applying the right Schema markup to different post types easy.
Other than articles, here are just a few other schema types available:
Product pages
Recipes
Events
Video
Local Business Schema
Moreover, there are built-in Gutenberg blocks for FAQ Schema, How-To Schema, and more.
Rank Math adds attractive rich snippets to search results to improve CTR and make your content stand out.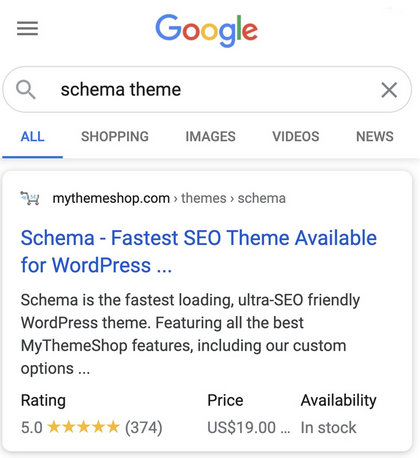 There's also a custom Schema builder to add sophisticated schema graphs without any coding or programming knowledge.
If you're already using RankMath for SEO, this would be an excellent plugin to upgrade to get the full benefits of rich snippets.
Rank Math is by MyThemeShop, a popular and well-trusted theme developer for WordPress. And the pro version price starts at $59 per year for unlimited personal sites.
2. Schema Pro – Runner-Up for Best Rich Snippet WordPress Plugin
The Schema Pro plugin makes the runner-up spot because it has so many features and is very easy to use.
It has more than 20 available Schema types and options to choose from. Some are configured automatically, whereas others provide full control and flexibility.
For instance, if you have a custom post type reviewing products, the wizard makes it easy to implement with a few clicks.
Other more intricate data you add to particular pages or post types allow you to pick and choose which schema data is applied.
Some Schema options available with Schema pro include:
Review Schema
Local Business Schema
Article Schema
Service Schema
Product Schema
Course Schema
Recipe Schema
Book Schema
Event Schema
FAQ Schema
Another bonus is that Schema Pro uses the JSON-LD markup format, the preferred method recommended by Google.
Moreover, if you want to use Yoast SEO, both plugins will complement each other, giving you optimal results in Google search and user experience.
Schema Pro is a premium-only plugin available for around $80 per year for unlimited sites.
3. WP Review – Best Product Review Plugin with Built-In Rich Snippets
WP Review is a product review plugin with some awesome rich snippet features.
It's another tool created by MyThemeShop.
Even though this plugin is titled WP Review, it supports schema markup beyond simple product reviews.
The big features of WP Review are the elements you and your visitors can leave on posts.
These include:
Product review summary boxes with star ratings, percentage bars, and more
Sidebar widgets of your reviews
Related posts with ratings
Ratings for comments
Popups displaying reviewed content
Product comparison tables
And more
There are 19 types of rich snippets available with WP Review, which make your Google listing stand out from other search results.
It also comes with 16 pre-designed templates of the different elements that can be added to your site, providing a great user experience.
Pricing for WP Review is $77 per year for unlimited sites, or they have a membership, which gives you access to all of their themes and plugins.
4. SNIP: Structured Data & Schema WordPress Plugin
SNIP helps your Google listings stand out with eye-catching rich snippets for tons of schema options.
There's support for articles, recipes, products, events, courses, how-to content, and much more.
SNIPS adds the appropriate metadata to pages on your site automatically, so you don't need to know how to code.
There's also WooCommerce support to make your product pages stand out from other search results, which can increase organic traffic to your site.
It's also made by a well-trusted WordPress developer who provides great support and regular updates.
SNIPS costs $59 for a 1 site license and is available to buy through CodeCanyon.
5. WordPress Review and Structured Data Schema Plugin – With Lifetime Deals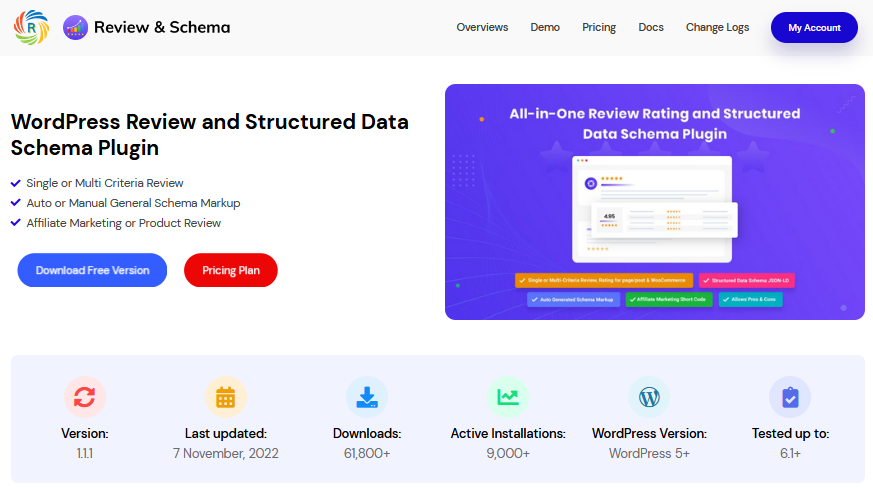 The WordPress Review and Structured Data Schema plugin is a review plugin designed to include schema and structured data.
You can add product reviews, pros and cons, and affiliate ratings to posts and pages.
You can also fully customize the look of review elements and change the criteria that are reviewed.
It's really easy to use with its intuitive interface and use of shortcodes.
Moreover, your pages will be optimized for rich snippets in the background, improving results in the SERPs.
Schema types available include:
Article
News Article
Blog Posting
Event
Local Business
Person
FAQ
Q & A
How To
Service
Movie
Video
Breadcrumb
Product [Pro version]
Course [Pro version] 
Recipe [Pro version]
Pricing starts at around $30 for one domain, and they also offer lifetime deals and bundles with their other products.
6. Schema & Structured Data for WP
Schema & Structured Data for WP is another great option to add rich snippets to your site and improve search results in Google.
It's also AMP compatible and supports the plugins AMP for WP and AMP by Automattic.
The plugin supports 35 schema types, and they are always adding more.
Here are just some that are included:
Article to enhance blog posts results
AudioObject to include more details like upload data and time duration
Q&A for question-and-answer type content
Review to include ratings and review data
Recipe to show ingredients prep and cooking times, etc
HowTo for instructional blog posts
TechArticle for enhancing tech-based articles
JobPosting to improve job post listingsresults.
Books to add extra details about the book author, genre, etc
Event to share details of organized events
It's easy to implement as the structured markup is automatically added by selecting which schema type you want your content to represent.
Moreover, it has a decent amount of compatibility with other plugins to prevent conflicts, such as bbPress, WooCommerce, RankMath, and YoastSEO
The plugin uses the recommended JSON-LD standards and supports breadcrumbs to help display quick links in search results.
Another unique feature is the ability to buy extensions separately. This can save you money if you only need a couple of add-ons.
For the full premium version, you can grab a personal license for $99.
7. Taqyeem WordPress Review Plugin
Taqyeem is a review plugin to add review boxes to your site that supports rich snippets and schema data for improved SERPs.
It's available on CodeCanyon and developed by TieLabs, a popular seller with over $2 million in sales on the Envato marketplace.
When adding review boxes to your content, rich snippets can automatically reflect on search results.
You can customize all aspects of the boxes with different colors and fonts and provide custom review data, like pricing, features, support, etc.
This plugin packs a fair amount of features for the low price of $29.
8. WPSSO Core – Most Configurable Rich Snippets Plugin
WPSSO stands for WordPress Social and Search Optimization, which it does an excellent job at.
It has many impressive features that let you configure schema data in intricate detail and supports 500+ Schema types and sub-types.
Just a few schema types include:
Article
BlogPosting
Book
Reviews
Restaurant
VideoGame
HowTo
Events
What makes WPSSO stand out from the others is the sheer amount of customizations you can make. It also reads settings data from a list of other plugins to prevent them from conflicting.
IMAGE
Moreover, as the name suggests, it's great for configuring rich snippets for social media SEO.
You can add different titles, descriptions, and images from search engines for each social network.
But if you don't want to configure anything, you can use the default settings, and you're good to go.
If that wasn't enough, there is a premium version that opens up even more advanced configurations if you need it.
WPSSO also has a bunch of free add-on plugins to improve your website's effectiveness and how it interacts with search engines and asocial media.
Pricing for the premium version starts at $59 for one site.
9. All In One Schema Rich Snippets – Best Free Rich Snippet Plugin
The All In One Schema Rich Snippets plugin is developed by Brainstorm Force, who is also the creator of Schema Pro.
The main difference is that this plugin simply lets you add structured data boxes to your articles.
It will then add this data to search results to make them stand out and help improve CTR.
Even though it's a little more basic than other options, it's completely free and supports a fair amount of Schema types:
Review
Event
People
Product
Recipe
Software Application
Video
Articles
Services
Another neat feature is configuring the text used for each rich snippet box and customizing the colors.
There is also an option to prevent the plugin from conflicting with WooCommerce if you use the plugins together.
5 Reasons You Need a Rich Snippets WordPress Plugin
Confused as to what a rich snippets WordPress plugin actually does? As complex as it might sound, it's really quite straightforward.
Here are 5 benefits of using a plugin to add rich snippets and schema markup to your WordPress site.
1. Improved search engine visibility
When you add Schema markup to your content, it changes the appearance of your search results, which can draw more attention to them.
A normal snippet contains the title and description of the page, whereas rich snippets add extra data.
Common rich snippets that improve visibility are star ratings for a reviewed product:
Or product information about price and stock availability:
2. Enhanced user experience
Rich snippets can provide better and more relevant information in search results, helping the searcher find what they're looking for.
Some rich snippet plugins will also add structured content to posts and pages, improving the user experience on the website.
3. Increased credibility
With more appealing search result snippets that provide more relevant details, searchers are more likely to trust these results as a credible source.
The results that stand out from the rest can also seem more authoritative.
4. Better search engine optimization (SEO)
Adding Schema data to your site helps search engines better understand what your pages are about.
This can have a positive effect on your search rankings and improve your SEO overall.
5. Increased click-through rates
The added benefits of using a rich snippets plugin also improve the likelihood of users clicking through to your site.
With a higher click-through rate, you'll get a bump in traffic and better organic search performance.
Conclusion: best rich snippet wordpress plugins
There you have it. These are the best rich snippet WordPress plugins we found.
Even though some of them ultimately provide the same result, they differ in functionality, user interface, and price.
For an all-rounder, Rank Math offers the most bang for your buck, and the free version is very impressive.
But you might prefer the WP Review plugin if you want to add review boxes.