Looking for an unbiased Vimmy Review? Here's my complete in-depth review about Vimmy, let's find out if you should try this platform. 
Learn more about this excellent advertising network and its features by checking out the article.
So, let's get started!
Vimmy Review: Overview
A quite new, but already famous within the advertising market, Vimmy is a company based in the Netherlands. The company has grown a lot planning to become one of the top ad networks.
The base of users is about 250 million people and it is growing rapidly. The special feature of Vimmy is their main ad type – push notification ads. Their team greatly succeeded in digital marketing because of this ad format.
A well skilled team of people who gained much experience in digital marketing and traffic acquisition did a good job.
Vimmy is an ad network with safe and secure mechanisms, thanks to the anti-fraud system, no one will find any suspicious or false traffic. Only the highest quality and nice prices, high technology solutions and permanent upgrading innovations.
You can surely rely on Vimmy if you want to test any ad network but you do not want to fail or waste your time and money. Let us tell you a bit more and maybe this will inspire you to register your account and start earning with this platform!
Ready Ad Formats
Push Notifications – the highest CTR, effectiveness, many clicks

In-page push – similar to classic push ads, but appearing alongside the content in your browser and bringing high conversion

Calendar Push – iOS trafic, unique ads for iOS users appearing in calendars and giving you more revenues because iOS users have more income and spend more time for mobile applications

Popunders – a full page ad opening in new windows usually and remaining behind the main browser window. Lots of traffic and cheaper price – this is what can be told about Vimmy popunder ads.
One must give some special attention to push ads, the main thing in Vimmy. Such ad format has the next merits:
High conversion rate

Narrowly focused strategy

High level of user involvement

High level of keeping user's interest

Opening 90% of time

No time limits for sending
And the very new ad format Calendar push has the next benefits:
"Fresh" users for ad traffic

More valuable trafic

One billion users to work with

Not used by many publishers yet
Dashboard and Account
Advertisers' and publishers' tools are at the same place, all are simple, easy and user-friendly. No need to call a personal manager. So one can manage the personal account very fast and conveniently.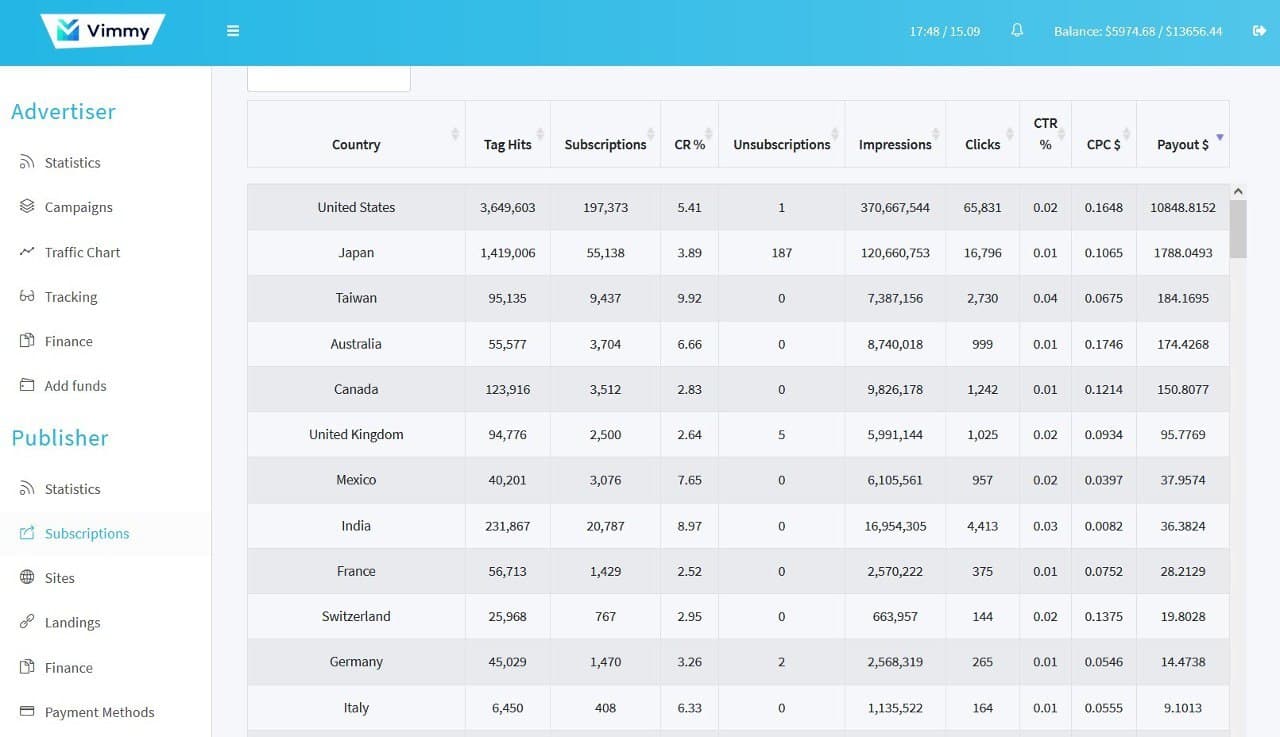 The dashboard shows transparent statistics and features to keep tabs on your campaigns. All the clear and full data on sales graphs, campaigns can be got easily.
All the data to manage your ads and see its impact, sales, and current status is provided. And if something is not clear yet, the support team will help you at once.
Payments Info
As soon as you reach $50, you can get your money via Webmoney, Payoneer, PayPal, Paxum, Wire (and change the way any time). Money is paid once a week. The minimum deposit is also $50.
Payment Proofs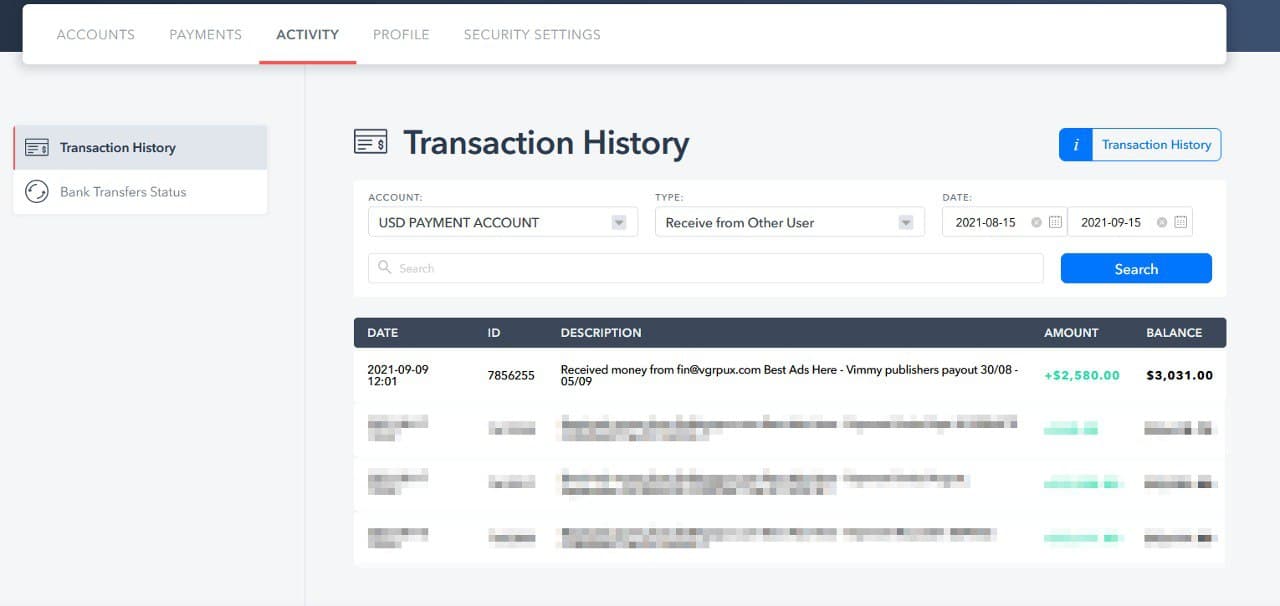 Vimmy pays you 85% of the income. it is the highest percentage ever! The automatic processes give the chance to get more profit. All the payments are never late.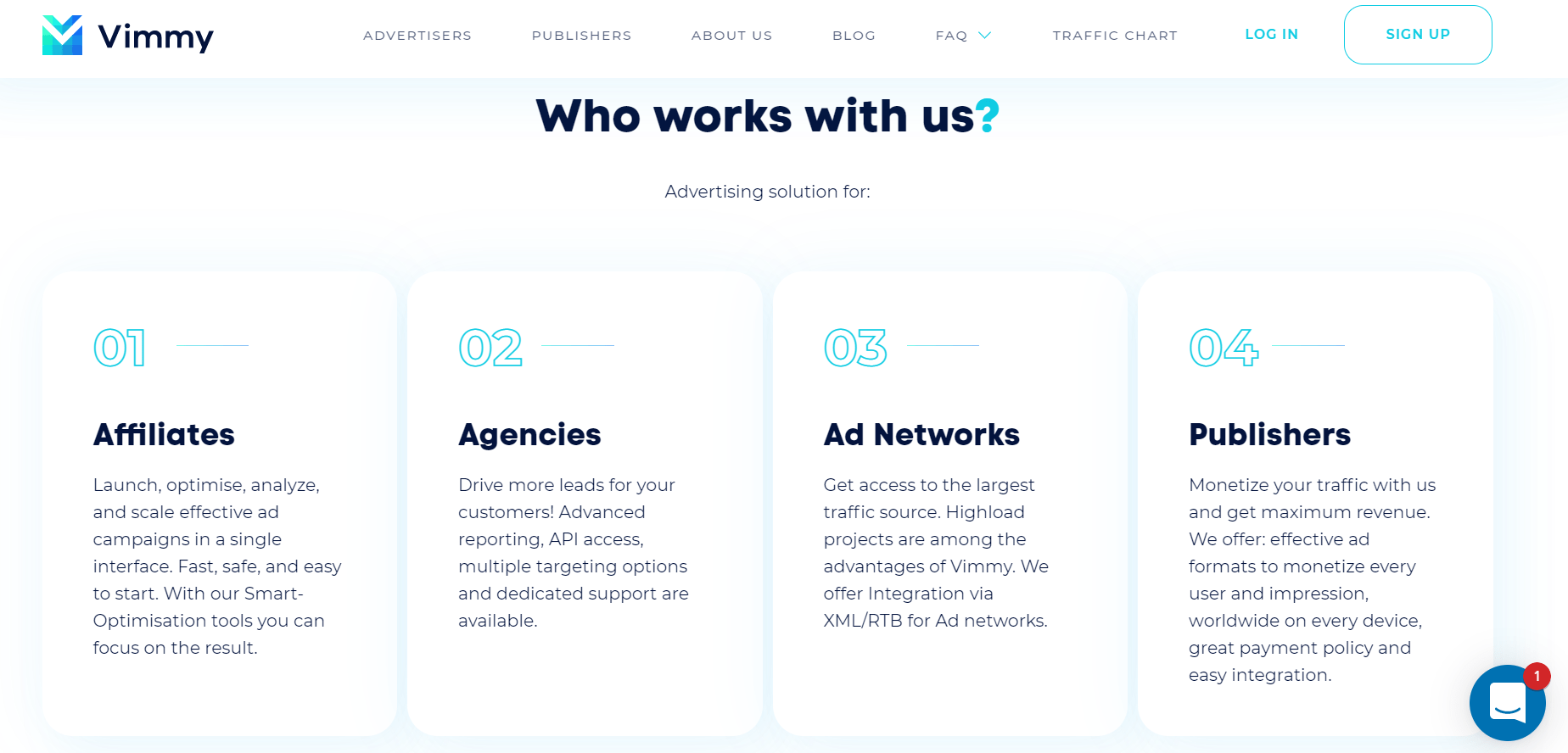 Vimmy for Publishers
The benefits of using Vimmy ad platform for publishers are the next:
The highest payback percentage 85%
Maximally automized and comfortable processes
Various ad formats to use
High CPC rates
Calendar push for iOS with great revenues
Simple ad installing via multitag
Quick and careful support team
Safe trafic
No bots and spam
Anti-fraud system
Customer Reviews of Vimmy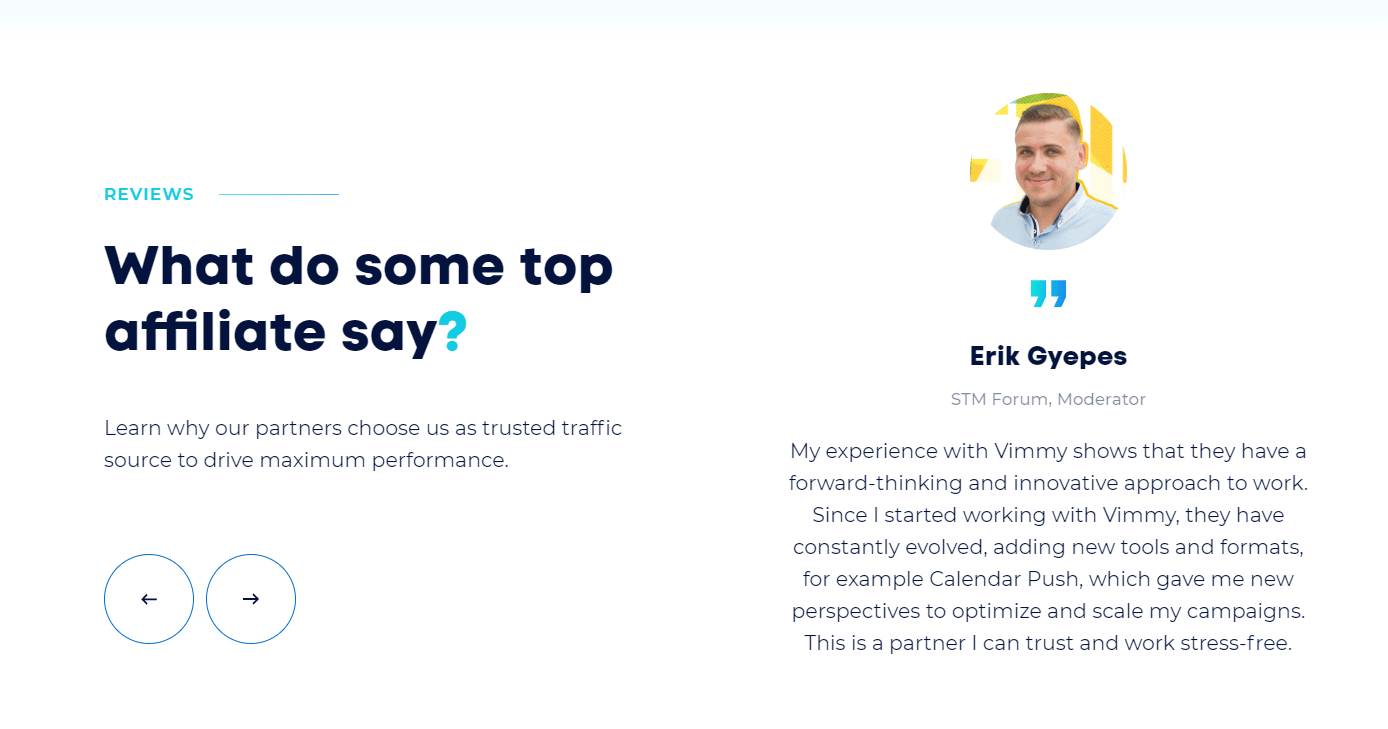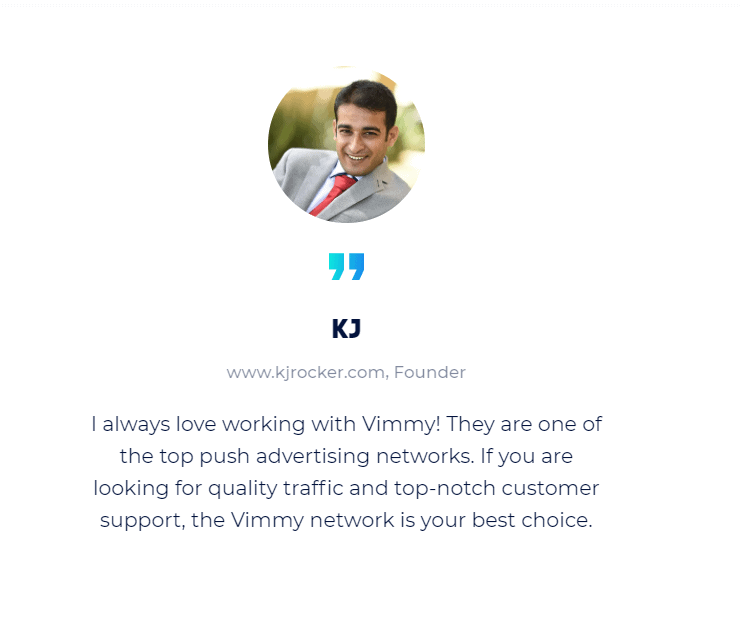 Vimmy Review: PROS and CONS

PROS
The user-friendly UI
Quick support
Regular easy withdrawal via Webmoney, Payoneer, PayPal, Paxum, Wire
Detailed and clear statistics
Low budget for testing
Safeness, secureness, no bots and fraud
Chance to use iOS trafic
High conversion rates
A wide range of targeting options
CONS
Quick Links
Conclusion | Vimmy Review 2023
Vimmy is a powerful and leading ad network and I highly recommend it. You can join the network to quickly and instantly create extremely successful campaigns and market your services to a wide range of people all around the world in order to generate more money.
You have complete control over your campaigns with the self-serve network, and you determine when to start them.
There is a lot of information regarding this fantastic network in this article, and we hope it is beneficial to you. When it comes to advertising and digital marketing, Vimmy is the best option.