If you've been wanting to update your wardrobe but don't want to leave the comfort of your home, then Farfetch might be the perfect online shopping solution. But is Farfetch legit?
In this blog post, we'll dive deep into the world of designer fashion industry curation platforms to determine whether or not the Farfetch website is a safe, secure place for shoppers like us. In short – it is!
Let's get started!
About Farfetch
Are you thinking about shopping at Farfetch? You're not alone.
Since its launch in 2007, this retail platform of luxury items has become one of the most popular e-commerce destinations for designer clothing and accessories from around the world, attracting many a loyal customer.
Headquartered in London, Farfetch features a huge range of different brands from over 700 of the world's most prestigious boutiques across Europe, North America, and Asia.
They don't have a physical store; instead, Farfetch works with brands and independent boutiques to provide customers with access to products they may not otherwise find.
Shopping at Farfetch is a one-stop destination to browse through an impressive selection of luxury brands and boutique items from all over the world.
Users of the platform all over the planet can make a statement with the world's most exclusive and stylish luxury brands, as Farfetch delivers to over 190 countries worldwide.
With their unique marketplace, you have access to an expansive selection of items from established luxury labels all the way up to the trendiest new designers – guaranteeing one-of-a-kind looks like no other!
Their brand and partner boutiques are located around the globe, so wherever you may be, they've got what you need.
And Farfetch is committed to providing an enjoyable and secure shopping experience for their customers, which is why they take measures like verifying vendors before allowing them to join the platform.
Farfetch exists for the love of fashion. We believe in empowering individuality. Our mission is to be the global platform for luxury fashion, connecting creators, curators and consumers.

– Farfetch Mission Statement
Is Farfetch Legit?
But is Farfetch legit? Here are some key points that you should consider when assessing the safety of shopping on Farfetch:
Farfetch is a legit company and a safe website to shop on. It offers payment security, buyer protection, and other measures to ensure that your shopping experience is safe and secure.
The company has an extensive selection of high-quality products from over 700 boutiques and partner stores around the world, so you can easily find great deals on what you're looking for.
Farfetch is constantly updating its product selection of luxury fashion items to include the latest and most fashionable items from top designers.
The customer service team at Farfetch provides quick responses to any questions or concerns you may have about your order.
Is Farfetch Reliable?
Despite its impressive selection of designer items, shoppers will want to know if Farfetch is reliable. The answer is a resounding yes!
Once you've identified your desired item, pick your size and click "Add To Bag." You can then continue searching for more items to add to your bag or move directly ahead to checkout.
Shopping on Farfetch is fast and easy. You can either create an account or check out as a guest – whichever you prefer!
And no matter how many items are in your shopping cart or from which brands or boutiques they originated, you only need to go through the checkout process once.
So even though you might be ordering a new dress from one of Farfetch's partners and a mini bag from another of their partner stores, you won't have to check out multiple times.
Farfetch makes international shipping simple; DHL express is the go-to service, with UPS available in some areas.
Choose your delivery preference from the Farfetch or partner boutique options and complete payment using Visa, Mastercard, or American Express credit cards and debit cards. In selected countries, it's also possible to pay with PayPal, Klarna, and Afterpay services.
Even some major cryptocurrencies are accepted!
Overall, Farfetch is a reliable and safe website that provides shoppers with an extensive selection of designer clothes from around the world.
So if you're looking for a one-stop shop e-commerce platform for your favorite brands, Farfetch might just be what you need!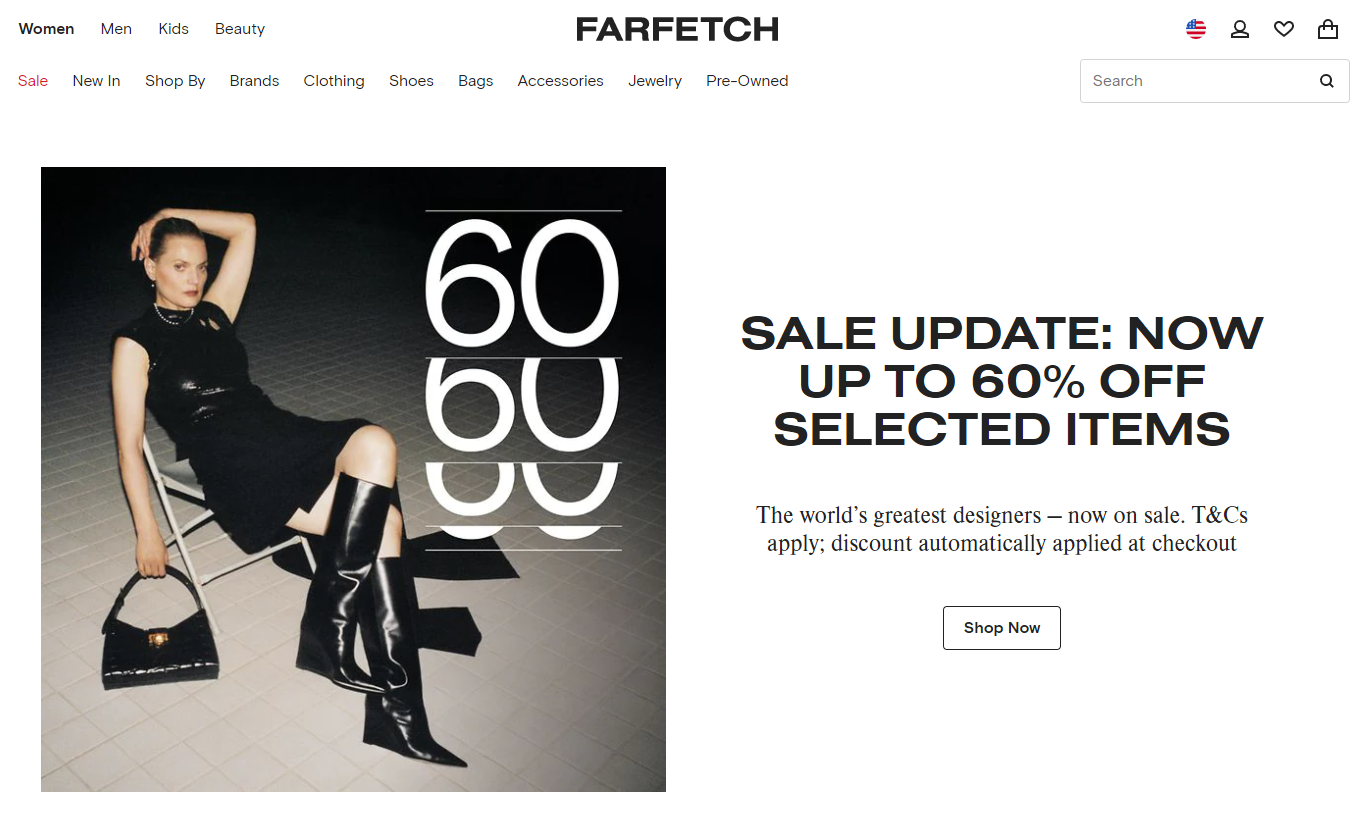 Why is Farfetch So Cheap?
It's no secret that Farfetch offers some of the most competitive prices when it comes to world-known brands. But why is Farfetch so cheap?
The answer lies in its business model. Farfetch partners with over 700 different boutiques around the world, allowing it to offer shoppers discounts on popular high-quality brands.
Additionally, Farfetch works with boutique owners to eliminate the cost of physical stores and inventory, which helps keep prices low.
They also sell pre-owned items, which are typically a fraction of the original price.
Overall, Farfetch is an excellent choice for shoppers looking to get luxury fashion items at a fraction of the price they'd pay in-store.
So if you're looking for big brands on a budget, Farfetch might just be the perfect solution.
What do Farfetch Reviews from Actual Shoppers Say?
Farfetch has a Trustpilot consumer rating of 3.7 stars from over 21,000 reviews, which TP class as "average." Not exactly stellar, but not abysmal either.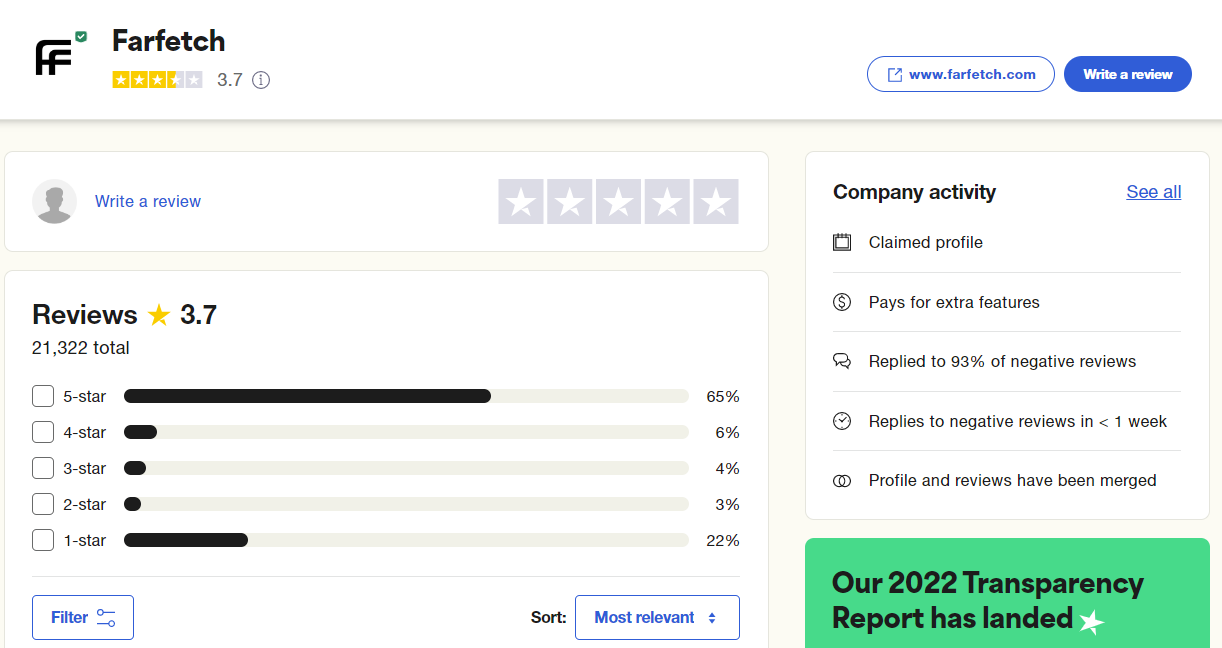 While there are some negative reviews about delayed deliveries and poor customer service, the majority of shoppers have had positive experiences with Farfetch.
Farfetch customers leaving positive reviews appreciate the variety of luxury retail items available, as well as its competitive prices, fast shipping, and commitment to eco-friendly packaging. In addition, many customers praise the website's user-friendly interface, easy checkout process, and reasonable shipping cost options in their Farfetch reviews.
Overall, Farfetch has a solid reputation among shoppers. Reviews from actual customers suggest that most customers are generally satisfied with their recent purchase experience.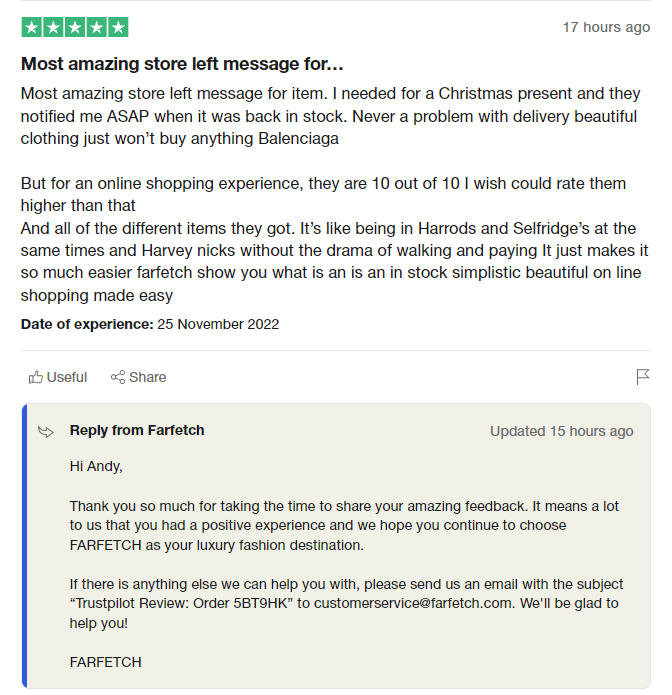 Should You Be Worried About Farfetch Complaints?
Most users are pleasantly surprised with their experience shopping on the Farfetch e-commerce platform. However, some unhappy customers have complained about slow delivery times and substandard quality items.
22% of the reviews on Trustpilot are 1 star, which is still relatively low.
Farfetch Delivery Times
Most complaints by those leaving a negative Farfetch review revolve around late delivery issues and lost packages. These may be the fault of the delivery partner rather than Farfetch themselves.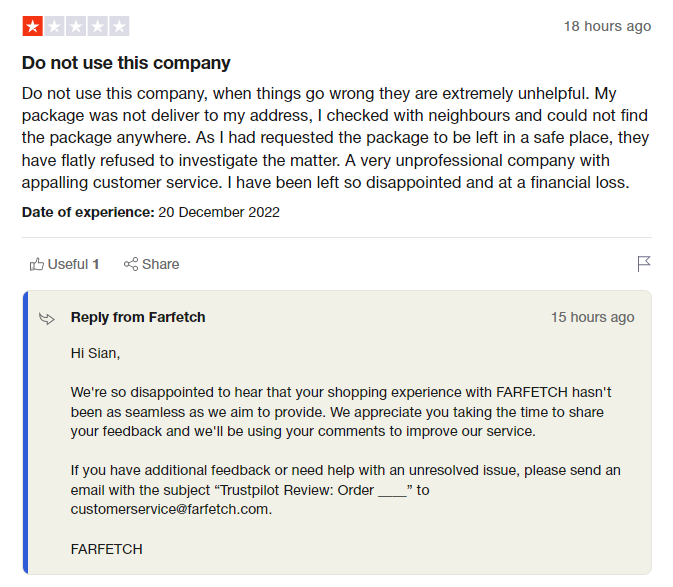 Pricing problems
Other reviews have complained about inconsistency in prices. This is due to their unique business model.
Shopping at Farfetch offers access to products from the most luxurious brands and partner boutiques worldwide.
However, it's important to note that prices are set by each brand or boutique individually. This means they may vary depending on your location and where items will be shipped.
Adding an item to your bag or wishlist does not guarantee a certain price for any product.
The actual price is only confirmed during the checkout process. Sold-out Farfetch items from an individual boutique in your shopping cart will trigger the search for the most affordable substitute from other stores available for delivery to you.
At Farfetch, they understand that cost can be a concern when placing an order. That's why they guarantee the most competitive pricing to your destination with no hidden costs or surprises!
Whilst Farfetch doesn't have complete control over pricing, their commitment is to always ensure you get the best deal available each and every time.
Quality Control Standards at Farfetch
Farfetch is committed to providing the highest quality products from top boutiques around the globe.
To secure a partnership with FarFetch, luxury boutiques must meet various demands. From the quality of their merchandise and safety regulations to customer satisfaction guidelines.
Farfetch review comments mentioning problems with the quality of their purchased item are rare.
Return Policy
Farfetch offers a fairly standard 14-day free returns policy for all orders. Items must be returned in their original condition and with their original packaging. Any returns that do not meet these requirements will be rejected.
Customer Service
The company's customer service team is available via phone and email from 9:00-18:00, Monday to Friday, so it's not the most generous customer service hours.
Online chat would be a welcome addition, but it is not currently available.
Farfetch Alternatives
Farfetch is a one-stop shop for fashionistas looking to update their look with stylish designer pieces from big brands.
But if you're not quite sold on Farfetch, here are some alternative luxury fashion curation sites worth considering.
SSense
The fashion platform SSense is a great alternative to Farfetch. With a wide range of luxury designer fashion, shoes, and accessories for both men and women, there's sure to be something for everyone.
Ssense chat agents are available 24 hours a day, seven days a week, so they take their customer service seriously.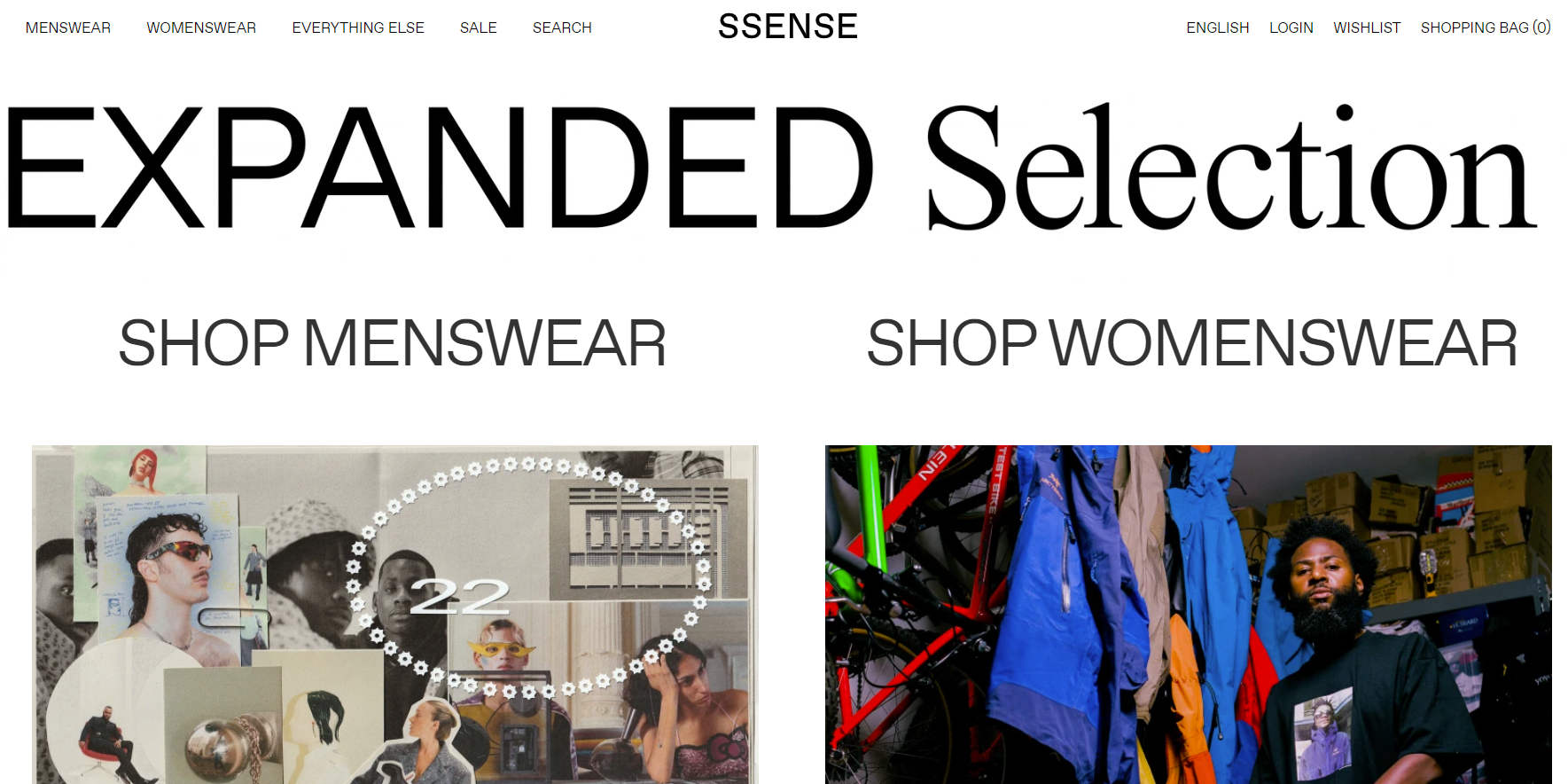 For an in-depth look, check out our article is SSense legit.
---
Net-a-Porter
Launched in June of 2000, Net-a-Porter is another London-based alternative to Farfetch. It offers a huge selection of luxury fashion, accessories, and beauty products from top designers around the world.
With lightning-fast delivery (same day in selected locations) and returns accepted within 28 days, Net-a-Porter is definitely worth checking out if you're looking for designer items at competitive prices.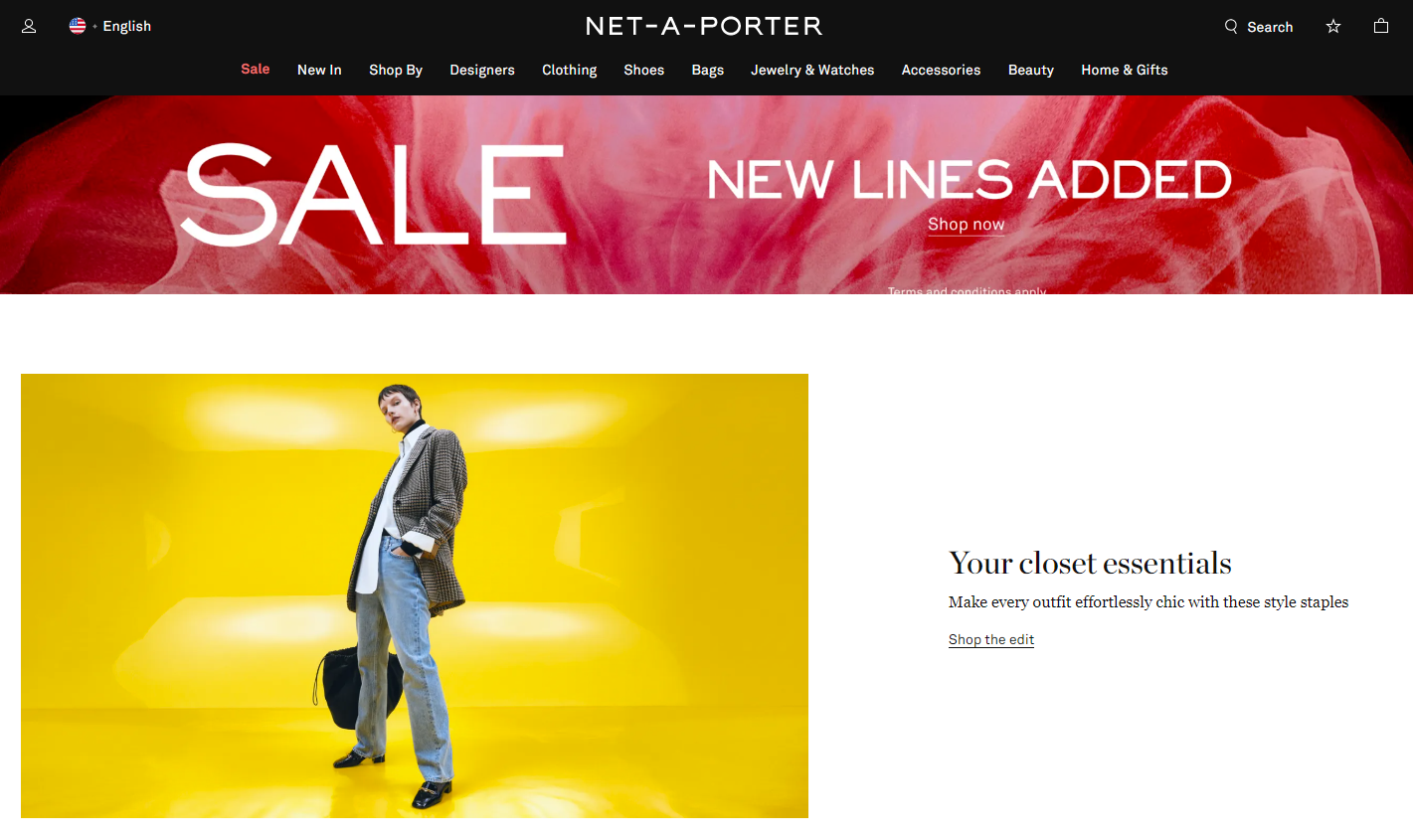 ---
Mytheresa
Mytheresa is a luxury fashion retailer with an extensive selection of designer brands from around the world.
With free shipping on all orders over $300, as well as a generous 30-day return policy and 24-hour customer service in 13 languages, Mytheresa is a great option for those looking for high-end fashion items without quite such a hefty price tag.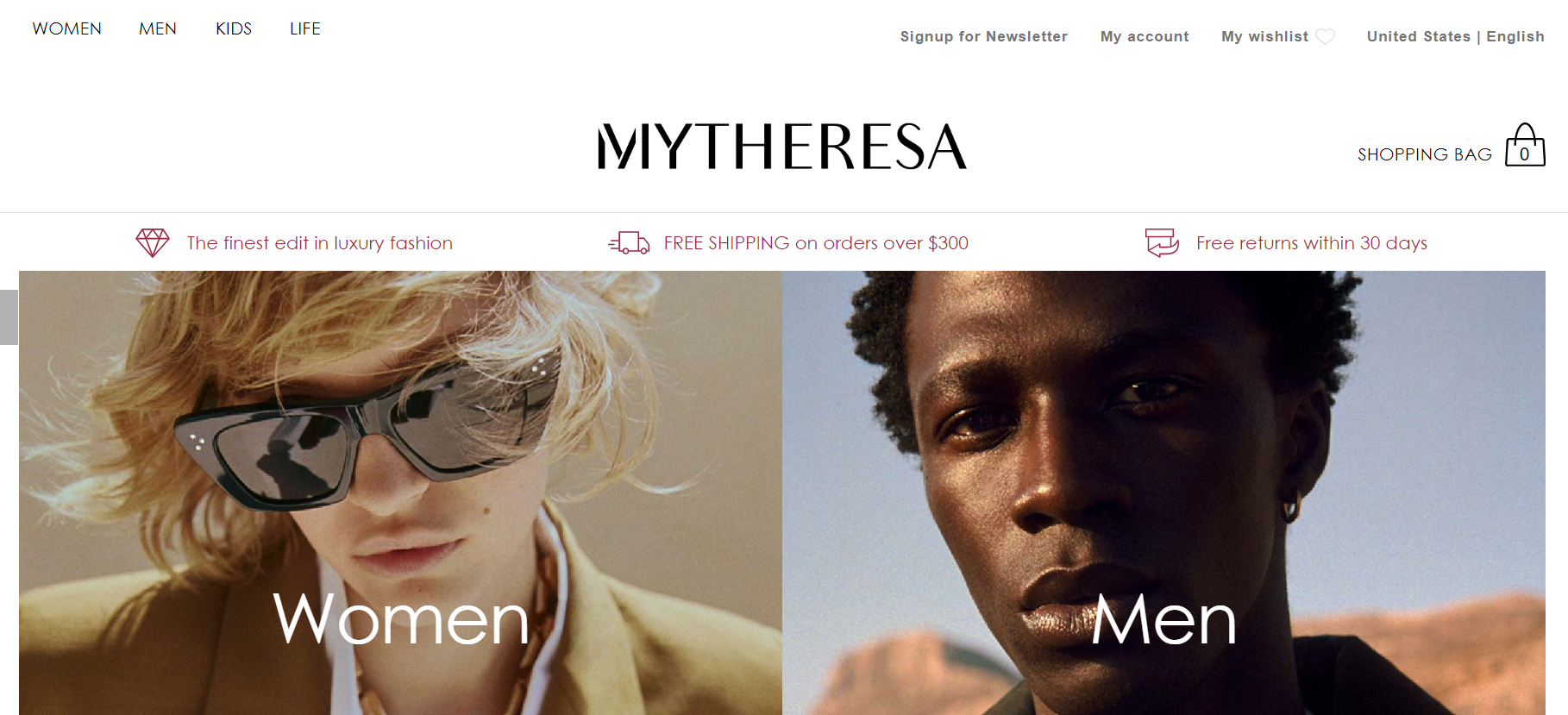 ---
Final Thoughts: Is Farfetch Legit?
Overall, Farfetch is a legit website that offers an impressive selection of designer items at competitive prices. They also have an excellent return policy and decent quality standards.
The reviews from actual customers suggest that it is a trustworthy brand with mostly positive experiences overall.
So if you're looking for luxury fashion on a budget, then Farfetch might just be the perfect place for you.
As always, it's best to do your own research before making a purchase. But with the quality of its products and services, Farfetch stands out as one of the most reliable luxury retailers around.
Another option: if you want to spend less on trendy fashion items and want to know more about the people behind the company, I recommend you check out our Pink Lily success story.