In this post, I have shared the Wondershare MobileTrans Review 2023.
Wondershare MobileTrans lets you transfer data between different phones with one click, including iOS, Android, Symbian, and Windows phones. You can use it to transfer data between any of them.
It is one of the simplest processes, all you need is to click-through for the processing to take place.
You can move data between devices with different operating systems, i.e. iOS to Android. Also, one can transfer photos, text messages, and many other file types as per the user's choice.
What Exactly is Wondershare MobileTrans?
Wondershare is one of the most prominent names in the world of software. Thus, buying a new phone and transferring everything from one mobile to another becomes quite handy with this transfer.
In other words, it works with one click. You can transfer almost everything from contacts, photos, music, videos, and others from one device to another.
This way you are creating permanent storage and completely neglecting the temporary storage or any copy-paste.
It is compatible with any device. It means that if you have got a new iPhone and you want to transfer the data from your old Android phone to a new iPhone, you can transfer that without compromising the quality.
Wondershare also updates the app to keep it in tune with the latest versions of the devices.
With the latest features like Backup and Restore or erasing data from the old phones, this app is flexible in its approach. You can get the mobile app for Android's well as iOS.
Features of Wondershare MobileTrans
Let's take a quick view of its amazing features of Wondershare MobileTrans.
It supports almost all devices.
It works perfectly with Apple, Samsung, HTC, LG, Sony, Google, HUAWEI, Motorola, ZTE, and more smartphones and tablets.
In fact, it's fully compatible with major providers like AT&T, Verizon, Sprint, and T-Mobile. Name it any phone, it supports every device and all formats are supported.
Intuitive Process
MobileTrans enables you to transfer all your data in a simple process.
Following are some simple steps to be followed:
Download, install and run MobileTrans Phone Transfer.
Connect both of your devices to your computer.
Click "Phone to Phone Transfer".
Let's take an example- Transfer from iOS to any android phone. Just two steps to be taken care of:
Connect your device to the computer: Open Wondershare MobileTrans, and click on "Phone to Phone Transfer".
Then get both of your devices connected. Here let's take an iOS and an Android device. The data will be transferred from the source device to the destination one. You can use the "Flip" button to exchange their position.
Choose the file and start to transfer: Check the files you would like to transfer. Then click on "Start Transfer" to begin the process.
For efficiency, don't disconnect the devices until the process is complete. You can check the "Clear Data before Copy" box if you want to erase data on the destination phone before copying the new data.
Safe and reliable
Wondershare software for phones/tablets only reads the information on your device and fully fills the functions provided by MobileTrans. Your personal information will not be stored in the software or on any kind of cloud.
Also, Wondershare software guarantees zero hacks. All your personal information cannot be leaked or hacked. You are the only person who can have access to your personal information.
Not only this, but it also offers zero data loss and provides full security.
Existing files will not be overwritten unless you choose to delete them. It has easy backup and restores options.
MobileTrans can also be used to create a backup of your data on a third device. Isn't it amazing?
Fast Transfer Speeds
Takes less than 3 minutes to finish all your transfer. MobileTrans can also be used to create a backup of your data on a third device.
Backup almost all the content on your mobile including contacts, text messages, calendar, call logs, photos, music, videos, apps, app data, etc. to your computer. Support the backup for Android, iOS, Symbian, and most of the featured phones.
Create a safe and complete backup for your phone or tablet in just a few minutes – faster than any other tool in the market. Also, you can restore your data in case you lose something.
Restore from the cloud services – such as iCloud, Microsoft one drive.
Retrieve data from backup files created by other mobile managers – such as iTunes, Samsung Kies, Blackberry, mobile go, etc. Options are provided for both a selective part restore or a full restore.
Wipe Out Data on Your Phone & Table Completely
Erase photos, contacts, messages, call logs, and all private data. The advanced Data-Erase-Algorithm guarantees no chance for data recovery.
It supports all phones or tablets from Apple, Samsung, LG, HTC, Sony, Nokia, Huawei, Motorola, etc.
Backup and Restore

It is not always necessary that you keep both the old and new phones together. Thus, in its new feature, you can create a backup for your data files; music, video, photos, contacts, or any.
You can create a backup on any cloud storage device such as iCloud and Microsoft office and later on restore the files to your new device.
Also, you can use various mobile backup managers such as iTunes, Kies, Blackberry, or Mobile Go and get your files back to your new device.
You can choose to have a selective restore or a full restore of the data.
Thus, the one-click backup will get your files restored quickly. Files can be transferred from any Android, Symbian device to a computer with a breeze.
Support
Though I wouldn't rate the support system of Wondershare at par with the others, still it has got a reputed support team. Due to the absence of Live Chat, you cannot get your issues resolved quickly or you cannot get answers instantly.
For this purpose, email support can be used by the user. Moreover, you can call the given helpline number if still the issue isn't resolved.
For the customer's convenience, a product manual is available online from where you can choose the desired OS and get assistance in setup. You can also turn on to Products FAQs for any basic questions.
A customer can retrieve the registration code by submitting their licensed email.
You can also ask for the returns or exchange of your product if purchased by providing some information.
A resource section is available for the customer where they can get help for transfer from one device to another or one operating system to another.
Affiliate Program
Get your chance to earn by signing up with the affiliate program of Wondershare and earn your commission up to 30% to 50% per product.
Just sign up with the affiliate program and if you own a website, you just need to create an affiliate link to your site.
Similarly, you can also earn if you are a publisher or reseller. Wondershare creates customize products and you can make money by selling them.
Why Wondershare MobileTrans is Better Than Others?
With an intuitive interface and ease of use, this software gives other apps a run for the money. With plenty of software coming up for cloning or transferring,
I would suggest using this because of its easy 1-click phone to phone transfer. Besides this, it also has some added features such as:
Easy Transfer between different operating systems
The different operating system has different file formats and size. Thus, it becomes quite tedious for any software to transfer files easily from one device to another.
Even if they transfer, they cannot maintain the quality which was previously present. The MobileTrans tool certainly gives you the privilege to transfer files easily from one operating system to another without hassle.
With just one click, get your files transferred. Any device (Android/ iOS/ Windows/ Symbian) is accessible to it.
Backup
With just one click, backup any file; contacts, images, videos, messages or audios, etc. to safe cloud storage or other mobile managing storage such as iTunes, Kies, or BlackBerry.
You can even backup the complete data of call logs from your previous device to the newer one.
In the backup tab, select the items to create the backup and choose the storage where you want to have a backup. After selecting the files, click on backup.
Restore
Once you have created a backup of those files, next you will need to restore those files to the new phone.
On your desktop, connect your device and select the store from where you have your data stored. On selecting the storage, you can restore your complete file or have a selective restoration.
You may restore data from any system such as Microsoft Office, iCloud, Kies, BlackBerry, or iTunes.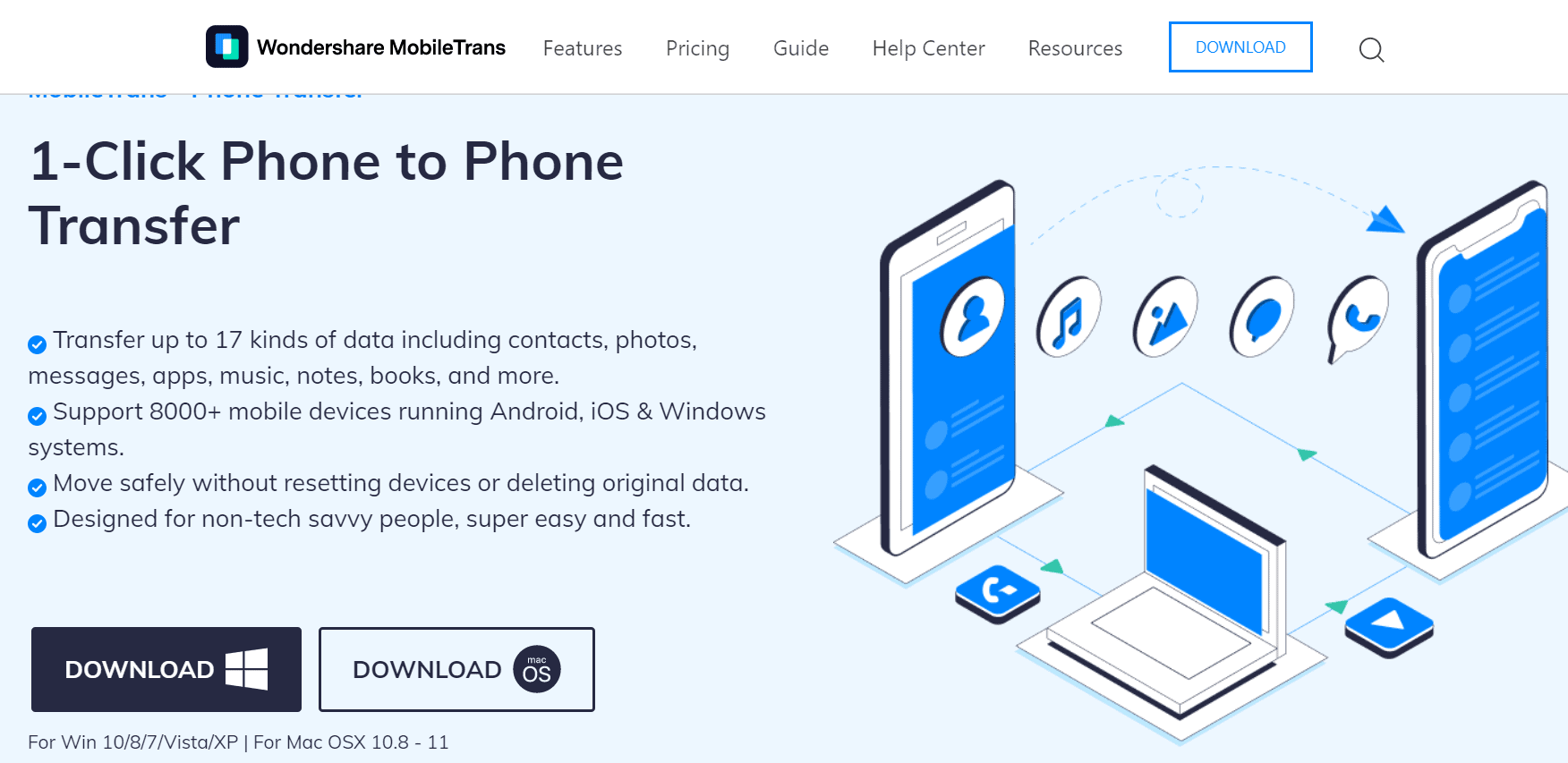 Major Advantages of Wondershare MobileTrans
It provides a 30 days money-back guarantee. If you don't like the software or there is any fault due to which data transfer couldn't take place, they will provide money within 30 days.
It's 100 percent clean.
You can have all the support from MobileTrans. You can contact the support team anytime.
Free lifetime updates.
Wondershare MobileTrans Customer Reviews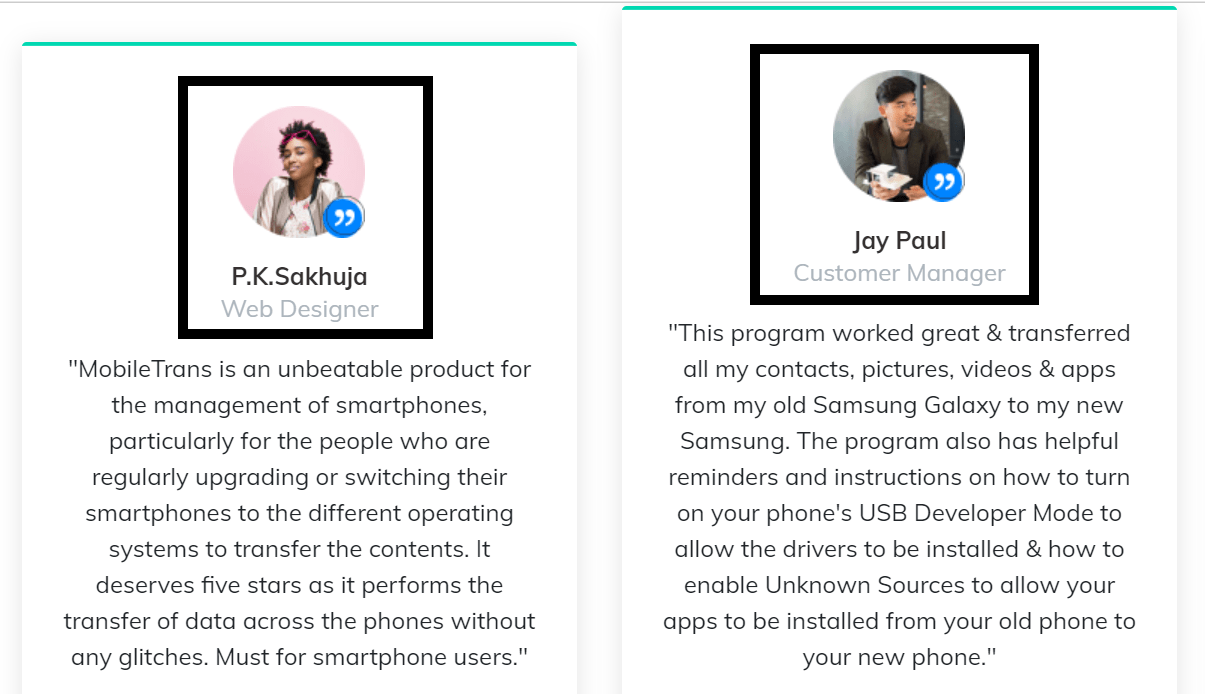 Wondershare On Social Media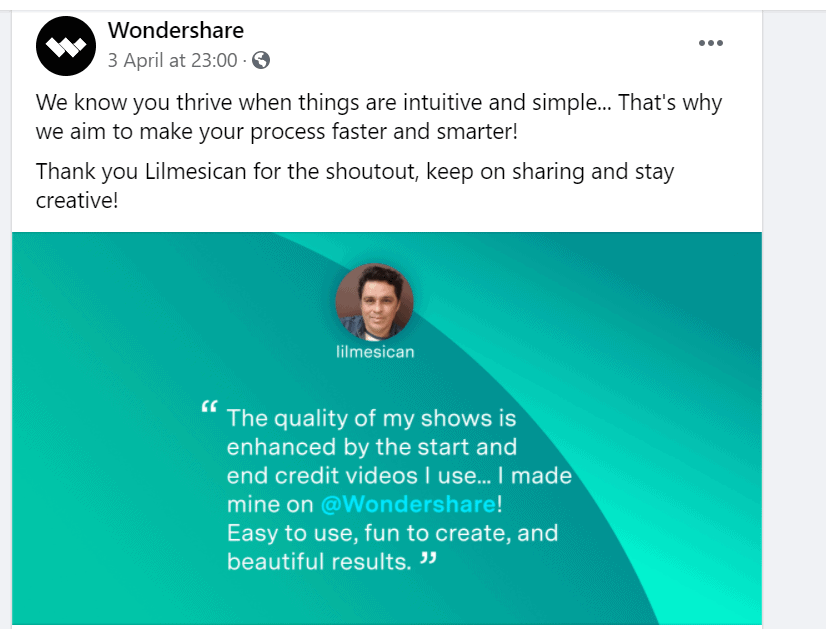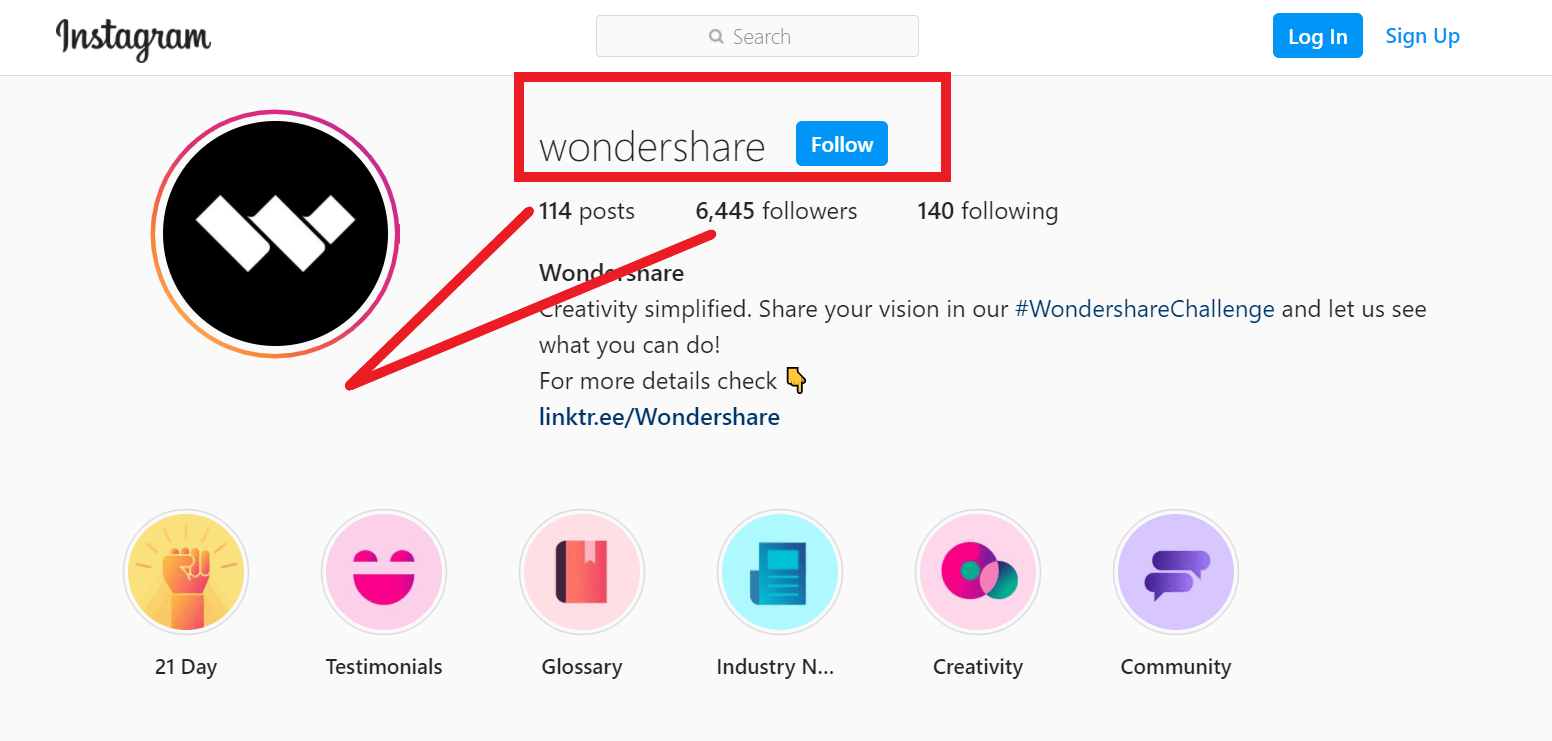 Wondershare Founder Speech

Alternatives of Wondershare MobileTrans
1. Syncios Mobile Manager
Syncios Mobile Manager is a smooth-to-use and effective iOS & Android Mobile supervisor, which is well-designed for users who want to manage tool contents on PC. It allows you to export contacts, apps, photos, track, ringtone, films, SMS messages, eBooks, and greater.
Support to transfer, edit, backup, manage, view mobile statistics together with contacts, apps, pix, music, ringtone, motion pictures, SMS messages, eBooks, and extra.
Help to organize every iOS tool's/Android's file.
2. Samsung Smart Switch
Samsung Smart Switch makes it clean to transfer contacts, pix, messages, and extra out of your vintage phone on your new Galaxy.
3. PhoneCopy
PhoneCopy is the quickest-growing cloud solution that permits you to without problems create backs up and sync all of your previous statistics with just a single click.
The software is to be had to use on PC, Android, and iOS gadgets, and you may also be capable of accessing your facts on the web. It helps nearly all styles of records and lets you to create again-use of all of your facts without any restriction.
4. Tenorshare iTransGo
Tenorshare iTransGo is a move-platform solution this is particularly designed to switch records from one cell device to any other device without losing excellent.
The solution becomes created for individuals who want to make an identical to their statistics and fast switch it into their new device.
You need to attach both gadgets, pick documents and facts you want to switch, and hit the switch button.
Also Read : 
FAQs | Wondershare MobileTrans Review
🤔 Is Wondershare mobile transfer free?
You're able to detect both phones to check the device connected in the free trial version. To transfer phone data to another phone, you have to buy a license and use the paid version.
🤷‍♂️ Is Wondershare MobileTrans safe?
Transferring data from an old phone is fun but can be frustrating if the apps involved are limiting and costly. … We know that Wondershare MobileTrans is a popular tool for iPhone to Android sharing tool keeps data safe during the transfer process.
🙋‍♀️ Is Wondershare reliable?
Wondershare has a consumer rating of 3.73 stars from 128 reviews indicating that most customers are generally satisfied with their purchases. Consumers satisfied with Wondershare most frequently mention customer service. Wondershare ranks 6th among Video Converter sites.
🤙 Is Dr. Fone Wondershare Free?
With its help, you can retrieve lost images, videos, documents, contacts, messages, and call logs from iOS devices. It also offers several other features like remote phone unlock, data backup, phone repair, and screen recording. The free-trial Wondershare Dr. Fone download for PC is not only for Windows.
Conclusion | Wondershare MobileTrans Review 2023
Mobiletrans is an unbeatable product for the management of smartphones particularly for the people who are regularly upgrading or switching their smartphones to different operating systems to transfer the contents.
It deserves five stars as it performs the transfer of data across the phones without any glitches. Must for smartphone users.
Wondershare MobileTrans is one the most best and efficient ways to transfer data from iOS to Android. All you need to do is follow some simple steps and you reach your goal.
It's a must if you want to transfer data without many efforts- just a click away.
Follow Wondershare on Facebook, Twitter, Youtube, and Instagram for more offers and discounts.
I hope you find this Wondershare MobileTrans Review useful.
Best Wondershare MobileTrans Videos



<
/p>