Have you ever clicked on a link with '5 Reasons Why' in the title?
Or perhaps one that had '11 Best Ways To…'?
It all begins innocently—until you find yourself in some unexpected corner of the web, thanks to that irresistible listicle.
That's their power. They draw you in like a digital sheepdog!
And contrary to popular belief, they don't only work for Buzzfeed-style articles.
This post will look at some great listicle examples, key elements that make the listicle format so compelling, and a few other helpful topics.
Along the way, we'll dispel the myth that listicles offer readers no value.
Are you ready? Let's go!
What Is a Listicle Example?
A listicle – or list article – uses a list format to present information. These lists may be numbered, alphabetized, or organized in any other way. The key takeaway is that each list item is a short, bite-sized piece of information.
This structure makes them appealing to busy readers who want to scan without wading through long paragraphs.
Listicles typically include:
A catchy title. For example, "11 Tips For Writing Headlines That Don't Suck."
An introduction.
A list of items with descriptions or explanations for each item.
A conclusion or summary.
Each item should be concise yet offer enough value to attract readers and search engines.
1. "Best of" Listicle Example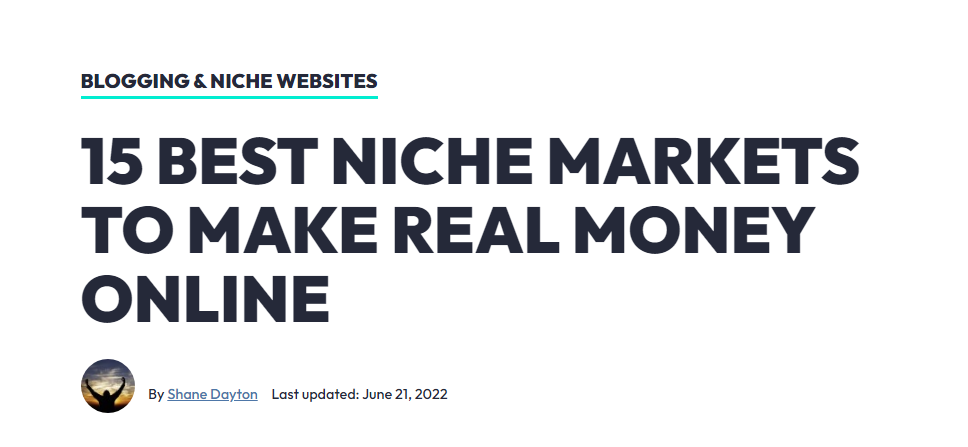 "Best of" lists help readers quickly find the best information and compare it all at once.
If 89% of customers read reviews before making a purchase, you could use that tendency to drive traffic to your website.
But list posts don't only focus on product reviews. You can apply "best of" list concepts to questions or mistakes.
Think "Top 7 Mistakes to Avoid When Launching a New Product" or "8 Most Common Questions New Bloggers Make."
Nichepursuit's "Best Keyword Research Tool For You" is an excellent example of a "best of" listicle.
What Makes This a Killer Listicle Example
First, the intro smacks you in the mouth, so you quickly realize he's sharing something valuable.
Business owners require two key elements for success: traffic and revenue. This listicle example identifies keyword research as the driving force behind these fundamentals.
After all, readers want to know: what's in it for them?
Once the author sets the stage, he shares the best keyword research tools.
What I like most about this listicle is the logical progression. He organizes the list into categories of different tools – free tools, paid tools, and other helpful resources.
Readers can quickly skim each list item to find what they're looking for.
He starts with free options, showing he understands people's time is limited and not everyone can afford all of these tools.
The author doesn't just list the tools. Instead, he provides short, specific descriptions based on personal experience with screenshots for added value.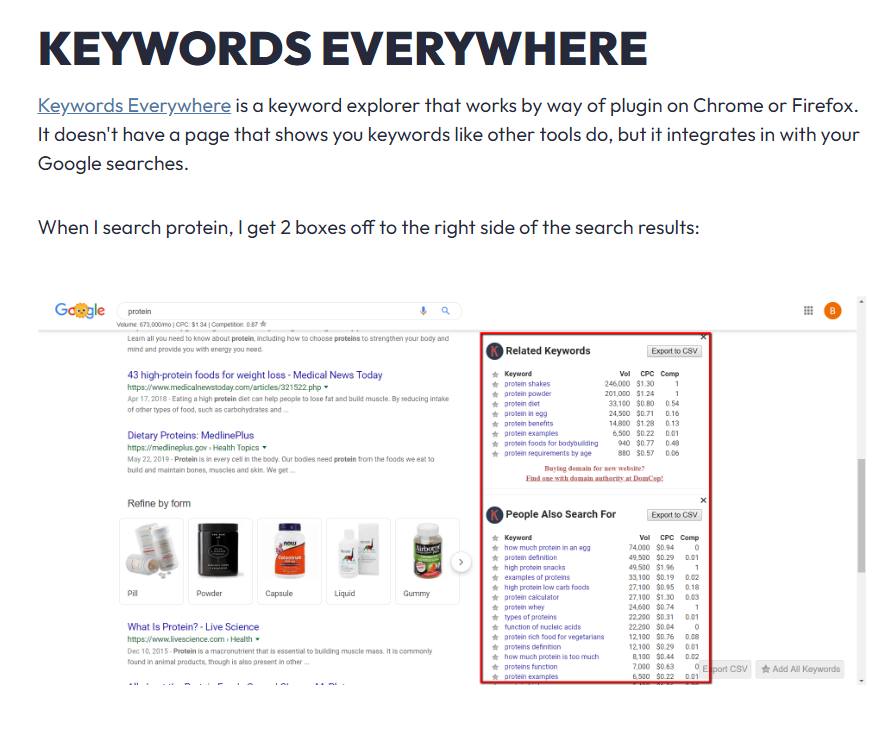 He also compares them against each other, showing you how one might be better than the others in certain situations.
Last, he offers a summary section for the most valuable takeaways within each list item.
Points Of Improvement
My only critique is placing a number in the title (and within each list item).
For example, "9 Candidates For The Best Keyword Research Tool" might have earned him an extra point or two on his Click Through Rate.
When a number appears in the title of an article, our brains can't help but take notice. 
Let's say the target keyword "Best Keyword Research Tool" gets 2500 searches per month and is currently on a 3% CTR. If we can raise that by just 2%, that means 50 more clicks every month and 600 over a year!
Upworthy Co-founder Peter Koechley says titles are key to a listicle's success. He sees up to a 500% difference in traffic depending on the headline.
But that's not all.
Numbers also:
Generate authority
Provide structure within the article
Appease the search engines
Entice people to read more since readers experience FOMO
Are preferred by readers in headlines (Moz study)
2. How-to Listicle Example
These articles provide instructions for completing a specific task.
They are like a step-by-step guide to help readers achieve the desired outcome.
Readers aren't looking for complex, technical instructions when they search for "how-to" listicles.
They want to know the following:
What the steps are
Different angles and methods to achieve an outcome
What tools and resources they'll need
What challenges they'll face
A "North Star" or "goal" they should aim for
I wrote 12 Great Ideas For How to Make Money on Discord – an excellent example of a "how-to" listicle.
What Makes This a Killer Listicle Example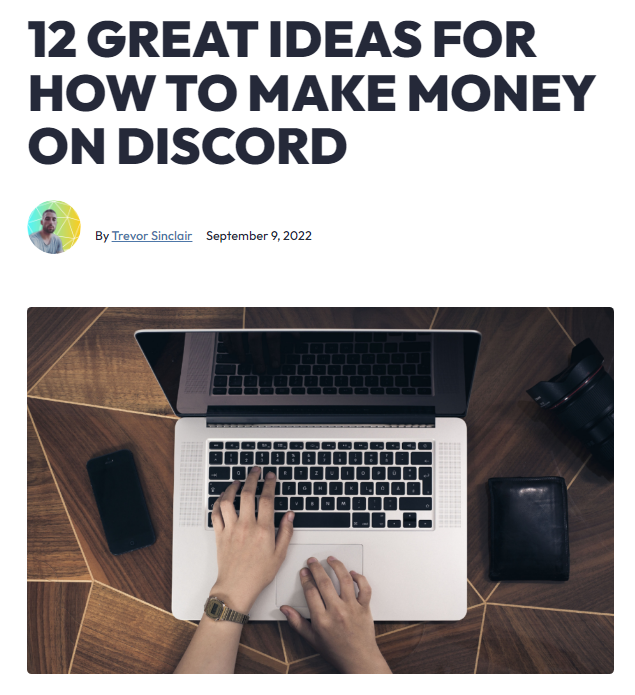 Well, for starters, Google thinks so.
It ranks on page #1 for search terms like "make money discord" and "how to make money with Discord" – two keywords that receive over 600 searches per month.
And that's not a fluke!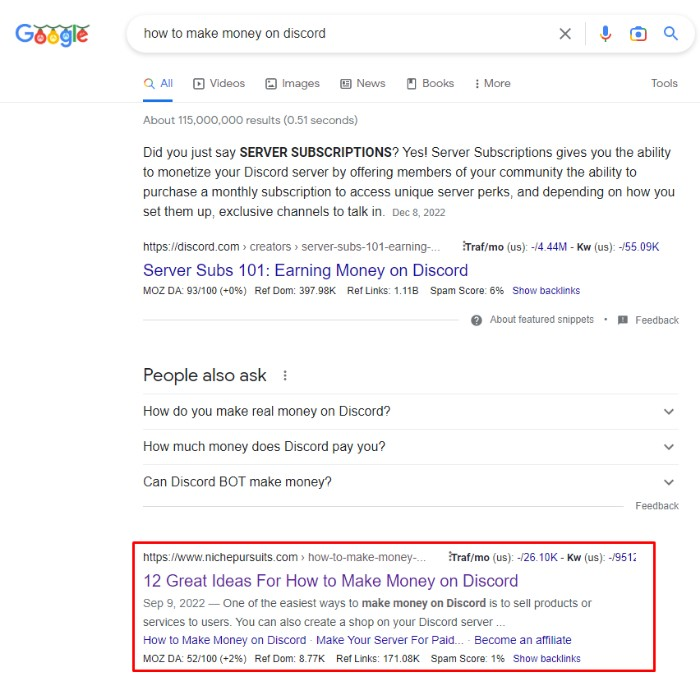 The article is outranking high-domain authority sites like The Star and Digital Trends.

But what makes the content so effective?
To start, I set expectations immediately.
The intro promises to deliver "12 Actionable Ideas for Making Money on Discord", and I deliver on that promise by laying out each idea in detail.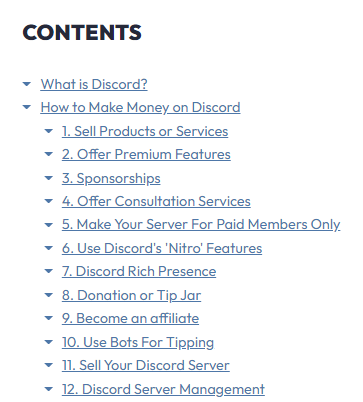 This is crucial for getting "buy-in" from the reader.
On top of that, I made my article better than the competition.
Here's how I accomplished that:
Length: My article is more than 3,518 words and longer than many other articles on this topic. But it's not too long to be an outlier. You can also add more "methods" than the ranking articles. So if the competition offers 9 ideas, you can offer 13.
Freshness: I've updated the article with fresh images, screenshots from Discord, and up-to-date statistics from the platform.  By doing that, I could move ahead of dated entries which mentioned methods no longer supported by Discord.
Depth: I didn't list a few general strategies for making money on Discord. I dug deep, analyzing each idea and providing actionable steps to follow. Using case studies and illustrations to give more detail helps bring my piece alive.
Design: My post is well-designed, using striking visuals and formatting. It's also easy to read, with plenty of headings, bullets, and screenshots.
Unique Insights: Unlike the competition, I inject my voice and point of view into the article. I participated in paid Discord servers long before I wrote this article. My insider knowledge contributes to a more nuanced perspective on the topic. Sharing my personal experiences adds substantial value to my readers' lives, helping them avoid mistakes and gain wisdom they can't attain anywhere else.
3. Expert Roundup Listicle Example
Expert roundups are powerful because they bring together authoritative voices in the same industry. Each contributor provides readers with unique insights on a specific topic.
They're excellent for:
Attracting traffic. The contributors will generate reach and influence (their social networks, website visitors, and email lists)
Boosting authority. By associating with experts, your audience will perceive you as knowledgeable and trustworthy
Building relationships to benefit both parties. A roundup helps the contributors grow too!
So, what if you could write content that generates over 20,000 views, over 1,400 shares, and 75 comments?
Would that be valuable to your business?
Then take a cue from Tor Refsland, a content marketing expert who accomplished those impressive numbers.
Why This Expert Roundup Listicle Example Succeeded
Tor's article, "80 Productivity Tips From Incredibly Busy Experts," took off for several reasons.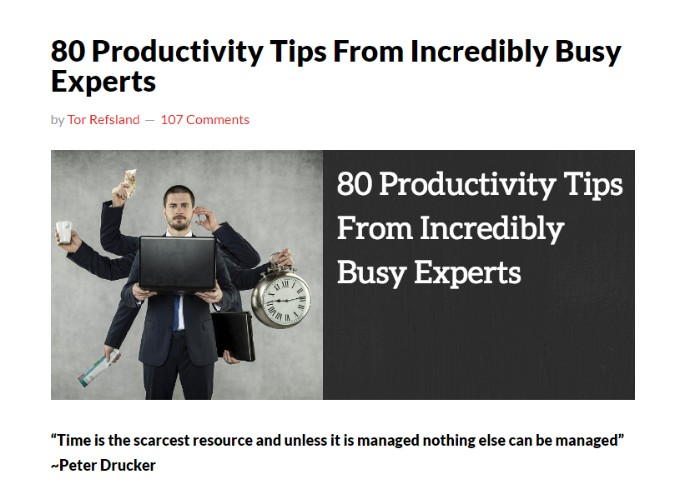 The article focuses on an intriguing question (primed for both SEO wins and his audience). He discovered that the target keyword "productivity tips" had an average of 1600 monthly searches. Tor also knew that discussing productivity tips would be incredibly useful and relevant to his audience. So he decided on "What is your best productivity tip that you use in your business?"
He looked at his competition (so he could outrank them). Sites like INC.com and Entrepreneur.com are big players, but they only offered their readers 12, 4, or 10 tips—not very impressive. He could gain an edge with more volume and diversity of tips.
He leveraged others' authority. His article brings together experts like Neil Patel, Evan Carmichael, and Yaro Starak. They each brought something new to the discussion.
His intro is a masterclass. With convincing logic, Tor strikes at the heart of why people should care about productivity. We tend to think of productivity as a chore, Tor is here to ensure it doesn't feel like one.
And you know what happened?
Tor Refsland's hard work paid off dividends—he managed to land at spot #4 on Google for the keyword "productivity tip."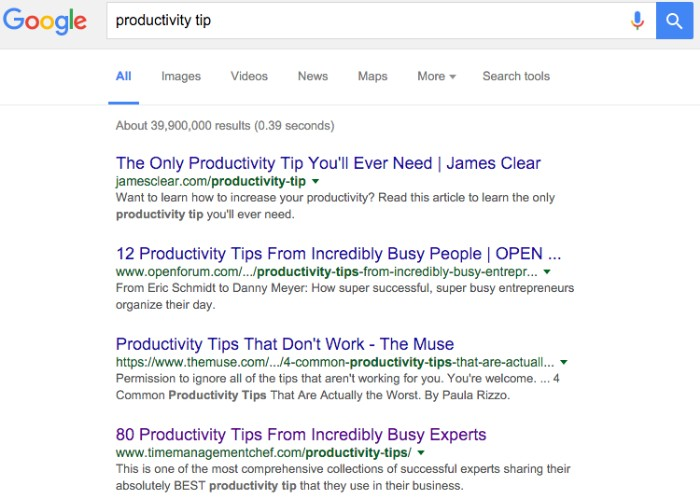 People loved it—influencers shared Tor's roundup with their followers and generated massive engagement.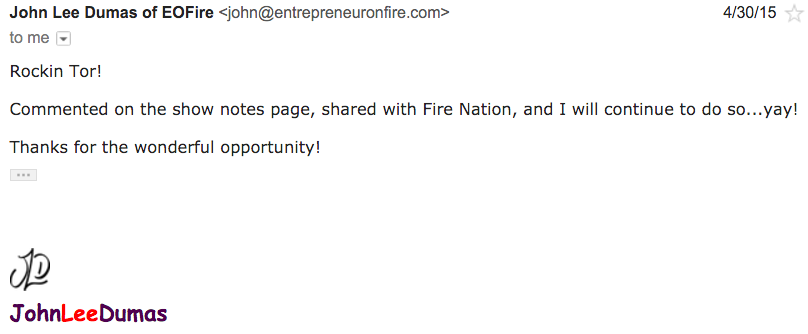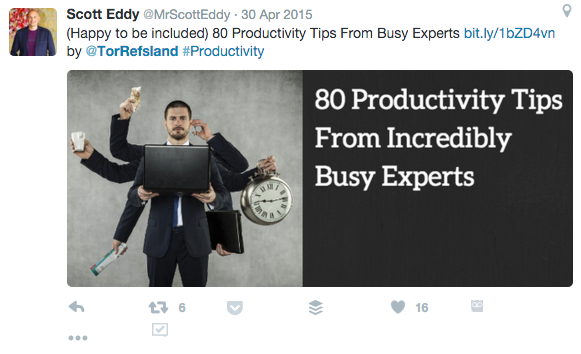 The impact was tremendous, attracting thousands of views to the post!
15 Listicle Example Ideas To Inspire Your Content Marketing Efforts
Waving the magic wand of creativity, we whipped up a batch of listicle ideas for your Marketing team.
Give this list a glance to get those creative juices flowing!
E-Commerce List Article Idea Examples
7 Essential Tips for Selecting An Amazon FBA Supplier
Top 7 Shopify Trends to Watch in 2023
5 Cart Abandonment Strategies To Maximize Profits
9 Strategies To Prevent Chargebacks and Fraud
Marketing List Article Idea Examples
11 Things Every Small Business Owner Should Know About SEO
15 Steps To Creating A Memorable Brand
11 Mistakes to Avoid When Launching an Email Marketing Campaign
Blogging List Article Idea Examples
8 Tips For Writing An Engaging Blog Post
5 Key Steps for an Eye-Catching Blog Post Title
7 Unusual Ways To Grow Your Blog Traffic
Why List Articles Work
Here, you will find four reasons why the list format works and why you should consider using it for your business. 
1. Readers Know What to Expect
With list articles, readers know exactly what they're getting into before clicking on them.
Remember, the average attention span is only 8.25 seconds. And it's human nature to avoid tasks that require lots of effort.
Listicles remove these psychological blockages up front! That way, they stick around, read, and share the content.
For instance, a non-listicle headline might be something like: "The Ultimate Guide to SEO," while a listicle could go with: "10 Simple Tips for Better SEO".
There's no denying that the latter is less intimidating. Readers won't feel overwhelmed by an endless journey ahead.
After all, who doesn't want 10 easy tips?
2. Easy to Scan
Listicles are winning readers over with their easy-to-scan format, and that's winning SEO love too.
According to HubSpot, 43% of readers are guilty of 'skimming,' if not scrolling. The intuitive listicle layout makes it easy for readers to find what they need without reading every word.
What does this mean for search engines? As listicles are easy to scan, they're also easy for search crawlers to read.
Not to mention, listicles have a psychological effect on us — there's a sense of satisfaction as we progress through each element.
This makes sense, right?
Don't you feel a sense of satisfaction when working through a checklist?
3. Complex Ideas Become Easier to Digest
Our brains break the world into distinct categories (Journal of Consumer Research).
And the list format helps us digest complex ideas into more manageable "chunks."
As Maria Konnikova of The New Yorker points out, listicles do the hard work of conceptualizing, categorizing, and analyzing on your behalf.
4. They Captivate our Interest
List posts thrill our brains. They lure us in, promising intriguing, insightful facts in just a few minutes of reading – who could resist?
Psychologists suggest it has to do with a phenomenon called FOMO or "fear of missing out." We are driven by a strong urge to resolve the mystery or at least understand the cause behind it.
Thanks to Duke behavioral expert Dan Ariely, we understand why this urge is so powerful. Listicles create an artificial feeling of deprivation which encourages us to act on our curiosity until it's satiated.
How To Write The Perfect Listicle Format Article
Keep these 8 pillars in mind as you write your listicle!
All of the best listicle examples have these qualities in common.
1. Keyword Research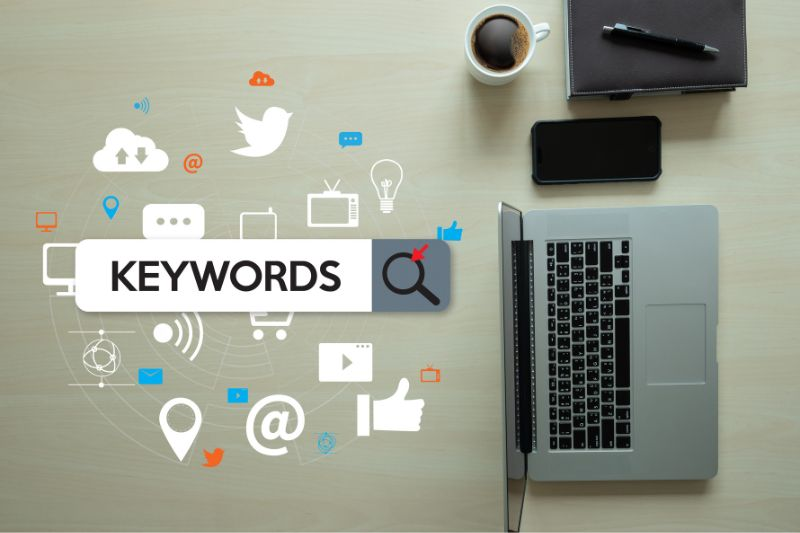 When you're crafting a list article, the success of your blog post depends on its keywords.
The right keywords will attract more readers, clicks, and ultimately profit.
After all, who wouldn't want their content to be among the top hits when someone's conducting a Google search? 
The primary goal of your keyword research is to find a keyword with enough traffic (volume) and a relatively low difficulty rating.
Tools such as Semrush can help with keyword research. If you need more in-depth info, check out our full guide to keyword research.
2. Search Intent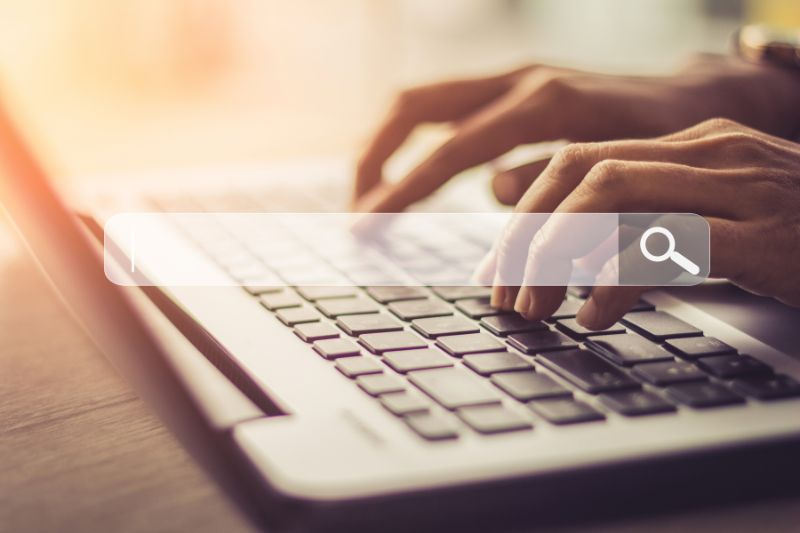 Before you invest time and energy into writing a listicle, verify the search intent behind it.
Remember, the answer to "what does Google want?" always presents itself on page 1!
And we want to make sure your readers and Google want a listicle.
You can do this by searching for the keyword or topic and looking at what type of results Google is already ranking – if it's not already ranking listicles, then there's not much sense in writing one.
If listicles are ranking for your keyword, then go for it!
For example, if you were writing about the "expert roundup" topic. Go to Google and look at the competition. The #1 result is a "step-by-step guide, or a "how to" listicle example.
We can even find more evidence of listicles ranking on page 1. In this case, we find a "Best Of" style listicle.
So, what does Google want to see for this topic? Would a listicle work?
What makes the top listicle stand out from the rest?
How comprehensive and accurate is each one?
Are there any consistent themes between them?
Don't gloss over this step! Skipping it could be the difference between success and failure.
3. Pick a Viable Listicle Topic
Ensuring that the topic you choose fits into a listicle format is crucial if you want to provide value for readers.
The best way to guarantee a good fit is to ask whether the topic can be broken down into distinct points. If so, your chosen topic will likely be well-suited to a listicle structure.
4. Compelling Title
No one will read your amazing work if you don't hook your readers.
It's a harsh reality: 80% of readers never make it past the headline.
So your title must stop the reader in their tracks! And if the headline fails to do so? The reader simply moves on (and you lose a customer).
But it shouldn't be clickbait! While clickbait titles can draw attention, you risk losing readers' trust (and respect).
Here are a few useful tips:
Before you publish a listicle with a catchy headline, ask yourself if you are delivering on the promises made in the title.
Also, consider if there are any unrealistic or untrue claims made in the title.
Make sure the title relates to each list item.
Portent's Content Idea Generator is excellent for brainstorming compelling titles. It's free and super helpful.
5. Offer Valuable Content
The key to creating valuable content is to answer a simple question: why should someone read your content over anyone else's?
Nobody wants to read a laundry list – they need real actionable advice.
So if you're providing tips, include what to do and how to do it.
To create valuable content:
Do proper research on the topic before making a list.
Dissect competing articles to see the quality of information they offer.
Go deeper and wider than your competition. Go after the areas they've left unanswered!
Provide relevant examples that add depth and clarity (see the How to Make Money on Discord section for clarification).
If you need help building valuable content, Brian Dean's skyscraper case study can give you some pointers.
6. Cover the Topic From a Unique Angle
One way to make your listicles stand out is to cover the keyword from a unique angle.
Consider how to position your keyword differently than others in the industry – can you offer a new spin or take on the topic?
Think about subtopics and related examples. You might focus on a specific type of expert roundup, a specific audience, outcome, or method.
For example, the SEO world has seen "Expert Roundup Tips" a million times, but there's a way to spin it into something new.
For example, you could write a post on:
7 Expert Roundup Tips To Help You Nail Your First Roundup (geared towards new blog owners)
5 Expert Roundup Tips To Generate 500 Leads in a Week (focusing on a lead capture angle)
Expert Roundup Tips: 9 Tips To Reach Out To Influencers Without Getting Ghosted! (focusing on the influencer outreach angle)
You could explore countless creative avenues to give this keyword new life!
7. Link Out to Other Sources
I did this above in point #1. Instead of covering the entire topic of keyword research, I simply linked to a full-fledged resource.

An in-depth list post can become long and winding – nobody likes to read that!
Pointing your readers to more detailed resources (internal or external) helps keep the post tidy.
Linking can also build topical authority, and avoid keyword cannibalization issues. Win-win!
8. Use Relevant Images and Examples to Illustrate Points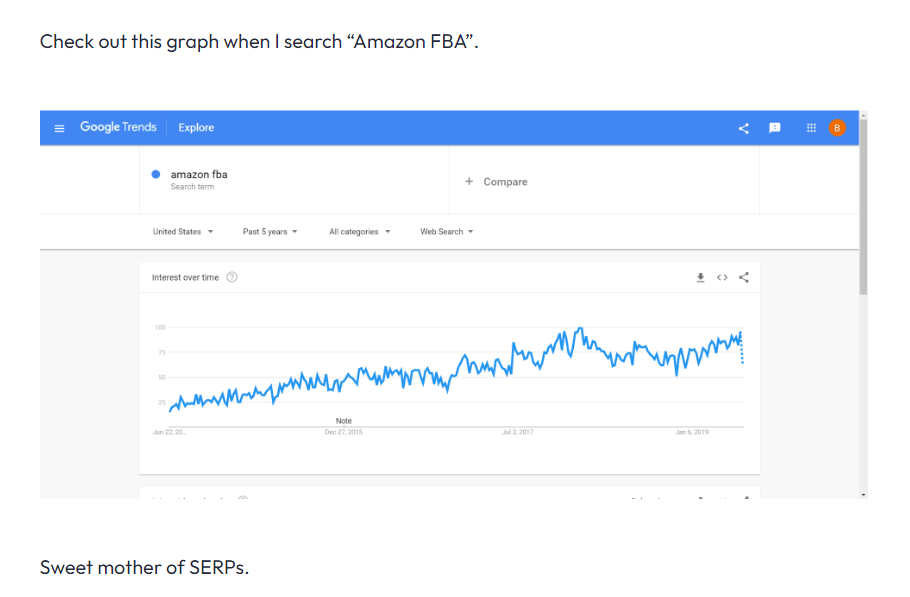 Examples show rather than tell.
In fact, they serve multiple purposes:
Examples clarify tough concepts and illuminate key points.
They create spaces for reflection and application – so your readers can transfer the ideas to something in their personal lives.
You can leverage hypothetical or actual examples. Using real-world examples makes for a more powerful argument.
Listicle Examples in Closing
By this point, you understand that not all list posts are predatory.
In fact, quite the contrary. They offer immense value when done correctly.
But knowing is nothing without implementation.
So I hope these listicle examples have helped get your creative juices flowing, and without further ado—go ahead and get listin'!