For some writers, the hardest subject to talk about is themselves. These author byline examples offer inspiration for writing interesting author bios for your site, social media, or guest posts.
1. Lianna Patch – CopyHackers
Trust a copywriter to write a great opening line. Lianna is the brains behind Punchline Copy, but she also writes guest posts over at Copyhackers. Her bio is creative but simple and relevant to the articles she writes. Lianna also wins points for including lead magnets to her business.
2. Mike Spohr – BuzzFeed

Typically bylines will just show the date and author's name. In the spirit of keeping things short and sweet, Mike Spohr cleverly uses only a few words to tell you who he is, what he does, and something to remember him by. In addition, his mini bio has links to his website and social media profiles, so if you do want to know more, it's easy to find.
3. Corey Wainwright – HubSpot

Corey is another writer that knows how to keep it short. Your author bio is a great place to showcase your personality. Sometimes, less is more. Don't get caught up feeling like you need to tell your life story, just give your readers something interesting to click on.
4. Amanda Capritto – VeryWell Fit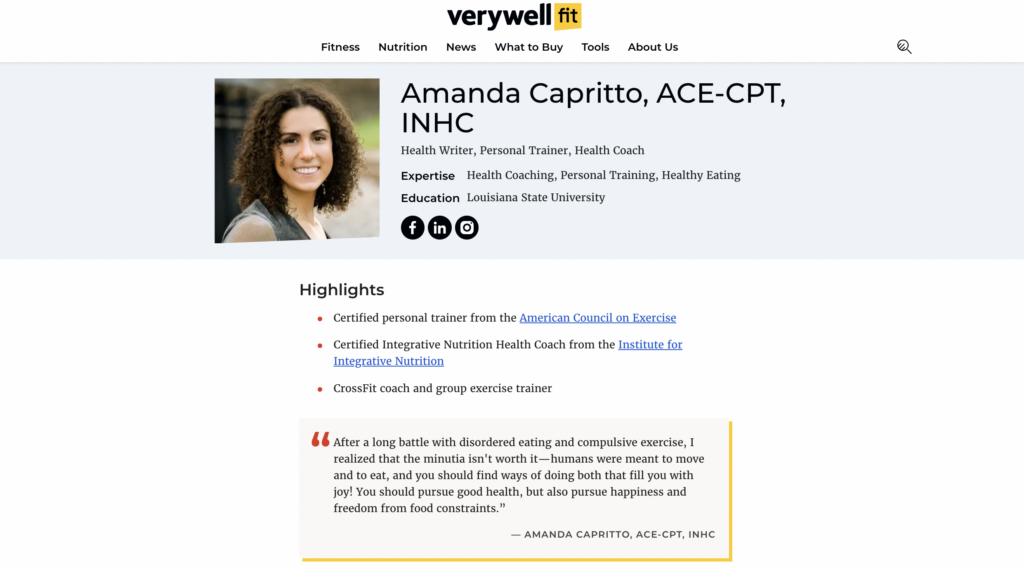 Not all author bylines will click through to a simple bio. Some, like the ones on VeryWell Fit, are significantly more in-depth. It's all about writing the best bio for the publication it will be shown on. Amanda Capritto's page has links to her social media but also includes a space for highlights, a quote, and more information below. Of all the author byline examples, this one is the most structured.
5. Amir A. Afkhami – Psychology Today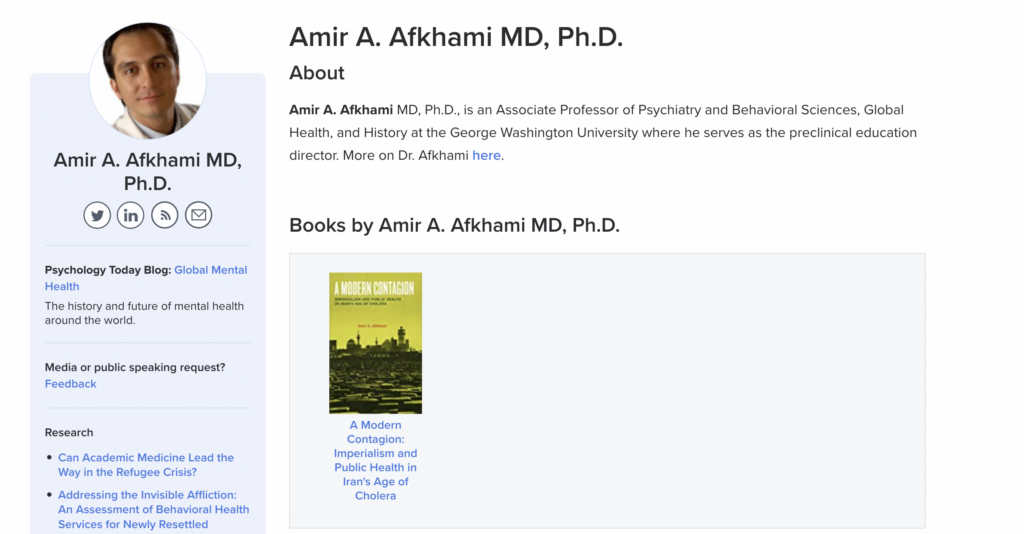 Psychology Today is one of those sites that Google would classify as Your Money or Your Life (YMYL) pages. These are pages that Google holds to a higher quality standard, and therefore, author E-A-T scores are potentially more significant.
This means links that connect the author to content elsewhere on the web can help establish their authority. The plus side is that this means linking back to your bio on your own webpage, as Dr. Amir Afkhami opted to do, is a completely acceptable option. Rather than writing a bio for his guest post on PT, he simply provides his basic credentials and then directs readers to his own site.
6. Diana Ransom – INC

Sometimes a personal image can be the highlight of an author bio. Diana Ransom includes a professional headshot with a warm smile to attract her readers. Otherwise, she simply lists where else you can view her work and signs off with a little bit about herself.
7. Daniel Smullen – Search Engine Journal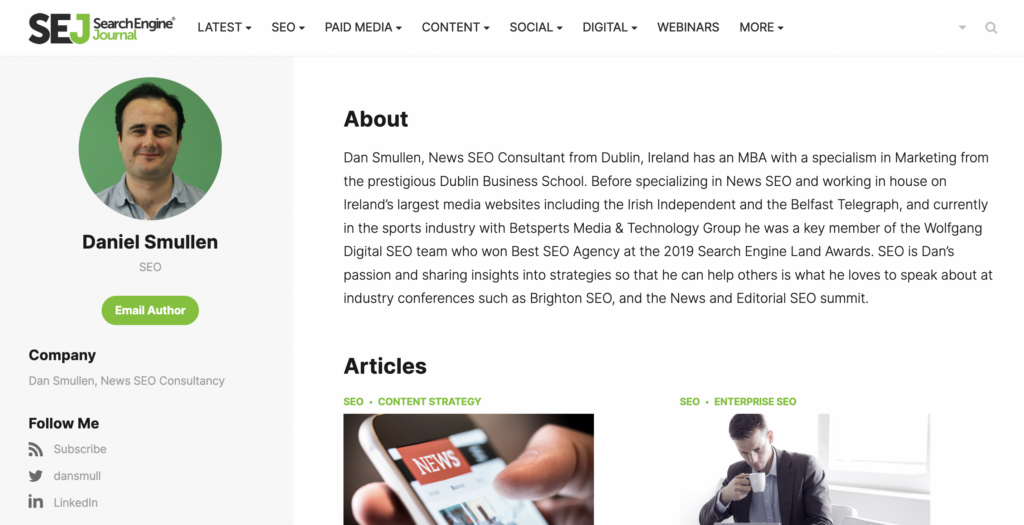 If anyone knows a thing or two about having an optimized bio, it's SEO expert Daniel Smullen. This bio example shows how to cover information relevant to your job, so potential clients already have an idea of your level of expertise.
8. Jorden Roper – ClearVoice
When you're a freelancer, you're ultimately selling yourself. So, letting your personality through, even in something as basic as an author byline, can help attract attention. Jorden's bio on ClearVoice is a great example of this. Her opening statement lets you know she is available for work and is packed with a feel for her approach to content creation.
Setting up your author bio like this can make sure that you encourage the right kind of leads and don't waste time having conversations with people you don't match well with.
Note: Already got your author byline figured out? Maybe you're just looking for somewhere to publish it. Check out the best site for freelance writers to get started writing articles online.
9. Josie Santi – The Everygirl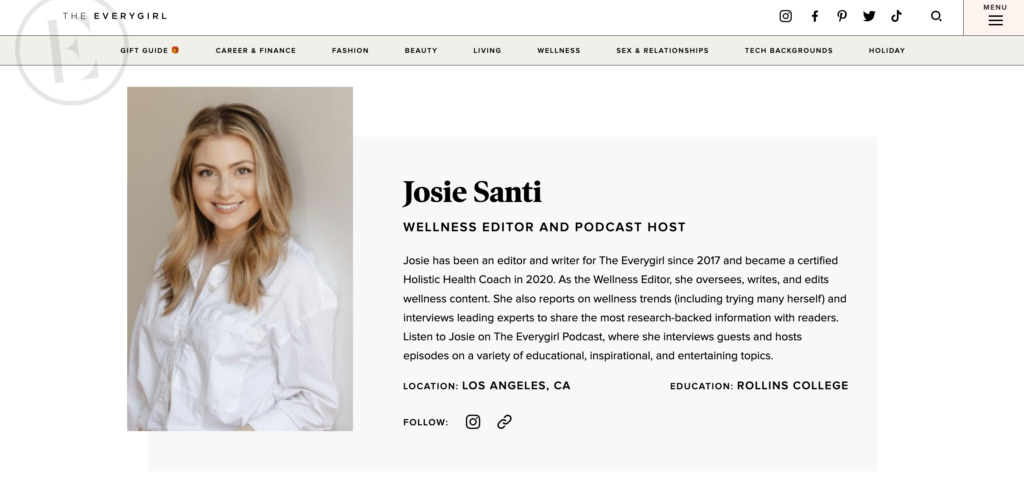 It can be helpful to look at what other writers in your field have written for their author bio. Josie writes on holistic healing and wellness trends. Her byline is an example of how to cover your background and note any relevant information in a brief summary.
How to Write Your Own Author Byline
Step 1. Answer the Who, What, and Why
The simplest author byline should say who you are, what you do, and why anyone would care. Your author bio is like an elevator pitch. You have a very short amount of time to get your point across. The key to getting your reader to take the bait is ensuring you nail the answers to their top three queries.
Pro Tip: Personal Image
You don't have to include a personal image as part of your author byline if you don't want to, but in most cases, it's a good marketing tactic to help you stand out on the Internet. People are immediately more likely to trust a face they can see than a generic user image. You'll notice that all of the author byline examples above include a personal image.
Step 2. Include a Lead Magnet
Your bio is prime real estate. If someone has clicked your author byline, they are already potential clients. Including a link in your bio is one aspect that many writers make the mistake of omitting. All the work you put into writing articles that resonate with your readers can be put to good use simply by including something for them to click on and get more.
Pro tip: Link to Something Hot
You can link to your websites or social media but try and choose a hot link. A discount, a free resource, something that will really capitalize on the leg work you've already done.
Step 3. Show Your Personality
Listen, at the end of the day, you're a writer, you're a creative, let that show. The point of an author byline is to connect the writer to the readers which will be more effective when you allow your true self to come through. This is why in most of the author byline examples, you'll see the authors have included interesting little tidbits about themselves.
Tips for Writing Your Own Bio
So what can we take away from these author byline examples?
Use active voice. Active voice is considered to be more engaging for readers and will help you keep your word count down.
Write in the third person. It might sound odd to you, but in context, it will come across better to your readers.
Keep it brief. It's a mini bio for a reason. Don't use your author byline as a place to tell your life's story (unless you can tell it in a few sentences). Keep it to the point.
Stay specific. To keep things short and to the point, be specific where appropriate.
Highlight your authority. This is the main reason someone has clicked your author byline; they want to know who you are to have a voice on whatever they're reading or have just read. Make sure your expertise stands out in your bio.
When Should You Write an Author Bio?
There are several reasons why you might be looking to include an author byline, even on your own websites.
Having an author's byline or page with a short biography and other works by the author can be helpful for several reasons. Author bylines:
Engage your readership
Give content credibility
Offer transparency for your readers
Theoretically boost E-A-T
Some instances where having an author bio could be great self-marketing include:
Guest blog
Freelance writer
Multiple contributors on your site
Part of your email signature
Social media profiles
Do Author Bylines Help E-A-T?
The answer to this is, in most cases, yes. However, if you're then wondering if this will, in turn, affect your SEO, the answer is a little bit vaguer.
E-A-T or Expertise, Authoritativeness, and Trustworthiness is a Google principle evaluated by search quality raters. It is one of the factors that helps them determine overall page quality, which in turn influences Google's search algorithms. By itself, E-A-T does not directly affect your ranking on search engine results pages.
However, you'll note that all of the author byline examples include some proof of expertise on the subject of their article. This is a way of building trustworthiness.

Now, the current understanding is that authorship signals like author bios may influence your site's E-A-T but are not (on their own) ranking factors.
Still, given that they can affect your credibility and authority on a subject in a roundabout way, they may ultimately have an effect on your search engine result ranking, especially with Google.
Note: E-A-T can be tricky to get a handle on and easy to dismiss. However, this Pet Keen success story goes to show how much of an impact E-A-T can really have.
How to Include Authorship Signals in Structured Data
Using structured data is the best way to leverage the advantage that author credentials might give you. Lily Ray has written a great guide on how to use structured data to improve E-A-T over on Search Engine Journal, but the gist of it is this:
Using structured data is the clearest way to transmit information about your content to search engines. For that reason, marking up extra details about your authors within your structured data can signal to Google that your content is both transparent and credible.
Lily Ray suggests including not only basic details such as name or inLanguage, but specifics like:
affiliation
hasCredential
jobTitle
publishingPrinciples
sameAs
The idea is that using different Schema types and implementing them in structured data gives Google a better chance at properly understanding the people involved in your content. Particularly the "sameAs" detail can be useful for allowing Google to make connections it might not have otherwise made within Google's Knowledge Graph.
In turn, this should boost your E-A-T, which ultimately (so the idea goes) may improve your SEO.
Make the Most Of Your Author Bio
Your author bio is like your online business card. It's a place people can go to learn more about you and get your contact details.
These author byline examples all use clever tactics to make the most of their bio copy. Use yours to start generating more leads by borrowing a few of their tricks!