Could Presto Player be the best WordPress video player on the market?
The short answer: Yes, by a long shot.
But don't take our word for it. There are more than 70,000 active WordPress installations of the free version alone.
And it has a 4.8-star rating.
In this Presto Player review, we'll take a look at the features and how you can benefit from using them on your site.
You'll learn about the integrations, the pros and cons, and whether Presto Player is right for you.
Let's dive right in.
And if you're in a rush you can simply check out Presto Player here.
---
Presto Player Review

Ease of Use

Features

Customer Service

Price
Summary
Presto Player is a full-featured video and audio player plugin for WordPress. It improves the experience for people who watch videos on your site and provides website owners with optimization tools.
Pros
Add email call to actions to videos to help grow your email list
Create video chapters to make it easy for viewers to navigate different parts of videos
Make video and audio content private and secure
The player isn't just for video, you can use it to add podcasts episodes to your site
Use the media hub to keep content in one location and organized
Cons
The documentation isn't that detailed
There's somewhat of a learning curve
The free version is quite limited
Presto Player Review Highlights: Our Verdict
Here are the highlights from this Presto Player review.
Each of these points is covered in-depth in the article:
Presto Player is a video player plugin for WordPress to provide a better viewing experience on your website
You gain detailed insights into how people interact with the videos on your site
Hosting options include YouTube, Vimeo, Bunny.net, or the WordPress media library
Presto Player also works with Podcasts and other audio
Pricing is reasonable, and they offer a lifetime deal
You can connect an email marketing service and collect emails mid-way through videos
The player is highly customizable to match the design of your site
Presto Player Pro is the premium version, and there is a free version with limited features
Our verdict: All-in-all, Presto Player is an impressive piece of kit that gives your website visitors a much better experience when interacting with video and audio on your site.
What is Presto Player and What Can it Do?
Presto Player is a WordPress video player plugin that lets you customize the way videos display on your site.
You can also use it for embedding podcasts, providing a better user experience for your audience.
The look and feel of the player can be customized, from colors and controls to video overlays and chapter links.
Additionally, you get access to detailed analytics of views and watch time of any video you add to your site.
It is designed to give website users a better experience and website owners more control and insights into video views and interactions.
Who is Presto Player for?
Presto Player is for anyone with a website who wants to display videos or podcasts on posts, pages, or inside courses.
So, if you're a course creator or run a membership site, or you're a blogger, you'll find Presto Player very useful.
It's also great for marketers if you want to use video to collect more emails, create high-converting CTAs, and engaging VSLs (Video Sales Letters).
It essentially provides you with the tools to improve the experience of multimedia on your site without the high monthly fees that some video hosting platforms charge.
Presto Player Review: 9 Impressive Presto Player Features
The Presto Player features are quite impressive for a video player WordPress plugin.
Creator and founder Adam Preiser of the popular YouTube channel, WPCrafter, has thought of everything.
Here are the 9 best features of Presto player and how you can benefit from using this plugin on your WordPress website.
1. Presto Player Media Hub
There are two ways to add videos and audio to your site with Presto Player.
Directly onto a page or post using Gutenberg blocks
Or through the Media Hub
The media hub provides more of a central area for storing and managing the media you need to show on your site.
Using the media hub lets you make changes to a single video that might appear in several places on your site, saving you time from manually editing each of them.
Adding content in the media hub keeps everything in one place. You're also able to use the search feature or apply tags to find things quickly.
Another important feature of the Media Hub is how you add your content to your site. Whether you're adding a Media hub item to a page, post, or course, there are several ways to do it.
The simplest way is to click on the Presto Player icon in the top right corner of Gutenberg.
You'll then see a list of your Media Hub content with the search option to add what you need to the page.
The other way is to use shortcodes, which is useful if you're using the classic editor.
Lastly, you can also embed media hub content directly into your WordPress theme with the PHP function.
2. Gutenberg Blocks and Hosting Options
Using a selection of Gutenberg blocks available, Presto Player lets you upload and embed videos and audio right into the WordPress editor.
Here is what's available:
Audio
Video
Bunny.net Video
Vimeo
YouTube
The blocks are useful for adding videos to blog posts, but they can be used to add media to any content post type.
Moreover, you'll notice there are a few hosting options if you prefer not to upload directly to your WordPress site.
With Vimeo and YouTube, all you need is the URL. And Bunny.net connects directly to your account through their API.
More on Bunny.net later in this post.
3. Video and Audio Chapters
Chapters help your visitors find specific points in your video and audio content, creating a clickable link they can jump to.
This provides easy navigation for your audience and a better user experience.
It also adds a chapters menu to the video and audio interface:
Additionally, you can add timestamp links to the page so people can jump to certain areas in the media.
This provides an extra benefit for SEO because you can title the timestamps with keywords relating to the content that would otherwise be missed by Google.
4. Text and Link Overlays
Video Overlays are small blocks of text you can add on top of videos that show up at the time your set.
You're also able to make these into clickable links, providing a call to action relating to what's being said in the video.
They can be positioned in the top right or left, given a background color, and you can change the opacity.
And you can have multiple overlays show up at different times on the video, similar to what you might see on a YouTube video.
5. Video Enhancement Settings
The video enhancement settings are what set your videos apart from standard embedding.
Here's what you get:
Muted Autoplay preview
This is when you land on a website with a video, and it automatically starts playing in silence. Then, when you click the play button, it starts the video from the beginning, so you don't miss anything.
Adding this feature to your videos entices people to click the play button and keeps people on your pages for longer.
Muted Preview Overlay
This lets you add an image over the top of a muted preview. This could be an arrow pointing to the play button to draw attention to the video.
Play Inline
When clicking some videos on a mobile device, it sometimes enters full screen automatically. The play inline option turns this off and will play the video on the page instead.
Poster Image
The poster image simply adds a static image over the top of your video before it gets played. This can be helpful if the video you're embedding doesn't have a thumbnail, and it wouldn't make sense to use the Muted Autoplay feature.
6. Design Presets and Player Branding
Global Player Branding is a basic setting that lets you change the color theme of the player. In addition, you can add a logo to the player, which shows in the bottom corner of your videos.
Then there are Video Presets. These are more advanced settings that allow you to change the controls and behavior of the player.
Controls let you hide or display different elements on the player. Controls include the play button, rewind, and fast forward button, the progress bar, volume, video speed, fullscreen mode, captions, and more.
Behavior options let you control things like auto-hiding controls when a video plays, saving the play position even if a person leaves and returns, showing captions by default, focus mode, and sticky on scroll, which adds a sticky video to the page when scrolling.
Other preset options let you create an email capture that shows over the top of the video at any point during or after the video. You can prevent people from watching until they enter their email or allow them to skip.
More on email integrations later.
There's a call-to-action option that can show up during the video or at the end. This can be used to entice the viewer to click over to a product page.
And the action bar has a similar function; only it displays underneath the video with text and a button.
7. Podcast and Audio Player
Many of the video player options and settings can be used with audio too.
This is perfect for podcasters wanting to offer an attractive and intuitive way to show their podcast episodes on your site.
8. Integrated Analytics
The integrated video analytics provides insightful data on how your visitors interact with your videos and podcasts.
You can see the overall number, average view time, and the top users for people who are logged into your site.
There are even graphs that show audience retention throughout individual videos.
9. Content Restriction
The Private video blocks enable you to add videos to a page but prevent people from playing them if they're not logged in.
This adds an extra layer of content restriction for course creators and membership site owners.
Moreover, using the hosting option Bunny.net has even more encryption capabilities.
That means that even your members can't download videos, stopping them from stealing your content and canceling their accounts.
Presto Player Integrations
Integrations further extend the capabilities of Presto Players features. Here's what you get.
Direct Video Hosting with Bunny.net
Bunny.net is a paid video hosting service that cost a fraction of the price compared to other services.
There are no monthly fees, and you only pay the amount of data you stream. For example, streaming from North America and Europe costs only $0.01 per Gigabytes of data.
Presto Player has full integration capabilities, enabling you to upload your video content and audio files from inside your WordPress site, which is directly uploaded to Bunny.net.
Online Learning Tools
You're able to combine the power of popular Learning Management Systems with Presto Players' powerful features.
Presto Player integrates with LearnDash, LifterLMS, and TutorLMS.
If you're a course creator using one of these tools, you can take your online course content to the next level of user experience with Presto Player.
Email Marketing Services
The call to action feature lets you collect more emails by overlaying options over your videos.
Some of the best email marketing software can be directly connected to the CTAs, helping you convert more email subscribers.
Integrations include MailChimp, MailerLite, FluentCRM, and ActiveCampaign.
Page Builders
The best WordPress page builders enable full control over the design of the pages of your website.
And Presto Player works with many popular page builders, so you can easily embed videos with your favorite page builder of choice.
Google Analytics
Presto Player lets you gather more data about your media through the Google Analytics integration.
So if you want even more insights into how your visitors and users interact with Presto Player, you're able to add Google Analytics tracking in the settings.
Automation Tools
Automation tools enable you to connect almost any WordPress plugin to automate repetitive tasks and when specific actions happen.
For example, you could get one of the tools to synchronize website users and sales with popular CRMs and other services.
Automation tools available are Uncanny Automator, AutomatorWP, and WPFusion.
Presto Player Pricing
Pricing for Presto Player is very simple and also affordable.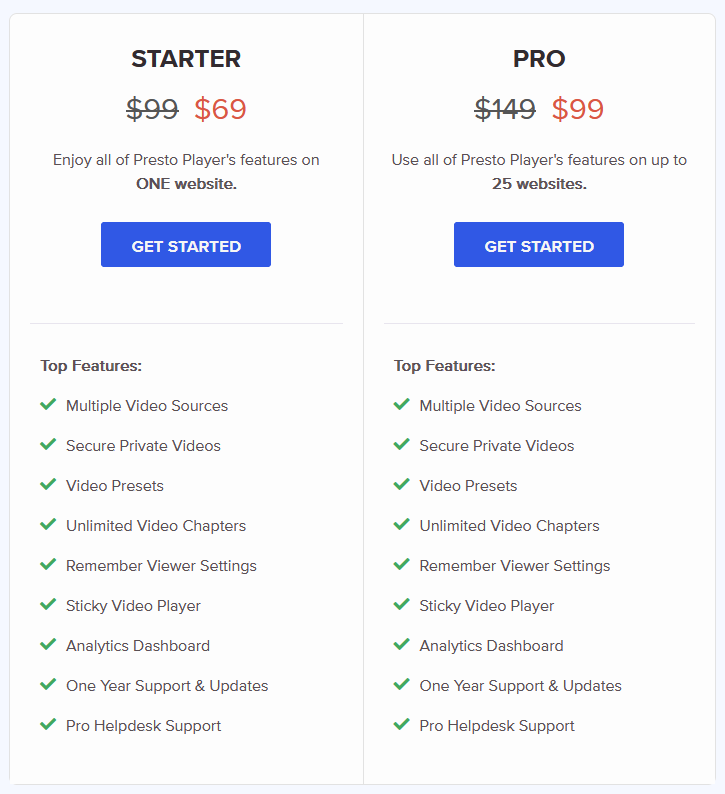 There are two annual options, Starter at $69 per year and Pro for $99 per year. There is also a lifetime plan for $399, and you have the option to pay for it over 3 monthly installments.
With both plans, you get access to all of the features. The only difference is that the Starter plan is for one website, and Pro is for up to 25 websites.
There is also a 14-day money-back guarantee, so you can try it out, and if it's not for you, you can get a full refund.
Presto Player Review: Pros and Cons
Add email call to actions to videos to help grow your email list
Create video chapters to make it easy for viewers to navigate different parts of videos
Make video and audio content private and secure
The player isn't just for video, you can use it to add podcasts episodes to your site
Use the media hub to keep content in one location and organized
The documentation isn't that detailed
There's somewhat of a learning curve
The free version is quite limited
Are There Any Presto Player Alternatives?
There are very few video player plugins that match up to the features available with Presto Player.
Videopack
Videopack is a video player plugin that lets you add thumbnails over videos, which can be auto-generated with the right server settings.
You can also choose a variety of video resolutions and create video gallery popups.
Ultimate Video Player
Ultimate Video Player makes it easy to add videos to your site and supports integration with Google Analytics.
You can also create video playlists similar to what you see on YouTube.
Easy Video Player
Easy Video Player lets you add responsive videos to your site, and it supports HTML5 video.
You also have options to place poster images, autoplay videos, loop videos, and also embed videos to AMP pages.
Conclusion: Presto Player Review
That concludes this Presto Player review. I hope it has helped you decide if it's the ultimate video player for you.
You can grab a single-site license for only $69 and $99 for up to 25 sites, which is a great deal.
And don't forget there is currently a lifetime deal for $399, which means you only pay once and get updates for life. This plan can be used on 25 WordPress sites.