In this blog, I am going to discuss Android File Transfer Not Working 2022 Easy Guide to Fix It
Most often many people are facing problem in transferring files to their Android devices via USB. Don't worry this is the most common problem with Android devices.
You may probably get the following error message.
Most luckily, there are many options for you to try, and definitely, you will be able to transfer files within minutes.
Without putting many efforts here you will need to following things to make Android File Transfer work again and you will be able to pass all error messages.
So, here in this guide, you will know how to fix Android File Transfer.
How to Get Android File Transfer Back to Work?
Every problem is caused by reason, so here are the few reasons why you are getting an error message when you try to get files onto your Android device:
USB cable doesn't support file transfer.
The device is not set up to accept files via USB.
You have Samsung Kies file transfer installed.
It may happen that your micro USB port is broken.
Solution 1: Just enable File Transfer on your Android Device
Basically, this one is the very first thing you must do to make sure you have enabled File Transfer on your device or not.
Just to enable USB file transfer go to Settings > Storage > here tap on the three vertical dots in the top-right corner of your screen > USB computer connection > Now tick the box next to Media Device (MTP)
If you really think that your problem with transferring file is software related, just try to connect your device via USB to your computer, here check Camera (PTP) and uncheck it again. It may still work for some people.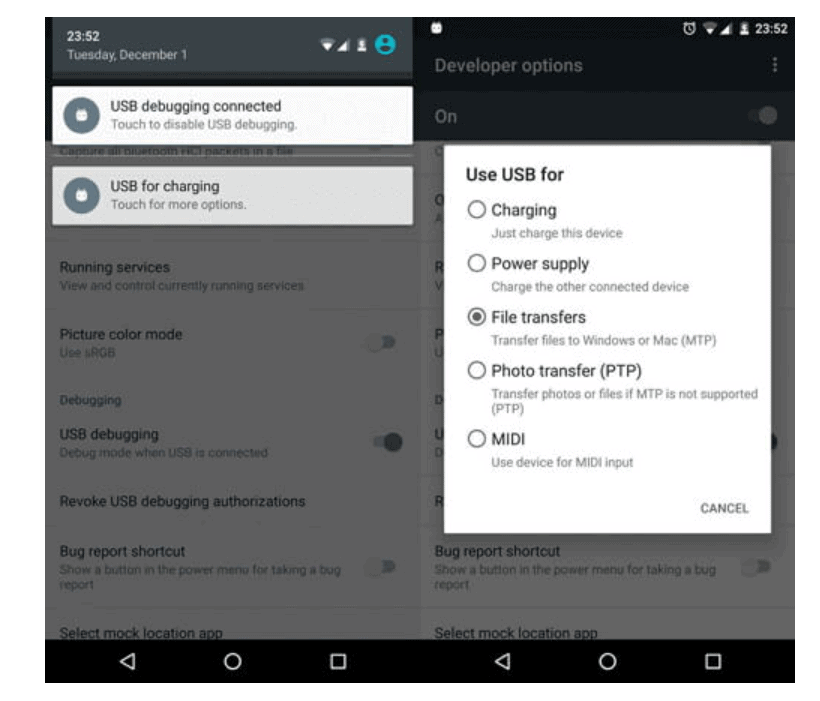 Solution 2: Just use the Debug Mode
If you somehow don't see the above-mentioned options in your Storage & USB settings, just make sure to enable USB debugging and after that follow the following options below.
Remove USB cable from the device.
For enabling the Developer Mode just go to Settings > About Phone > Press on Build Number repeatedly until the pop-up appears
Go to Settings > Developer Options
Enable USB debugging
Lock device (turn screen off)
Now connect your phone to computer using a USB cable
Just unlock your Android device
Swipe down to see the notification and press on USB for charging
From there, select File Transfer
Do one thing here, lock and unlock your device once.
Here, using this method you are allowing your phone security mechanism just to accept File Transfer via USB. You will not get this option without enabling developer options.
This method will work on all Android devices which are running on Stock Android Marshmallow 6.0+.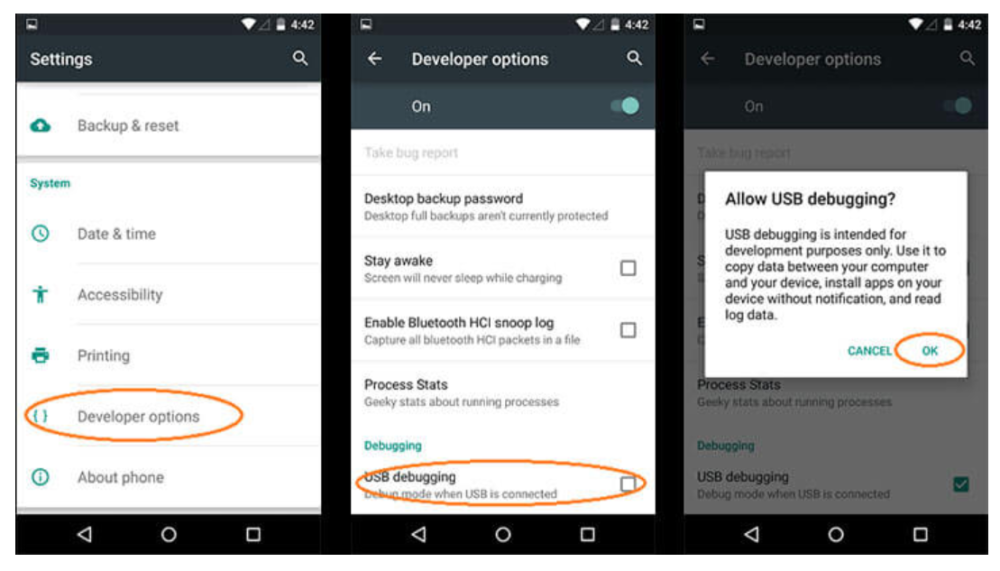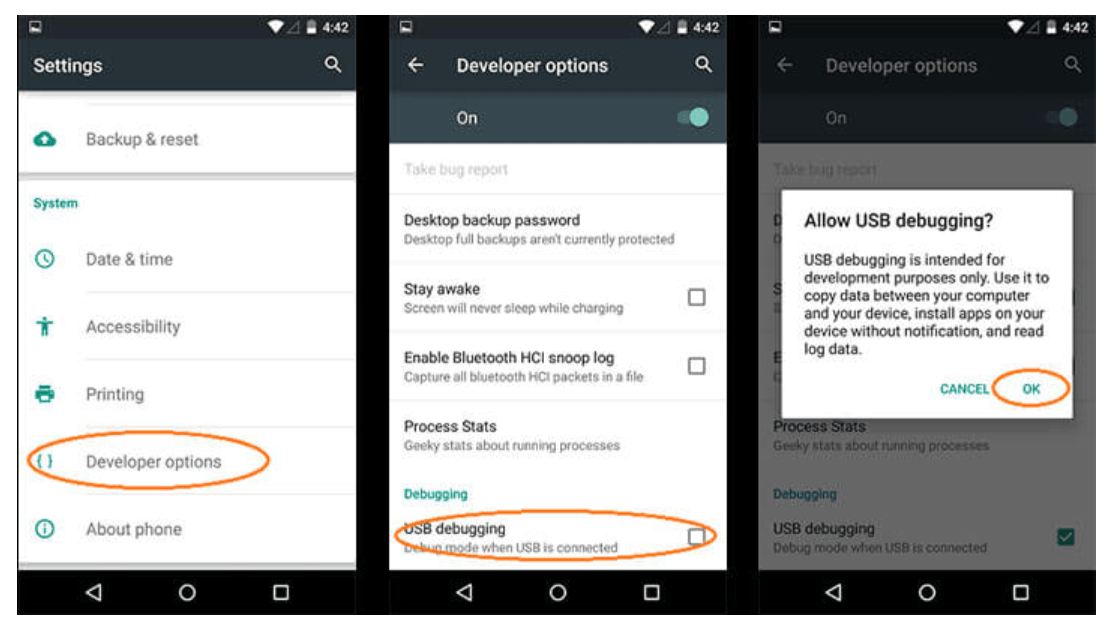 Solution 3: Uninstall Samsung Kies file Transfer Software
Here this Samsungs File Transfer software may cause a problem with the native Android File Transfer.
If you want to uninstall Kies you will need to download the installer first (click on the link and it will start downloading).
After then after downloading it select the Uninstall option from the file package.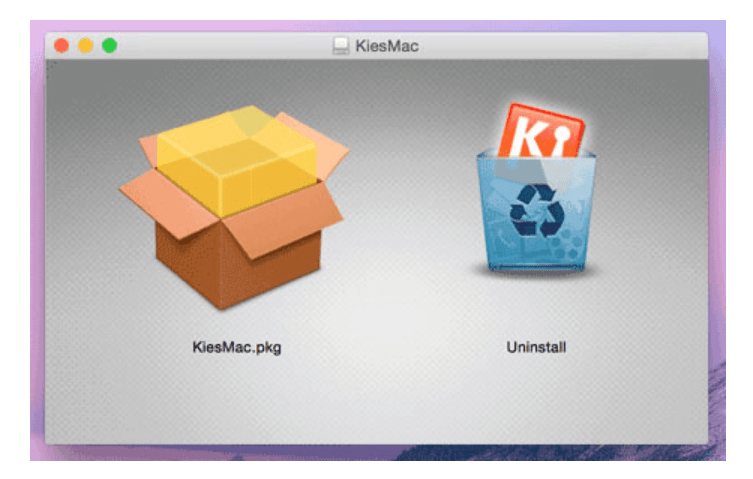 Solution 4: Check your USB Cable
Keep one thing in mind not all USB cables are created equally, some are able to transfer files, some are not. Make sure that you have got a cable that is capable of file transferring.
Just use the cable that you have got with your Android device at the time of purchase. These cables are able to handle file transfers.
Solution 5: Install AirDroid
If the above-listed steps are not fixing the Android File Transfer issue then in this you can use AirDroid. You can do the Android File Transfer without using the help of USB cable, you need AirDroid software.
Just download AirDroid and share as many file as you can without using the USB cable.
You can just go and download Android File Transfer from here easily on your PC.
Right after the download and install process, connect your Android Smartphone with to the laptop with the help of USB Cable.
Hereafter connecting, open the device on the software of Android File Transfer. You can browse your data that you really want to transfer using this software.
Once you have selected the data you want to transfer, just copy or move them to your phone/laptop. This Android File transfer will really work smoothly on devices which has Android version above 3.0 or above.


Quick Links
FAQs | Android File Transfer
🙋‍♀️ How do I enable file transfer on Android?
👉 Why I Cannot transfer files from Android to PC?
Go to "settings" and find "about device". Tap on build number few times until you see "Developer Mode Has Been Turned On", then go to "developer options", make sure the USB debugging checkbox is ticked. Try to connect the phone to the PC now… If this doesn't do anything, find another cable
🤷‍♂️ How do I enable file transfer on Samsung?
If prompted to allow access to your data, tap ALLOW. Touch and hold the Status bar (located at the top) then drag to the bottom. The image depicted below is merely an example. From the. Android System section, ensure File Transfer is selected.
🤔 How do I transfer files from Samsung to PC without USB?
After launching the Droid Transfer app on both PC and Android, use the "Scan QR Code" option in the companion app. Your Android and PC should now be wirelessly synced via the software – you can now simply drag and drop files between both platforms.
Conclusion | Android File Transfer 2022
We hope these methods that are listed above for fixing the Android File Transfer work for you.
Do let us know if you are facing any other problem in the comment section.
If possible, do share this post with your friends and family among all trending social media platforms.