Through this blog, let us discover the Best Autotune Software of 2022 available for you.
Over many years we have seen the changes in the music industry. With the invention of autotune software for the Cher effect by Andy Hildebrand in 1998 many artists have started using this software for modifying and correcting their music.
There are a wide number of plugins available for producing various effects and each effect has a wide fanbase.
Why Should you use Autotune?
Autotune is a pitch correction software that corrects the pitch/tune of the vocalist's voice to perfection.
It is a device or software to tune something automatically, like a piece of computer software that would help you use the correct. ion of an out-of-tune vocal performance.
In the old days, autotune was used to discreetly correct imprecise intonations. The original patent asserted that "When voices or instruments are out of tune, the emotional qualities of the performance are lost."
It was used originally by studios to tune instruments while rehearsing, to record a perfect recording. But as time passed by, pop artists started using autotune to get that electronic pop vocal which was in demand by the public.
Best Autotune Software 2022– Which is the best one?
1. Autotune Access (Antares)
Auto-Tune Access is a plugin from Antares. It is a great option if you wish to venture into the Antares autotune. The plugin offers a highly simplified interface to correct and smooth over the pitch issues in your vocals.
Its light CPU usage and professional quality processing make it a good option for advanced users working with big projects.
Autotune Access (Antares) Features:
Auto-Tune Access delivers the same output as that of professional artists and producers have relied on for years, at a more affordable price. You can the desired effect for your track with the Retune feature.
The Humanize option gives you more of a natural sound or cranking up the Retune Speed for the full Auto-Tune Effect.
With its low latency processing, you can sing or play through Auto-Tune Access and listen to your tuned performance in real-time.
All of this without any distracting delay. The auto-Key plug-in helps with effective pitch correction which is essential if you are producing music. By placing Auto-Key on an instrumental or master track it will determine the correct key and scale.
99$ Only
System Requirements for Autotune Access (Antares):

System Requirements for Mac
For AAX Native (64-bit only) Pro Tools 12.4  or the later version And Mac OS version of 10.11 to 10.15 would be required depending on the version of your Pro Tools.
For VST3 (64-bit only) it requires a compatible host program to support  VST3 format And Mac OS 10.11 to 10.15 as required by your host.
For VST2 (64-bit only) it requires a compatible host program to VST2 format and Mac OS 10.11 to 10.15 as required by your host.
For Audio Units (64-bit only) A compatible host program that supports the AU format and Mac OS 10.11 to 10.15 as required by your host.

System Requirements for Windows 
For AAX Native (64-bit only) Pro Tools 12.4 or the later version and Windows 8.1 to Windows 10 as required by your version of Pro Tools.
For VST3 (64-bit only) it would need a compatible host program for supporting the VST3 format and also depending on the host Windows 8.1 to Windows 10. 
For VST2 (64-bit only) it would need a compatible host program to support the VST2 format And also depending on your host Windows 8.1 to Windows 10.
2. Melodyne 5 Assistant
Melodyne 5 Assistant is a really good plugin that offers exciting new features. Melodyne is supported with timely updates.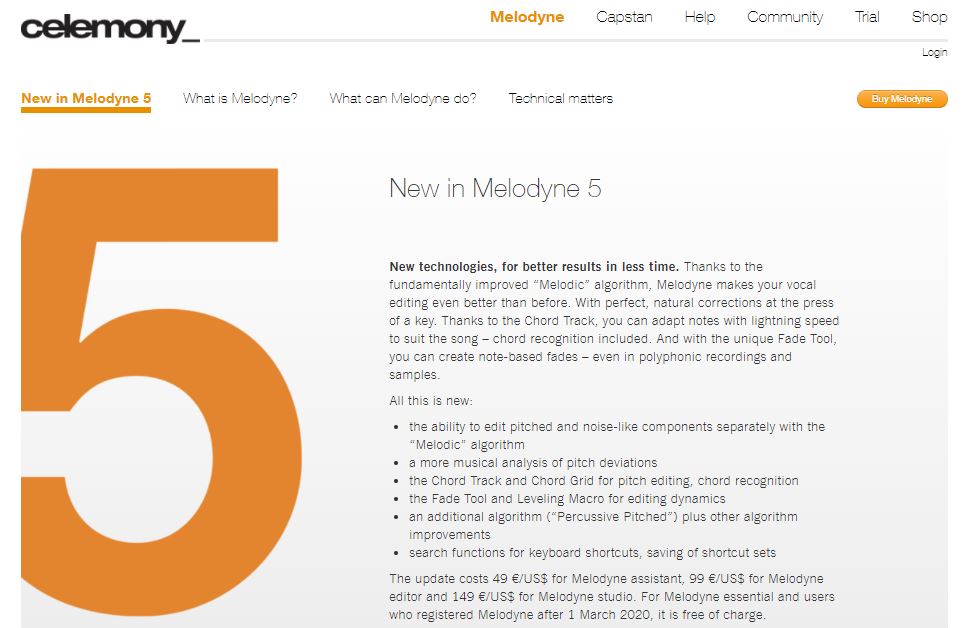 If you are professional and understand the complexity in the vocal pitches this software is your for the taking. It can help you to produce a perfectly good end product. It can make your recordings in-tune and pitch-perfect.
It acts as a really good sound design tool to equalize, resynthesize. Melodyne 5 is if not one of the easiest and excellent to use the software if you are into autotune. 
If you want to creating ads and uploading books, try Publisher Rocket is a great tool you can check out our latest articles on Publisher Rocket Review, we have featured the best coupons that you can use!!!
For each note, the Fade Tool provides you highly effective control over the dynamics of your recording. It is even possible within a chord. This is a unique feature and offers a whole new creative possibility for dynamic editing.
Melodyne 5 Assistant Price:
249$ Only
System requirements for Melodyne 5 Assistant:
For your macOS you would require Intel Dual Core or Quad Core or a better processor, you would also need a RAM of 4 GB or 8 GB or more and 64- bit version  macOS 10.12 or higher.

For your Windows, you would require Intel or AMD Dual or Quad-Core processor, along with a RAM of 4 GB or 8 GB, Windows 10 and audio hardware that is ASIO-compatible.
3. FL Studio
FL Studio is a DAW (Digital Audio Workstation) software available for both Windows and macOS. You can create songs from scratch using FL studio. With the help of numerous audio samples and integrated instruments, you can create music.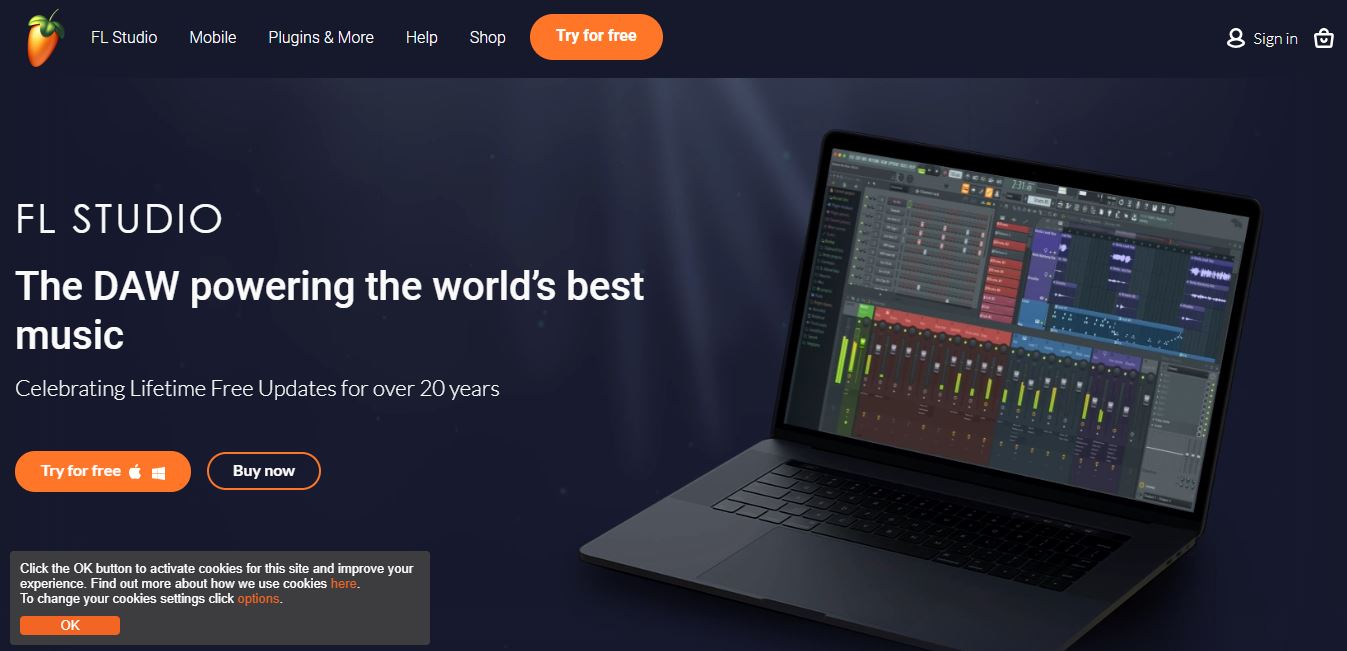 You can also make mixtapes from already existing pieces. The software offers a free trial for 30 days which can be used to test it out before actually buying it. The bounce feature allows you to combine in midi regions without the need to export and re-import them into the project.
This feature also allows you to convert separate regions into a single audio track. In the Arrangement section, the different patterns created in the pattern window are clearly visible.
FL studio has included all the features you need to compose, arrange, record, edit, mix, and burn tracks on a professional level. It is easily available to check out on their site, make sure you try out the free trial.
This product comes in various price ranges:
FL Studio Fruity edition: 99.0$

FL Studio Producer edition: 199$

FL Studio Signature bundle: 299$

FL Studio + All Plugin bundle:899$

System Requirement for FL Studio:
FL Studio is designed to run on any kind of operating system.
For your macOS, you need version 10.13.6 or later.
For your  Windows, you need version 8.1, 10, or better along with RAM of 4GB and 4GB Free Space.
It is not compatible with ARM processors.
4. Waves
Waves tune real-time is one of the well-known software used by professionals for live vocal performances.
Due to its accuracy and super-low latency, it is used for live performances. With the ability to get studio-quality vocals for a live performance Waves tune real-time works wonders.
Waves have 5 different types of plugins that cover almost all your professional needs Waves Tune, Debreath, De-Esser, Renaissance Channel, and Doubler.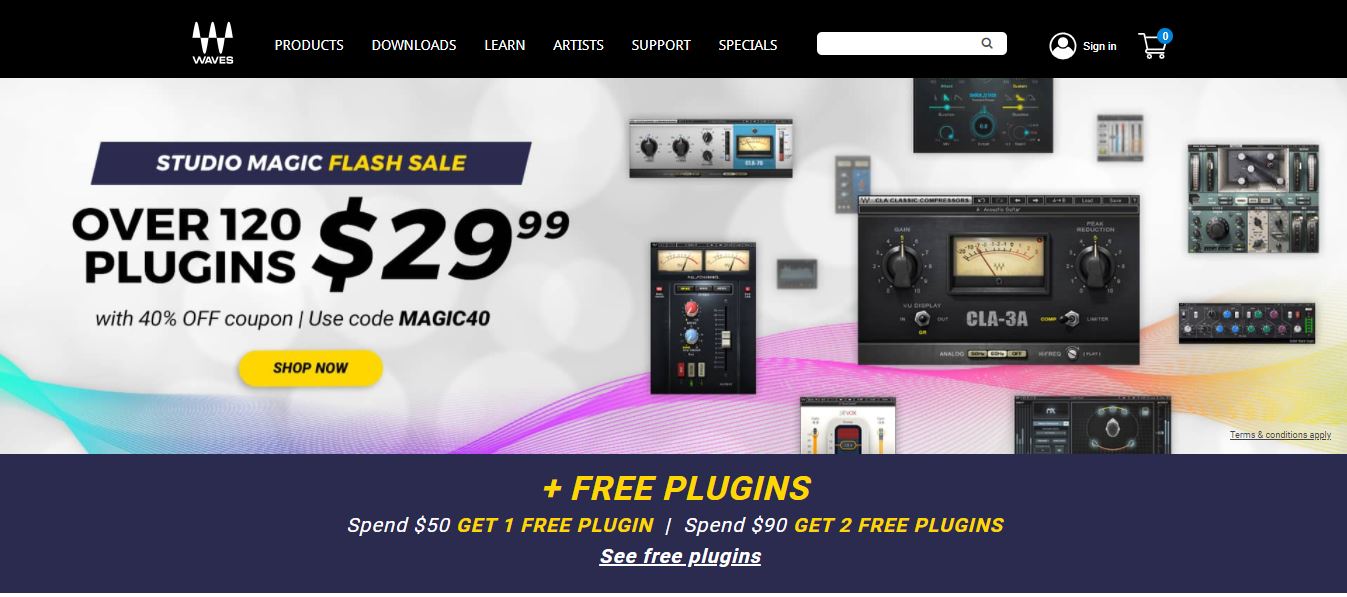 Few features of Waves Tune are to Work in perfect sync with your host and you perform all your editing from within the Tune interface. You don't need to be bound to a specific section of the track.
The ReWire option in Waves tune lets you listen to your edits in real-time, together with the rest of your tracks. Format corrected pitch processing results in natural sound.
System requirements for Waves :

For Mac
You would require CPUIntel Core i7,i5, Xeon, i9. You need RAM of 8 GB.
For the system, you also need 8 GB of free space on the drive.
The specifications of your Operating System are system 10.12.6 to 10.15.
And a Screen Resolution between 1024×768 to 1280×1024 or 1600×1024.
It does not support USB displays as the primary display.

You would require a CPU Intel Core i7,i5, Xeon, i9, or AMD processor. 
You need RAM of 8 GB.
For the system, you also need 8 GB free space on the drive.
The specifications of your Operating System are Windows 10 to 64 bit.
And a Screen Resolution between 1024×768 to 1280×1024 or 1600×1024.
5. VOX Box
Vocals are one of the most important elements in a mix. To have the lead vocals to get highlighted in a mix is called 'vocal thickening'. This is used widely throughout the industry to make sure that the vocals don't get lost in the music.
Usually, multiple plug-ins are required in this technique to achieve the desired results however the vocal thickening process can be simplified by VOXBox, without compromising on quality.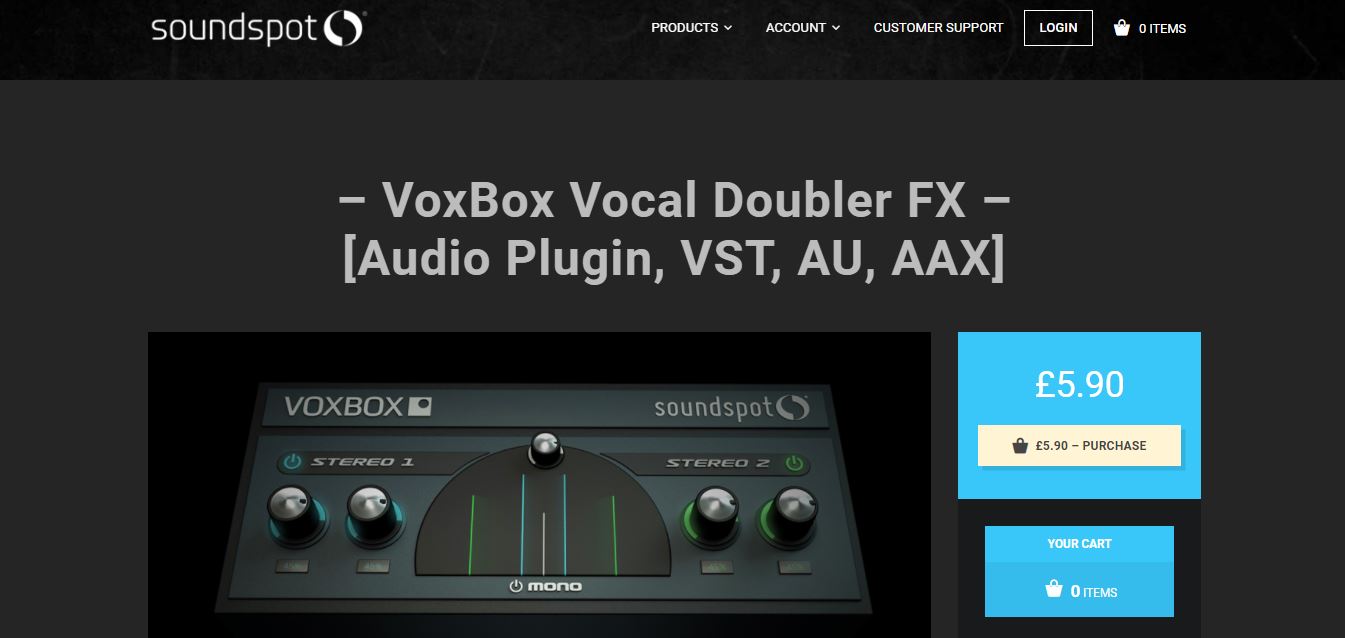 VoxBox helps you thicken your lead vocals in a really simple and intuitive way while being light on your CPU usage and thus keeping your mixing simple. Vox box plugin is an affordable vocal enhancement plugin.
If you require a plugin that deepens the vocal quality of your recordings, then the vox box does that. It not only highlights your vocals to avoid getting it to drown within the music, instead of enriches the existing vocals within the music track.
The plugin has an intuitive interface and a sophisticated feel to it while using it.
VOX Box Features:

Intuitive workflow and a sophisticated look to it

Advanced vocal thickening algorithm

Extremely light on CPU and keeps RAM usage to a minimal

Affordable plugins out there
VOX Box will cost you 70$ for lifetime access.
System Requirements for VOXBox:

For Mac
10.12 – 10.14 (Catalina not supported)
Formats:
VST ,VST3, AU,AAX (Pro Tools 11.0.2 or higher)
Specification Requirements:
RAM: you would need a RAM of 8 GB or more and an additional free space of 8 GB on the hard disk.

Processor: you would need an Intel Core 2 Duo or newer processor.

Licensing: you need internet access to activate your license key.

Windows 7, 8 or 10 (32 & 64-bit)
Formats: 
VST, VST3, AAX (Pro Tools 11.0.2 or higher)
Specification Requirements:
RAM: you would need a RAM of 8 GB or more and an additional free space of 8 GB on the hard disk.

Processor: you would need Intel Core 2 Duo or newer processor.
6. Cubase
Cubase is an extremely powerful music creation software package available in the world. Cubase has been one of the most well-versed and complete Digital Audio Workspaces (DAW) in the marketplace.
With its unparalleled range of flexible tools, you can create any kind of music quickly and intuitively. It comes packed with a range of effects, virtual instruments, and thousands of sounds.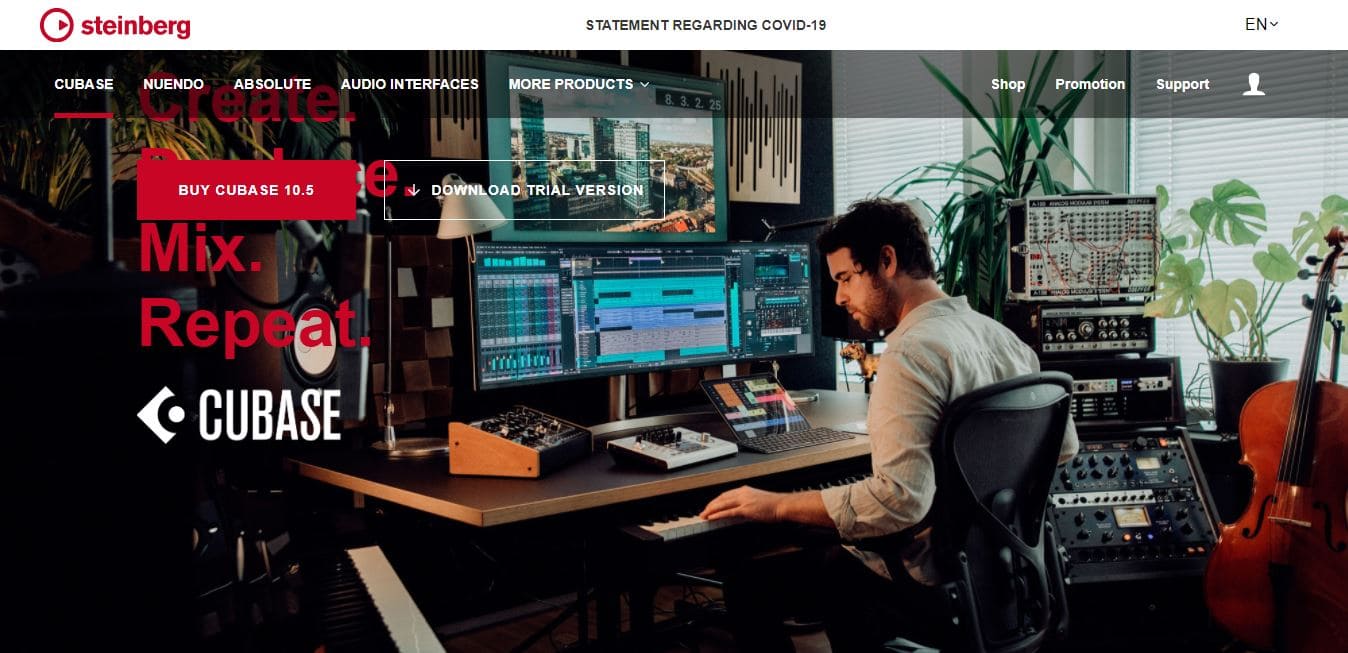 You can turn your ideas into music with Cubase, whether you're a professional musician or a music production beginner. It increases audio quality and editing capabilities, and its programming and MIDI functionality is top-notch.
Whether you are looking at your first music release or a professional Cubase covers it all. Cubase offers solutions for all from producing to songwriting, tracking, editing, and mixing.
Cubase Features:

64-bit floating-point resolution

Media bay that allows user to organize files

By

using the convenient Quantize panel,

Warp-quantize multiple audio tracks at once.

Channel strip modules are integrated into every channel to deliver a professional mixer quality

You can easily create music with Chord Pads without getting stuck

Groove Agent SE is a drum production software with an extensive library of samples to test out

Audio Random Access (ARA) Extensions allow you to edit your audio easily. With ARA you can integrate and use any compatible plug-ins.
Cubase will cost you 559.99$ for a lifetime access
System requirements for Cubase:
For Windows:
64-bit Windows 10 Version 1903 / 64-bit Windows 10 Version 1809

For macOS:
macOS Mojave / macOS CatalinaDownload size: 21.9 GB
A minimum of 4 GB storage memory is required

8 GB RAM or more recommended for smooth operation

30 GB free storage space is required
7. Logic Pro-Flex
If you are on mac OS then Logic Pro-Flex Pitch is one of the best choices. Flex tune mode is capable of advanced audio manipulation. With lots of different algorithms for different types of audio instruments.
For vocals, you can use the flex pitch. This is an advanced tool that comes with logic. You can create and arrange music in real-time with live loops. Notes can be stretched cut and moved with ease.
This can be used if you are looking for a standalone Plugin.
Logic Pro flex Features:

You can bring the DJ effect and transitions to tracks using the Remix FX.

A multi-touch gesture allows you to control your Apple devices remotely.

The Step Sequencer is derived from classic drums and synthesizers. You can edit, quickly place drum beats using this option.

The logic remote allows you to use gestures on your Ipad or iPhones and control Logic pro on your mac.

Massive collection of Plugins available to test with an ever-growing sound library.

Smart controls that let you shape any sound as you want.

Alchemy, the most powerful software in Logic Pro-Flex is the ultimate sample manipulation synthesizer.

Studio strings and Studio Bass, two realistic Plug-ins feature sophisticated articulation controls.
Logic Pro flex will cost you $199.
System requirements For Logic Pro Flex:
macOS 10.14.6 or later
You would need 6GB storage space for minimum installation or free storage space of 72GB for full Sound Library installation.
Logic Remote Minimum System Requirements
iOS 13.1 or later
Compatible with iPhone,* iPad, and iPod touch.
Sound Library navigation, Smart Help, Smart Controls, full mixer, and access to plug-in controls are available only on the iPad.
Quick Links
FAQs | Best Autotune Software
🤨 Is there some free autotune software?
Yes, there are some free autotune software also available for users.
🧐 Do famous singers user autotune?
Yes, many famous singers use autotune for their songs.
🤓 Can autotune make a bad singer good?
No, autotune cannot turn a bad singer into a good one.
Conclusion | Best Autotune Software 2022
You may have heard this a lot, but really when it comes down to buying it depends on your budget and what kind of setup you are running. The system requirement for each of these autotune software is different and boils down to what kind of system you are using.
Be sure to check out all of the above-listed software to see which one suits your taste and your requirements.
Hope you enjoyed redaing this Best Autotune Software Review 2022.