We all want to make a little extra money on the side, am I right? But sometimes finding those creative business ideas that actually work can be tough. That's why we've done all the hard work for you.
We'll take you through ideas for each different type of entrepreneur, how to determine your target market, and even give you some tips on how to come up with your own great business idea.
If you're ready to make some extra money, then let's get started! Your bank balance will thank you!
What type of entrepreneur are you?
When it comes to entrepreneurs, there are all sorts of different types. For example, there are the tech-savvy types who are always on the cutting edge of the latest technology. Then there are the creative types who are always coming up with new and innovative ideas.
But what if you're not sure which type of entrepreneur you are? Well, don't worry, we've got creative business ideas for all types!
Below is a list of different types of entrepreneurs, so take your pick and get started on your entrepreneurial journey!
Business ideas for the tech savvy
With technology becoming an increasingly integral part of our lives, it's no surprise that more and more businesses are sprouting up that cater to our tech-savvy needs. From mobile app development to IT support, there are a multitude of creative business ideas for those with a passion for all things tech.
Develop an app or program that solves a common problem
Who hasn't been frustrated by a common problem that seems to have no solution? We've all been there, wishing there was an easy way to fix the issue. Well, what if there was a way to turn that frustration into a business opportunity?
Developing an app or program that solves a common problem is a great way to get ahead in the business world. Not only will you be providing a valuable service, but you'll also be tapping into a lucrative market.
Start a tech support company
If you have a background in computer science or a related field, you could offer individualized support plans for small local businesses, providing them with the peace of mind that comes with knowing they have someone to turn to when they need help with their technology.
In addition, you could also offer group workshops on topics like basic computer literacy or online security.
Offer IT consulting services
As an IT consultant, you can provide valuable insights and advice on the latest trends and developments in the world of information technology. You'll also be able to help businesses save money by incorporating new technologies into their operations.
Business Ideas for creatives
If you're a creative person, chances are you've had at least one great business idea. Whether it's an innovative new product or a unique service, there's no shortage of opportunities for a creative entrepreneur to start their own small business.
Many creative hobbies can be turned into businesses, and many people have found success by pursuing their passion.
Start a design or branding agency
Design or branding agencies help businesses to create and develop their visual identity. This can include everything from designing a logo to developing a style guide and creating marketing materials. If you have a creative mind and enjoy working with clients, then this could be the perfect business idea for you!
Create and sell artwork/graphic design
If you're an artist or graphic designer, then you could sell your artwork and designs online. This is a great way to earn some extra money and to showcase your talent!
Be a freelance writer or editor
If you love writing and have a sharp eye for detail, then a career in freelance writing or editing could be perfect for you. As a freelance writer or editor, you would be responsible for creating or revising written content for clients. This could include anything from website articles to marketing materials to book manuscripts.
Upwork is a great place to start and grow your skills!
Become a photographer
Whether it's a family gathering, a special event, or just a day out, you'll be able to help people preserve their cherished moments.
And if you're not interested in being a professional photographer, you can still sell your images on stock photo websites such as Shutterstock or Unsplash. This is a great way to make some money from your hobby, and you'll never know who might end up using your photos!
Sell your handmade goods online
If you're crafty and enjoy making things by hand, then you can leverage your creative skill by selling your handmade goods online, and can started super quickly on a place like Etsy.
People love unique, handmade items, and there are plenty of websites and platforms out there that allow you to sell your crafty wares.
Business ideas for fashionistas
There are plenty of business ideas for fashionistas out there. If you're creative and have an eye for style, you can definitely find a way to make money from your passion.
Design and sell accessories or jewelry on Etsy or similar
For the creative and fashion-savvy one way to turn your love of style into a profitable venture is to design and sell accessories or jewelry on Etsy or a similar platform. If you have an eye for detail and a knack for creating unique pieces, an online store could be the perfect business for you.
Be a personal stylist
Whether it's helping someone choose the perfect outfit for a special occasion or putting together a new wardrobe for the season, personal stylists can make a big difference in the way people look and feel.
Do fashion illustrations or sketches
As a fashion illustrator or sketcher, you would be responsible for creating beautiful and accurate representations of clothing and other fashion items.
This could involve working with a fashion designer to create sketches of their new collections or providing illustrations for advertisements or magazines. In addition to being creatively fulfilled, you could also enjoy the satisfaction of helping to bring fashion trends to life.
Business Ideas for foodies
If you're a foodie with a passion for business, there are plenty of opportunities to turn your love of all things culinary into a thriving enterprise.
Start a food blog or YouTube channel
Share your recipes and cooking tips with the world, and build up a following of like-minded foodies. You could also use your platform to review restaurants, cookware, and other food-related products.
And you can learn how to start and grow a profitable blog in any niche as well as your related YouTube channel by following Project 24 from Income School. They're awesome guys who practice what they teach and have brought countless students financial freedom. If you're curious to learn more, make sure to check out our full Income School review!
Create an artisan food product
Whether it's jam, cheese, or chocolate, there's always demand for high-quality artisan foods. If you've got a knack for creating delicious concoctions, why not start packaging and selling them?
Launch a home-based catering business
Use your skills to create custom menus for special occasions and build up a portfolio of satisfied clients.
Start a food delivery service
From prepared meals to ingredients for home cooking, there's always demand for convenient food delivery services. If you're organized and have a reliable vehicle, this could be the perfect business for you.
Business ideas for health nuts & gym bunnies
You live, breathe, and eat fitness, and you're always on the lookout for new and innovative ways to help people achieve their health and wellness goals. Well, have we got some ideas for you!
Online personal training
With more and more people leading busy lives, there's a growing demand for convenience when it comes to fitness. As an online personal trainer, clients can access your services from anywhere in the world.
Virtual health/weight loss coaching
If you're passionate about helping people reach their health or weight loss goals, why not become a virtual health coach? This is a great option for those who want the flexibility of working from home.
Corporate wellness program
With rising healthcare costs, many businesses are looking for ways to promote employee wellness. Help them by creating a corporate wellness program that helps employees stay fit and healthy. From on-site fitness classes to healthy eating initiatives, there are many ways to get involved.
Ideas for the homebody
Home is where the heart is – and for some people, it's also where their business is. If you're a homebody at heart, there are plenty of creative business ideas that revolve around homes and interiors.
Launch a home staging business
With the housing market always in flux, there's always demand for home staging services. As a home stager, you would help homeowners prepare their homes for sale by making them look their best.
Start a home organizing business
If you're the neat and organized type, this could be the perfect business for you. Home organizing businesses are all about helping people get their homes in order. From closets to kitchens, there's always a need for professional organizers.
Create a decluttering course
If you're good at helping people get rid of their stuff, why not share your knowledge with the world? Create a decluttering course that helps people get their homes in order.
Offer interior design consultations
If you have a good eye for design, you could offer your services to those who need help with their interiors. From color consultations to furniture selection, there's always demand for interior design services.
Business ideas for travel junkies & jetsetters
For the diehard traveler, being tied down to a 9-5 job can feel like a prison sentence. If you're someone who loves to explore new places and see the world, why not turn your passion into a business?
Start a travel blog or vlog
Share your adventures with the world and inspire others to explore new places. If you're camera shy, you can still start a written blog. But if you're game for putting yourself out there, vlogging is definitely the way to go. You can make money from advertising and sponsorships, or by selling digital products like e-books and courses.
Again, Income School's Project 24 is a great resource for this!
Tour guide/travel planner
Share your knowledge of different cultures and history with tourists from all over the globe. Or become a research-based tour guide and plan bespoke itineraries for those looking for an off-the-beaten-track experience.
Freelance photographer for travel publications or websites.
There's always demand for good quality travel photography. Sell your photos to stock image websites or directly to publications and businesses – check out how to sell pictures online with our guide. You could even start your own online shop.
If you're the life of the party, always surrounded by friends and loved ones, then we've got some creative business ideas for you.
Be a professional event planner
You can parlay your natural social skills into a business by becoming a wedding planner, corporate event planner, or even a party planner for kids' birthday parties. If you have a knack for making people feel comfortable and keeping them entertained, this could be the perfect way to turn your talents into a successful business.
Do PR or marketing for small businesses
Many small businesses don't have the budget to hire a full-time PR or marketing team, but they still need help getting their name out there. By offering your services on a freelance or project basis, you can help small businesses grow without breaking the bank.
Teach networking or building relationships
In today's business world, it's all about connections, but for some people, networking can be tough. It can be awkward, overwhelming, and even a little bit intimidating.
If you've got a knack for networking and building relationships, you could sell eBooks or online courses on networking or building relationships. Teach people how to make small talk, work a room full of strangers, or even follow up after an important meeting.
Anyone with a significant social media following can tell you that it takes a lot of work to maintain an active presence online. But did you know that your social media skills can also be used to launch a successful business? Here are just a few ideas for businesses that social media mavens can start.
Social Media Consultant
Use your expertise to help businesses navigate the ever-changing world of social media. Offer services such as strategy development, content creation, and community management.
Influencer Marketing Agency
Leverage your knowledge of the influencer marketing landscape to connect brands with the right influencers for their campaigns.
Social Media Manager
Keep businesses' social media accounts current and engaging by providing content planning and scheduling, customer service, and reporting.
Blogger Collaboration Service
Use your network of bloggers to connect brands with the right influencers for sponsored content and product reviews. Services could include influencer outreach, negotiation, and management.
Social Media Training
Share your social media know-how with others through classes, e-courses, or one-on-one coaching sessions. Topics could include everything from building a personal brand to growing a following on specific platforms.
Ideas for animal lovers
Have you ever considered starting a business that revolves around your love for animals? If so, you're certainly not alone. In fact, there are many successful businesses that have been built on the foundation of animal care and companionship.
Dog walking/pet sitting
Do you love spending time with dogs? Turn your passion into a profitable business by starting a dog walking or pet sitting service. You can promote your business by handing out flyers in your neighborhood or posting an ad online. Check out our full article on how to start a dog walking business for more info.
Pet grooming
Does the thought of pampering pets make you happy? Then starting a pet grooming business may be the perfect option for you! You can set up shop in your own home or rent space in a local pet store.
Pet bakery
Are you an avid baker with a soft spot for furry friends? Then consider starting a pet bakery! You can bake all sorts of delicious treats, from doggie biscuits to cat cakes. Be sure to market your business online and at local pet stores and events.
Business ideas for the outdoorsy type
For the outdoorsy type, there are plenty of opportunities to turn a love of nature into a successful business venture.
Start a hiking or camping tour company
You could start a business leading hikes and organizing outdoor activities like camping and bird watching. Leading groups of adventurous souls through beautiful and remote areas is a great way to make a living while spending time in nature.
Create an online hiking guide
If you have a passion for the outdoors and know your way around the area, why not share your knowledge with others by creating an online guide? Your guide could include information on the best hiking trails and camping spots. This is a great way to earn passive income and share your love of nature with others.
Offer outdoor photography classes
If you have a passion for nature and photography, why not combine the two and offer nature photography classes? This is a great way to share your love of the outdoors while also teaching others how to capture the beauty of nature through their own lens.
You could offer classes on different types of outdoor photography, such as landscape or wildlife photography, or you could simply teach beginners the basics of taking stunning photos.
Ideas for the DIYer
If you're the type of person who loves nothing more than rolling up your sleeves and tackling a home improvement project, then why not turn your passion into a business?
Here are some business opportunities for the home improvement enthusiast with a knack for creative problem solving.
teach others DIY projects
One way to make money from your DIY skills is to start a business teaching others how to do projects around the home. You could offer classes on everything from painting and wallpapering to simple plumbing and minor electrical work.
This is a great way to share your love of home improvement while helping others save money by learning how to do projects themselves. You could also turn this into a line of eBooks or online courses on DIY projects easily on a platform like Podia, which would allow you to reach a wider audience and earn passive income.
Do professional home improvement consulting
If you're an expert in the field of home improvement, you could start a business offering professional consulting services. This is a great way to help homeowners save money and time by getting expert advice on all aspects of home improvement, from small projects to major renovations.
Business ideas for the busy bee
For the busy bee who is always on the go, time is a precious commodity. If you can find a way to help others make the most of their time, you'll be onto a winner with a creative business idea.
professional life coaching
If you have a knack for giving great advice, then consider starting a business as a professional life coach or business consultant. You could help others achieve their goals by offering your services online or in person.
Teach time management or productivity
Create your own line of ebooks or online courses on time management or productivity. Share your own tips and tricks for staying productive, and help others learn how to better manage their time.
Business ideas for sustainability buffs
Sustainability is all the rage these days, and for good reason. As awareness grows about the importance of environmental stewardship, more and more people are searching for ways to reduce their impact on the planet. There are plenty of opportunities to turn your green ideals into cold, hard cash with some creative business ideas.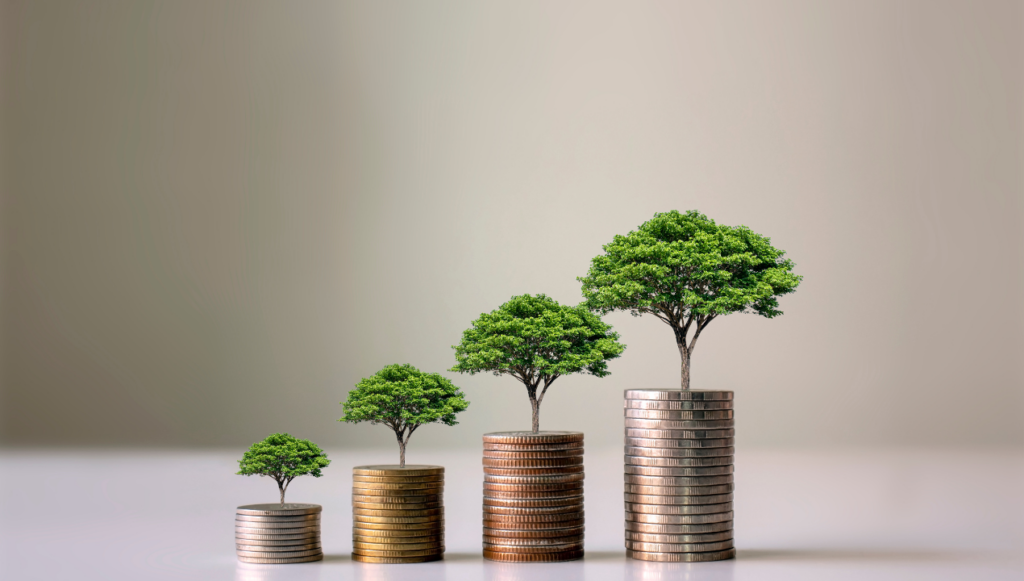 Launch an eco-friendly home cleaning service
Use only nontoxic, biodegradable cleaners and market yourself as the green alternative to conventional cleaning companies.
Create an energy efficiency consulting service
Help businesses and homeowners save money by reducing their energy consumption. Conduct audits, recommend improvements, and provide support during implementation.
Ideas for the financially savvy
If you're good with numbers and have a head for business, then you may want to consider one of these options.
teach financial responsibility
Start a blog or online course teaching others how to save money and be financially responsible. This is a great way to share your own money-saving tips and tricks while also helping others learn how to better manage their finances. This could lead to creating a line of eBooks or online courses on investing, personal finance, or financial planning. Share your knowledge with people in a format that's easy to consume and learn from.
financial consulting
If you have a background in finance or accounting, you could start a business providing personalised financial consulting services to small businesses or individuals.
help people file their taxes
If you're good with numbers and have a head for business, then you might want to start a business providing financial services that people hate doing themselves, like tax preparation. This is a great way to help people save time whilst making the most of their finances.
Invest in high-risk, high-reward ventures
This isn't for the faint of heart, but if you're willing to take on some risk, you could make a lot of money by investing in penny stocks, cryptocurrency, or other high-risk ventures. Just be sure to do your research first and only invest what you can afford to lose.
Different target markets
The world of business is filled with a vast array of different target markets, each with their own unique needs and wants. And while there's no surefire formula for success, certain target markets are more likely to be profitable than others.
For example, businesses that cater to the needs of busy professionals are often quite successful. After all, busy professionals have the disposable income to spend on convenience-oriented products and services.
Similarly, businesses that cater to families with young children can also be quite profitable as this target market is always looking for ways to make their lives easier.
So if you're thinking of starting a business, it's a great idea to ensure your target market has plenty of disposable cash and isn't averse to spending it!
Tips for coming up with a great business idea
Look for problems that need solving. A great business idea is one that solves a problem that people are facing. So take a look around you and see what needs fixing.
Consider your skills and expertise. What are you good at? What do you know a lot about? Your skills and expertise can be a great source of inspiration for a business idea.
Brainstorm with friends and family. Sometimes, the best ideas come from brainstorming with other people. See if they have any ideas that you could use or build upon. You may be surprised at what you come up with when you start bouncing ideas off of other people.
Creating a unique selling proposition. What makes your business idea unique? What sets it apart from the competition? If you can answer these questions, then you're on your way to coming up with a great business idea. If you can't, go back to the drawing board.
Check out trending businesses in your potential industry. Keep up with the latest trends in your industry and see if there's a way you can tap into that trend with your business idea. What are people talking about? What are the hot topics? This will give you a good sense of what is currently popular and what might be popular in the future.
Creative Business Ideas In Closing
If you're an aspiring entrepreneur feeling stuck in a rut, try thinking outside the box for some creative business ideas. Sometimes all it takes is a fresh perspective to come up with profitable small business ideas.
Brainstorming with a group can also help stimulate new thoughts and cultivate creativity. If you're still having trouble coming up with something, try researching other businesses in your industry and seeing what they're doing that you could adapt or improve upon.
Don't be afraid to think big – after all, great things start from small scale beginnings. With some creative thinking and a little effort and dedication, you could turn that spark of a small business idea into a roaring success.