In this post, we are going to share valuable information about Best Blogging Platforms To Make Money.
So you've chosen to establish a blog and are wondering which blogging platform is best for making money. You can choose from a variety of blogging platforms.
Some are free, while others require a fee and have usage restrictions. Whether you're a small business or an individual who wants to try out this blogging "thing," there's a blogging platform that's right for you.
Today, I'll go over some of the best blogging platforms in the market and help you look for the ideal blogging platform for your requirements.
Let's get started.
Best Blogging Platforms to Make Money 2022
Here are 10 of the best platforms for blogging that can be used to start an online business to make money:
WordPress.org, also known as "The Real WordPress," is one of the most popular blogging platforms. With over 64 million websites, WordPress is likely to power the majority of the websites you've visited.
WordPress.org should not be confused with WordPress.com, which I will discuss in a moment. WordPress.org is a self-hosted blogging platform with a lot of flexibility.
To begin, you have access to a large number of free themes for building your website, as well as the option of using premium or custom-built themes.
What I like best about this self-hosted WordPress is how simple it is to install. To create a WordPress website, all you need is a domain name and a hosting plan, which can be purchased for as little as $2.75 a year.
Most of the most prominent hosting companies, such as Bluehost, Namecheap, and GoDaddy, will offer one-click WordPress installation.
From there, you may begin tailoring it to your own requirements. It doesn't get any easier than that when it comes to creating a website.
WordPress also has good compatibility with plugins, software, and monetization programs. This platform can be used to create a forum, an eCommerce store, a site for online courses, a niche site, or a subscription site.
Blog content authors can integrate plugins such as Rankmath,  Yoast, and Google Analytics.
Yoast and Rankmath can help you improve your content for search engines, while Google Analytics can tell you what content your viewers enjoy. Simply visiting their plugin area will give you an idea of the weapons at your disposal.
Unlike some of the platforms, I'll discuss here, any content posted on a WordPress blog is yours. Nobody is going to delete or take it down. To qualify for any true monetization platform, you must still adhere to standard content policies.
Pros:
High compatibility

Website owners have more freedom to use and monetize their websites

The price is reasonable
Cons:
There is some learning curve with cPanel
Pricing – WordPress.org is open-source and free, but you must purchase a domain name and web hosting.
Who can use it? Everyone. Newbies and experts alike. It can be upgraded as the blog grows.
Writing on Medium is likely one of the simplest methods to begin blogging.
It's a free blogging platform or community where you may sign up and express your ideas on a certain issue, submit a review, or write whatever you want as long as you follow their criteria.
You may not make much money writing on Medium, but they do provide a subscription plan where readers pay $5 per month for unrestricted access.
When your articles are accepted into this program, also known as the Medium Partnership Program, you will be paid based on the number of views they receive.
Even better, it's completely free to join. You only need time to write and establish an audience.

Medium is not a long-term or permanent option, in my opinion. However, it is a fantastic method to test your material, increase traffic to your blog, promote your business or course, or even earn some additional cash.
As Jon Morrow recommends aspiring bloggers, you may evaluate the sustainability of your writing niche and strategy by starting a free blog on Medium.
You shift your audience to a self-hosted blogging platform like WordPress once you're certain it's feasible.
Unfortunately, the Medium Partner program only accepts payments through Stripe, which is not available in all countries.
Pros:
You can use it for free

You can start right away

There is no need to know anything about themes or plugins

Comparatively to ranking through SEO, you are able to access an internal audience
Cons:
Domain names do not belong to you

Signing up will give you the domain name yourusername.medium.com

The internal audience is unpredictable, so writers rely on it

Display ads can't be used

Only the Partner Program can be monetized
Pricing – Joining is free.
Who can use it? – People who love to write but are not ready to set up a self-hosted blog or Businesses who are looking to grow their online presence.
Blogger is a blog platform owned by Google that gives users more freedom if they do not want to invest in a custom domain or layout.
In the same way as Medium, your domain name will end in blogpot.com. You can use your own domain name if you purchase one and connect it to the site.
While Medium gives you access to an internal audience, you must still use SEO and other traffic-generating methods while using Blogger.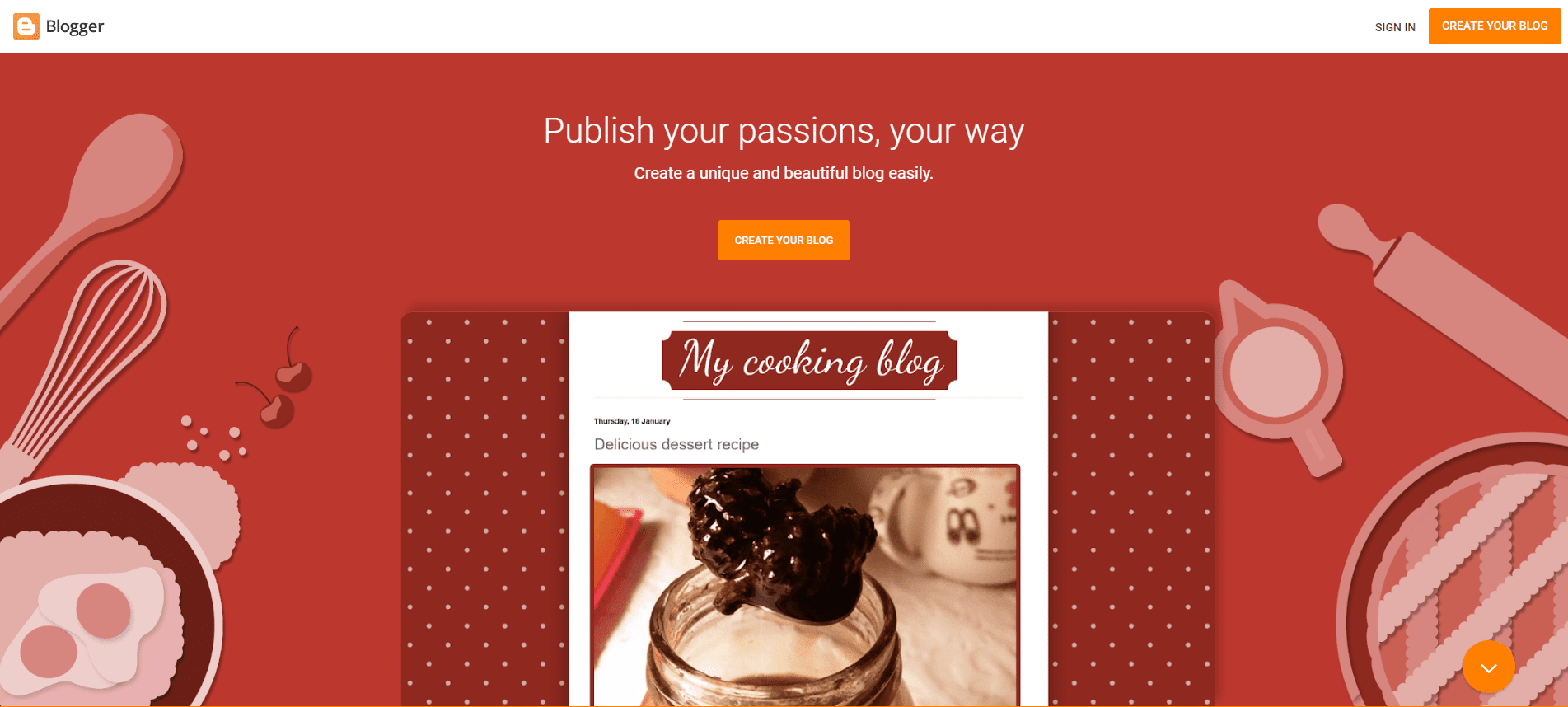 Blogger also has a great number of free templates to choose from, but you can customize one if you wish.
Blogger also integrates with Google Analytics and various third-party services, such as PayPal payment gateways. You may also monetize it with AdSense because Google owns it.
Blogger provides more functionality than Medium. However, if you need a full-fledged blogging platform, it is still somewhat limited.
Pros:
The only thing you need to begin is a Google email account

You can use it for free

You can monetize it with AdSense
Cons:
It cannot be customized

Only a few third-party tools and templates are available

It's not updated often

Your blog is owned by Google, and they may decide to ban it or suspend it, and you will lose traffic

The options for monetizing a Blogger blog are limited
Pricing: It's free to join, but you can purchase a custom domain and add-ons to customize further.
Who can use it? Individuals who wish to create a simple hobby blog.
4. Wix
Wix is a well-known blogging platform with over 200 million users, owing to its drag-and-drop website builder, which allows you to create and personalize a website from the ground up without any coding.
There is a free edition that provides basic blogging functionality. However, if you wish to sell from your site or use more blogging capabilities, you must subscribe to a plan that meets your needs.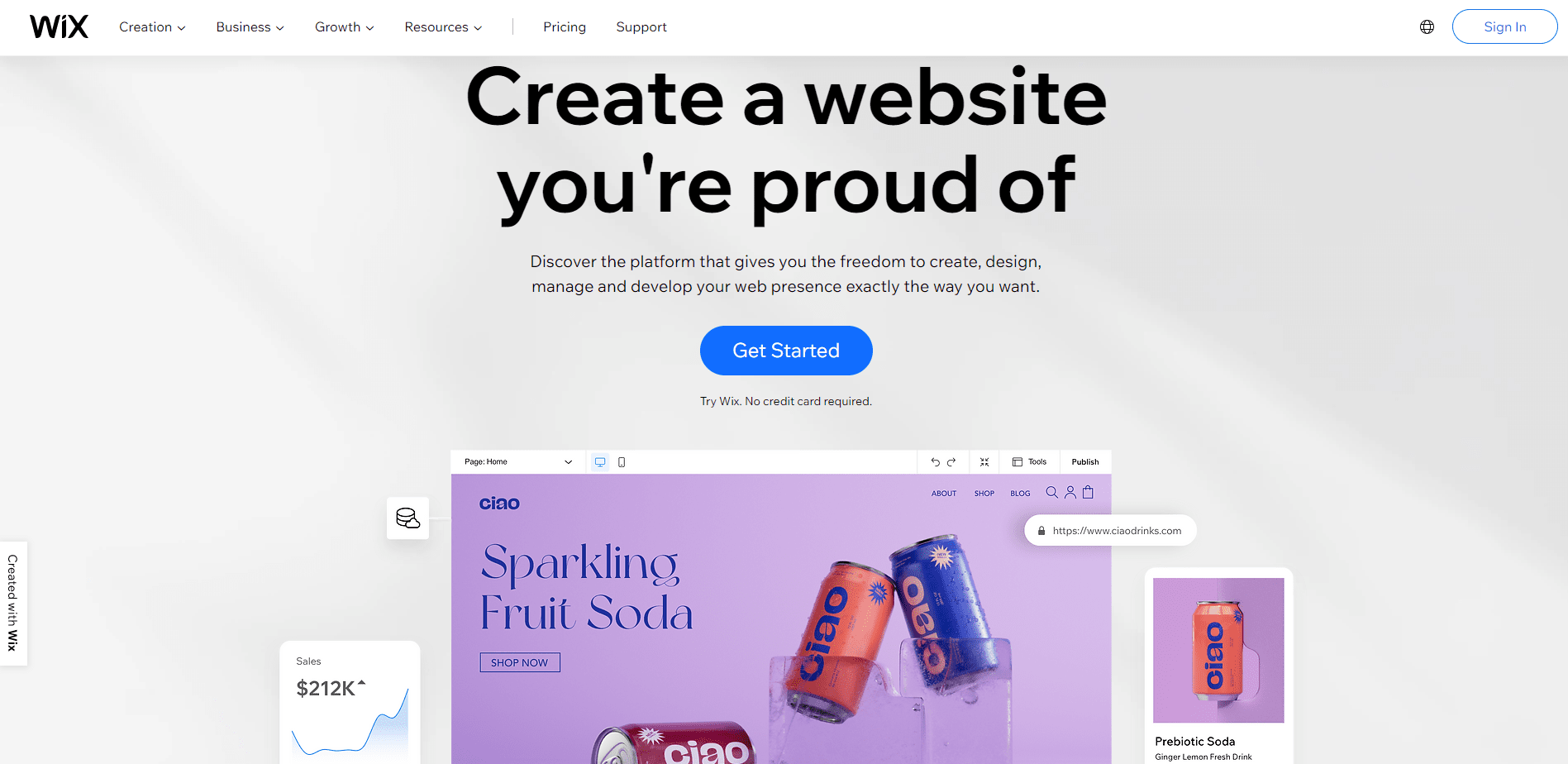 The cheapest package is $18, while the most expensive is $56 each month. You may have to pay more if you require additional add-ons like analytics, eCommerce, or anything else on your blog.
The main disadvantage of using Wix is that they own the code, server, and other backend functions. As a result, you have no control over the page speed, loading rates for different devices, or any other vitals.
Apart from that, the drag-and-drop capability, good layouts, built-in marketing, and SEO make Wix a blogging platform worth considering for small enterprises.
Pros:
Setup is simple

Professional templates and designs are available to you

Also available are SEO tools and inbuilt marketing tools
Cons:
The backend of your site is largely out of your control

Setting up the system may be expensive

You won't earn anything from the ads that Wix places on your site when you use the free plan

Your content is lost if you change the theme, and you have to start over
Pricing – There is a free plan available. There are also premium options ranging from $18 to $500 per month.
 Who can use it? – Beginner bloggers, small enterprises, creatives, and bloggers who plan to sell products.
Hubpages is a wonderful blog site to look at whether you're a freelance blogger looking to get published on top platforms or a writer looking to make some additional money.
Hubpages works similarly to Medium in that you establish an account with your email address and receive a miniblog or weblog to which you will upload your content.
However, it is superior to Medium in that you earn through Revenue Sharing rather than joining a Partner program. HubPages allows you to display advertising on your miniblog in exchange for a 60/40 revenue split.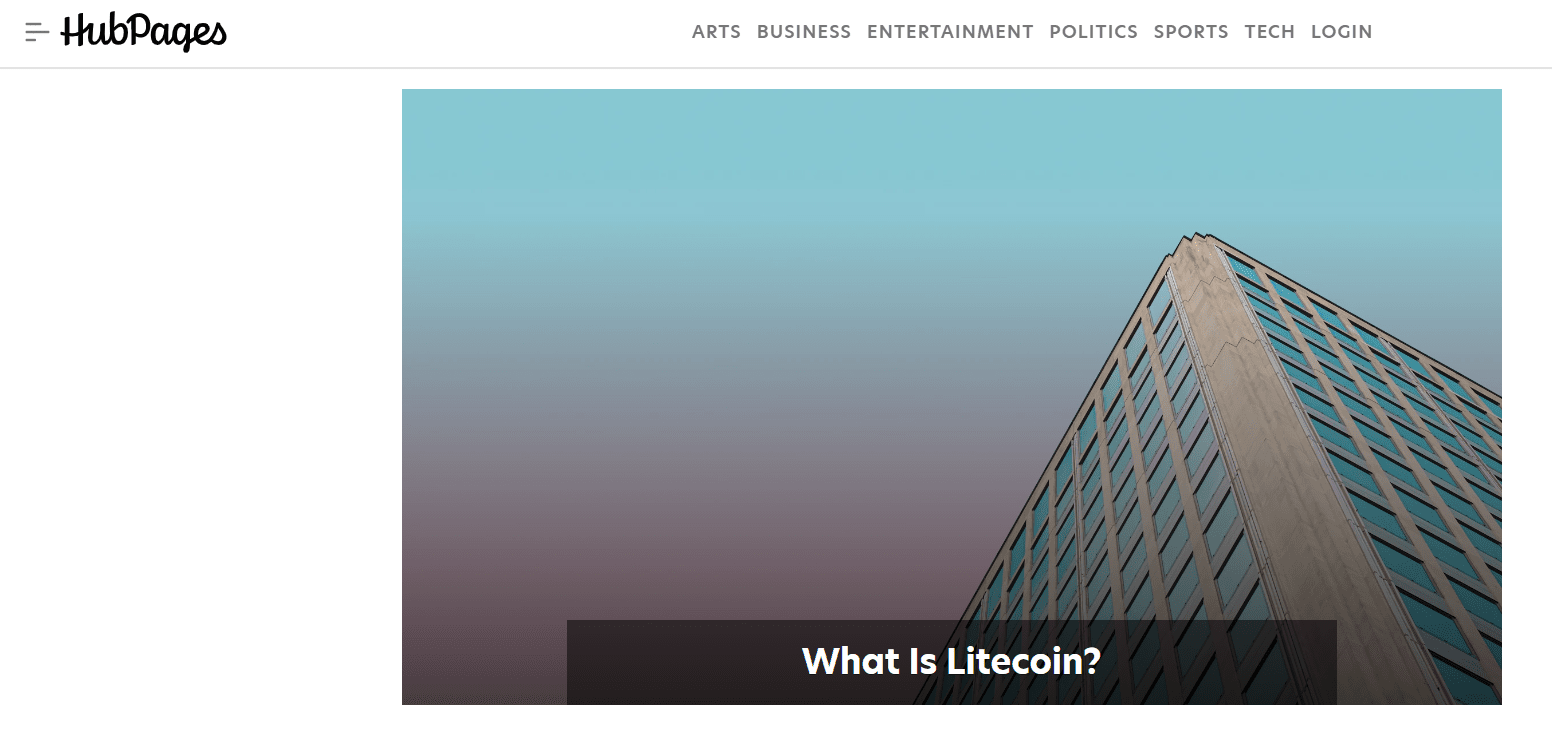 That means that when you place advertisements on the mini-blog, the mini-blog displays your ads 60% of the time and HubPages displays their ads 40% of the time.
Even better, by inserting your affiliate links, you can earn money from Amazon or any other affiliate marketing network.
HubPages pays at least once a month via PayPal. As a result, as long as PayPal is accepted in your region, you can join and earn extra money while also building an online profile where clients can find you.
Pros:
An internal audience is available to you

Joining is free and easy

You can monetize your content in many ways
Cons:
Hubpages has the right to delete your content if they deem it inappropriate

It is also difficult to control the placement of ads – sometimes there are too many
Pricing – Joining is free.
Who can use it? – Freelancers, avid writers, and hobbyists.
Also, Read This:
Tumblr is a blogging platform as well as a social media platform where you may post short stories, and big essays, re-blog (re-post) other people's content, and even talk with other bloggers.
Tumblr is also connected with other social media networks like Facebook and Twitter, allowing you to publish your content straight to these platforms.
You have the option of using Tumblr's domain name or purchasing a personal domain name. You can also utilize HTML to change the design of your blog or use one of its themes.
You will not, however, have as many design possibilities as you would with a self-hosted blog. Tumblr is not just for written stuff. You can still share your work if you're a photographer, designer, or musician.
Tumblr is ideal for beginners because it does not require you to wait months for your work to rank and generate visitors. You get access to Tumblr's audience as well as traffic from other social media channels.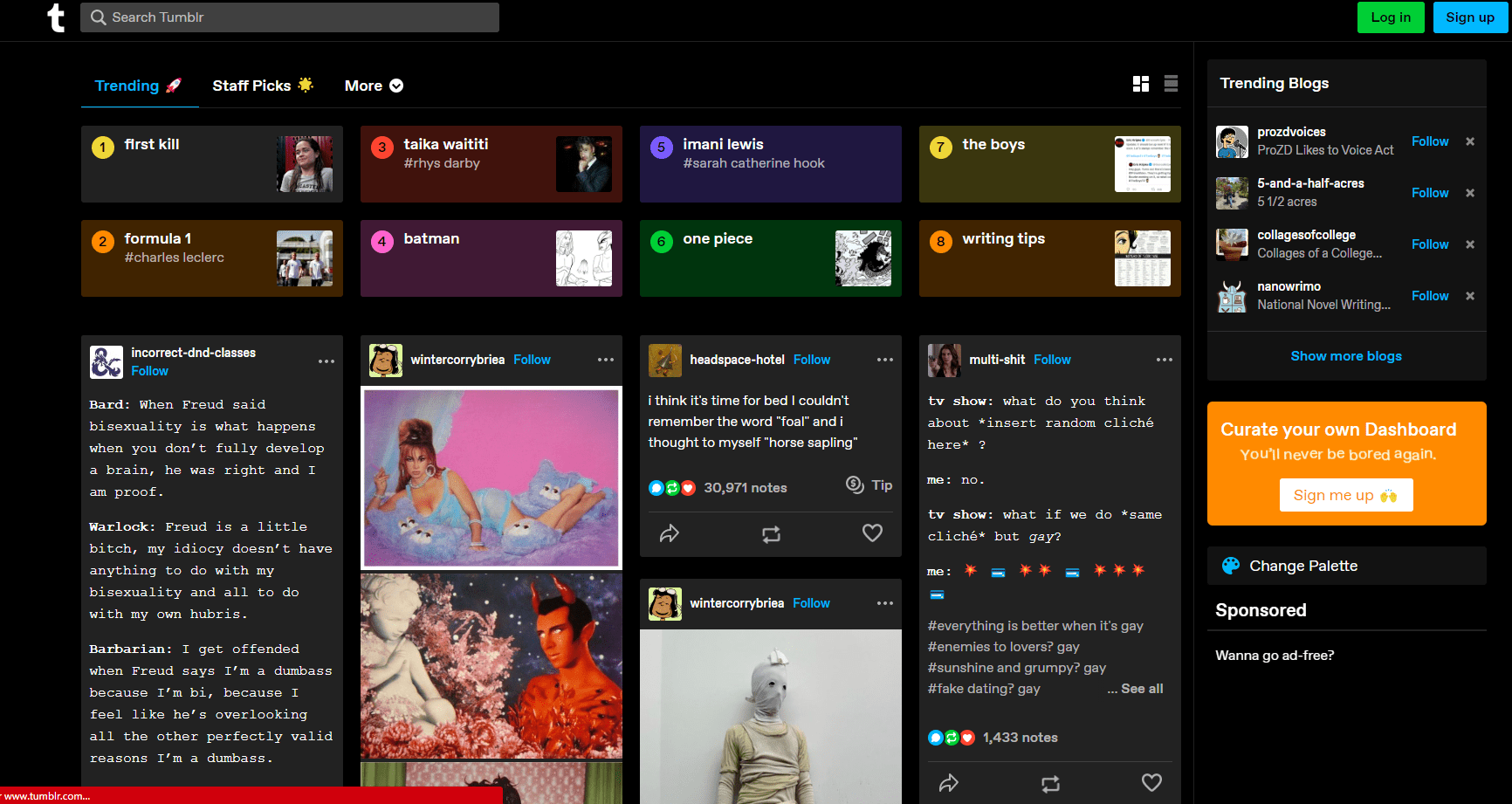 There are numerous options for monetizing your Tumblr account. You can add AdSense networks, sell ad space to local or worldwide businesses, include affiliate links in your articles, offer Tumblr themes, or even publicize your work.
Tumblr is also launching Post+, a monetization program. This is a scheme in which users can place some of their content behind a paywall that consumers must subscribe to in order to access.
Members whose memberships cost $1.99, $3.99, $5.99, and $9.99 will be charged 5% of their earnings.
Pros:
You can use it for free

It's easy to set up

If you have a domain name, you can use it

From short posts to long articles, to images and videos, you can share anything

Content can be monetized in many ways
Cons:
There are few options for designing
Pricing – Joining is free.
Who can use it? – Independent contractors, creatives, and small businesses.
You've probably seen Squarespace adverts if you spend any time on Facebook or YouTube. They're easy to spot because Keanu Reeves (a highly likable man) is generally in some of them.
He's even become their spokesperson after they assisted him in developing an online presence for his motorcycle business.
When analyzing a blogging platform, however, big advertisements and celebrity endorsements will not suffice. So how does it stack up against the other blogging platforms on our list?
For starters, it has a drag-and-drop approach similar to Wix, but it has more templates, some of which would result in a really professional website.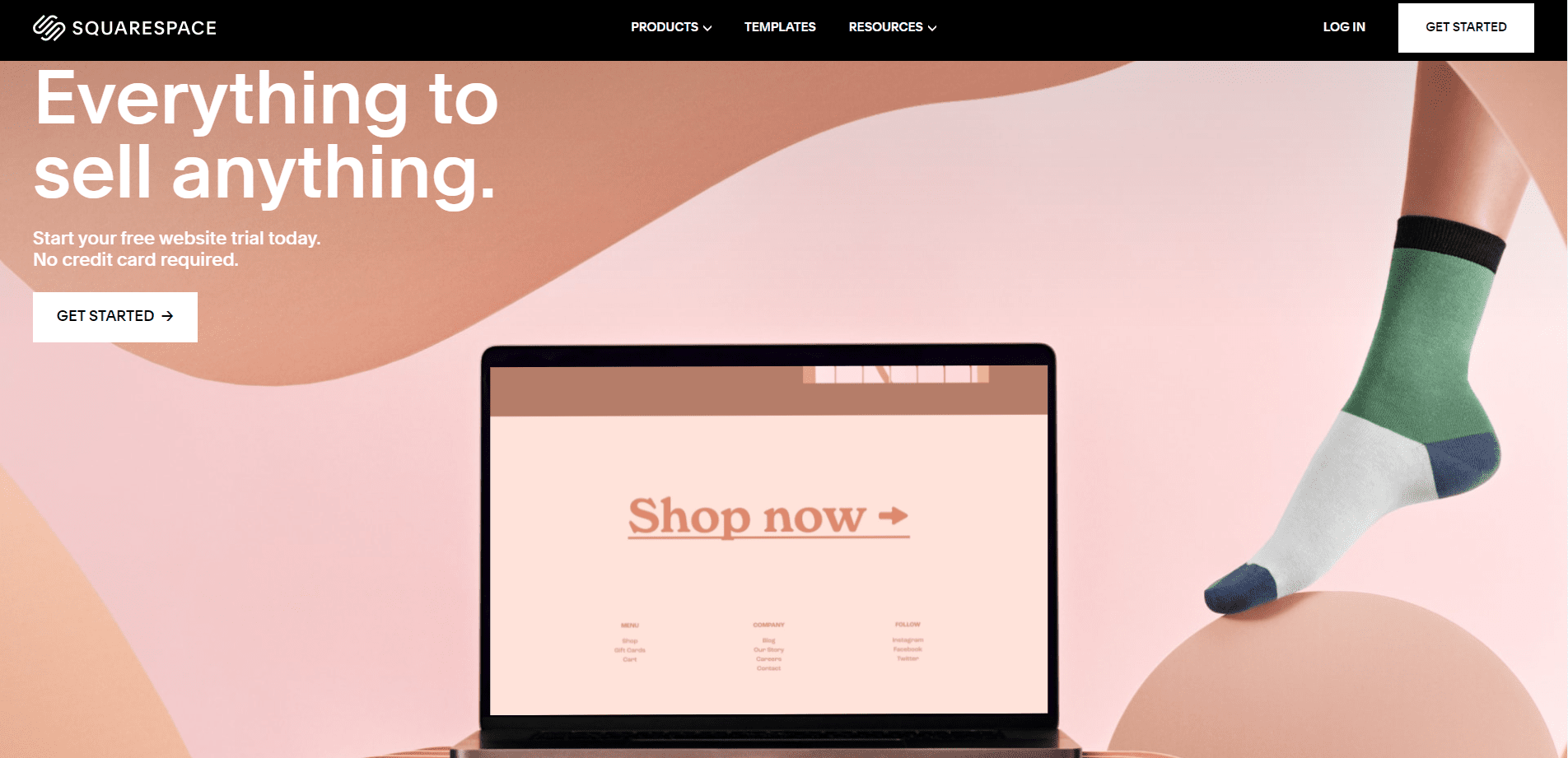 Squarespace can accommodate up to 1000 pages, making it a superior choice for larger websites. However, if you want your site to run well, don't create more than 500 pages.
What I like best about Squarespace is that you can edit your website from your smartphone using their very useful app. You can set up an online store, a podcast channel, or a blog using their blogging tool.
While their dashboard requires some practice, it is not as difficult as coding. Furthermore, their support service answers quickly and can walk you through the setup procedure.
Like Wix, if you want to use all functions Squarespace has to offer, you must choose a plan. The $12 per month plan is adequate for a basic personal website. Choose among the $18, $26, or $40 per month rates for an online store.
Pros:
Choose from a variety of professional templates

It works with SEO and marketing tools.

It's mobile- and desktop-responsive.
Cons:
The price is high compared to alternatives

There are fewer templates and designs compared to WordPress
Pricing – Four paid plans are available at $18, $12, $26, and $40.
Who can use it? – Small businesses and professionals.
WordPress.Com is yet another blogging platform for those who do not want to invest in a self-hosted platform. WordPress.com is a free platform, as opposed to WordPress.org, where you must purchase a domain and install WordPress.
Simply create an account, and your domain name will be yourusername.wordpress.com. However, you can purchase a domain name later and link it to the site.
The free plan allows you to use free themes and layouts.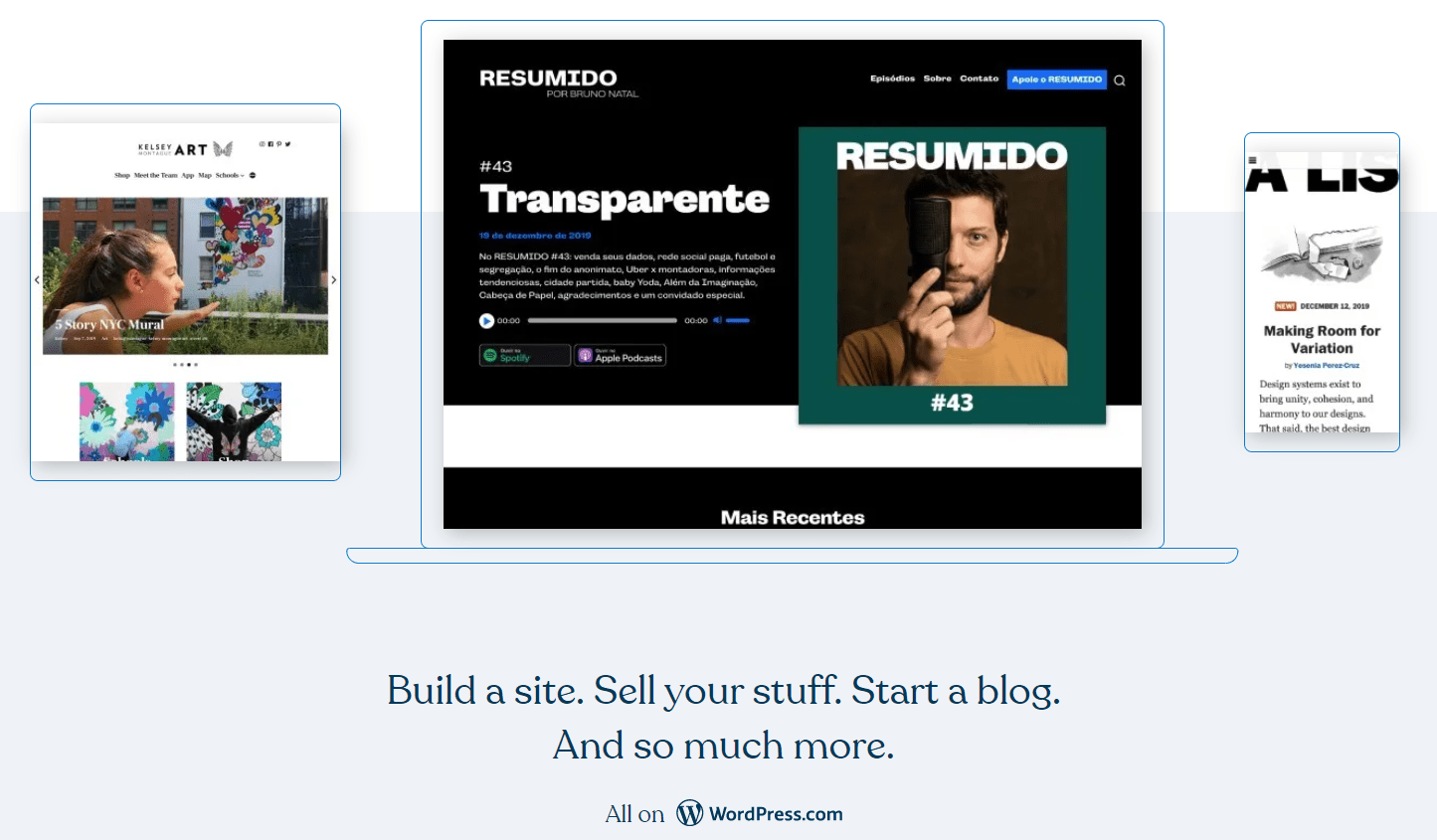 However, there are premium options ranging from $4 to $45. Paid plans are excellent if you wish to monetize your website, and get fast support, Google analytics, and other functions for blogs and online stores.
The free plan is fairly limited, and while WordPress places advertisements on the site, they do not compensate you for the ad space.
Even with paid services, you still do not have access to plugins, as you would with WordPress.org.
Pros:
Setup and use are simple

Beginners should use the free plan first before moving on to the paid plans or self-hosted blogs

Backend configurations like updates, backups, and load speeds are handled by the WordPress team
Cons:
Plugins for WordPress.org cannot be used

You can only purchase and upload plugins from the site – you cannot purchase third-party themes

If you don't want ads on your site, you'll have to choose an advertising plan

A WordPress.com website can be monetized in a limited number of ways
Pricing – The app is free to join, but there are paid plans that cost $4, $8, $25, and $45 if you need more features.
Who can use it – Blogs with a hobby can take advantage of the free version. Businesses and professionals can purchase a paid subscription.
Ghost is similar to WordPress in that it provides access to plugins, an easy-to-use interface, and all of the necessary sources.
Unlike WordPress, which allows millions of different sorts of websites, Ghost is designed just for writing, blogging, and publishing.
Whether you're a new blogger or a well-established company, you can use the plugins, SEO, marketing, and even design your own themes and publish them via FTP.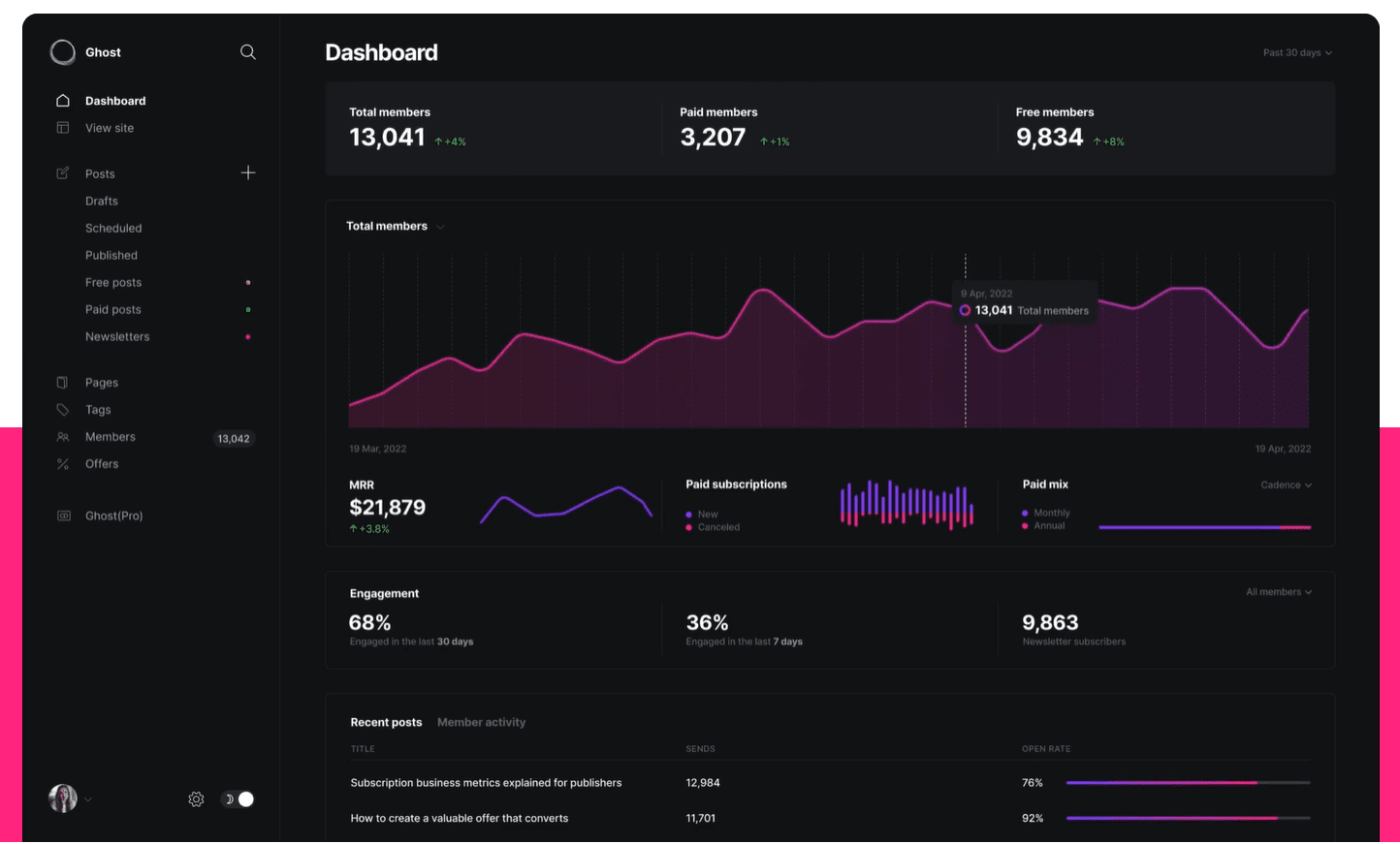 There are two versions of Ghost:
Ghost Open-Source –

A self-hosted version of WordPress.org for free

Ghost Pro –

Similar to WordPress.com but hosted
The self-hosted option is ideal if you require complete control over your website. All you have to do is download it and link it to your domain name.
The hosted option is ideal for novices, but you will have to pay to access the majority of the features. Prices range from $9 to $199. Unfortunately, Ghost Pro does not provide a free plan. You only receive a 14-day free trial.
Ghost isn't only minimalist in style, but it's also compatible with a variety of third-party programs like payment gateways, marketing, and automation.
Ghost also provides the ability to build a membership blog where people pay to see your content.
Furthermore, the adoption of Ghost by DuckDuckGo, NASA,  Mozilla, Apple, and other large brands demonstrates that it can handle millions of requests without crashing.
Pros:
A minimalistic design that is easy to use

The rights to your content belong to you

The system is quite stable
Cons:
You are limited to blogging

It could use more themes and customization options
Pricing – Ghost Open Source is free, Ghost Pro ranges from $9 to $199
Who can use it? – Writers, creators, and publishing companies.
The HubSpot CMS is a component of the HubSpot SRM, a comprehensive platform for small business owners.
The CRM includes a blogging platform, tools for delivering newsletters, methods for generating leads and managing subscribers, and personalization features that allow you to serve various content to your audience based on what they like or resonate with.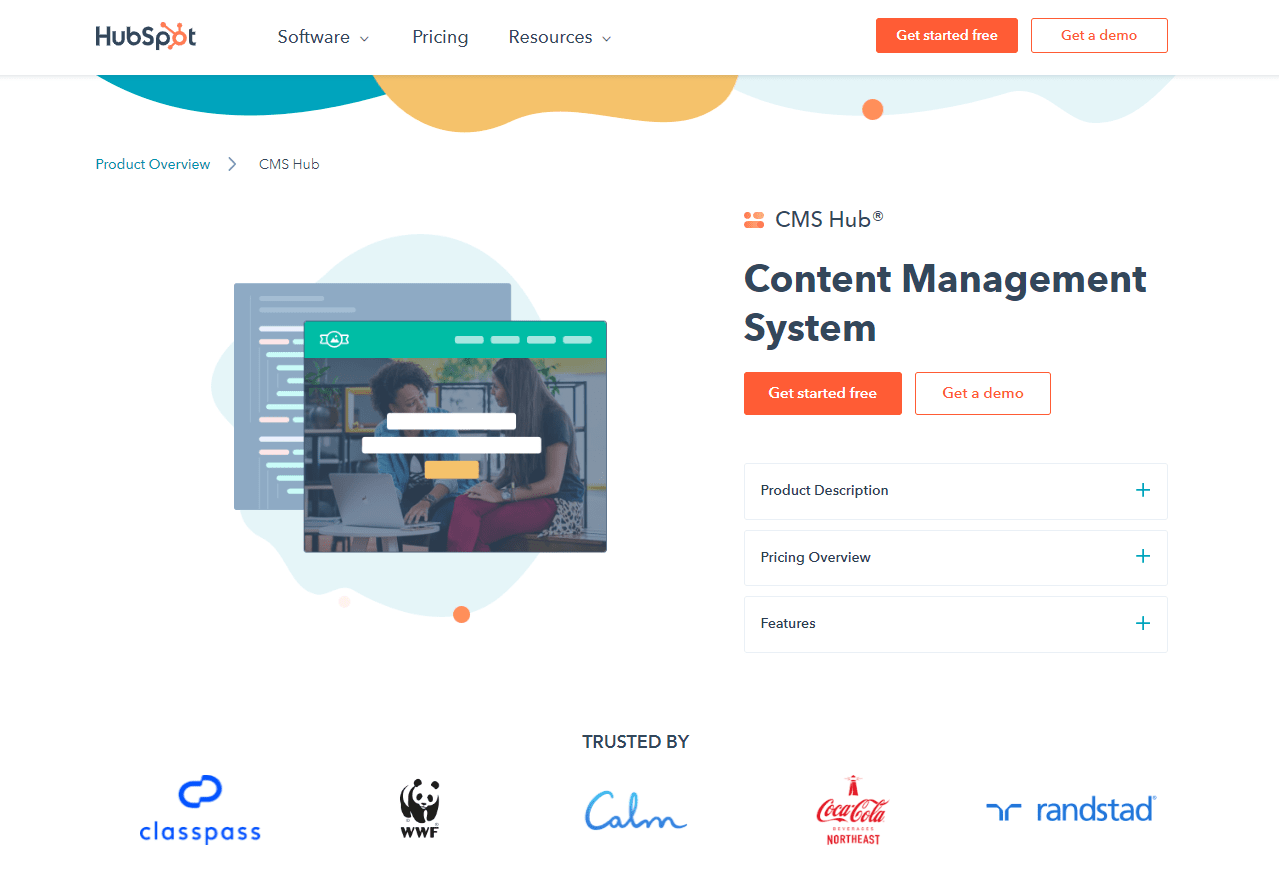 Among its other features are:
Formatting and editing text

Editing images

Management of a website

Customized forms
Those who are looking for an all-in-one tool should consider HubSpot CRM.
Initially, why? The setup can be quite costly.
For example, the price starts at $300 per year. In contrast, if you need onboarding training or a site with more than 20 pages, you might have to pay more than $1000.
Pros:
It's an all-in-one tool for managing content and marketing

A drag-and-drop feature and readily available learning resources allow it to be easily set up
Cons:
There is no free plan and it's expensive
Pricing – $300 to $1200
Who can use it? – Publishers and small businesses.
Quick Links:
Conclusion: Best Blogging Platforms to Make Money 2022
And there you have it — choosing a blogging platform may make or destroy your blogging career, so think about which is ideal for you.
For the most part, WordPress is the finest blogging platform for making money, but there are exceptions. Each blogging platform has features that distinguish it from the competition.
As previously stated, you must decide what type of content you wish to provide.
You should also consider your long-term goals for the site, as well as your amount of management, monetization techniques, and budget.