In this article, I will share my in-depth AdSpyglass Review 2022, breaking down its multiple features and offering you a fast overview of its cost, functionality, and other important insights.
Employing ad mediation services such as AdSpyglass connects you to the most lucrative offers across all ad networks. And you must choose the one with the highest CPM.
AdSpyglass supports a range of ad forms, including display banners, direct links, and push notifications.
Let's talk about AdSyyglass in detail and figure out if this is the right tool for you.
AdSpyglass Review: What is AdSpyglass?
AdSpyglass is an advertising management software with a major emphasis on ad network mediation. By successfully managing several networks from a single location, AdSpyglass allows publishers to always achieve the most income per impression.
Many publishers across the world now want to incorporate more partners into their ad stack and diversify their revenue streams but are unable to do so successfully. This is when AdSpyglass enters the picture!
According to AdSpyglass's analysis, each advertising network has offers for between 10% and 50% of your visitors. The remainder of your traffic is purchased at a discount CPM for resale to other networks or remains unredeemed entirely.
Using the AdSpyglass real-time bidding (RTB) mediation technology, hundreds of advertising networks and direct advertisers may bid in real-time for your traffic.
Thus, almost 100% of your traffic is sold at the highest possible price, increasing your revenue by 40%.
Additionally, you may disable underperforming networks and adjust the amount of advertising aggression for any network at any moment.
AdSpyglass is one of the most popular products of its kind since it directly connects to over 4,000 publisher websites. AdSpyglass intelligently picks and shows the most lucrative adverts from key ad networks on your websites.
AdSpyglass is one of the fastest-growing platforms of its kind, with over 4500 websites and 10,000 ad campaigns showing over 300 million advertisements every day already using it.
How do you use AdSpyglass?
You may browse their packages and special offers to see whether they are a good fit for you. If you do not want to purchase a bundle, that is also OK. You may take advantage of their Tax Mode.
They will collect around 10% of your impressions when in Tax Mode. And, in my opinion, it's a fair offer, given they're already improving your websites' income by up to 100%!
One of the most compelling reasons for writing an AdSpyglass review is that they do not display their advertisements on your websites. They primarily serve as a broker, assisting you in connecting with the top ad networks.
They take on the role of quiet angels, who are just there to assist you at no cost to themselves.
This is one of the aspects that, in my view, made AdSpyglass worthwhile. By experience, I know that AdSpyglass will undoubtedly improve your profit.
You just have to trust them and wait for a good 2 to 3 days to allow them time to make their way through the gridlock. After the specified days, you may compare the visible results of an increase of up to 100% in your earnings, all thanks to AdSpyglass!
Profits might vary from less than one hundred percent to more than one hundred percent, depending on the volume of visits to your website.
And, although AdSpyglass does not assist in the purchase or sale of traffic, they strongly favor websites with global traffic. Because they are developing automated CPM monitoring for a variety of various GEOs, they seek sites with global traffic.
Is AdSpyglass Legit?
AdSpyglass simplifies the process of managing advertisements. It benefits webmasters by providing a simple method to filter advertisements with a high CPM across several ad networks.
This enables publishers to identify the most popular ad formats and incorporate them into their stack, hence expanding their potential for ad revenue growth.
AdSpyglass is ideal for anybody looking for a centralized approach to manage all prominent ad platforms in one location rather than attempting to manage different ad networks independently.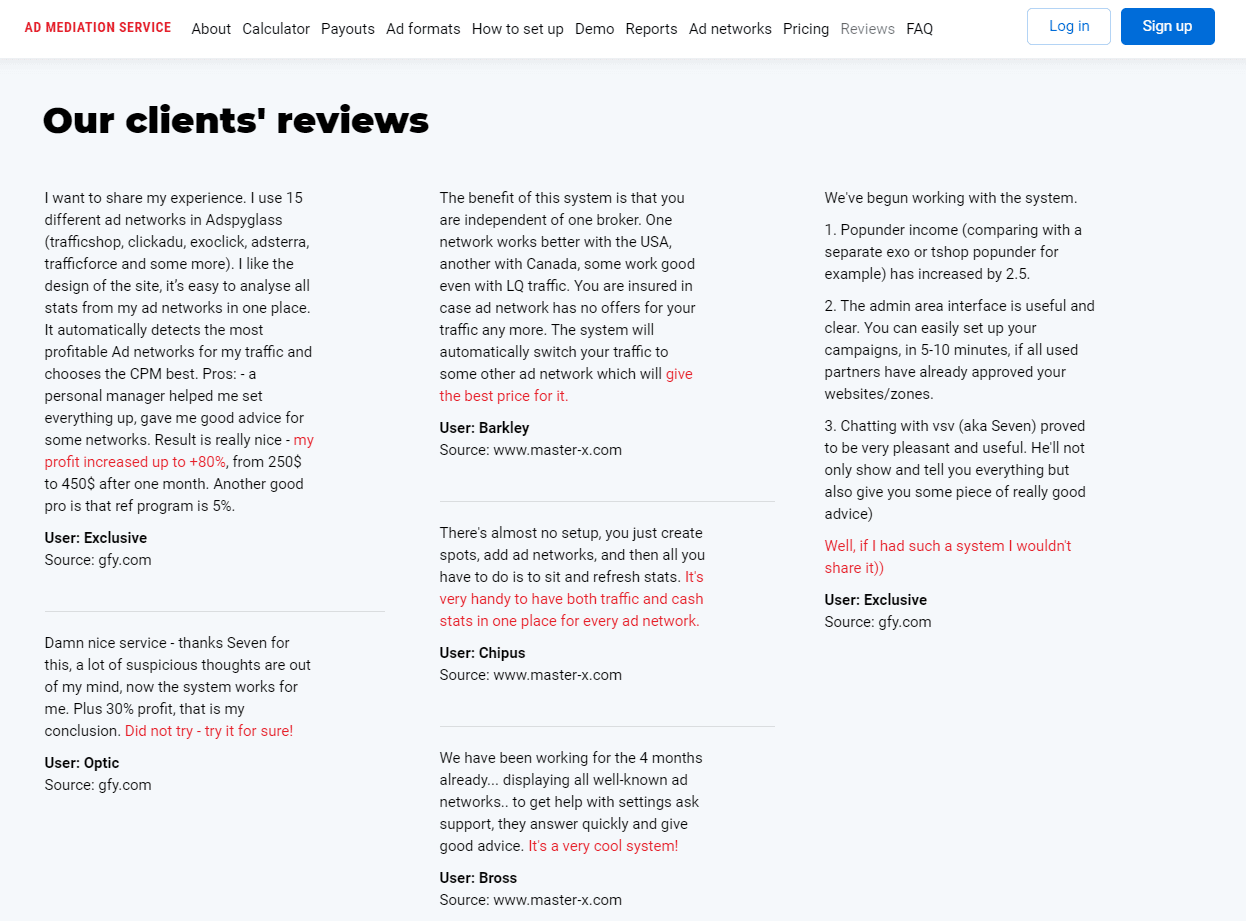 There is no need to modify your website template's ad tags; you can control all of your advertising (whether they are your own, network ads, or anything else) simply from your AdSpyglass admin panel.
Additionally, with the plethora of ad networks accessible to you, determining the earning potential of each one might be challenging.
However, AdSpyglass enables you to immediately predict the money you may anticipate from your advertisements across many networks.
Overall, this is a robust platform that enables you to effortlessly manage all your ad networks from a single accessible location.
FAQs on AdSpyglass Review:
Does AdSpyglass sell traffick?
They are a network-advertising mediation service. They do not purchase or sell traffic. They monitor your ad network inventory and select the most profitable creatives.
What is Ad Mediation?
Ad Mediation is a service that allows online publishers to discover and show adverts from ad networks, direct advertisers, and other sources on their websites. Mediation services for ad networks send out ad requests on your behalf to identify the ad networks that are most likely to optimize fill rates and monetization possibilities. The effectiveness of advertising networks varies according to their geographic location and business type. As a result, some ad networks will perform well for certain publishers while being ineffective for others. Ad network mediation assists in identifying the networks that will perform optimally given the site's unique features.
What kind of traffick does AdSpyglass work better for?
Their primary feature is automated monitoring of CPM for various GEOs, which explains why the solution performs better for sites with global traffic. With popunders, the service earns a higher profit.
When should I expect an evident increase in my profit with AdSpyglass?
They suggest delaying comparisons for at least 2 to 3 days (1 whole day). If you wait fewer than two days, no GEO or income data will be available to conduct a fair comparison. AdSpyglass has the potential to improve your profit by up to 100%. It varies based on the sort of traffic.
Quick Links:
Conclusion: AdSpyglass Review 2022
I know how infuriating it gets to deal with different ad networks.
The prices for one of the ad networks may decrease and you may find yourself looking for an alternative, but what should you do? Spend all of your time searching for an ad network that meets your requirements or chooses the other option?
I propose that you delegate all of this to AdSpyglass. They will handle everything for you and link you to the ad networks with the highest CPMs.
AdSpyglass will manage all of your advertising networks for you by continually comparing their CPM values and matching you with the one with the greatest value at the moment.
And if its value drops after a day or two, they will automatically link you with the one with the greatest CPM rate. You won't have to go through the hassle of constantly monitoring all of your ad networking sites.
You and your team can kick back and relax while AdSpyglass takes care of the heavy lifting.
Forget about the hassle of monetizing your web pages; they've got you covered. With them, you may expect a guaranteed increase in revenue of up to 100%.
Of course, this is dependent on your website's traffic, but you will notice a significant change in profit returns within a day or two of using AdSpyglass. Rest assured that the data they gather is completely transparent.
When you create an ad, you will not need to alter the ad templates each time, since all changes will be performed via the AdSpyglass admin interface, saving you time and preventing errors.
Thus, in my AdSpyglass review, I am recommending that you use AdSpyglass as it will help to increase your profit margins and monetize your website in a more efficient way.