Have you ever wondered how to make money on Quora? Quora is a popular question-and-answer website that attracts over 550 million monthly active users.
Now it's evolving to be more than just a Q&A platform – it's becoming a powerful business tool many companies use to drive sales and grow their businesses.
The key to making money on Quora involves three key steps:
Getting eyeballs on your content
Funneling the traffic off the platform
Capturing leads (preferably to your email list)!
This blog will dive deep into each of these steps and give actionable tips on how to make more money on Quora.
Let's get started!
What Is Quora?
Quora.com is a question-and-answer platform that allows users to tap into the collective knowledge of the internet. Type in a question, and Quora will provide you with a wealth of insights from experts in that field.
One of the key features that sets Quora apart from other social media platforms is its focus on quality content.
To encourage users to post well-written and informative answers, Quora employs a voting system whereby popular answers are "upvoted" by other users. This ensures that the most helpful information rises to the top and encourages users to write thoughtful, well-researched answers.
How Does Quora Work?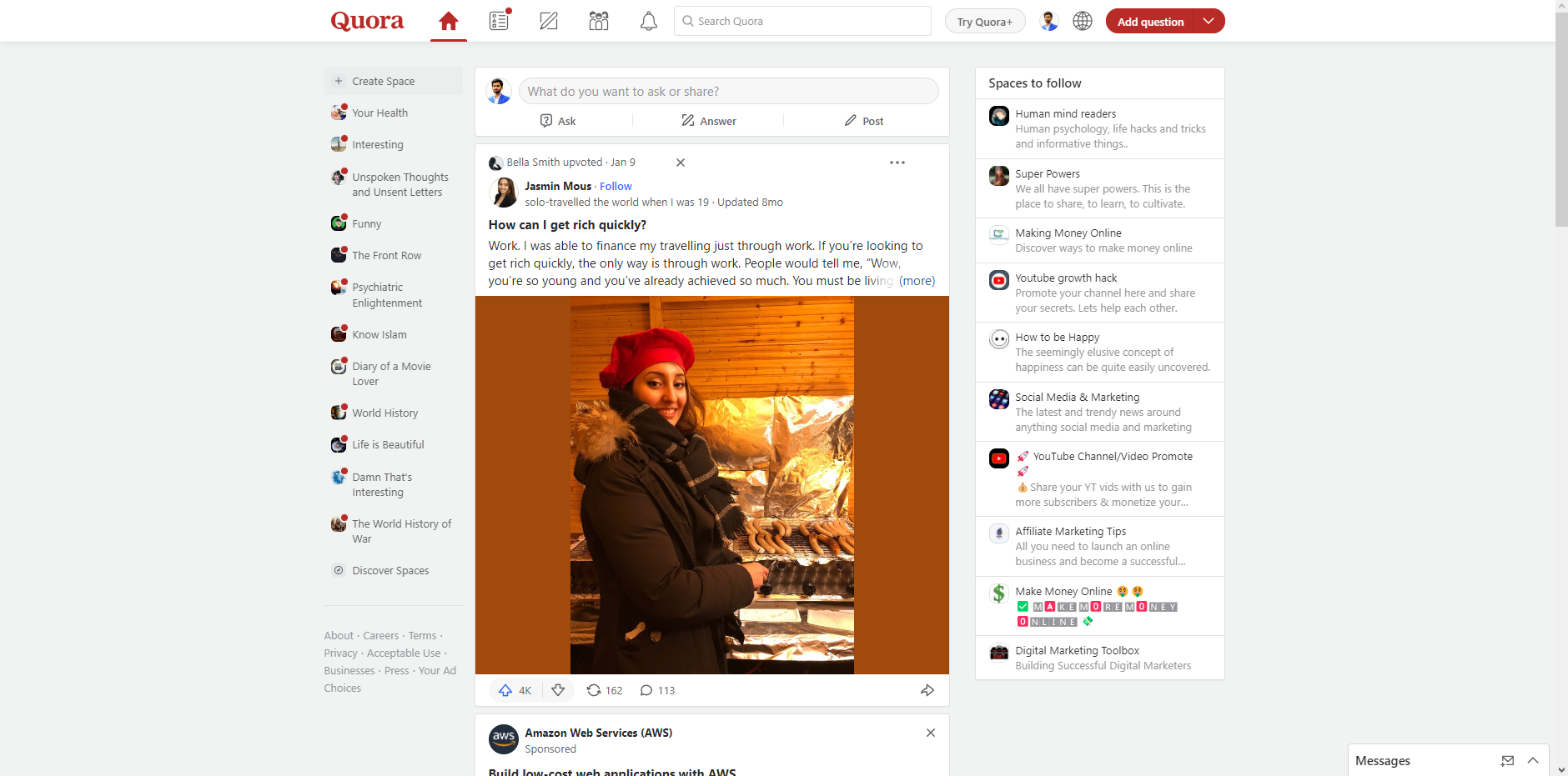 The Quora platform is straightforward in terms of how it works – users ask and answer questions on various topics. The questions and answers go into topic-based "threads." Users can also follow individual threads or specific users.
When you answer questions on Quora, you can include links to your website or blog.
This lets you get exposure to a large audience of potential readers or customers. In addition, Quora's algorithms often surface questions that experts have answered, so if you are active on the site, there is a good chance that your answers will be seen by many people (so you can earn money.)
How Can You Make Money on Quora?
Ultimately, the key to making money on Quora is to have a solid strategy for targeting the right audience and converting that traffic into sales.
Making money on Quora involves two main components:
Targeted traffic
Monetization strategy
Targeted traffic puts customers in a position to take action on an offer. And with a proper monetization strategy, the company can turn that traffic into dollar signs.
Step 1: Get Eyeballs On Your Content (Answer Questions)
The first step to making money on Quora is getting people to see your answers. So how do we do this?
It's about positioning yourself as an expert in a specific niche or industry. This means that you need to understand your target audience clearly and what topics they are interested in.
Then, you can use keywords and search terms to find relevant questions on Quora that your target audience is likely to be asking or searching for.
You can find these questions within the "Answer" section of the Quora platform.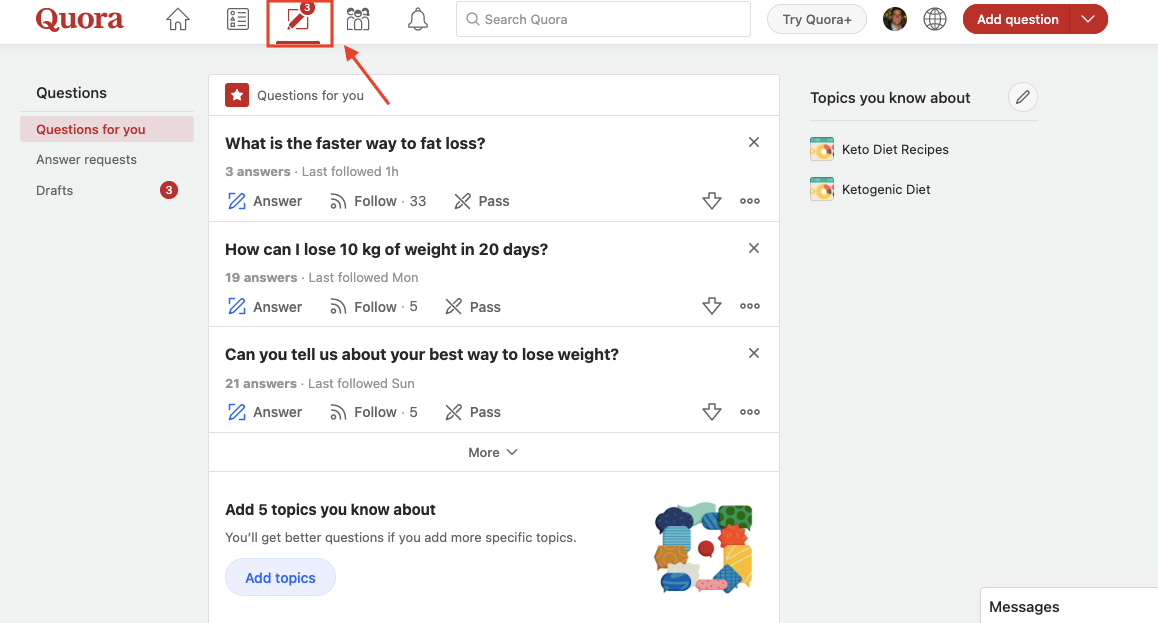 Another place to engage is within Quora spaces. A Quora space is similar to a group you might find on Facebook. For example, in the "Ways To Lose Weight" you can find over 293,000 followers interested in losing weight!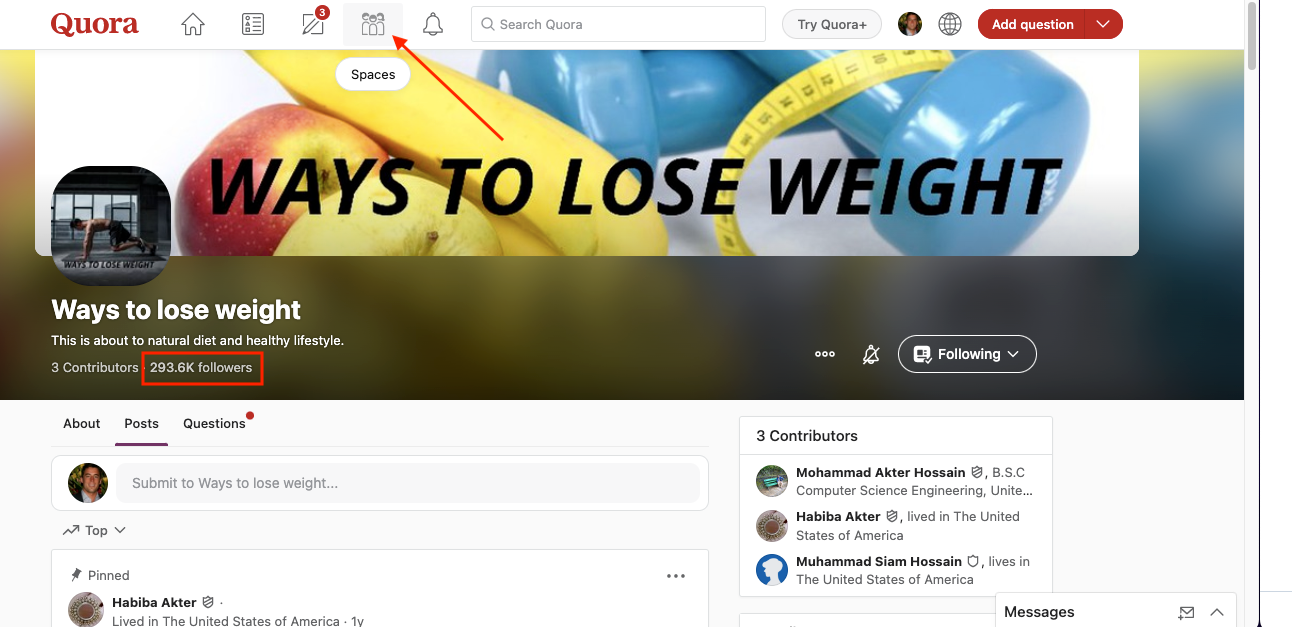 Always provide valuable, well-researched information when answering these questions, encouraging other users to upvote and share your answers.
Unlike some other traffic sources, Quora users are actively looking for answers to their questions, which means they're more likely to read and engage with the content you're providing.
Pro Tips:
Answer questions with a high number of followers.
Target recent questions. Filter by past day or past week so you can get the latest questions.
Leverage paid advertising to streamline the manual process of answering questions.
Looking to write amazing Quora content without spending hours researching?
Jasper is the perfect solution. Jasper is an AI-powered content writing assistant that streamlines the process of creating high-quality content on Quora.
With Jasper, you can quickly generate well-researched answers to questions, saving you hours of manual research time. In addition, Jasper's AI technology ensures that your answers are always up-to-date and relevant, helping you to get more upvotes and traffic.
Step 2: Funnel Traffic Off Of the Platform (Monetization Strategy)
Once you have a steady stream of traffic coming to your Quora answers, the next step is to convert that traffic into sales.
One way to do this is by including links in your answers that drive readers to specific pages on your website or blog. For example, if a user asks about the best hiking trails in a specific destination, you could include a link to a blog post or landing page with more information about your hiking tours in that area.
And if you've provided helpful, insightful answers on that thread, there's a good chance they'll click through to your website with a high degree of openness.
However, there's a catch: you can't post affiliate links directly in your Quora answers. That's because Quora has a strict policy against promotional content. So, you'll have to send the traffic to a landing page, blog, or youtube channel.
Step 3: Capture The Lead
When you bring traffic to your website, capturing leads is essential so you can continue marketing to them in the future.
According to market research, it takes an average of seven touchpoints for customers to buy, and the conversion rate on the first touch is less than 2%. In fact, 80% of sales are only made on the fifth to 12th contact – that means capturing a lead is essential!
If you don't capture leads, most of your traffic will evaporate into thin air (because you cannot reach out again). By capturing leads, you own that traffic and can continue marketing to them until they're ready to buy. Even if they don't buy immediately, you can continue building relationships with them and eventually turn them into customers.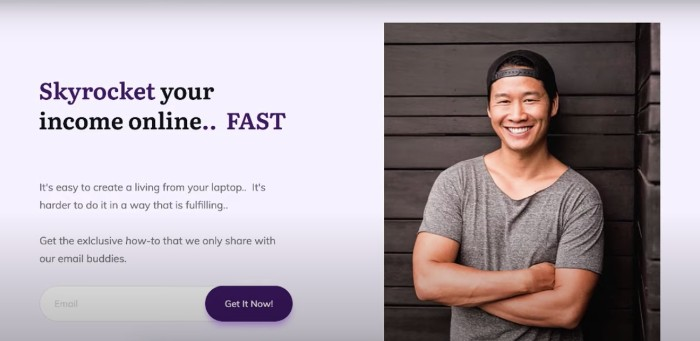 Lead capture can be as simple as adding a pop-up form to your site or placing a sign-up form in the sidebar. However you do it, capturing leads is essential if you want to convert more of your website visitors into customers.
Earn Money On Quora With These Strategies
Once you have targeted traffic coming to your digital real estate from Quora, it's crucial to have a strategy for monetizing that traffic.
After capturing a lead, every business's back end will look slightly different. But, ultimately, most businesses will monetize their Quora traffic from the following:
Affiliate marketing: This involves promoting products or services related to the topic you are discussing on Quora and earning a commission for each sale made through your referral link.
Selling products or services: Course owners, lawyers, mental health specialists, and nutritionists are just a few professionals using quora to reach new clients. These businesses can connect with potential customers worldwide by sharing their expertise on quora.
Content arbitrage: This involves creating valuable content on Quora that drives traffic to your website or Youtube channel, where you can monetize the traffic through ad revenue or other means.
In summary, the key to making money on Quora is actively engaging with the platform, building relationships with users, and using links wisely to drive traffic to your website or referral links.
Build a Base of 1000 True Fans
It's no secret that social media has become one of the most powerful tools in the marketing world. With the click of a button, businesses can reach a vast and ever-growing audience. But what many people don't realize is that you don't need millions of followers to make money on social media.
You only need 1,000 "true fans" – people who are willing to give you $100 per year. So, if you can get 1,000 true fans, that's $100,000 per year in profit.
That may sound like a lot, but it's actually not out of reach.
How To Sign Up on Quora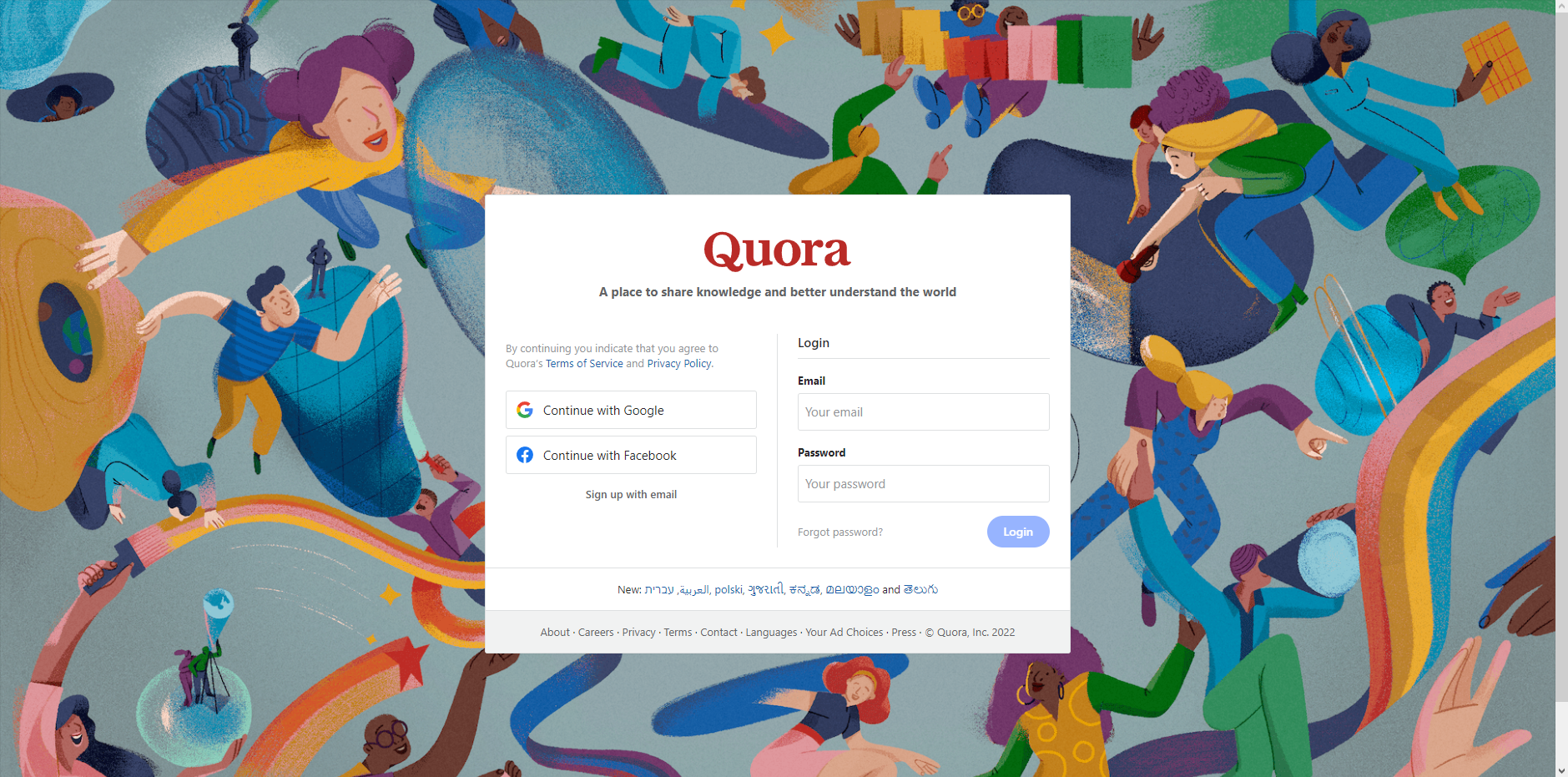 Before making money on Quora, you must sign up for an account. Visit the Quora website and click on the "Sign Up" option.
Once you've clicked the "Sign Up" button, you will navigate to the sign-up page. You'll need to enter your name, email address, and password.
Once you've entered your details, click on the "Sign Up" button.
Fill Out Your Profile
Now that you've signed up for a Quora account, it's time to fill out your profile. This is important because it helps you build credibility on the question/answer platform.
Click on your name. This will take you to your profile page.
On your profile page, click the "Edit Profile" button.
On the "Edit Profile" page, you can add a photo of yourself, write a bio, and add your website.
Tips for Getting the Most Quora Traffic
Follow these tips below to explode your Quora traffic!
The Power of Stories
Hanson Cheng went from zero to 1.4 million views on Quora in under 45 days by answering questions with powerful stories.

When it comes to getting views on Quora, emotional connection is key. People are likelier to click on an answer when they feel a personal connection to the message. One way to create this connection is through stories. Stories can transport us to another time and place, allowing us to empathize with the characters.
Try to include a personal story or an example from pop culture to make your answer as relatable as possible. This helps readers connect with more answers on a deeper level and increases the likelihood of them clicking through to your website.
Hansen shared a captivating story about his overcoming a personal challenge. He also wove in his entire story of how he found his purpose through making money online in a way that aligns with his values.
One important note is to ensure the story is relevant to the question.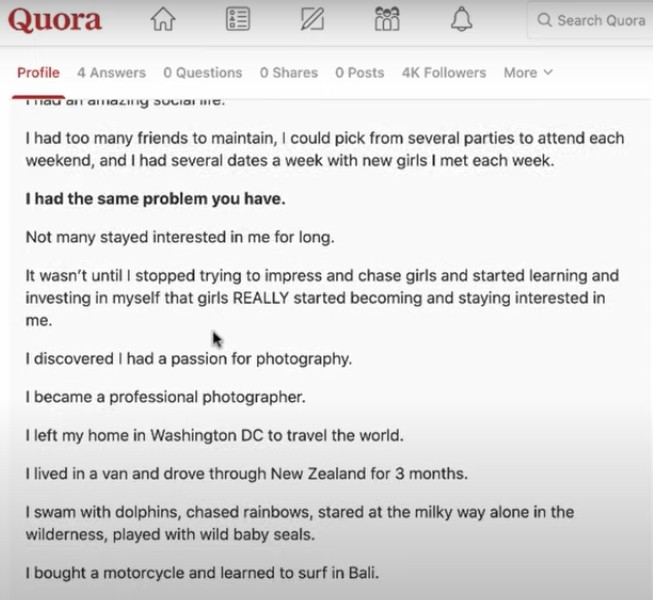 Target Questions Ranking in Google Search Engine
If you're looking to get more traffic on Quora, one of the best things you can do is target questions already ranking in Google searches. Over 5.6 million keywords from Quora.com rank in the top 10, so the opportunity to capture traffic directly from Google is huge! One way to spot these opportunities is through using SEMRush.
SEMRush gives you access to a wealth of data and features related to SEO, including keyword research, site audits, and competitor analysis. In my experience, it's an invaluable resource for any business or individual looking to acquire more customers through Google! Get started for free!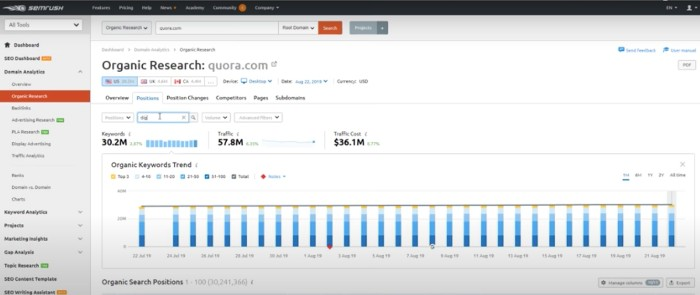 Go to the Organic Research section, enter your target keyword, and click "Search." Next, you'll see the top 10 Quora questions for that keyword, their search volume, and CPC. From there, you can choose which questions you want to answer.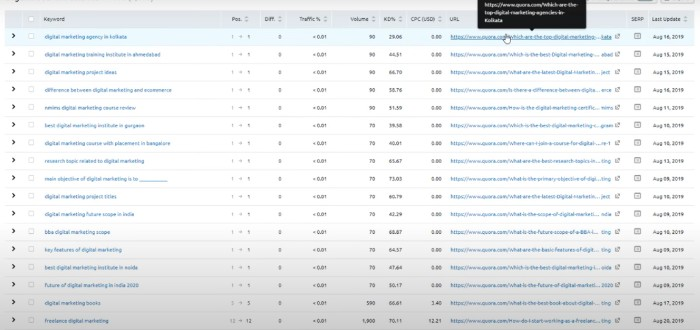 Provide Disproportionate Value
In today's business landscape, providing disproportionate value in your organic marketing methods is more important than ever.
In a world where consumers are bombarded with thousands of marketing messages daily, it's essential to cut through the noise and deliver something truly valuable. Your focus should be on helping them in any way possible and building a relationship of trust. If you help enough people get what they want, you will inevitably get what you want.
This is where Gary Vaynerchuk's philosophy of "jab, jab, jab, right hook" comes into play. The idea is to start with a series of "jabs" – small content that provide value and build rapport with your audience. Once you have their attention, you can earn the right to deliver a "right hook" – a sales message or call-to-action.
Grab Attention With Attractive Answers
It's essential to make sure your answer is well-written and formatted in an easily digestible way. No one wants to wade through a wall of text, so break up your answer into short paragraphs with plenty of white space.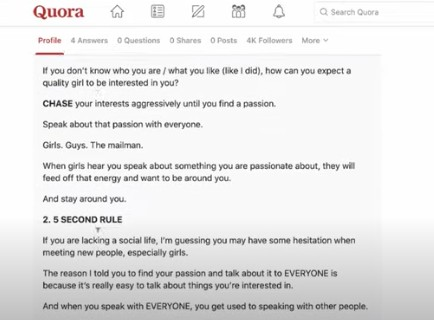 Finally, don't be afraid to use bolding, images, videos, or infographics to supplement your answer. Again, a visual aid can help capture attention and score those all-important clicks.
Find Question Volume Within Ads Manager
If you're looking to get the most bang for your buck on Quora, you can use the Ads Manager to find out which questions are getting the most views. This is a quick and easy hack to target your audience and ensure you're providing them with valuable content. Keep in mind this is a hack – we're not going to run a paid ads campaign. We'll use the targeting tool inside the ads manager to give us insight into the best questions we can answer.
Here's how to do it: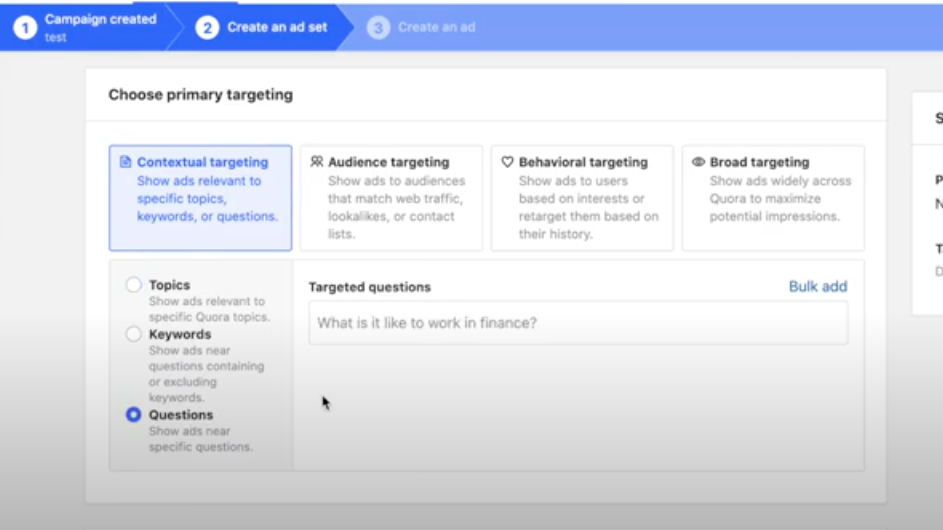 1) Create a campaign in the Ads Manager.
2) Select a keyword related to your niche once you get to the targeting section.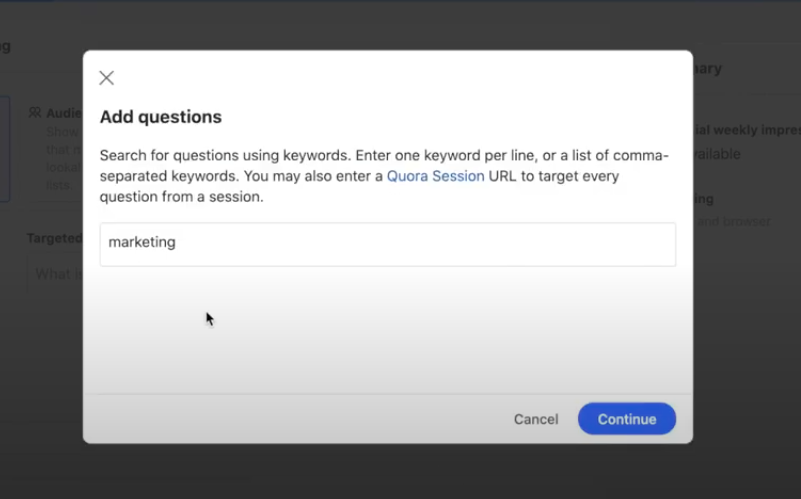 3) Click on "Bulk Add." This will allow you to add a bunch of questions at once.
4) Look at the questions with the most viewership and select the ones relevant to your business or product.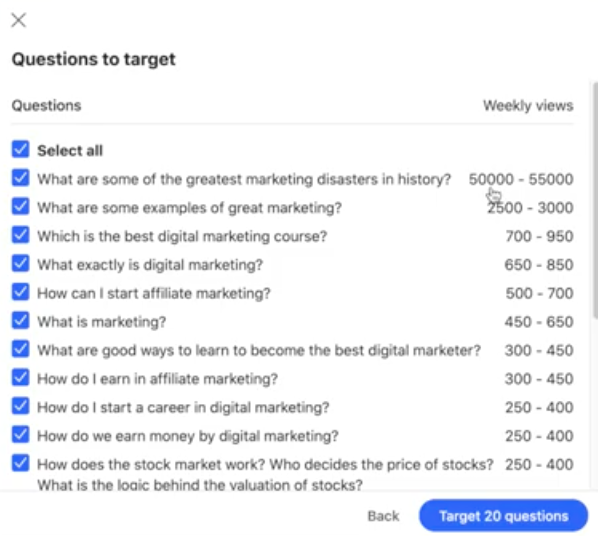 5) Now that you have a list of popular questions, you can create content so your customers can find answers.
How To Make Money On Quora: Final Thoughts
Even though this article is about making money online, I strongly advise you to focus on helping (instead of dollar signs). When you're focused on money, it will come out in your actions and in today's digital age, consumers can sniff out inauthenticity from a mile away.
Instead, focus on providing value to your audience and building trust with them. There is immense value in simply helping others without expecting anything in return. This will inevitably lead to more money in the long run. So go out there and start answering questions on Quora with the right intent – who knows where it might take you!
For related reading, check out: