How she created her site
What happened when an article went viral
How she started helping people nationwide
How she grew her team
The monetization strategies she uses
All about her marketing strategies
How she built her own chatbot
Her views on SEO
How she approaches link building
The way she nurtures her email list
How she creates content
The resources and tools she recommends
Her biggest challenge
Her greatest accomplishment
What she wishes she knew when she started
Her main mistake
The advice she would give to other entrepreneurs
Meet Nicole Thelin
Why She Created Her Website
Buying the Domain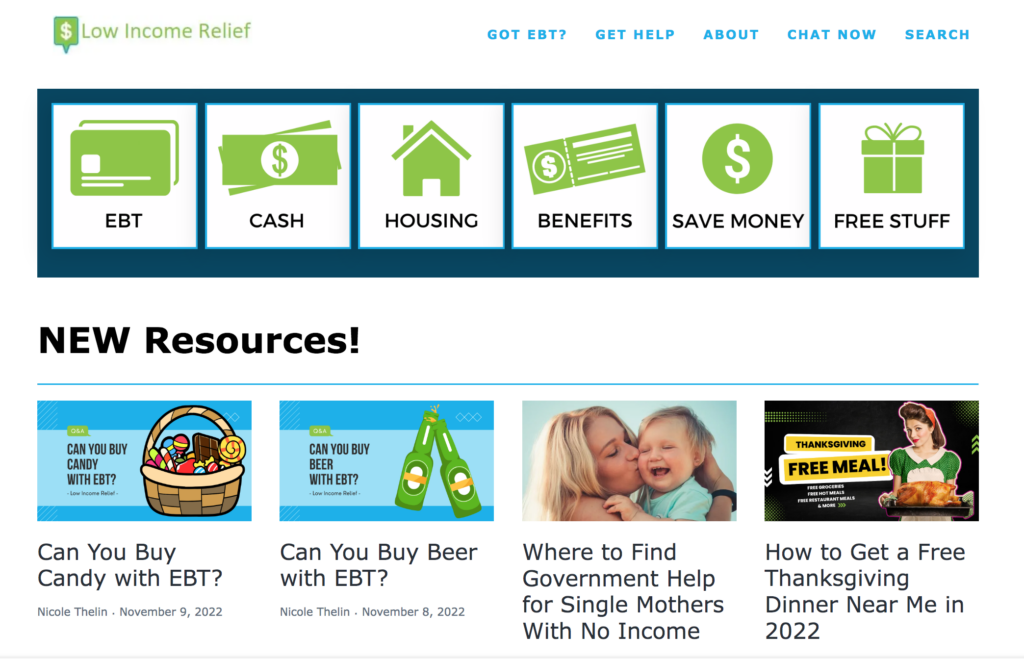 Growing the Site
How Much Money Low Income Relief is Earning
Nicole Thelin's Top Marketing Strategy
The Importance of SEO
Link Building
Nicole Thelin's Email List
There are currently around 20,000 people on our email list, and we send a regular newsletter once per week. Occasionally, I'll send a random broadcast if there's urgent news or if I have a sponsor who wants to send something. 
The Content Creation Process
We publish content 2-5 times per week, depending. Some of our articles take dozens of hours to produce because there is a lot of research involved. 
Achieving Current Revenue Levels
The more we helped people, the more word got around, and the more people ended up on the site… which allowed us to help more people, and the cycle continued.
The Resources Nicole Thelin Recommends
If you're going into YouTube, Darrel Eves is the best coach. I've participated in Darrel's Channel Jumpstart, and it was worth every penny (and it was a lot of pennies). He knows more about YouTube than anyone else. 
Her Top 3 Tools
ClickUp, as it allows me to manage our topic lists and share them with our different writing teams. It's a great way to manage a remote workload. 
WordPress is obviously the backbone of my site, so that's critically important and helpful to me. WordPress can be as simple or as complex as you want it to be. It's very adaptable and I use it for all of my web projects. 
Upwork is an incredibly helpful platform for finding freelancers. Some of the best people I've worked with come from Upwork, and I love that it's all automated. The system tracks hours, processes payments, and makes it very simple to work with other people. 
Nicole Thelin's Biggest Challenge
Her Greatest Accomplishment
I have a file where I store messages from our users—just emails, comments, that sort of thing, where people have expressed how Low Income Relief has helped them in some way. Whenever I'm having a hard day, or the traffic is down, or I can't figure something out, I open that file and read a few of those messages. It's what keeps me going. 
What She Wishes She Knew When She Started
Her Biggest Mistake
Her Advice for Other Entrepreneurs