The ability to optimize your Google Maps listing is crucial to your local rankings.
It's not enough to rank on Google with your typical search engine optimization (SEO) tactics nowadays. With multiple featured snippets that steal clicks away from organic results, you must identify which snippet to try and rank for in your business and niche.
For local business owners such as yourself, you want to appear on Google's local 3-pack. Appearing here increases your online visibility and generates potential customers for your store.
To achieve both, you must learn how to make the most out of your Google Maps listing, which we'll discuss in this piece. We'll also look at different tools you can use to expedite the Google Maps listing optimization process.
After reading this piece, you can improve your local search results. Let's get started!
Complete Your Google Business Profile
At this point, you probably have a Google Business Profile (formerly Google My Business) or GBP. It works similarly to social media, where you can enter information about your local business that your prospects need to know.
If you don't have a Google Business Profile account, click here to sign up.
Your GBP is also important to Google for verifying your business. The search engine cross-references it with other details about your store on other sites.
More importantly, it uses the details you and your customers provided here as trust signals on where your business will rank on local search.
This reason is why you must prioritize entering accurate information about your business to optimize it for Google's local 3-pack.
Below are things you must do:
Categories
Once you've added your store, edit its Business Information where you can change its Business Category.
Choose the most relevant category from the drop-down list. Add multiple categories here, but only if they apply to your business.
Business Description
Just below the Business Category section is where you can write your business description.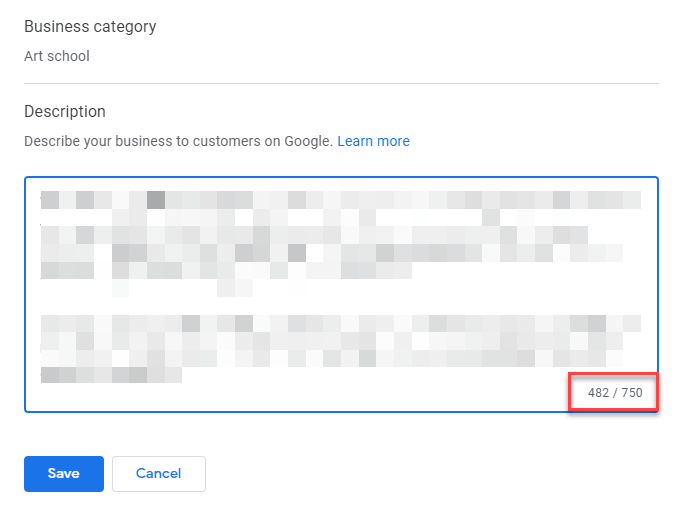 You have a 750-character limit, so be deliberate in what you mention in your description. The goal is to help prospects learn more about your store and encourage them to purchase from it.
Below are things you must consider when describing your business in your Google Business Profile:
Mention the locations where you offer your services. This way, people know if they should inquire about your business or not.
Discuss why your potential clients should trust your brand. Also, discuss what makes you different from the competition by emphasizing your unique selling point (USP).
Showcase social proof and positive reviews. If you receive a star rating of 4.5 or above from hundreds of customers, mention it here. This gives your business credibility to potential customers and allows them to trust your brand even more.
Don't over-optimize your description with your target keywords. Only include keywords when they can help provide prospects with information on whether to buy from your store.
Mention your current promos or discounts here. This help reduces the friction between prospects and your business and allows you to convert them into customers much faster.
Attributes
Aside from categories and descriptions, below are other attributes you must edit on your business information:
About your business: This is where you can enter your business name and opening date.
Contact information: Enter the phone number where prospects and customers can reach your business. Also, include your website URL where they can learn more about you.
Location and areas: Indicate your store's physical address and the service areas it caters to.
Business hours: Mention what times your shop is open and what days in the week it's closed. You can also indicate holidays that your store will be unavailable and custom hours for specific activities and services.
More: Mention your store's accessibility features, amenities, requirements (appointments and/or memberships), and service options.
Fill out these sections with the correct business details. This way, Google displays them for more of your audience to see.
Products and Services
Go to your profile's dashboard and add your product from search engine results pages (SERPs).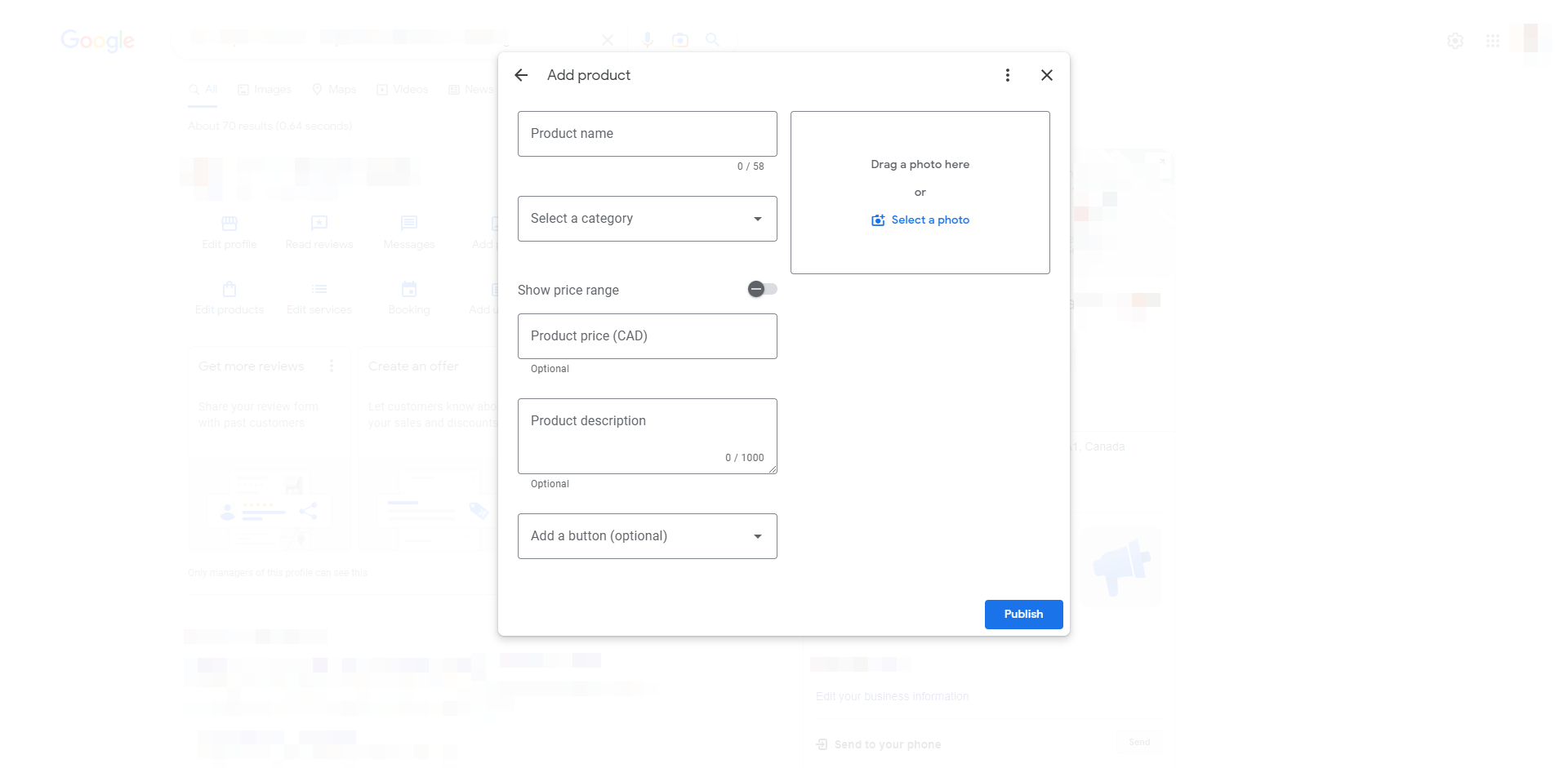 Fill out your product information here. Make sure to enter the latest and most accurate details about it. Uploading a high-resolution product photo also reflects the quality of your offer and brand.
You can add and edit your business services. From SERPs, click on "Edit Services." If you have already added services in your GBP, it would look like this: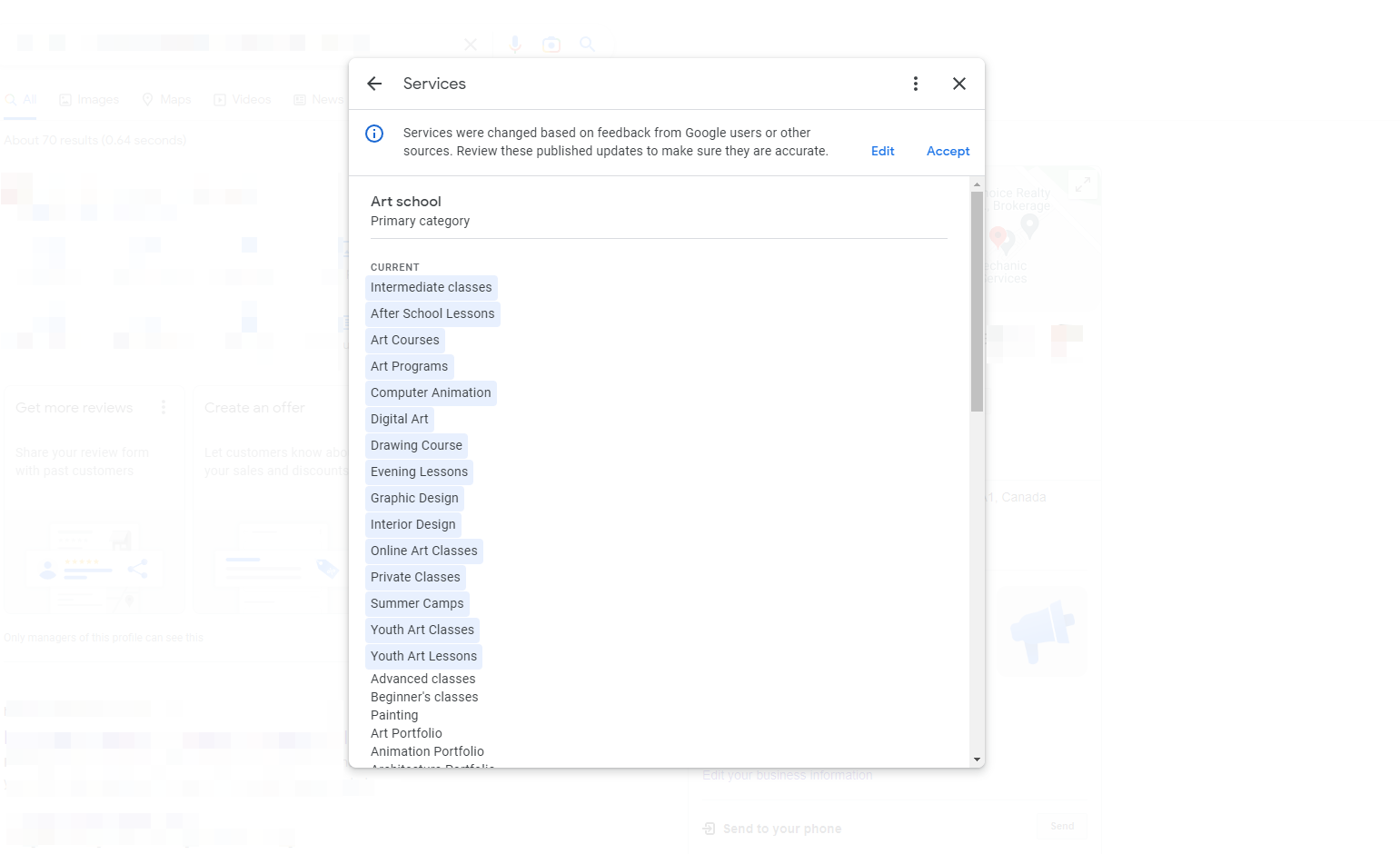 The thing about services is that users and customers can help Google identify which of the services you listed for your business are actually available.
From here, you'll see a current list of services your business is offering and a previous list that you created. You can then accept the suggestions or edit them if you think you should add or remove services.
Again, this is why it's important to indicate the services and products your business is offering. Users can make suggestions on them and call out your business if it's advertising false information.
Photos
After filling out the business information, you must publish photos of your business in your GBP.
When viewing your profile from SERPs, click on "Add Photos."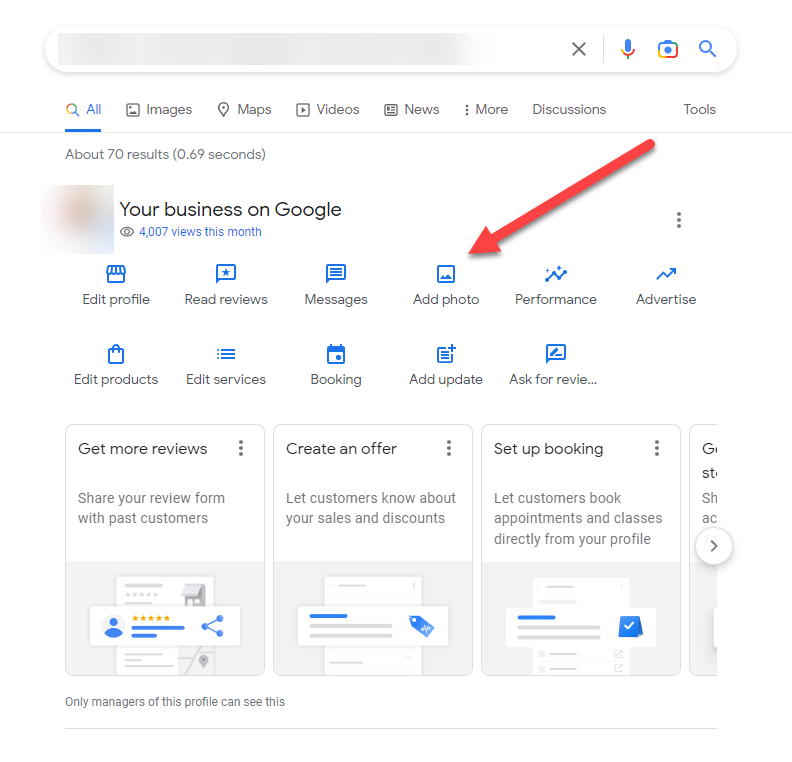 You can upload photos of your business and the people behind it. Alternatively, you can upload your logo and cover photo that you can use on your profile.
Regarding business photos, consider uploading the following:
Business exterior and interior: Let people see your store's appearance from the outside and inside. The images show people who haven't been in your store before visuals of your establishment. This way, they don't have to imagine what your store looks like.
Products: Take photos of items in stock or for display in your store.
Rooms: If you're in the service industry, you want people to see what the rooms where customers and guests stay look like. Also, showcase common areas and amenities available to customers.
Staff photos: Display photos of business employees (with their permission). This allows people to see the faces of those running your store. It would also help to take pictures of employees having fun and loving their job.
Once the images are up, they will appear on the right sidebar of SERPs as a snippet of the local business.

For optimal results, ensure their dimensions are 720 x 720 px (the lowest is 256 x 256 px). The file size should also be between 5 kb to 10 MB.
Publish Posts Regularly
As a social media platform, Google Business Profile allows local businesses to post updates to their audience.
From your Business Profile Manager, click on the note icon beside your business name. It will open a lightbox for creating your update.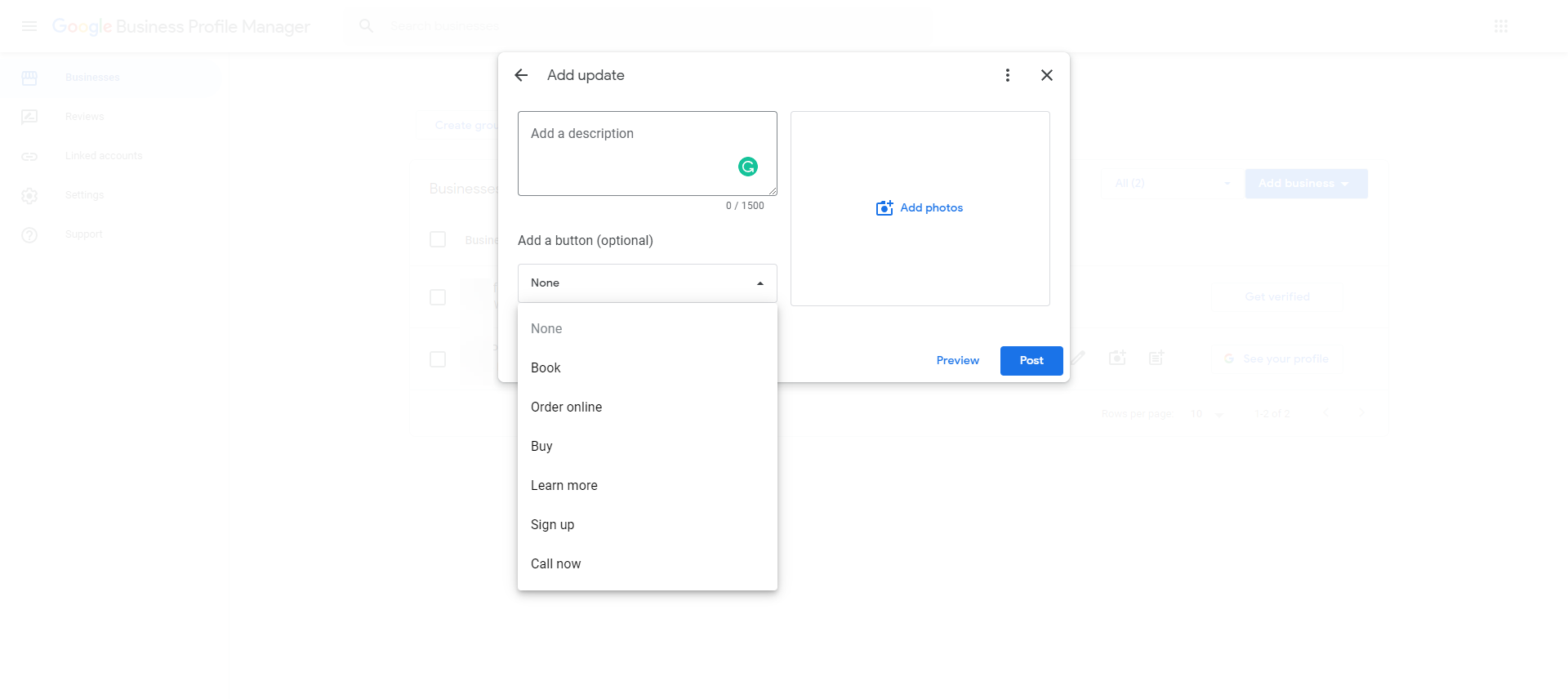 Unlike other social platforms, you can create an optional call to action button relevant to your update. This should help increase your conversion rates, especially if you're promoting a new product, sharing discounts or promo coupons, and others.
All of the updates you publish or schedule will appear on the local business widget on SERPs if users search for your brand name.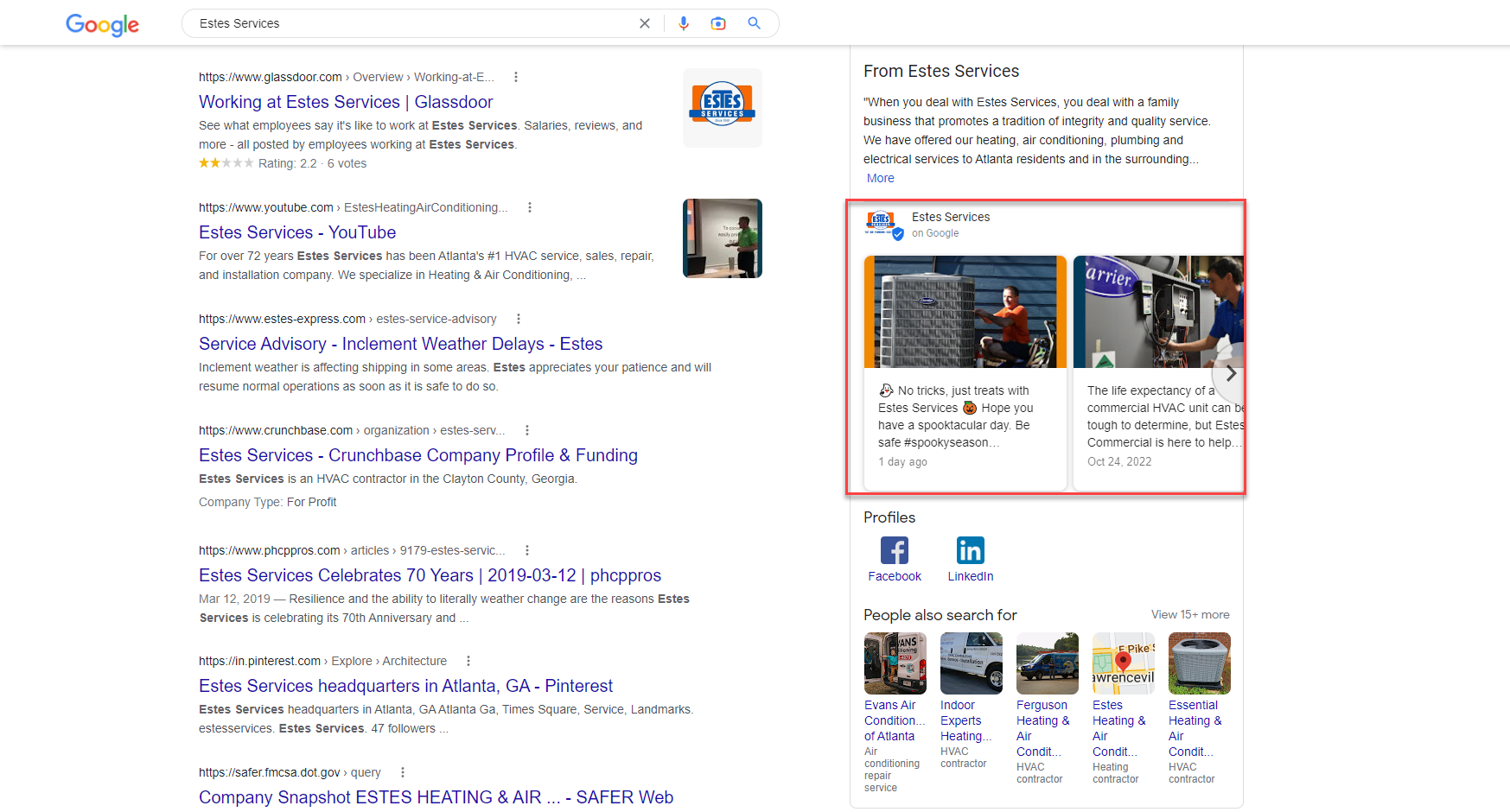 They can also see your updates and information in your GBP when they click on a brand on Google Maps business listings. These also appear on SERPs and other local companies matching the query.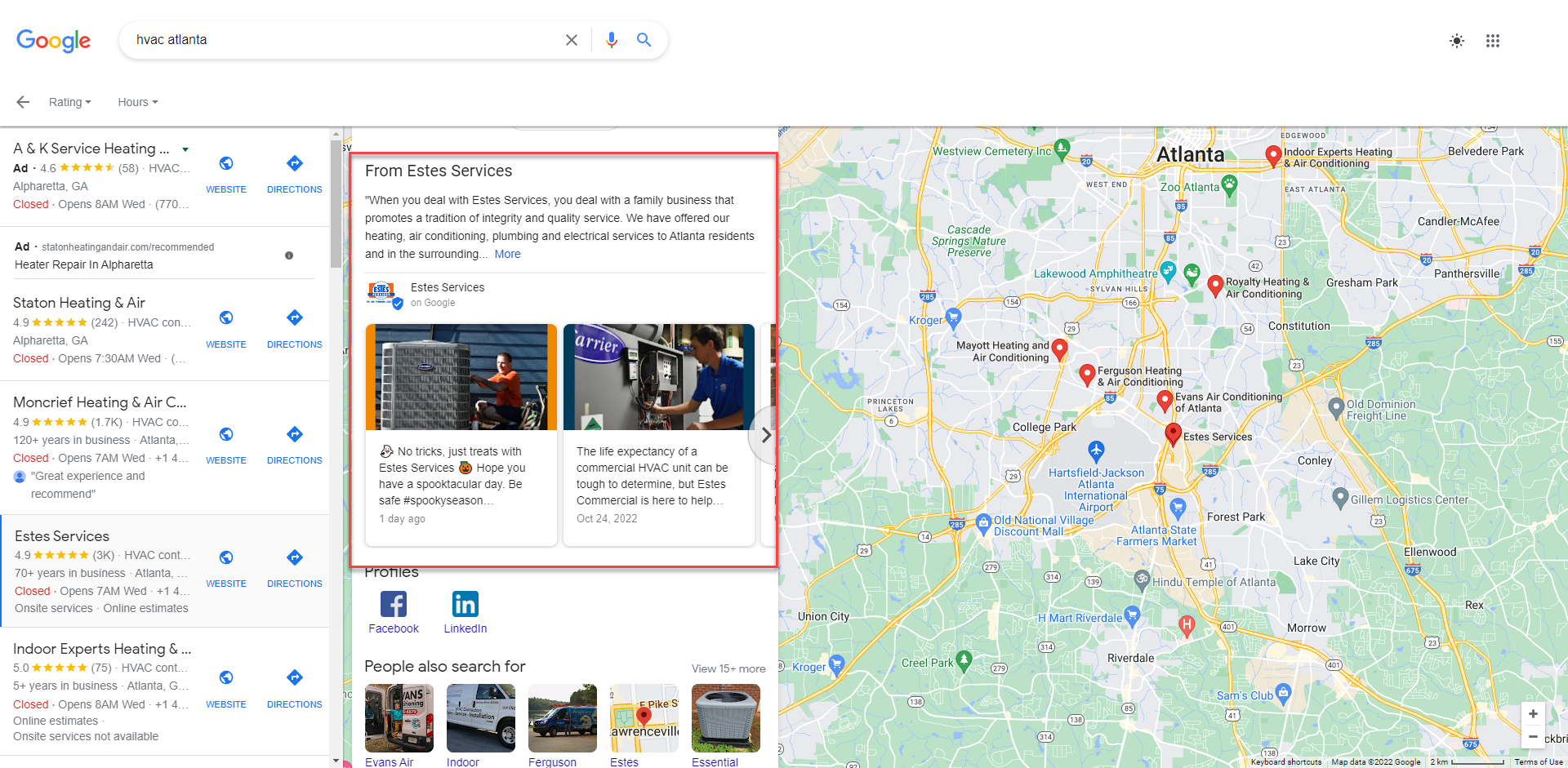 Keep in mind that Google also shows updates from the past six months. People can still view posts published for six months or longer, but they must click a link to do so.
That said, you must include Google Business Profile in your marketing strategy when engaging your audience. Use tools to schedule posts in advance alongside other social media channels to simplify your workflow.
Publishing updates constantly lets customers know you're active and ready to engage with them. This reduces the friction between you and prospects, making reaching out for your services easier for them.
From an SEO standpoint, the updates may serve as local SEO signals. The higher your updates' engagement, the more valuable your business is to people. As a result, there's a higher chance your business will appear on the local 3-pack.
Set Up Chat Options
Google Business Messages is GBP's chat feature that allows you to receive queries from prospects and provide answers to each.
The interactions appear on the Google Maps business listing and the ones on SERPs.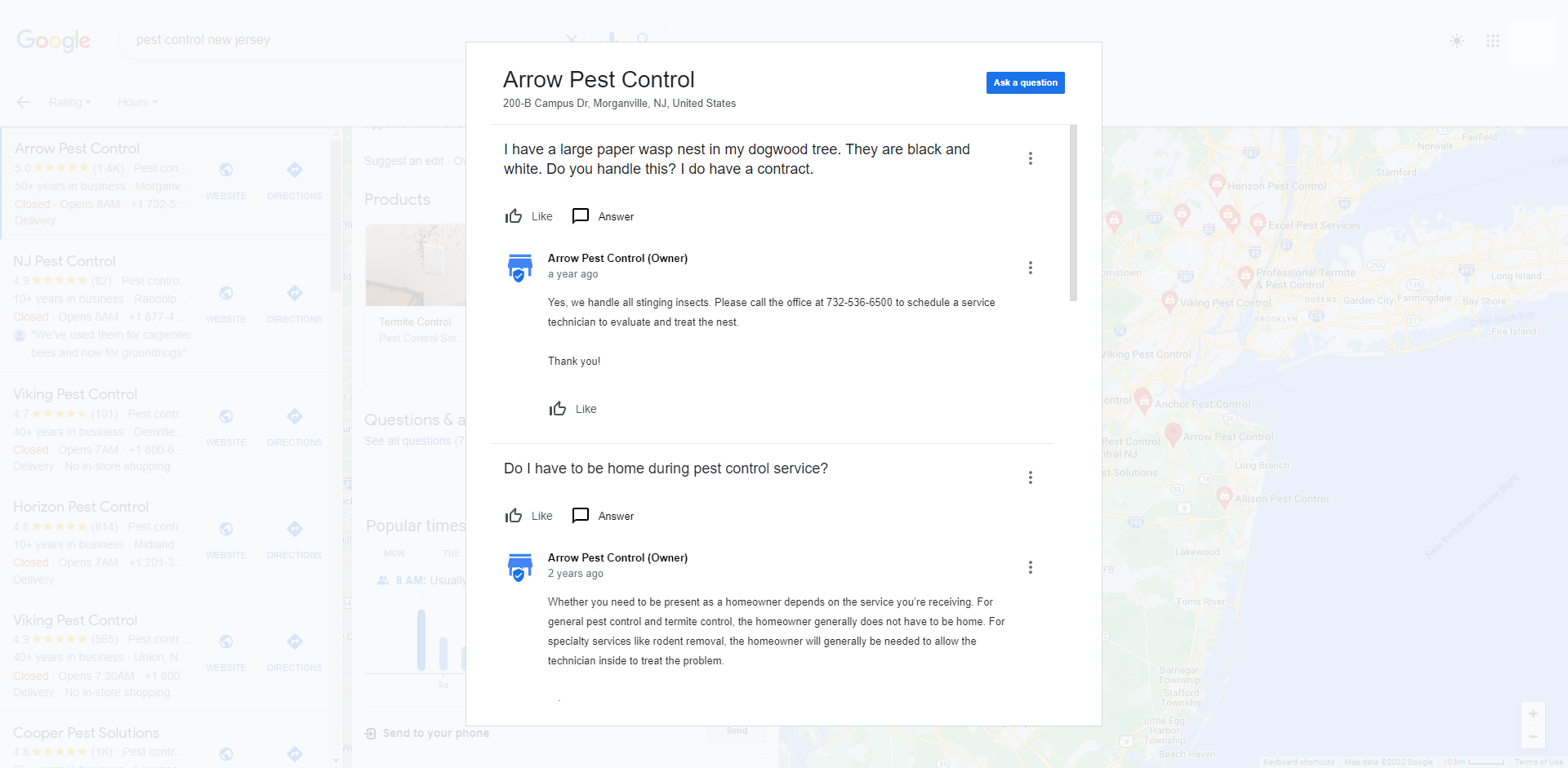 Similar to updates, only questions from the past six months are visible from the listing. Users must click on a link to view the ones beyond six months.
You can enable this on your account by turning on the chat notifications on the Messages page. From here, you will receive alerts whenever somebody leaves a message on your GBP.
Your goal is to provide thoughtful answers to questions about your business quickly. You can use their questions as feedback to improve your business.
Not having lots of questions isn't a bad thing. It could be because you've detailed everything they need to know about your business in the description section.
Feature Positive Reviews
Customers can share their experiences with your brand, whether good or bad. In any case, you want to keep them in a single place as much as possible. You can do this by asking customers to share their reviews to be featured on your GBP profile.
To do this, you must share a link with them where they can type in their feedback.
When viewing your profile on Google search, go to "Read reviews," then click on the "Get more reviews" button. This redirects you to a lightbox of a link that you can share with customers.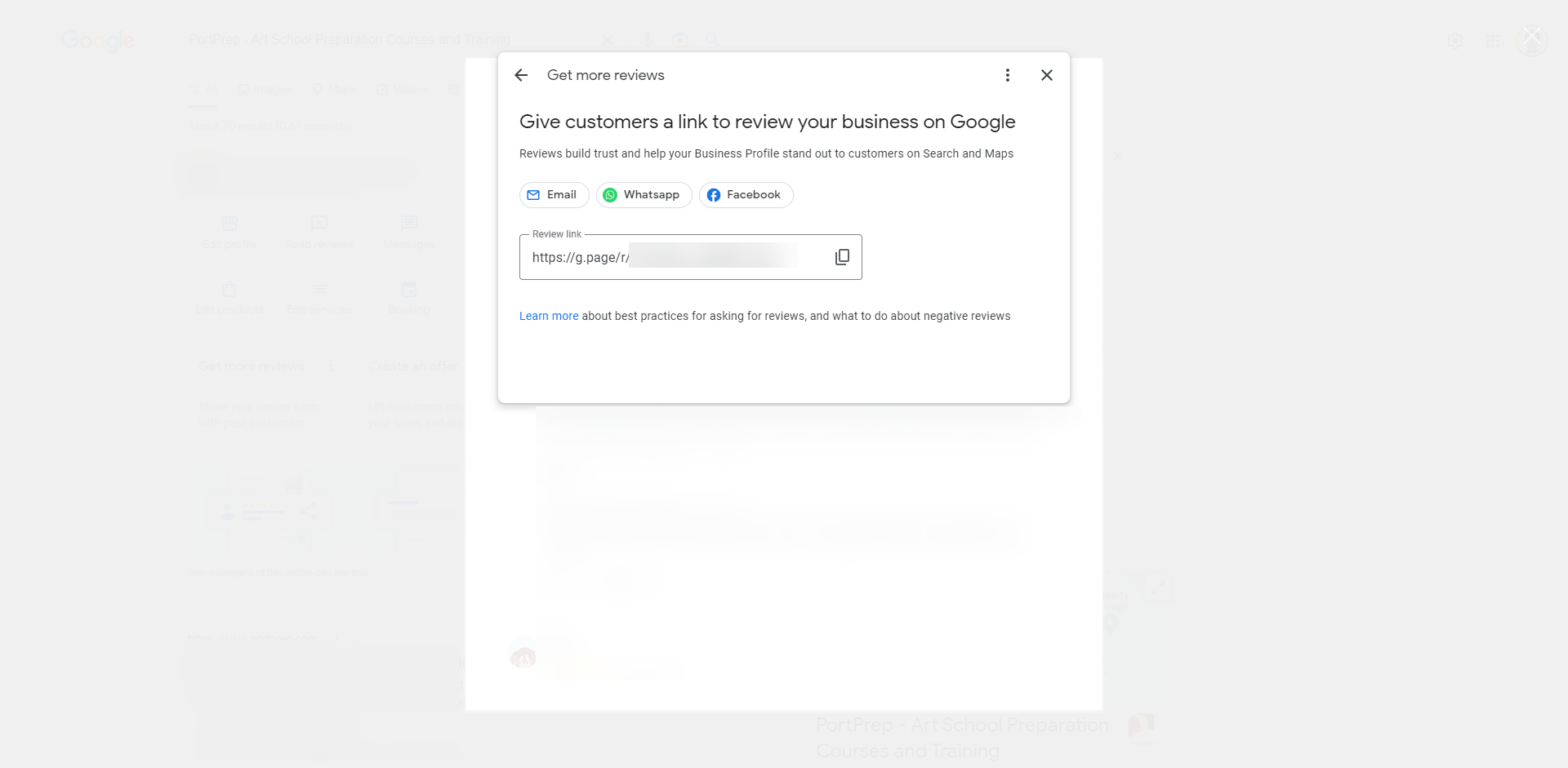 You can share the link by emailing them days after purchasing the product. Waiting this long allows them to use your product or service and make informed opinions based on their experience.
Once they've entered their review, you will see them appear in the reviews section of your Google Maps business listing.
Reviews work both ways. The number of positive reviews your business receives helps search engines determine the value you provide to your audience. This could result in higher keyword rankings on local searches.
At the same time, glowing reviews help prospects decide on buying from you much more easily.
Fix Old Citations…
You may have signed up your business on other local business listings online. Over the years, however, your local business may have changed too. This includes moving to a new business address, having different phone numbers, operational hours, and more.
Unfortunately, you may not have updated your listings on all these sites. That means they show outdated and conflicting business information that may confuse your prospects.
What makes GBP better than most local business listings is how it's a Google platform. It puts a lot of stock on the details provided by each profile. This enables brands like yours to establish streamlined information about your business across different platforms.
So, you can use GBP to reestablish your online footprint by identifying old and outdated citations from different sites.
Recover the sites where you listed your business and edit the citation to match the ones that appear on your GBP.
In particular, you must get the NAP (name of business, physical address, and phone number) right.
That means you have to enter the NAP on these online listings the same way as they appear on GBP.
For instance, this address:
869 Mertz Extensions
North Ellie, Arizona
48364
Is different from the one below:
869 Mertz Ext.
North Ellie, AZ
48364
To be clear, both addresses mean the same thing. But how they're written makes all the difference.
Google considers spelling as a factor concerning NAP consistency. So, if the NAP on an online listing differs from the one on GBP, it creates different entries for your business. This results in the diluted authority of your business on Google Maps search results.
…and Build New Ones!
Once you've updated your existing citations, consider building new ones.
Omnicore compiled a list where you can build local citations from over 150 sites organized according to Domain Authority.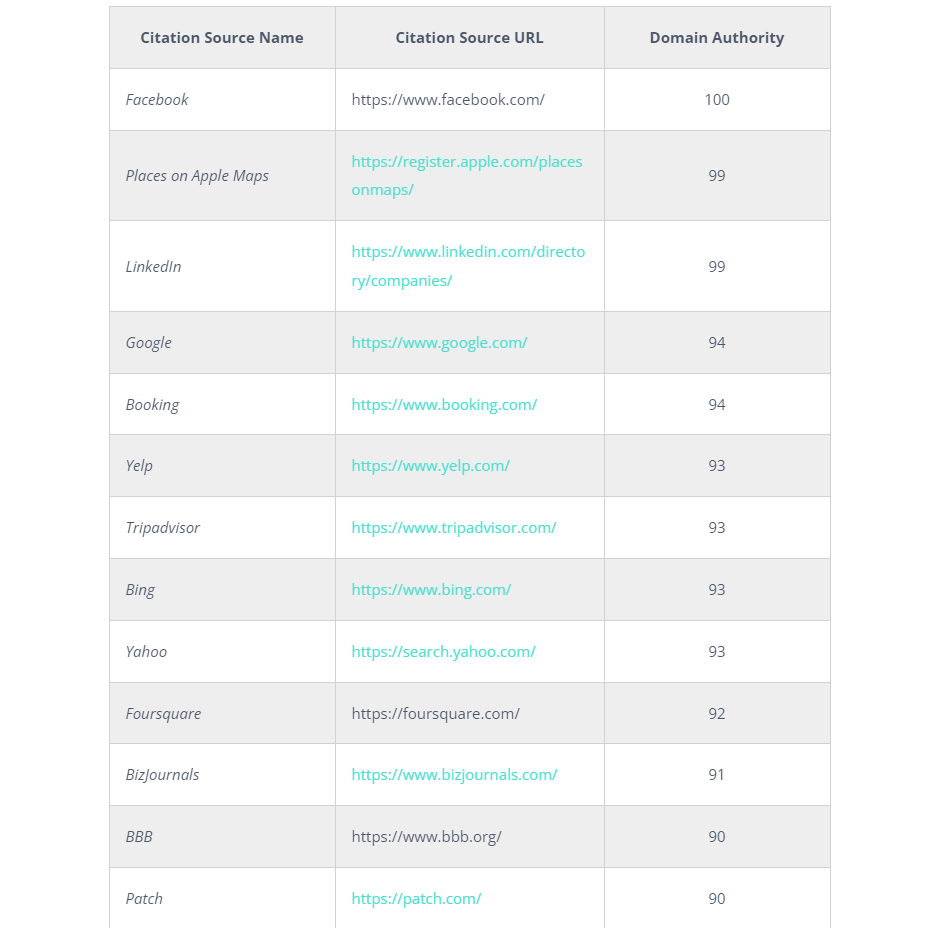 Visit each URL listed on the page, sign up for an account, and input your business information to create your listing.
Other lists feature different sites for which you can build citations. You have to search for other lists to uncover them.
Add Local Business Schema Markup
As part of your NAP consistency efforts, you must include it on your website.
Ideally, you want it to appear on your site's header or footer section. This way, people can see it regardless of which page they visit.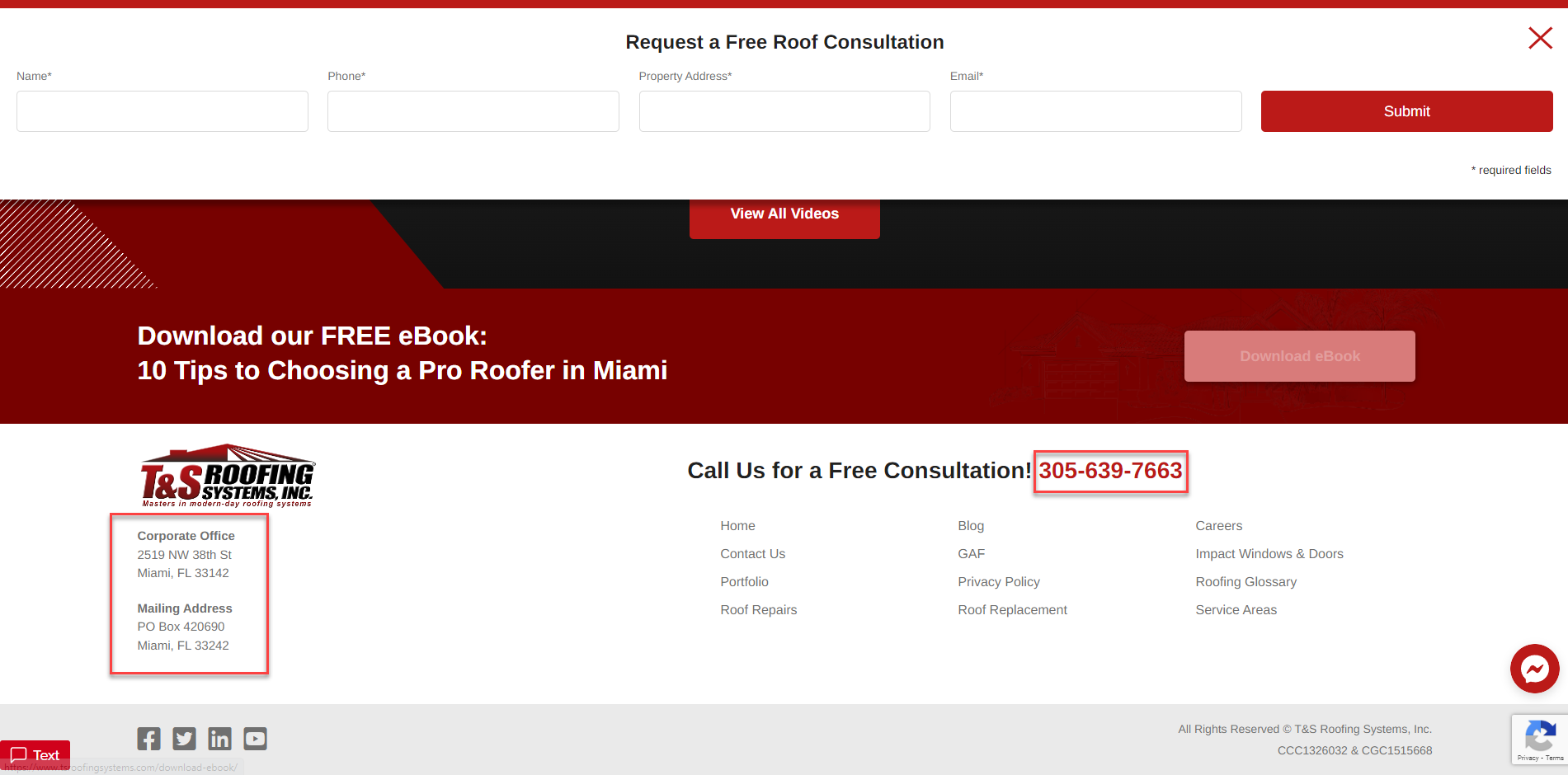 The next step is to wrap your NAP with the LocalBusiness schema markup. This is a code snippet that organizes information about the page and allows search spiders to parse through them.
This way, they can present the data properly on search results to include rich snippets that help increase click-through rates. This is very common among food bloggers with blog posts about recipes. They show the star rating, ingredients, how long it takes to prepare, and others.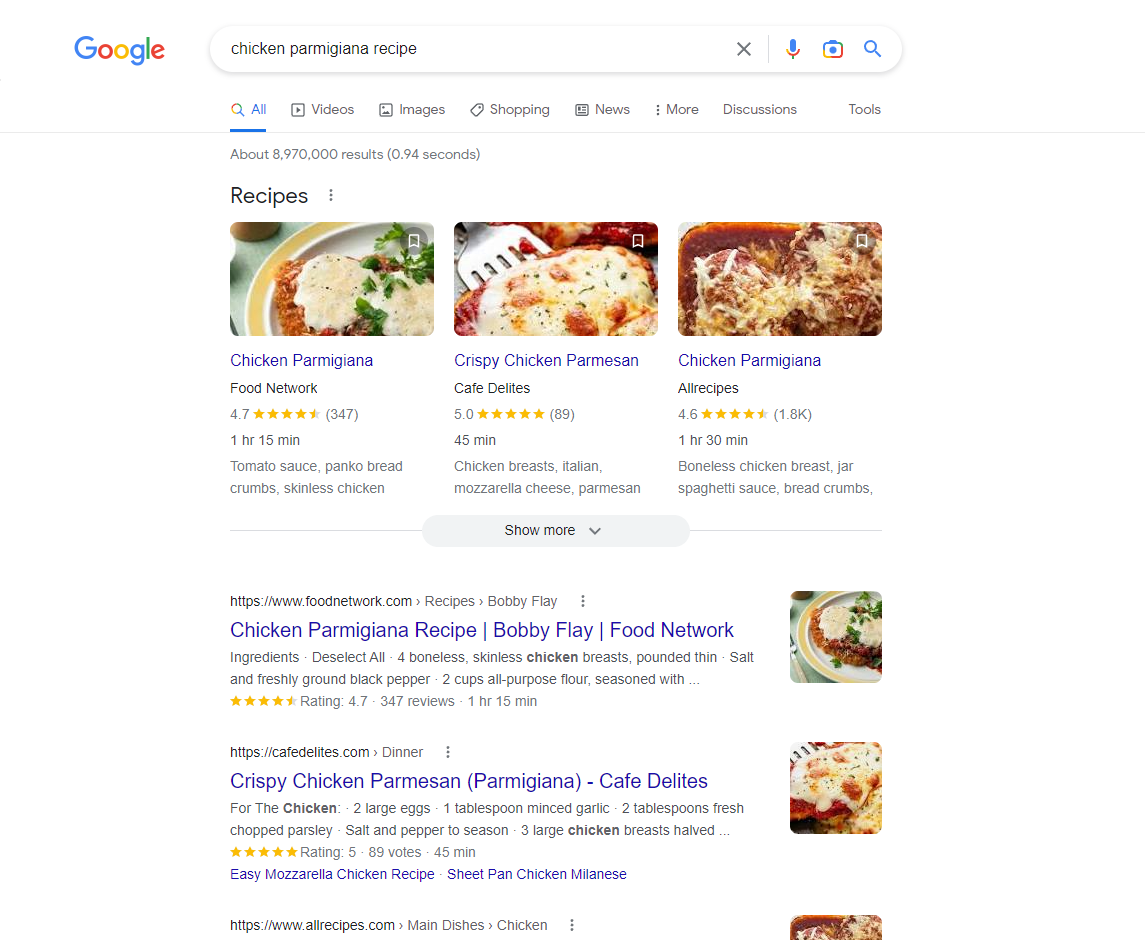 In the case of local businesses, wrapping NAP with the schema markup code helps you fortify your business information.
By feeding search spiders with the same details as your GBP, you strengthen the placement of your Google Maps business listing on local search.
To help you determine if your page uses this schema markup, enter the page URL on Schema.org Validator. You'll then see how search spiders view your site based on the information provided by the markup.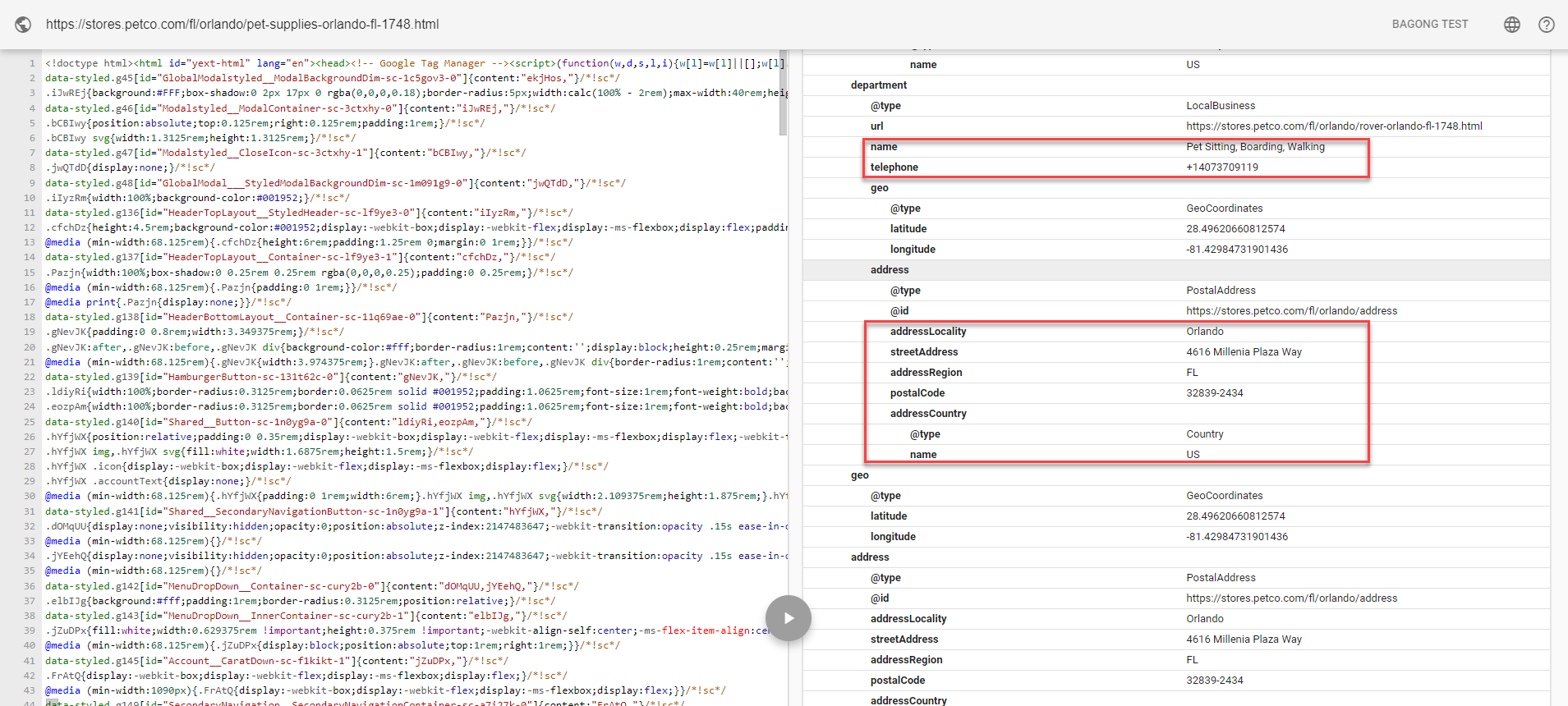 You must add the code to your homepage. To create one, head on to Schema Markup Generator (JSON-LD) to create your LocalBusiness schema markup.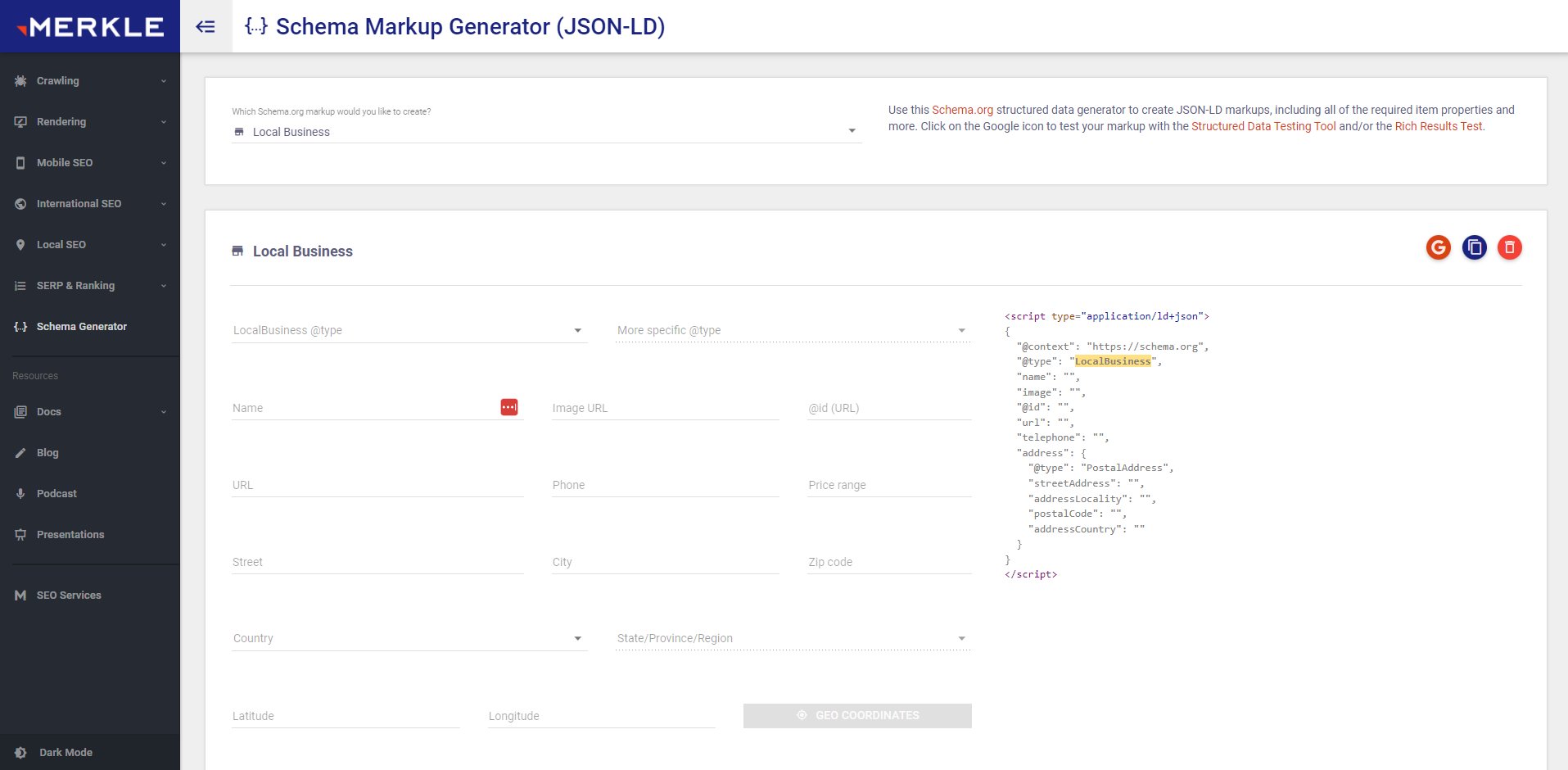 Copy the accomplished code on your homepage's
tag, and you're good to go!

We've listed different ways and methods to optimize your Google Maps listing manually.

In this part, we'll feature five tools you can use to optimize your Google Maps listing much easier.
BrightLocal – for Auditing Your Google Maps Listing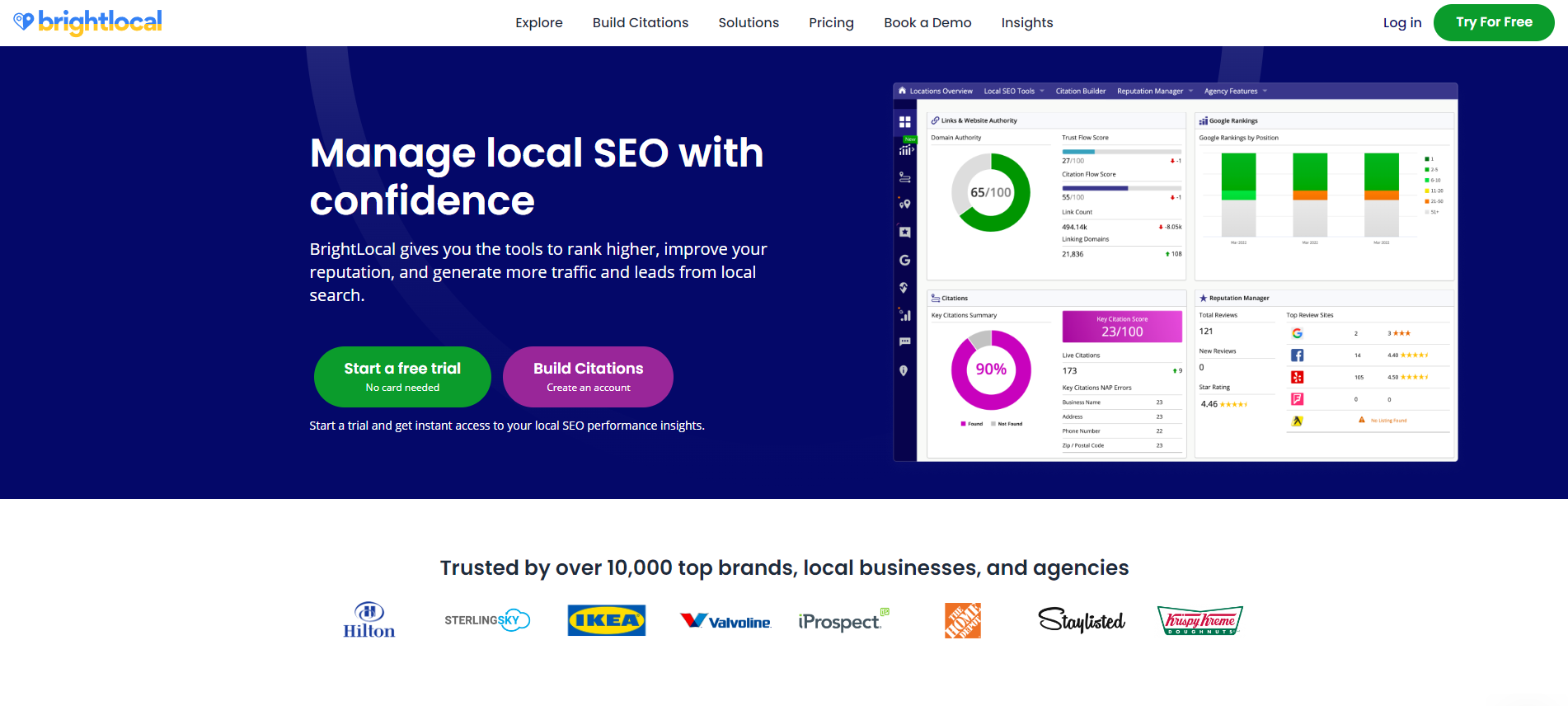 If you want a robust local SEO tool to analyze your Google business listings, BrightLocal is for you.
Like Moz Local you'll find below, it provides various features to make the most of your Google Business Profile.
But arguably, BrightLocal's best feature is its auditing function. It analyzes your site across more than 300 local SEO points that affect your site and listing's performances. That includes on-site SEO and backlinks pointing to your website.
From here, you can prioritize which tasks to complete first based on SEO value and importance.
If you're running a B2B company, BrightLocal's audit feature helps you scour for local leads. Understand what their strengths and weaknesses are to help you prepare a pitch that allows you to position your products and services as solutions to their problems.
BrightLocal costs $29/month ($24.17/month paid annually) to run ten (10) Google Business Profile audits, among other local SEO features. Higher plans (starting at $49/month) enable you to manage more locations and grant you more credits to its features.
---
Semrush – for Researching Local Keywords
Semrush is one of the best and most popular SEO tools out there. And it continuously expands its wealth of features that aid users in their on- and off-page SEO efforts.
Local businesses can use this tool to research local keywords they must target on their Google Maps listing. According to their big data research, their Keyword Magic Tool has a database of over 22.3 billion keywords.
That means you can expect to get the most accurate keyword data to help you leapfrog your competitors on Google Maps ranking.
You can even drill down the data by filtering keyword results based on their search volume, keyword difficulty, and others.
Semrush starts at $119.95/month ($99.95 if paid annually) for its Pro Plan, such as keyword research, site audit, rank tracker on 500 keywords, and more. Their Guru plan is $229.95/month ($191.62/month if paid annually) and gives you even more features.
Learn more about global vs. local search volume for keywords in our guide here and see our more detailed Semrush review here.
---
Moz Local – for Finding Business Citations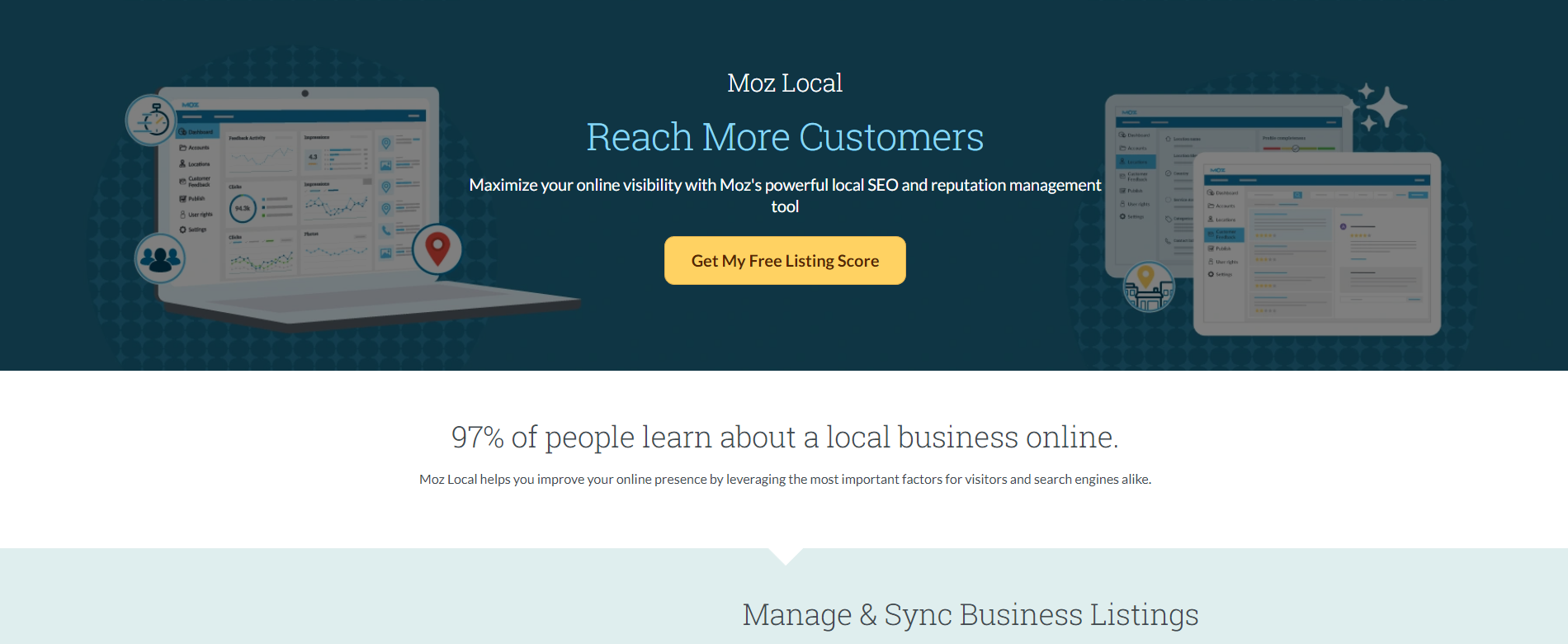 Moz Local is a local SEO tool with features that help businesses optimize their Google Maps listing.
In particular, it can manage your business listings across various channels and platforms. The tool can sync existing data in your listing from online directories, social media, and others to see if they are consistent.
Its review management feature lets you reply to customer reviews. In particular, you can address negative reviews and create a positive customer experience. This could help change their tune on their reviews into something better.
Moz Local also has insights and reporting to help you make sense of your local SEO efforts. It provides a listing score to help you know if you need to build more citations.
The tool also lets you track the traffic and impressions your listing is getting on Google search results. Use the information here to make changes to your Google business page.
Moz Local is available to US, UK, and CAN business owners. There are three plans to choose from, starting at $14 in the US and CAN and £14 in the UK. The Lite plan lets you manage your listings properly and ensure they're correctly formatted. The higher plans offer features like reputation management, social posting, and more.
---
Yotpo – for Getting More Customer Reviews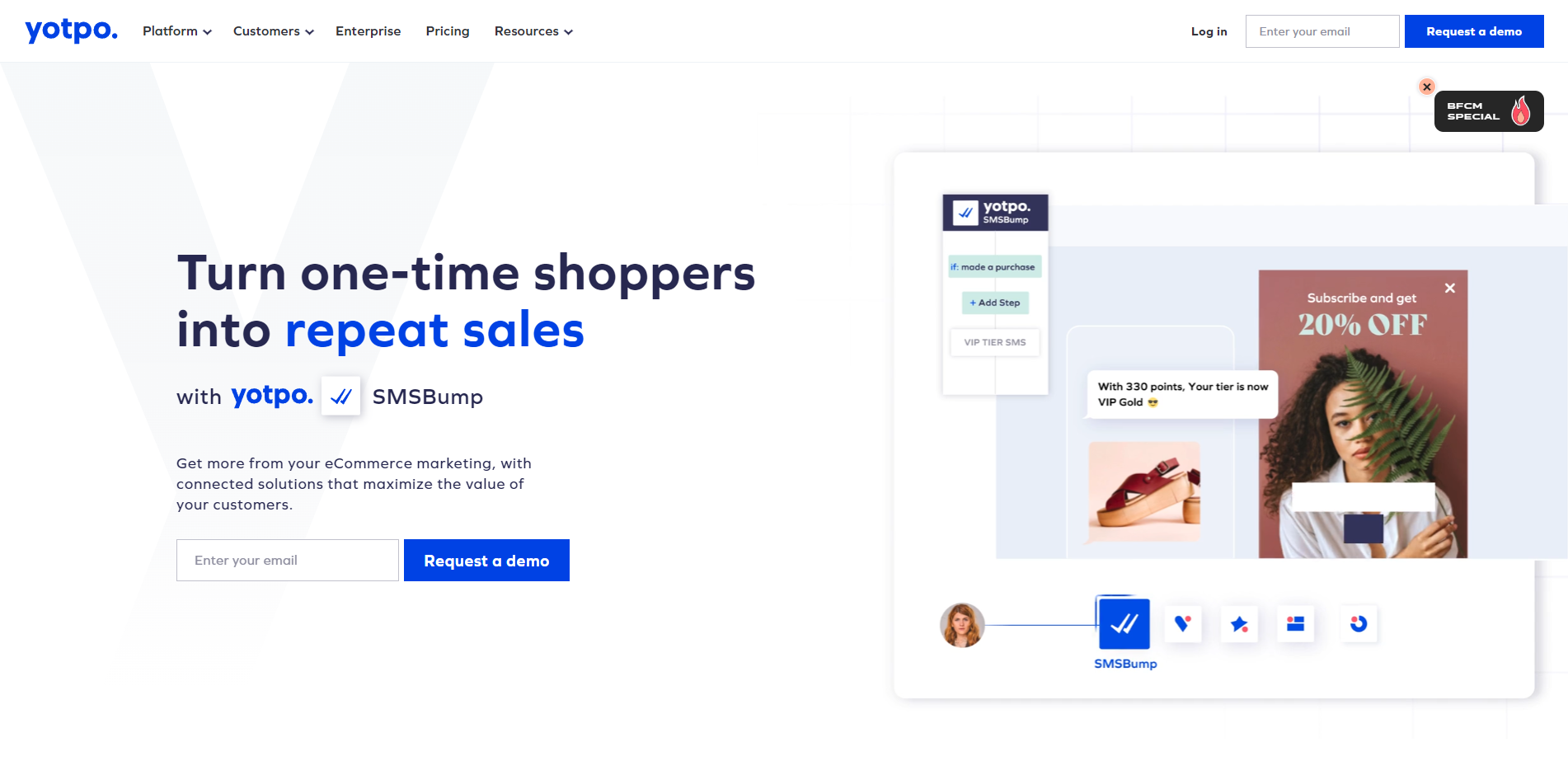 Getting customer reviews using the link provided by GBP can be clunky. To make the process much smoother, use Yotpo. It lets you collect reviews automatically from emails and SMS.
You can then leverage the reviews by featuring the best ones on your product and checkout pages using the tool. This allows you to build confidence among your prospects, leading to higher conversion rates.
Yotpo also allows you to generate insights from the gathered reviews to determine how customers view your brand. From here, you can make business changes to improve and generate more positive reviews.
The platform has a free plan that lets you send review requests automatically and feature them on a widget on your site. The paid plans ($15/month and higher) let you collect video and photo reviews, send coupons and email upsells, gather Google Seller ratings, and more.
---
NapoleonCat – for Scheduling Posts and Managing Reviews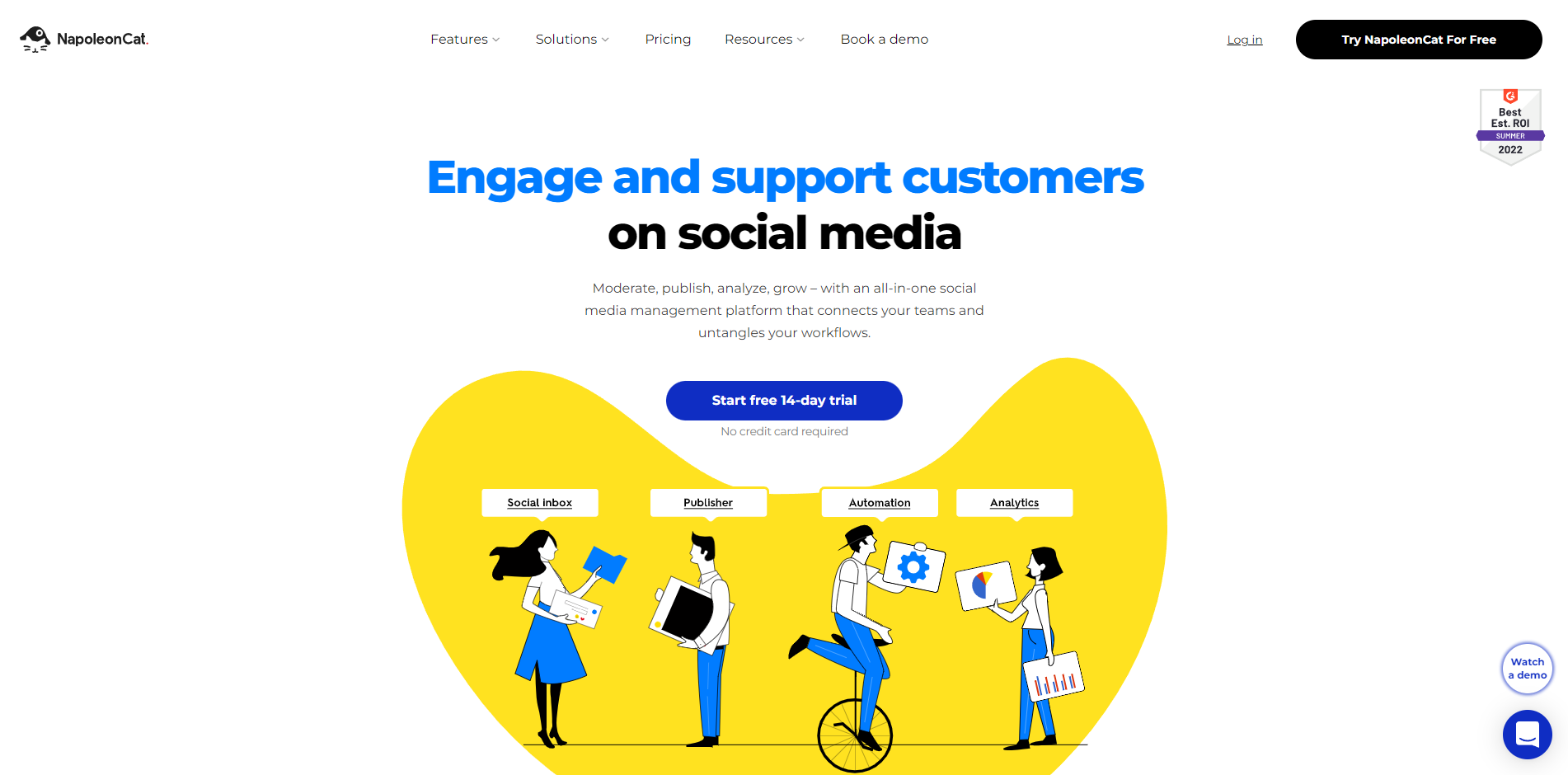 If you're looking to optimize your Google Maps listing by posting Google Business Profile updates and engaging your audience, NapoleonCat can help you get the job done.
You can schedule your updates on GBP and other social platforms to help you build a well-coordinated social media strategy. The tool can let you manage engagements from your posts to help you keep the ball rolling with your audience.
Using its Social Inbox feature, you can also answer all user queries from different platforms in a single dashboard. This makes replying to them and making them feel acknowledged much easier.
Finally, you can identify posts that receive the most engagement on GBP and others. From here, you can tweak your strategy for your upcoming campaign to get better results moving forward.
NapoleonCat offers two plans: Standard ($23.25/month) and Pro ($48/month). Both let you connect three (3) social profiles and one user. What makes the Pro plan different are its auto-moderation feature and auto-translate messages to your desired language, among others.
---
Conclusion
Your local SEO success hinges on your ability to optimize your Google Maps listing. Following the tips and the tools featured above, you can optimize your Google Maps listing and increase your online visibility in your local market.