Is Flash Rewards legit? If you've seen ads claiming that you can make extra cash online with Flash Rewards, you might be wondering whether it's a scam or not.
Flash Rewards is a cashback rewards program that brings together a number of virtual tasks for you to carry out in order to earn money. There are different tasks available all the time, and depending on the details you give them, you may be offered different opportunities to someone else.
Each task requires you to carry out different actions that take varying amounts of time, but they each come with a payout. The website itself is definitely legitimate and can be a way to earn extra money, but there are differing opinions on whether it is worthwhile.
So let's take a deeper look into exactly what it is and whether or not it's worth your time.
Is Flash Rewards Legit? [TL;DR]
Yes, Flash Rewards is a legitimate way to earn money online. That doesn't mean we recommend it, though.
Some of the tasks require you to spend money and make upfront payments (such as $1 or $5 trials) and free trials using your own card details. This obviously carries a financial risk in itself; for example, if you forget to cancel a free trial, you may end up being charged for a subscription you don't really want or need.
It can also take up to 60-days for tasks to complete – not great for anyone looking for quick cash.
If you're thinking of signing up for Flash Rewards, be sure to keep a meticulous record of everything you have done and the deadlines for canceling subscriptions.
Honestly, we wouldn't recommend Flash Rewards as a way to make money online. There are plenty of better ways to make money in your spare time that will pay you a lot more.
How Does Flash Rewards Work?
Before you can get started with Flash Rewards, you have to go through their sign-up process. This involves filling in your details and answering a number of questions about yourself and your lifestyle.
It's important to answer these questions accurately. All the answers will affect the tasks offered and the rewards that you can earn.
Once you are signed up, the dashboard on their main page will give you a number of tasks that you can complete in order to earn financial rewards.
This can seem overwhelming at first, but it is easy to get to grips with. There will be various tasks that you can complete.
Tasks can include:
Playing games
Shopping online
Signing up for subscriptions or memberships
Completing surveys
One piece of advice for Flash Reward users is to make sure you note down anything that you have signed up for that you need to cancel at a later date. This way, you won't end up paying a subscription for something that you don't need.
You may be asked to answer a survey, or it may be something more extensive. Sometimes tasks even need to be carried out over several days.
Make sure you read up about the reward on offer before you participate. This way, you can be sure that the task you are carrying out is one you are going to be happy to complete to the end. There are no rewards given for half-completed tasks. 
The Sign-Up Process
If you have signed up for any sort of membership or rewards site before, you'll be well-versed in the process. Signing up for a Flash Rewards account isn't really any different.
You'll have to enter details, including:
Your name
Address
Date of birth
Contact details
You may also be asked some questions about your shopping habits and your reasons for signing up for Flash Rewards. All pretty easy and simple stuff.
However, one thing to bear in mind is that although it can be tempting to just enter any details and not share your legitimate information, this will be checked.
When you have earned some reward money and are looking to cash out and be paid, Flash Reward will go through several processes in order to confirm and verify your identity.
If the information you entered when you first signed up is incorrect, then they'll have trouble verifying you. This could significantly delay any payout that you are waiting for. 
It is worth keeping in mind that if you're not able to find the time or motivation to complete the signup process, then completing the tasks might be just as tricky.
When you consider that you're only rewarded for tasks completed in full, it is worth thinking about whether Flash Rewards is the right side hustle avenue for you or if another money-making venture could be more suited to you.
Ease of Use
Ease of us is always going to have a personal opinion. Whilst some will swear it is the easiest platform they have ever used, others will say that it is really difficult.
Flash Rewards makes its money from customers being able to navigate the website easily, find tasks and complete them with ease. This means that, thankfully, their dashboard is really simple to navigate.
However, keep in mind that completing tasks often involves signing up for another service or trying out another platform. For these tasks, Flash Rewards have no influence over how easy that website is. Some could be more intensive than others.
That said, in general, Flash Rewards present you with possible tasks to complete, and these are easy to find from the dashboard. Getting started and finding the tasks open to you is something that you should be able to do without too much hassle at all. 
Customer Support
Flash Rewards is on offer internationally. This means that customer support will likely vary from country to country.
However, what they do have on their website is an extensive FAQ section. Here you can find answers to most questions that users are likely to have.
There is an email address listed on various review websites as [email protected] Some of their international sites also have phone numbers that you can use to contact them directly. 
On their UK website, they also have a form that you can fill in to contact their customer care team. However, there are no timescales mentioned as to when you can expect a reply.
What Users Say About Flash Rewards
Flash Rewards reviews are very mixed. However, many people that actively use the website say they have had a positive experience. Their Trustpilot review page has plenty of positive reviews too.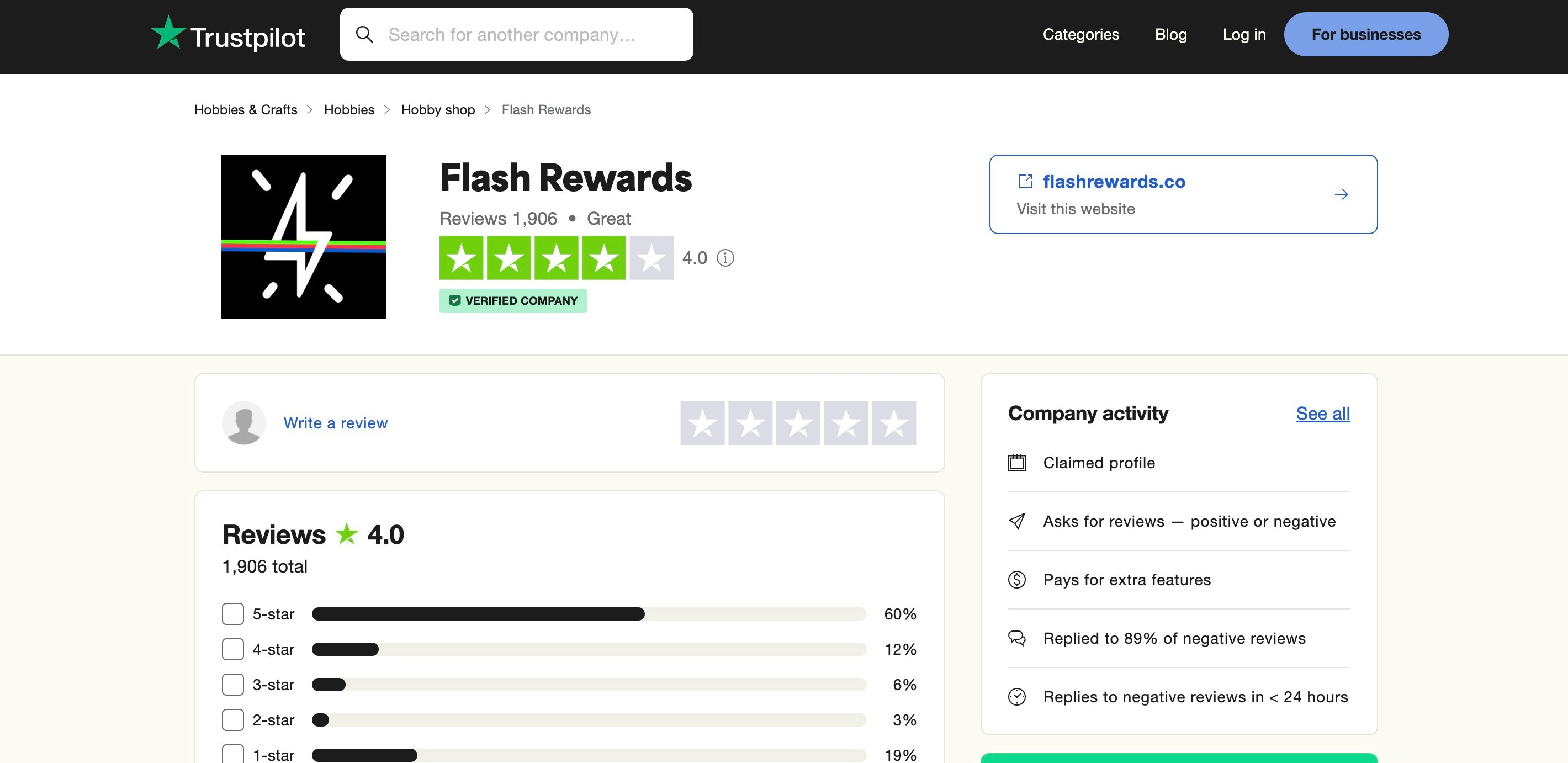 It's worth noting that Flash Rewards actively ask users for TrustPilot reviews. This can skew the overall score a little. Read through both the positive and negative reviews to see for yourself before signing up, as 19% of reviewers say they are not happy with the service.
There are also a few complaints on Trustpilot and the BBB from users saying that although they have been spending money and completing the tasks, they haven't been paid.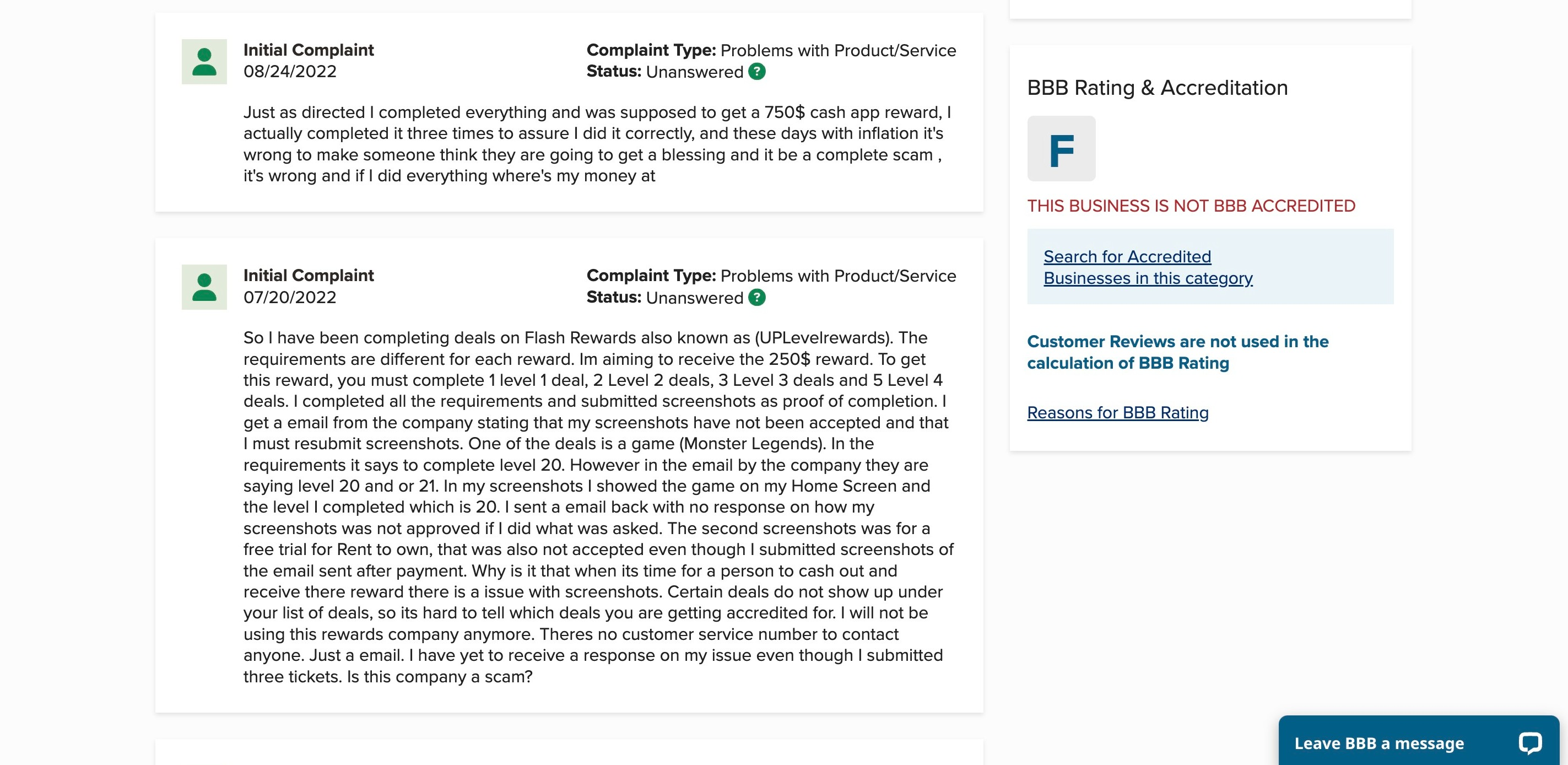 It's not clear whether these complaints have been resolved, as there's no public reply from Flash Rewards.
As expected, the reviews are very mixed. It's important to read through them and make up your own mind before proceeding.
You're unlikely to earn hundreds of dollars a day with something like Flash Rewards, so it is something to do on the side in your spare time rather than as your main income stream.
People that use Flash Rewards to make a little extra money tend to fit it around their life and the commitments they already have.
For example, filling in surveys on the bus to work or complete some tasks in the evening while they watch TV.
When you use a website like this, it doesn't necessarily matter that the payout is low because you're usually doing it during times when you wouldn't be earning anything. 
How Safe is Flash Rewards?
Flash Rewards is a legitimate website and, therefore, safe to use.
However, in order to progress through the tasks and earn rewards, you do need to share personal details and information. You should make sure that you are comfortable with that before you go ahead.
Some users opt to set up a separate email address for Flash Rewards and the tasks that they sign up for via the website so that their main inbox isn't overrun with emails from the various companies that they need to sign up with in order to earn money.
Some people feel that Flash Rewards isn't legitimate because of the fact that each task seems to have a pretty low payout individually.
However, the general idea behind the website is to bring together a number of tasks that you can sign up for in order to build up your earnings and cash out various gift cards. 
The time these tasks take can vary from person to person. It could be something that you are unhappy with, but in general, the website is safe to sign up for and get started with.
The Pros and Cons of Flash Rewards
Different users will have their own ideas as to what is good and bad with a platform such as Flash Rewards. Here are some pros and cons that you might want to know about before you sign up.
It's free to join
You can earn extra pocket money
There are always new tasks you can try
Anyone can join
You can use the Flash Rewards app to complete deals on the go
Some rewards require you to make a purchase or subscribe to a chargeable service
It can be time consuming
Certain tasks can take up to 60 days to complete
You need to share your personal information
You'll notice an increase in the number of advertising emails you receive
Once all tasks are completed and approved, payout can take a further 4-7 days
Some users have had problems getting paid
How Much Money Can You Make with Flash Rewards?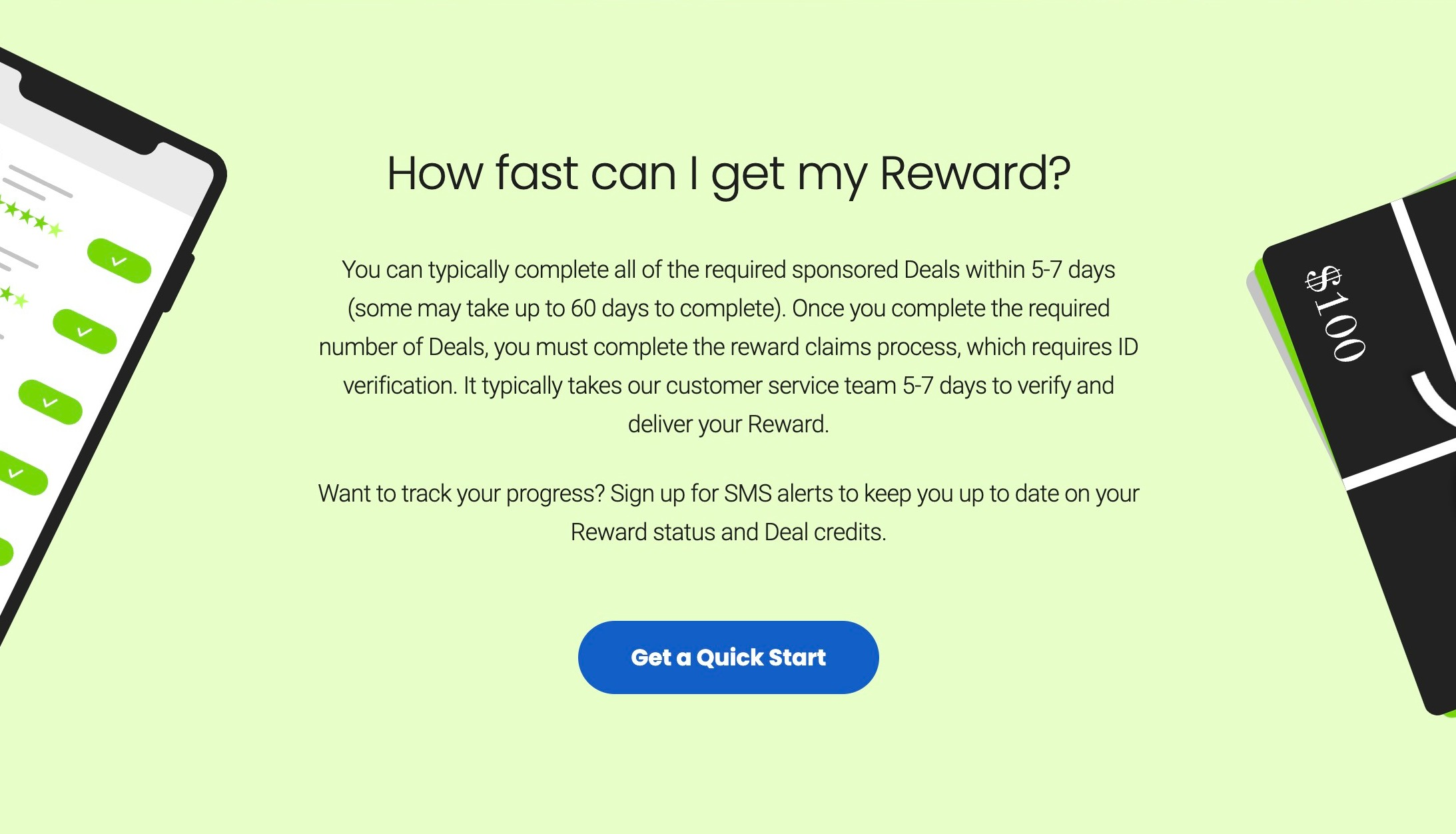 The rewards on offer via Flash Rewards are constantly changing, so there is no definite answer as to how much money you can make with the website.
However, what you need to keep in mind is that you need to carry out individual tasks in order to earn rewards, and these do take time to complete.
The truth is that if you have a good number of hours each week to spend completing tasks and you're happy to complete every one that the website offers, then you have the opportunity to earn a reasonable amount.
However, there are rewards that require you to make a purchase in advance of receiving any payment. If you don't wish to do these, then the amount you can earn will be reduced.
The Verdict: Is Flash Rewards Legit?
Although it's fair to say that Flash Rewards is legit, and you can earn money from it, it's not something we would recommend.
It involves signing up for subscriptions and risking being charged if you don't cancel in time.
The money you can earn from it can be good. However, what you are really doing is selling your personal data and splitting the profits with FlashRewards.
Although handing over your personal information is similar in certain ways to survey sites like Survey Junkie, most survey sites don't require you to pay anything up-front or sign up with third parties, minimizing the risk to you.
Flash Rewards Alternatives
If you're looking for a way to earn some extra pocket money in your spare time without signing up for subscriptions, there are some other options available to you.
Survey Junkie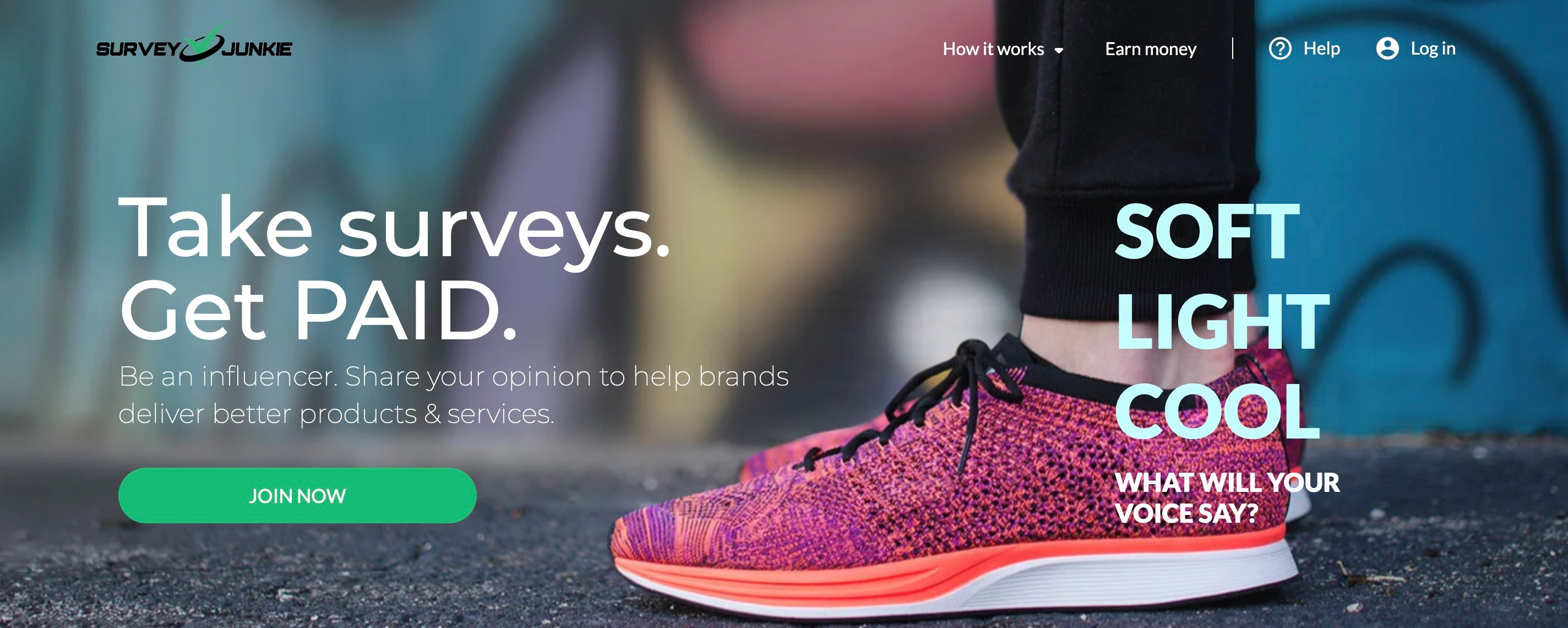 Although Survey Junkie works slightly differently from Flash Rewards, it's definitely worth considering if you are looking into side hustle opportunities.
The idea behind Survey Junkie is that you earn money by completing surveys and market research questionnaires.
These sometimes pay less than Flash Rewards, but the participation needed from you is less, too, so it all evens out.
---
Swagbucks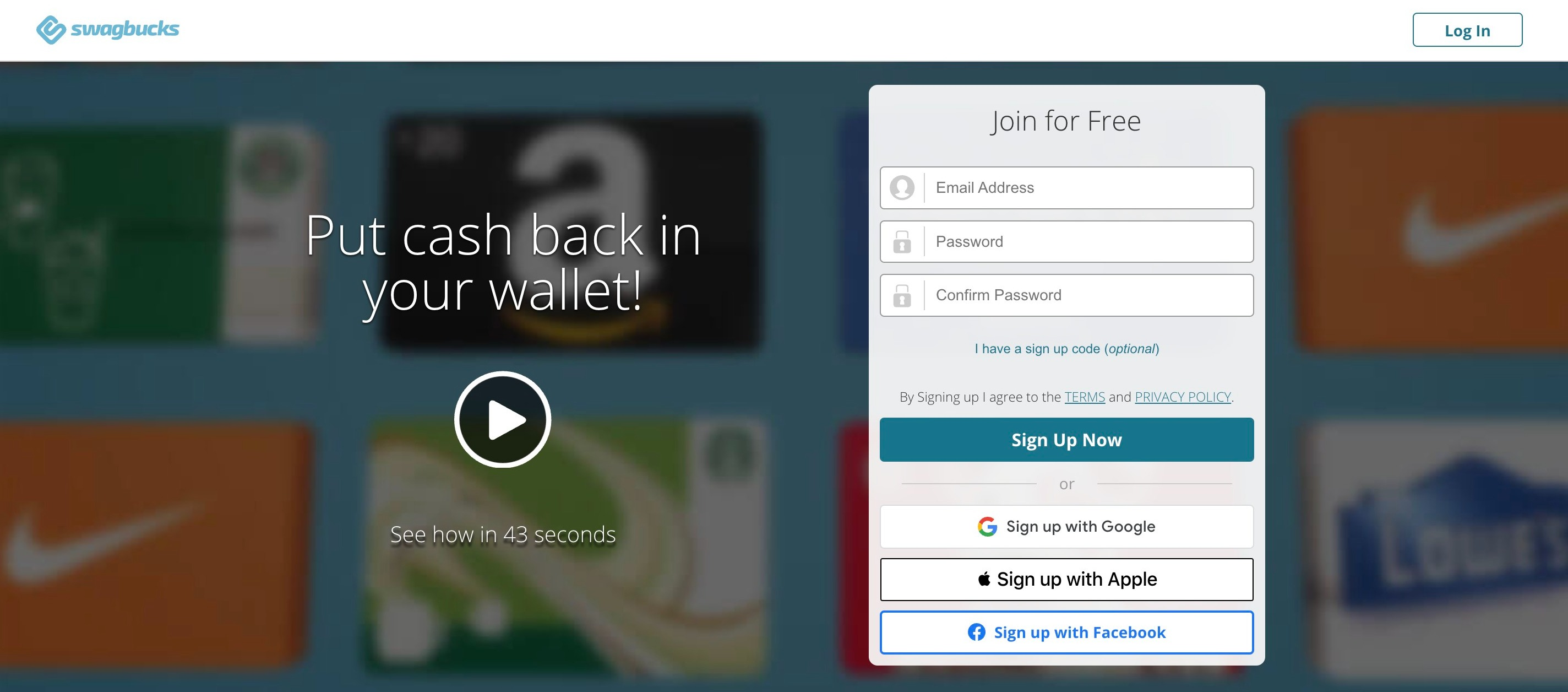 Swagbucks actually works in a very similar way to Flash Rewards. In fact, you may even see some of the same tasks appear on both platforms.
You earn Swagbucks for completing tasks, watching videos, and answering surveys. When you have reached certain levels of earnings, you can cash out via several gift card options.
---
Inbox Dollars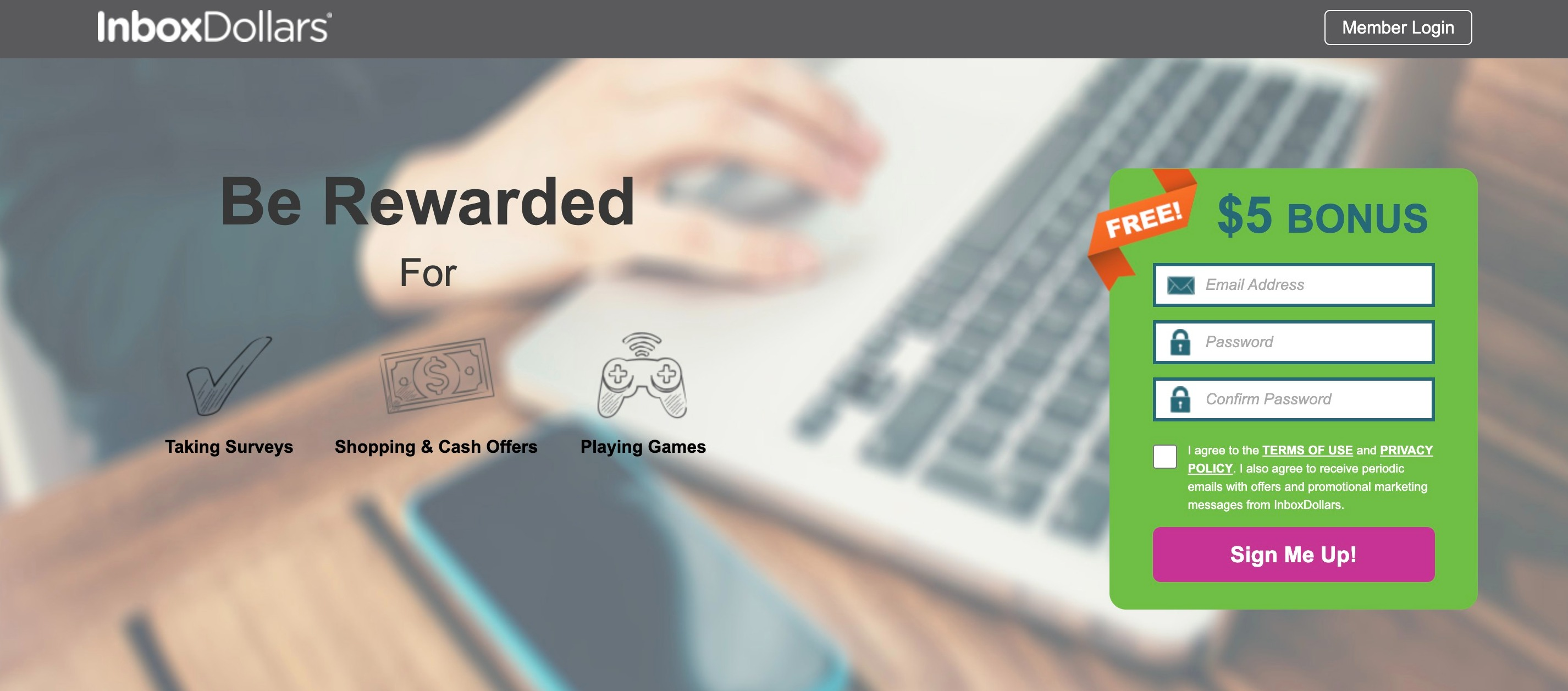 Inbox Dollars is a popular site that allows users to complete surveys, tasks, watch videos, and play games to earn extra money. Read our full Inbox Dollars review for everything you need to know about this money-making side hustle.
Get a $5 sign-up bonus when you sign up for Inbox Dollars here.
---
In Conclusion
Whether you choose Flash Rewards or another task-based app, it can be a legit way to earn extra money.
Just remember that there are some risks involved, and it does take some time to complete the tasks and get paid.
If you really want to make money online, start by reading our guide on how to make money without surveys. It's packed full of real ways to make money online, with great earning potential!