This Duda review will examine how easy it is to create beautiful, professional websites using the Duda Website builder.
As Duda templates are well-designed, the sites created are attractive and professional. This is a good platform for beginners.
In addition, Duda operates as a hosting service using Amazon Web Services.
Google PageSpeed has rated Duda as its only preferred website builder because it follows Google's best practices for improving web page load times.
Duda Website builder is easy to start using. Just enter your information, create your account, and start building!
In this Duda review, we will cover:
What Duda is
Duda features
Plans and pricing
Pros and cons
Duda alternatives
In a hurry?
---
Duda Review

Value for Money

Ease of Use

Features

Support

Likely to Recommend
Summary
Easily and quickly create simple websites with Duda! With over 100 templates to choose from, you will surely find one that suits your needs. In addition, Duda's hosting solution through AWS will ensure that your website is fast and always available. The one major downside of using Duda is that you cannot easily transfer your site to another website host. But if you are happy with Duda, that should not be a problem. Try it here!
Pros
Easy to use
Over 100 templates
Site traffic analysis tools
eCommerce tools
Unlimited storage and data transfers
Many apps and widgets are available
Cons
Somewhat expensive
Challenging to use advanced template features
Limited creative freedom
Limited SEO support
No easy way to export a Duda-built site to another host
What is Duda? An Overview
Duda was launched in 2010 by college friends "The Dudes." They were fans of the Coen brothers' film The Big Lebowski, and Duda is a tribute to the main character.
The Duda platform is an easy-to-use website builder for small businesses. As such, it is a good choice for a user who wants to create beautiful interactive websites.
Duda is also a good choice for web designers and teams. Teams can work on the same project, and you can assign roles to different team members.
Duda Review: Key Features
We'll look at the platform's main features in terms of design elements, web design tools, eCommerce, hosting, and more.
Design Elements
Let's look at the elements available to you when building a website using Duda.
Templates
The Duda website builder uses templates. There are 98 pre-filled templates and ten blank templates available. Even better, advanced users can build their own templates.
The drag-and-drop feature and templates make website creation simple and almost instant. As the templates are structured, the best results are obtained by keeping to the template guidelines.
Templates can be previewed on desktop, mobile, and tablet. You can search for a template matching the style and design you are after.
Presentation
Duda gives you access to over 100 fonts and a selection of effects, stock photos, and flat icons.
Working with Visual Elements
The image editor has basic graphic functionality. Images can be uploaded from a variety of sources. You can find a widget to create galleries, Facebook galleries, and image sliders. Over 1,000 icons are available. In addition, you can add video backgrounds.
Widgets
An impressive number of widgets are available. These include the following:
Pop-ups and contact forms integrated with MailChimp or Constant Contact mailing apps and Google Sheets
Appointment scheduling
Issuing eCommerce coupons
Social media comments
Uploading files
Maps
PayPal payments
Feeds for Twitter and Yelp
Apps
Duda websites have access to Duda's app store, which is loaded with a wide variety of apps.
Site Personalization
A useful feature is the option to add dynamic pages to your website. With this feature, visitors can view personalized content based on several triggers, such as actions, dates, physical location, and the number of prior site visits.
Triggers can call up content or display coupons, images with a theme, and feedback requests.
Web Design Tools
To begin designing a new website, Duda includes a form-fill questionnaire. The questionnaire can be branded with a company logo and sent to clients to populate with all the necessary information for a new website. The new site can then be created using a Duda template based on answers received.
Whether a Duda site or not, information from an existing website can be imported into a new site using Duda's content import algorithm. All your data will be imported to the correct pages and widgets.
As a result, website transfer is quick.
White Label Features
Duda is white-label-enabled. Designers can create the site and dashboards, widgets, or apps on the site to display the client's branding. Custom branding these elements provides users with a congruent experience based on the "look and feel" of the site.
Blogging
Adding a blog to your website is simple. Plus, it is also possible to import an existing blog.
Preview on all Platforms and Edit by Device
You can customize all design elements. Designers totally control the functionality and appearance of a site on all platforms.
Multi-language Websites
Another desirable feature is the option to create a website in various languages. This feature is unique to Duda. All major languages (including Asian characters) are supported. And the multiple language feature is available in all plans.
eCommerce Features
An eCommerce module integrating with Duda is available at an additional cost. This makes it simple to create an online store. And as the storefront forms part of the website, the design elements are carried into the storefront.
Many payment options are available.
The full price and the discounted price of a product can be viewed, and coupon codes can be created to add to products.
The top plan allows sales of downloadable digital products such as audio, video, e-books, and images.
Duda includes a tool to manage product inventory, so you can manage the various colors and sizes of products and monitor stock levels. 
You can create product pages and categories.
The online store can automatically calculate taxes and delivery costs.
Delivery suppliers supported are FedEx, UPS, and USPS. Customers can select flat-rate shipping or delivery cost based on item weight.
Marketing
Innovative marketing is integral to Duda. Web designers have customizable sales tools for their clients to create sites with marketing and sales top of mind. Marketing resource pages and forums are available on the Duda website.
Marketing resources include:
Landing page templates for lead generation.
White label handouts with a client's branding.
An on-the-go editor that allows clients to edit certain website features by logging onto a client dashboard.
The Duda Team plan includes customized account access for clients. This enables the clients who commissioned a site to manage and edit certain aspects of the website, such as adding, deleting, and creating new users or granting users permissions and roles. In addition, customer feedback can be added to the site.
Social media tools allow users to add links to social media platforms.
Comprehensive Statistics and Analytics
Statistics and analytics reports are available to collect data like the number of users to a site or the devices used to access the site.
In addition, statistics on eCommerce data like the number of sales, the amount spent, and the number of hits on the site are available.
Web Hosting
Hosting
All Duda websites are hosted on Amazon Web Services (AWS). AWS is one of the most secure and trusted cloud-based solutions. Storage and bandwidth have no limits, and load times are shortened because of the global CDN. Duda does not include email hosting.
Domain Creation
Users can register a domain through the platform or link an existing domain to their Duda website.
Website Speed
Sites built with Duda are optimized to achieve fast loading times. All websites are automatically optimized for Google's PageSpeed best practices.
Uptime
Hosting Duda sites on AWS is an advantage as AWS hosts major companies like Uber and Amazon. These companies can't afford downtime. Therefore any site hosted on AWS can take advantage of this.
SEO Compatibility
Duda's Search Engine Optimization compatibility features include:
A free SSL. 
Web templates that respond to platform, orientation, and screen size. 
Google PageSpeed optimization.
Customizable titles, meta descriptions, and page URLs.
Alt text for images.
The SEO functionality included with Duda is basic. You should implement an SEO tool to check SEO compatibility.
Duda Review: Training
Extensive training is available from the Duda university for users at all levels.
Duda Pricing
A free two-week trial is available. The trial offers features from Duda's mid-tier plan, such as team functionality and content import functionality.
Be aware, though, that if you choose to downgrade to Duda's basic plan after the free trial, you will lose the features available with the trial plan.
Basic Plan
$14.00 monthly, billed annually, and $19 billed monthly
Includes building one website hosted on AWS
$19.00 for each additional site billed monthly; $171.00 billed annually
Email support
Team Plan
$22.00 monthly billed annually and $29.00 billed monthly
Includes building one website hosted on AWS
Each additional site costs $14.99 per month; $171 billed annually
Four team members
Some client management features
White label sales and marketing materials
Telephonic, chat, and email support
Agency Plan
This plan is for a web designer or a design agency that creates sites for clients. It includes the client management tools of the Team plan.
$44.00 monthly if billed annually and $59.00 if billed monthly
Four websites and AWS hosting
Additional websites are available for $12.99 per site per month or $144.00 billed yearly
Ten team member access
Priority support via email, chat, and phone
14-Day Trial plan: White Label Make It Your Own
$74.00 per month billed annually
Four Sites and AWS hosting included
Priority email, phone, and chat support.
Up to ten team members
White label support and branded client login screen
Custom Plan
The Custom plan can be designed to suit specific requirements.
The same features as the Agency plan with additional functionality
Unlimited team membership
No limit on API calls and SSO (single sign-on allowing users to log in to multiple applications with one set of credentials)
Dedicated 24/7 support
eCommerce Options
The eCommerce options can be added to all plans. These options are:
Standard Plan
$7.25 per month paid annually
100 products and no transaction fees
Store management app
Advanced Plan
$19.25 per month paid annually
2 500 products and no transaction fees
Store management app
Unlimited Plan
$39.00 per month paid annually
Unlimited products and no transaction fees
Store management app
Square POS integration
Duda Review: Pros and Cons
Simple to use.

Many well-designed templates.

Significant creative control within the templates' limits. 

Tools to track and analyze site traffic.

eCommerce tools, support for digital downloads, and memberships.

Unlimited storage and monthly data transfers with all plans.

A variety of apps and widgets to add – or even to build yourself.

Responsive web design makes it very mobile-friendly.
CONS
Somewhat expensive; the cheapest plan costs $14 per month when billed annually. 

Difficult or confusing when using advanced template features.

Limited creative freedom.

No tool to create newsletters.

Limited SEO functionality.

No email hosting.

A site created in Duda can't easily be exported to another host.
Duda Review: Alternatives
Webflow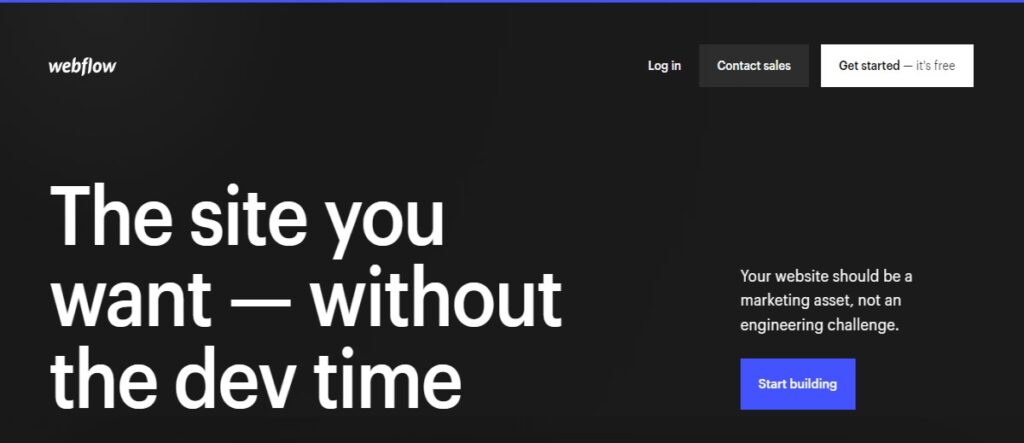 Webflow is a website builder and CMS (Content Management System) with eCommerce modules. It is innovative and offers the flexibility of front-end development software. The Designer tool is the interface used to create front-end code.
The CMS allows users to create a custom collection with different types of pages.
Webflow uses containers and boxes for web design. As such, it can be described as a visual interface to create front-end coding.
Webflow offers several templates, and other templates can be bought from third-party suppliers.
Unlike other web design tools, Webflow users have almost complete design freedom.
Webflow supports teams and has an editor tool; clients can access the CMS and make changes to the developed site. It also offers hosting.
Pricing
Webflow has a variety of plans and options:
The Starter plan is free and a great way to learn to use Webflow. 
The Basic plan costs $14.00 monthly, billed annually. It is useful for launching a simple site.
CMS is the most popular plan and costs $23.00 monthly, billed yearly. 
The Business plan costs $39.00 monthly, billed yearly, and is best for a high-traffic marketing site.
There is an Enterprise level plan with costs quoted individually.
For an additional fee, plans are available for Workspaces and eCommerce.
Complete control over the website design, access to the site's code, and the ability to add additional code.

A great range of support materials and access to Webflow university.

99.99% uptime guaranteed by Service Level Agreement.

Websites built with Webflow can be exported to any other host.
Cons
Not beginner-friendly – Webflow has a steep learning curve. It is best to have technical knowledge.

Pricing is confusing – it can be challenging to decide on a plan and the combination you choose can be expensive.

Limited built-in functions and integrations.

Only email support.
Webflow Key Takeaways
Webflow is a powerful website designer and CMS. It is a visual code creator. You have design freedom, and you can add additional code to any website.
Webflow is a site builder that bridges the divide between the design and the development community.
---
WordPress.com
42% of all websites are built with WordPress.com (as stated on WordPress.com).
WordPress.com is a hosted website builder developed by Automatic Inc. Blogs, websites, and online stores can be created with little technical knowledge.
Many third-party companies have created templates, themes, and plugins for WordPress:
Pricing
The WordPress Free Plan has limited functionality; it includes a WordPress.com subdomain, a pre‑installed SSL certificate, and 1 GB storage.
Personal Plan: $4.00 per month, billed yearly. Free domain for a year, hosting, no WordPress.com adverts, the collection of payments, and unlimited email support.
Premium Plan: $8.00 per month, billed yearly. Free domain for a year, hosting, collection of payments, unlimited email, live chat support, and premium themes.
Business Plan: $25.00 per month, billed yearly. Free domain for a year,  hosting, collection of payments, unlimited email, chat support, premium themes, access to more than 50,000 WordPress plugins, advanced SEO tools, automated site backups, and one-click restore.
eCommerce Plan: $45.00 per month, billed yearly. Free domain for a year, hosting, collecting payments, unlimited email, chat support, premium themes, access to more than 50,000 WordPress plugins, advanced SEO tools, automated site backups, and one-click restore, payments accepted in over 60 countries, and integrations with top shipping carriers.
With WordPress Multisite, you can create and run multiple websites using the same WordPress installation on your server.
Pros and Cons
Free plan (no assigned domain name and ads).

Email and live chat support.

Supports multiple websites using the multisite option.

Hosting is included.

WordPress.com sites can be exported to other hosts.
Cons
The learning curve to master WordPress is steep.

Difficult to customize web pages.

Expensive to add plugins and extras.

Commercial hosts can host WordPress sites at a lower cost.
WordPress Key Takeaways
WordPress is the most popular website builder on the market. It is both a website host and an editor. WordPress is not intuitive to use and has a steep learning curve. There are a great many third-party templates, widgets, and themes available for WordPress.
---
Squarespace
Squarespace is a hosted solution that runs on its own servers.
You can create a website by using one of the many available templates. Squarespace is designed for those who want to use a template, select a couple of options, and have an almost instant site.
eCommerce is supported, and Squarespace offers free domain registration and free SSL certification.
Pricing
Squarespace has a 2-week free trial period. The site won't go live until you choose a paid plan.
Plans start at $16.00 monthly, paid annually, or $23.00 paid monthly. No eCommerce features are included.
The most expensive plan is $65.00 monthly or $49.00 monthly, billed annually. This plan includes advanced eCommerce features and real-time shipping.
Additional sites cost $20 to $70.
Hosting is part of all plans. One year free domain registration is available when Squarespace is paid annually. Be aware though that domain registration can be costly after the first year, and renewal is billed automatically annually.
Pros and Cons
Squarespace is excellent for designing websites. 

Strong uptime: Squarespace offers reliability and performance.

A free domain name comes with the annual plan. 

Many features for selling online, including social media integrations and online checkout systems. 

Squarespace doesn't limit the number of items you sell.

24/7 email support, live chat, and a comprehensive help library.

A site created with Squarespace can be exported and hosted elsewhere.
Cons
Squarespace is expensive compared to other website builders.

Performance can be slow.

Payment options are limited.

Difficult to navigate for beginners.

Restrictive templates; no complete control over where your content goes.
Squarespace Key Takeaways
Squarespace is a website design and hosting solution based on templates and other pre-created design elements. It is quick to get a website up and running, but it is difficult to change the standard design templates. eCommerce features are available.
---
Wix
Wix has over 200 million users in 190 countries. It is simple to use and great for beginners.
Wix contains 800 drag-and-drop templates and a library of photos, graphics, videos, title animations, and mobile apps.
Editor X is an intuitive website building option, including more design-centric templates than the basic editor. These templates are responsive and adapt to all screen sizes and platforms. With Wix ADI (Artificial Design Intelligence), you can almost instantly create a website based on a series of questions.
Only an email address is necessary to begin hosting a site on Wix.
Pricing
Wix is cost-effective. A free plan is available with Wix banners and adverts. Other factors to consider when it comes to pricing:
Paid sites range from $4.00 to $25.00 per month.
The eCommerce module is an additional cost.
Wix also has enterprise-level plans.
Pros and Cons
Intuitive Editor X interface.

Many templates are available.

Widgets.

Rich web-store features.

Excellent uptime and customer service support.

eCommerce support.

Free option.

Artificial Intelligence design module.
Cons
When using a template to create a site, you can't change to another template.

Third-party applications offer better analytics.

Not all languages are supported by Wix.

Websites created and hosted with Wix are tied to the Wix platform.
Wix Key Takeaways
Wix is a powerful website builder with full functionality and a free offering. You can create dynamic websites using the many templates available, but sites created using Wix cannot be transferred to another host.
---
Square eCommerce (formerly Weebly)
Square Online combines eCommerce tools and web hosting. And the service is compatible with point-of-sale (POS) systems.
An app store is available. There is no true image-editing tool. Square Online tools can be used to quickly set up shop and sell physical and digital goods online.
Square Online is comparatively low-cost and easy to use, making it a great option for businesses on a budget.
Price
Free: Start selling online, SEO tools, and sync with Square POS. Payment is only made when goods are purchased on a site.
Plus plan: $29.00 per month, plus processing fees.
Premium: A plan that can be customized for your purpose. Price is calculated by the features chosen. Processing fees are also paid.
Pros and Cons
Free plan.

Simple and intuitive to set up and create websites.

All-in-one eCommerce and payment processing.

Includes free POS software for in-person sales.

Flexible shipping rates.

Sites built with Square eCommerce are exportable.
Cons
Restrictive design features.

Not a simple interface for new website creators.

Transaction fees are charged.

Lacks a robust image-editing tool.

Limited customer support.
Square eCommerce Key Takeaways
Square Online can create a website, incorporate checkout pages, and send direct checkout links to customers. It can also maintain online and offline sales in sync with a POS system.
Although Square is free, there are limitations. The toolset within Square is simple; it is ideal for small storefronts but not suitable for larger businesses.
---
Gator
HostGator is a provider of web hosting worldwide. A selection of applications is available, including the website builder Gator.
This is a simple website builder created for users with limited technical expertise. Gator has an intuitive drag-and-drop editor with few templates. Many features are available, although some are basic.
This is perfect for a small business that advertises a service or personal sites like blogs.
Gator allows users to add pages to a website simply. A well-stocked selection of page types is available. Included are Contact and About pages and others, such as Schedule and Restaurant Menu.
Edits can be saved and previewed: they only go live when you hit Publish. After you publish a page, a dialog box displays your site URL and social sharing buttons.
Pricing
Express Start Introductory offer: $3.84 per month (50% discount): This includes a free domain, free SSL certificate, and three email campaigns per month. 
The Express Site Introductory offer: $5.99 per month (50% discount): This includes a free domain, free SSL, five email campaigns per month, ten-product online store, appointment booking, and priority support.
Express Store: Introductory offer: $9.22 per month (50% discount): This plan includes a free domain, free SSL, ten email campaigns per month, unlimited product store, appointment booking, priority support, and no transaction fees.
Pros and Cons
The editor is easy to use.

Well-designed interface.

Attractive, modern templates.

Templates can be switched.

Royalty-free stock photography.

Digital downloads can be sold.

Reasonable cost and sign-ups.

Good uptime in terms of hosting.

Sites can be exported.
Cons
No free plan.

Limited photo-editing options.

Small app store.

Creating complex websites is not possible.

Built-in email marketing is not available.

Support and assistance are not available.
Gator Key Takeaways
Gator is a website development tool and part of the HostGator suite. It is a simple website designer. Gator supports eCommerce and digital downloads. The software is not expensive and is easy to use. HostGator has a very complete Knowledge Base.
---
Duda Review: Final Thoughts
Duda is a website builder with outstanding features, including:
Websites created in multiple languages
Well-designed templates and widgets
Great uptime as websites are hosted on AWS
Impressive team features
If you are looking for a website builder that is design and marketing-oriented, then Duda is an excellent choice.
Just be aware that moving to another builder or host is not easy once you have created a website on Duda.
Duda is not a bad choice, but given all the freedom of design you get and all the 3rd party templates, widgets, and themes available for WordPress, I do believe that WordPress remains the best website builder of them all.