This Zirtual review will explore what the organization offers to folks who want to hire virtual assistants from them. Plus, we'll look at some excellent alternatives.
Zirtual is a top-notch provider of virtual assistants for professionals, entrepreneurs, and small teams. The software has excellent functionality and is both inexpensive and simple to use. The interface is superb, and you can customize it to suit your needs.
There is one major and quite inexplicable drawback. You pay for a certain number of hours per month, but if you don't use them, they expire – no rollover to the next month.
No time to read the whole article? You can sign up for Zirtual right here!
While the argument for hiring locals is good, is it the best choice? The first part of this Zirtual review is geared toward those wanting to hire an assistant. The second part is about how to become a Zirtual virtual assistant.
In this Zirtual review, we'll discuss:
What and who is Zirtual?
What hirers can expect from Zirtual VAs
Pricing
How Zirtual works for VAs
Some of the best Zirtual alternatives
But is Zirtual any good, or should you try somewhere else? Read our full review and decide for yourself. We'll present the facts for you to consider and offer a few very good alternatives.
Sign up for Zirtual right here!
---
Summary
Zirtual is a member of the Startups.co platform. It offers virtual personal assistant services to help clients complete tasks, stay organized, and make time for other activities. A possible negative with Zirtual is that the hours you pay for in the month expire if you don't use them all.
Try Zirtual here!
Pros
College-educated US-based virtual assistants
Pricing is fair
Wide range of VA services on offer
Cons
Purchased hours don't roll over to the next month
Zirtual Customer Service slow to respond to complaints
Zirtual Review: Best Zirtual Alternatives
You'll find more details on Zirtual alternatives towards the end of this review. But let's check out the best ones quickly first.
Time etc.
Time Etc has been around since 2007. It's a highly successful US- and UK-based virtual assistant company.
Virtual Assist USA
Every small business, entrepreneur, and even bigger Fortune 500 corporations can benefit from the virtual assistant services and solutions Virtual Assist USA provides.
Byron
Byron is more reasonably priced than most and is a relative newcomer to the expanding US-based VA industry.
Fancy Hands
You can access thousands of US-based assistants through the Fancy Hands network. Any time of day, on any device, their helpers will work on anything on your to-do list
TaskBullet
Taskbullet's staff are based in the Philippines, although it is owned and operated in the United States. It's a flexible virtual assistant company with transparent pricing and no contractual requirements.
Woodbows
Woodbows is a reputable brand with a very high client retention rate. The virtual assistants you'll get are effective, responsive, and very well trained.
Short History of Zirtual (A Division of Startups.com)
Zirtual is a virtual assistant service provider established in the United States that serves professionals, entrepreneurs, and small corporate teams. It operates on the same "shared economy" platform as Uber and Lyft.
Maren Kate Donovan established Zirtual in 2010. During her freshman year in college, she started her blog "Escaping the 9 to 5."
Donovan developed the Zirtual business concept while attending The Founder Institute's four-month entrepreneur training and startup incubation program in 2010. She launched the company after graduation and became very successful very quickly. After 5 years, Donavan hit a burn (more money going out than coming in) and closed the company. Zirtual employees were informed via email!
Zirtual was bought and saved a day after it closed in 2015, and the new company alerted previous clients that operations would restart on August 17. The new ownership also altered the price structure and guidelines.
Zirtual Review: How Zirtual Works for Hirers
One of the best reasons to use Zirtual (to my mind) is because of the rigorous screening process. You know that when you hire from Zirtual, you're not wasting time and effort combing through hundreds of VA applicants to find the ideal fit for your needs.
Not to say that other companies will recruit anyone off the street, but Zirtual ensures that all of its virtual assistants have been extensively checked, are college-educated, and are capable of performing VA tasks. When it comes to establishing trust with someone you've never met, the recruiting process becomes even more critical.
Your Zirtual virtual assistant service also guarantees that you will be happy with your VA's work and that your personal data is secure. Zirtual matches you based on the necessary skill set, time zone, company type, and personality. During your kickoff delegation strategy call, you'll meet your new assistant. If you feel this person isn't a good fit for you, you can request a different assistant.
Top Services
Zirtual's goal is to sustain a long-term client-assistant match. Before engaging a virtual assistant, you should decide what services you require. Based on standard virtual assistant skills, you can expect a variety of services from them depending on what you're looking for:
Administrative tasks
Data entry
Market research
Cost comparisons
Scheduling social media
Website upkeep 
Travel planning
Zirtual Review: Pricing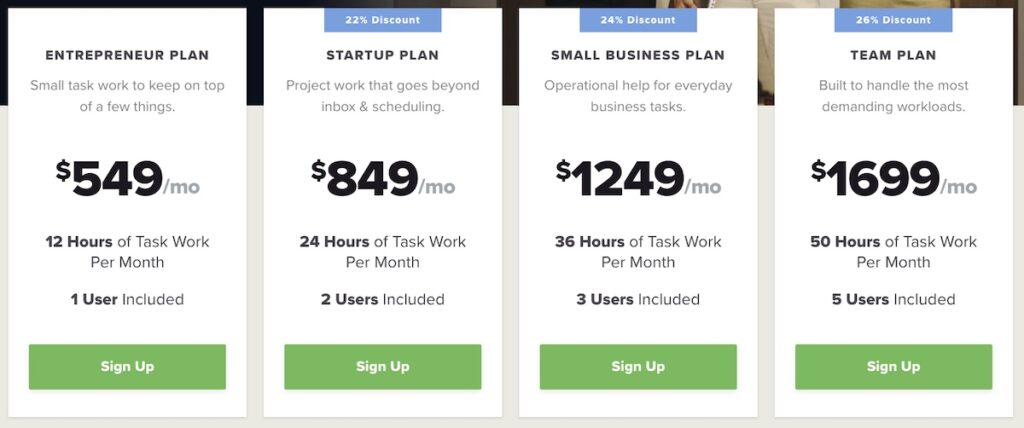 Entrepreneur Plan: $549 for 12 hours a month ($45.75 an hour)
Startup Plan: $849 for 24 hours a month ($35.37 an hour)
Small Business Plan: $1,249 for 36 hours a month ($34.69 an hour)
Team Plan: $1,699 for 50 hours a month ($33.98 an hour)
Most new Zirtual users begin with the Entrepreneur Plan, which costs $549 per month. If you spend all of your allocated hours, the service costs just a little more than $45 per hour.
As you progress to larger plans, the effective hourly rates improve marginally. All included hours are "use 'em or lose 'em" meaning that they don't carry over from month to month.
One cool feature of Zirtual is the service's built-in "sharing." On their higher tier plans, 2-5 people can enter tasks to pull from the same monthly hour allocation.
Zirtual Review: How Zirtual Works for Virtual Assistants
If you're interested in easy-going online employment, Zirtual could work for you. It could be your first move toward a full-time virtual assistance profession. Not to mention, it's a great opportunity for you to assist busy professionals in focusing on their teams, ideas, and growth-oriented tasks.
What Do Zirtual Assistants Do?
A Zirtual assistant's specific duties vary depending on the customer's needs and the contract's terms. Some virtual assistants do clerical and bookkeeping work, while others may publish regular social media updates or compose blog pieces.
A well-rounded virtual assistant may also handle online trip bookings, appointment scheduling, data entry, sending birthday cards, ordering flowers, and online file storage.
Becoming a Zirtual assistant may not provide you the same level of flexibility as an Uber driver. But you will likely earn more and incur no additional expenses if you already have a phone, laptop, and internet. And, because Zirtual VAs benefit from working from home, you'll never have to put any work-related miles on your vehicle.
How Much Zirtual Pays
Unfortunately, the company is pretty coy about this. It appears to differ depending on the client and the package they have purchased from Zirtual.com to engage virtual assistants. According to my research, rates range from $10.00 per hour for an Assistant to $34.47 per hour for a Consultant.
This is one of my pet hates – companies who aren't transparent about money issues!
Zirtual Assistant Requirements
Here's what Zirtual is looking for in a potential ZA:
Availability throughout business hours to respond to and connect with your clients 
A college degree
At least four years of administrative experience
Excellent calendar management abilities
Must be able to type at least 50 WPM accurately
Exhibit excellent communication abilities
Quick responses to clients' inquiries and needs 
Internet savvy 
Excellent organizational abilities 
Can operate in a fast-paced atmosphere 
Be tech aware, with preferred experience using Asana, Slack, Google Docs, GCal (Google Calendar), Microsoft Office, Outlook, and other tools
Strong internet research skills 
Good communication skills 
Great problem-solving skills
Reliable phone service; landline or trustworthy cell phone
Good WiFi connection
Must own a laptop or desktop computer
The Application Process at Zirtual
To start with, you'll need to complete the application form on their website.
They ask several questions, including typical basic information, how many hours you can work, and other questions like "What motivates you?" and "Why should we recruit you?" Similar to what you could be asked during a face-to-face employment interview.
Assuming you pass the application evaluation, there are several different tasks to complete, which include:
Completing sample duties that Zirtual Assistants would regularly perform.
Filling out surveys about yourself and your experiences.
Making a video of yourself answering interview-style questions and upload it to Vimeo.
A Skype video interview with a Zirtual employee.
Submitting to a background investigation.
Checking up on you on social media. Check your profiles on Facebook, Twitter, LinkedIn, and any other social media accounts, and make sure you look as professional as possible.
A personality test is required as well.
Zirtual Assistants Complaints & Concerns
Screening Process is Excessive
To say the least, the Zirtual worker screening process is seriously excessive! Is this a job as a virtual assistant or an application to become an FBI agent? Depending on your perspective, the hiring process can be both a blessing and a curse. Hiring the wrong one may be a nightmare for a business owner, so one can appreciate Zirtual doing this.
However, if you're wanting work from home jobs, the hoops Zirtual demands you jump through may seem punitive and not worth the effort. But, I suppose that's exactly what Zirtual wants to attract a specific type of worker.
Zirtual Assistant Salary Hard to Pin Down
As I mentioned before, I don't like it when companies are secretive about their pay structures. We all have unique lifestyles and requirements, so knowing how much money you can make doing virtual assistant work with a company is critical.
Given the extensive procedure that Zirtual requires workers to go through, I think it's a shame they don't just inform you what to expect ahead of time. Even a pay range is preferable to not knowing at all.
Chance of Getting Hired is Like Playing the Lottery
​​Like many other work-from-home opportunities, the prospects of being hired by Zirtual.com are little to none. It's exhausting not to hear from employers or to be rejected even if you're qualified.
I read somewhere that just 3-5% of people who apply to Zirtual are interviewed, and even fewer are hired.
You have better chances of winning the lottery or being struck by lightning. However, don't take my word for it, some folks do get hired. You never know; you may strike it lucky.
Must Have a College Education
People should be evaluated on their merits and experience rather than a piece of paper because many workers with college degrees are not qualified. Unfortunately, Zirtual uses this method of rejecting potential employees. If you have years of work experience, it shouldn't matter to Zirtual just because you didn't get a piece of paper from a college.
Zirtual Review: Zirtual Alternatives
Outsourced services have developed into a multibillion-dollar business that shows no signs of slowing down anytime soon. There are loads of companies that simplify the hiring of outsourced specialists. We mentioned some excellent Zirtual alternatives at the beginning of this review, now let's go into more detail.
Time etc
Time etc. was launched in 2007 and has assisted over 22,000 business owners in increasing their productivity and growth. The organization accomplishes this by carefully matching entrepreneurs with virtual assistants from the United States and the United Kingdom.
With the help of the virtual assistant service Time Etc., you can choose a well-trained, experienced VA. They will do their duties for you remotely, with the freedom to be accessible as needed. With a 10-stage selection process created by Penni Pike, a former personal assistant to Richard Branson, they have very exacting standards for each virtual assistant.
Time Etc. can offer a fair solution if you have excellent secretarial abilities yet want or need to work from home on a part-time basis. Initially, the company pays $11 per hour, but assistants are eligible to request compensation increases regularly. Virtual assistants can work as little as 5 hours per week and handle tasks including typing, scheduling, and social media marketing. However, the Time etc. demands a one-year commitment.
Time etc. offers four pricing options:
10 hrs a month – $310/month ($31 per hour) 
20 hrs a month – $600/month ($30 per hour)
40 hrs a month – $1,160/month ($29 per hour)
60 hrs a month – $1,680/month ($29 per hour)
If you don't use your hours, you won't miss out because they roll over into your next month.
---
Virtual Assist USA
Virtual Assist USA is one of the biggest VA operations in the US. The company, based in Pittsburgh, Pennsylvania, has been operating since 2007. Today, the company's founder Danielle Cuomo manages more than 40 virtual assistants operating from home across the nation in all time zones.
The fact that all of Virtual Assist USA's VAs are full-time employees rather than part-time contractors is one feature that sets them apart. That promotes greater security, loyalty, and a more career-focused mindset, according to Danielle.
Multiple interviews, a DISC personality test, and a background investigation are all part of the employee onboarding process. Additionally, all recent hires have a minimum of 10 years of experience and a college education. This all results in less turnover and a better VA match for clients.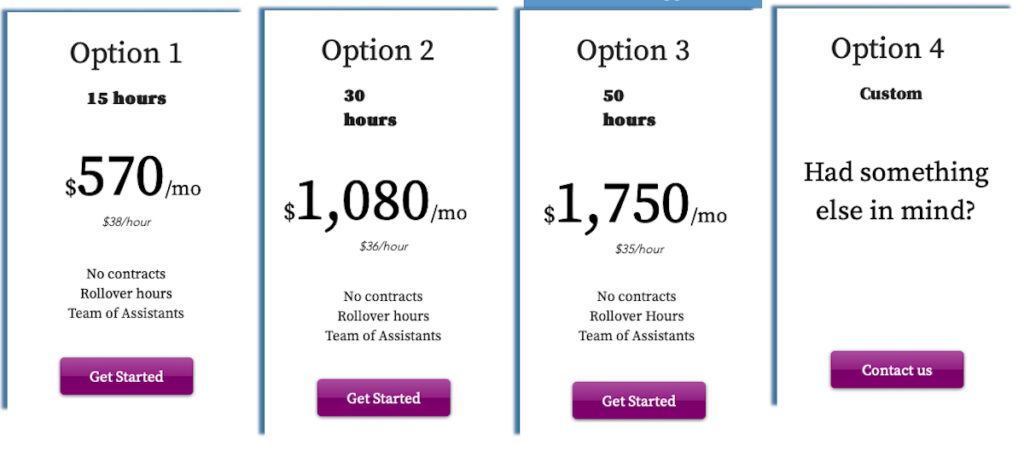 Virtual Assist USA has four different pricing options
15 hours a month – $570 ($38 per hour)
30 hours a month – $1,080 ($36/hour)
50 hours a month – $1,750 ($35/hour)
Custom – contact the sales team to create a custom package for you
Unused hours are carried over from month to month and never expire. This deal is a big plus for me. If I have a light month, I don't lose my bought and paid-for hours and I can use them if I have a heavy month where every second counts.
---
Byron
The US-based virtual assistant business Byron began operating in 2016 as a closed beta and opened to the general public in January 2017.
They are based in New York City, and all their assistants work from homes across the country.
Michael Benson, the company's founder, serves as its president. Michael founded HiByron.com because he noticed a lack of responsibility and poor work quality in the freelance industry.
Byron hires only US-based assistants, and they undergo a rigorous screening and testing procedure assessing them on more than 100 skills.
You can submit either short-term or long-term projects when you sign up for one of their plans.
Short-term work will be given to the most qualified assistant and must be finished within 24 hours. You can continue to work with the same helper on long-term projects if you choose.
The business has made significant investments in its IT infrastructure to provide fantastic service to clients and VAs alike.
Byron's target clients are startups, small firms, and people wishing to outsource some of their workloads.
All members of your team may access your VA and send tasks to be completed because they offer a unique, user-friendly platform that makes it simple to add numerous users.
Byron has four pricing plans:
10 hrs per month – $290/month 
20 hrs per month – $540/month
40 hrs per month – $990/month
80 hrs per month – $1,950/month
And any unused hours will roll over to the next month.
---
Fancy Hands
Ted Roden established the virtual assistance company Fancy Hands in New York City in 2010.
Fancy Hands uses native English-speaking assistants based in the US, which sets it apart from its low-cost rivals in the outsourcing market. They have received plenty of visibility and momentum as a result.
Customers typically use Fancy Hands as a time-saving tool for brief, one-time operations, including making restaurant reservations, conducting internet research, scheduling conferences, and organizing quick events. You can even set up a credit card on file for your assistant to make purchases for you, and adding events to your Google Calendar is free.
The virtual assistants at Fancy Hands work "in the cloud" and are primarily part-time, on-call, and remote employees who take on jobs as they come in.
Your requests will be deposited into a single task feed after you send them by email, the mobile app, or text. Any capable and accessible Fancy Hands assistant can then claim it and begin working.
This team-based method provides 24/7/365 coverage for your requests, whereas a "real" assistant would probably need to take breaks or get some rest from time to time.
Fancy Hands has 4 pricing options:
3 requests per month – $17.99/month ($6 per request)
5 requests per month – $29.99/month ($6 per request)
15 requests per month – $74.99/month ($5 per request)
30 requests per month – $149.99 ($5 per request)
Unused tasks roll over month-to-month.
---
TaskBullet
Since its founding in 2013, TaskBullet has grown to become a dominant force in the virtual assistant market. The staff is located in the Philippines, while the company is owned and run in the United States.
Virtual assistants employed by TaskBullet go through a thorough hiring procedure. The organization looks for VAs that can pick things up quickly and have advanced English skills.
There are no contracts, fees, or monthly bills with TaskBullet.
When the VA actively works on your tasks, they draw hours from "buckets" TaskBullet uses. Simply buy another bucket of hours when your current one runs out and carry on.
A project manager who will manage your tasks is included with each TaskBullet Bucket of Hours. You give your tasks to your project manager so they can be quickly assigned to a qualified virtual assistant (VA). You can provide assignments directly to a dedicated VA if you have recurring tasks.
Your project manager and the virtual assistant will be accessible throughout your business hours. When you need them, they are available.
Task Bullet has 4 pricing options
10 hrs – $15/hour (a free trial is on offer at the moment)
20 hrs – $11/hour (billed at $220)
60 hrs – $ 9/hour (billed a $540)
240 hrs – $6.50/hour (billed at $1,560)
Customers can renew their hours, upgrade, or downgrade at any time; they are not invoiced on a recurring monthly basis.
That arrangement makes sense if you don't have a steady workload each week but are confident you'll use the time later. And if you do need to delegate everyday responsibilities, a flexible, reasonable VA service is available.
---
Woodbows
WoodBows was founded by Joanna Finch in 2015. It's a US- and UK-based virtual assistant business. Their assistants are based in the US, India, and the Philippines. Its target market comprises US and Canadian real estate agents, small- and medium-sized enterprises, and entrepreneurs.
With WoodBows, onboarding is a straightforward 4-step process that takes less than an hour to complete. This is how their procedure works:
Sign up for the trial offer. 
Send a list of the tasks you'd like to have finished. 
They give you their contact information and assign a group of VAs to complete the work. 
As the job is being done, you can continue with your daily activities. 
Throughout this process, you can work with your group of VAs and send new tasks.

WoodBows has four pricing plans:
40 hrs monthly – $599/month – $14.90 per hour
80 hrs monthly – $999/month – $12.40 per hour
Full-time plan – $1,499/month – $9.36 per hour
Premium plan – $2,499/month – $15.60 per hour
---
Zirtual Review: The Bottom Line
Having an assistant who works half a world away may present communication difficulties. Last-minute duties, having your virtual assistant attend and take notes at a meeting, and even regular phone chats are much easier to schedule in US time zones.
While non-US-based virtual assistants may be less expensive, those communication challenges and a lack of familiarity with American culture may become problematic. You can choose a US-based assistant who works in the Eastern or Pacific time zones with Zirtual, guaranteeing that they are available when you need them.
Perhaps the biggest drawback is that the hours you pay for in a month don't roll over – they expire. If you have a light month, you lose out. The alternatives we've discussed all allow your hours to roll over and they tend to have more flexible options. Let's have one last look at Zirtual's alternatives.
Final Look at Zirtual Alternatives
Time etc
With the help of the virtual assistant service Time Etc., you can select a knowledgeable VA with the experience necessary to do the tasks you need.
Virtual Assist USA
Virtual Assist USA is an all-American Virtual Assistant company in the United States. You have no minimums, all-inclusive services, and educated virtual assistants with Virtual Assist USA.
Byron
Byron is a platform for on-demand virtual assistants. It offers carefully screened and skilled US-based assistants to handle your tasks.
FancyHands
Fancy Hands has a group of virtual assistants in the US prepared to start working with you immediately. Fancy Hands is accessible whether you want to assign a regular task or require a dedicated personal assistant.
TaskBullet
TaskBullet is a versatile virtual assistant service provider. It requires no contract commitment, and the pricing is fair. Users purchase a 'bucket' of hours to use with their VAs.
WoodBows
WoodBows is a major virtual assistant service provider in the United States. They assist CEOs, real estate agents, entrepreneurs, and business owners save time and money.
Want to explore more? Read our article listing 22 virtual assistant websites to find great talent and grow your business.
There you have it. Is Zirtual any good for you? Or should you try one of the excellent alternatives on our list? Whichever you use, best of luck with your new virtual assistant adventures!