Does the world really need another popup generator? In a world filled with companies like Leadpages and Clickfunnels, what does Convertbox bring to the table?
Like any good marketing tool, its usefulness will depend on the one using it. Not every SaaS software on the planet is right for everyone. Software like ClickFunnels may be great for enterprise businesses with high-ticket clients, but ConvertBox can fit needs elsewhere.
Although Convertbox isn't available right now — it's still in Beta access — it promises to be a worthwhile investment. The space is crowded, but read our review below to see if it makes sense for you and your business.
Sign up for Convertbox early access here!
---
Summary
Although new to the market, ConvertBox is making a strong push to become a major player in the lead generation department. Its ease of use, reliable reporting, and host of popular integrations make it serviceable for marketers from all walks of life. It won't be the last tool you use, but it should get you well down the road to building a strong mailing list. Request early access here!
Pros
Easy to use
Strong analytics
Lifetime license option
Works on all site builders
Easy to integrate with other SaaS products
Cons
Limited template selection
No free trial
Still in beta (means some bugs exist)
Plenty of competitors
TL;DR
ConvertBox is an entry-level lead generation tool that boasts a lot of features for an affordable, one-time fee. While it may not provide the level of functionality professional marketers want, it's more than enough for most entrepreneurs and business owners.
What is ConvertBox?
Convertbox is an automated CRO that provides customization options inside of an easy-to-use interface that makes email collection and retargeting a snap. 
Most new marketers struggle to wear all the hats required of them. It's not uncommon for a great web designer to struggle with sales funnels or a great copywriter to not be a great digital graphics artist.
Where Convertbox soars is in the ability to provide all the necessary tools to push the visitor down the buyer journey in a single package. Check out all the features below:
Customized form fields
Countdown timers
Multi-step funnels
Site visitor segmentation
Personalized offer
Split testing
Visual builderconve
List collection
Detailed analytics
Quizzes
Conditional integrations
Multiple popup formats and placements
Many of those features are available on other software services at different price points. Since Convertbox only has one price available for the time being, you can have full functionality at minimal cost.
How Much Does ConvertBox Cost?
At the time of this writing, a ConvertBox lifetime deal will cost you a one-time fee of $495. This allows you to create an unlimited number of forms that can be viewed up to 250,000 times per month. It also includes all of their features and no up-charges for premium add-ons.
The only caveat to the standard plan is its limited usage. You can only use it on up to 10 websites. If you want more, you'll have to upgrade to the ConvertBox pro plan for an extra $95.
The pro plan is more agency-focused. It gives you the ability to use Convertbox on up to 50 websites with a total view count of 500,000 views per month. With five additional sub-user logins, this feature is perfect for agencies who want to provide this service to their clients.
Since it's currently in beta, there's no word yet on what the final ConvertBox pricing will be. The sales page seems to indicate a regular price of $99/month ($1,188 per year). If so, then snagging this offer now seems like a steal.
And in case you're not fully convinced, you can always take advantage of ConvertBox's 30-day money-back guarantee. Test drive all the features and see if it works best for you.
History of ConvertBox
Originally known as ConvertBar, ConvertBox was founded by Dean Saunders. Since it's inception, Saunders — an internet marketer with years of experience — has continued to improve the platform. Most of the features that have been added are based on his own experience working with email marketing.
In 2021, Josh Bartlett purchased the company and continued to make improvements. Bartlett is already relatively well-known in the online world due to his company ThriveCart, which handles online shopping. Adding ConvertBox to his portfolio made perfect sense.
The acquisition was announced on his social media platform, and the response was generally positive. People are excited to see how he can take an already-great product to the next level.
Convertbox Features
With an abundance of lead capturing tools on the market, the real differentiator boils down to its features. Most website owners don't care about how many features a software offers, but whether those features will give them a competitive advantage. They have to be easy to use and powerful.
Does Convertbox fit the bill? Actual information on their website is scant, but here's what we glean about it so far.
Templates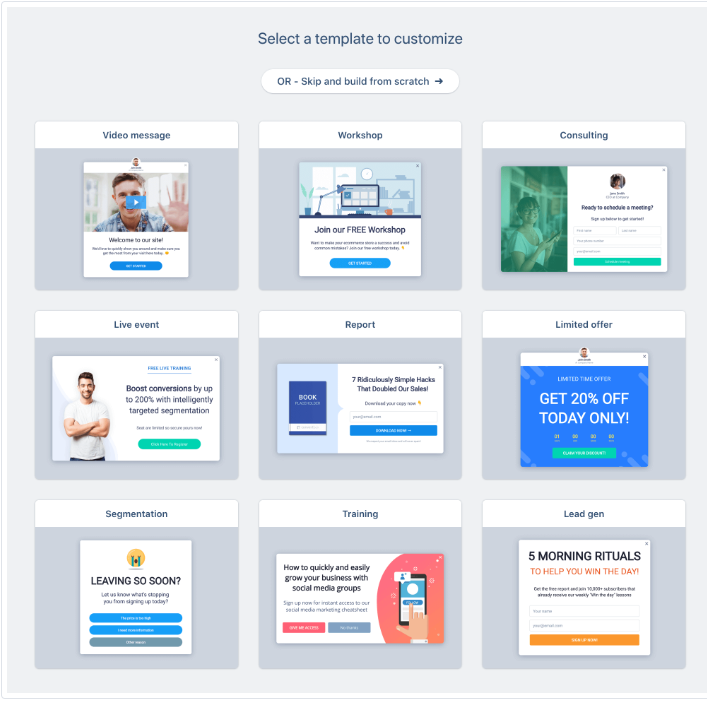 There aren't a ton of pre-made ConvertBox templates on hand, which is not surprising since it's still in the early stage. The ones they do have look good, and each one is fully customizable to suit your purposes.
What Convertbox lacks in variety it makes up for in flexibility. You can choose from either embedded or overlay forms. The former works great for permanent boxes you want to make evergreen, while overlay forms are awesome for quick promotions and time-sensitive material.
From here, you can choose from a variety of templates based on your purpose. ConvertBox has pre-made forms for training, live events, or consulting. Additionally, you have ones for lead generation, targeted messages, video, and segmentation as well.
I will say, on the surface, these forms look really nice. A lot of the form builders on the market today have hundreds of templates, but only about 20% you could actually see yourself using.
You can tell ConvertBox has put a lot of thought into their designs. This makes it easier for those with fewer design skills to create sharp-looking forms with minimal effort.
Dashboard
One of the main issues plaguing software services today — and especially form builders — is a confusing interface. You may have thousands of data points and features, but how do you sort through them?
Convertbox makes it easy sort through all your forms on all your sites and see quick stats on each. You can even sort by site, then look at all of your forms (active or inactive).
If you want even more organizational features, you can also create groups of forms in those sites as well.
At the top of the dashboard is a monthly overview of your activity for a certain site you've selected. From here, you can figure out which forms are costing you money and which ones need to be retooled.
As with the visual builder, everything here is drag and drop. Feel free to move forms around inside the dashboard to create an easier interface for you to analyze.
Visual Editor
Technically, ConvertBox is styled as a WYSIWYG editor (What You See Is What You Get). This type of visual manipulation is much more common than it used to be. Anyone that has any experience with other visual editors will feel right at home with ConvertBox. 
Still, ConvertBox manages to take something that is already designed to be simple, and make it more simple.
All of your customization options are found on the sidebar. From there, you can add elements like video, text boxes, images, and buttons.
What I like about ConvertBox's visual editor is the fact that it acts like a high-powered editor from a web design tool like Divi or Elementor. With a simple click, you can switch over from a desktop to mobile view, for instance. You also have multiple styling and font customization options as well.
To help make sure your forms are the best they can be, you can also split test various forms right in the interface.
Those who like to have a massive amount of customization may find ConvertBox lacking. For those who crave simplicity and efficiency, ConvertBox is right up your alley.
Integration
The more sites and visitors you have, the more you'll need to add automation to your toolbox. Fortunately, ConvertBox has dozens of integrations with other SaaS products, with more added daily.
As you can see, many of the most popular integrations are already available on Convertbox. In case there's an application you want to link, you can always use the HTML form integration to create a custom integration. Alternatively, you can use Zapier to create webhooks as well.
Perhaps one of the best integrations that ConvertBox offers is the one with Google Analytics. Simply sync up your account with ConvertBox and you'll start to track the activities on each site in no time.
Is Convertbox Easy to Use?
Whether or not a site is "easy to use" will depend on your own skill level and email marketing experience. Many lead generation software services will provide a host of tools with little guidance on how to use them. Alternatively, some are so pathetic that they barely merit a paid plan at all.
ConvertBox does a great job of splitting the difference between those two extremes. It's robust enough to satisfy most marketers (with the exception of those who serve large enterprise clients). However, it's also simple enough to set up a basic pop up in minutes. The drag and drop editor makes it really easy to use.
With the included split testing and analytics platforms, you'll be able to refine your forms further.
There are a few issues that they'll need to sharpen up, though. For starters, you don't get a ton of design options. That's fine for website owners who get overwhelmed easily, but for experienced users, it can be frustrating..
Another complaint that has been made about ConvertBox is the inability to understand the individual website visitor. While basic retargeting features are activated, geographical reporting and personalized visitor behavior stats are lacking.
All in all, it's a great software to get you started in the world of lead generation. While some will stick with it because of the lifetime access (especially as they add more features), it's understandable to move on to more powerful software SaaS programs.
Convertbox FAQ
Below are some of the more commonly asked questions about ConvertBox. If you have more questions about their service, feel free to email them directly and ask!
Are There Any ConvertBox Tutorials?
Unfortunately, there are no ConvertBox "academies" that will teach you how to use this software, but there is a "Basics" section that does something similar. It's not as clean, but it still provides step-by-step instructions to get you started.
If you're needing help with email marketing though, we have resources that can help with that.
How is the Support?
As is expected with a product in beta, ConvertBox wants to hear feedback from their existing customers. While their customer support lines are not as responsive as SaaS programs that are further along, you should expect to hear back within 24 hours. 
Will ConvertBox Work on Any Website?
Convertbox should work fine on any website or website builder, including Squarespace, Wix, or WordPress. While it's not technically a plugin, ConvertBox does have a WordPress plugin available if you want to upload it to your site directly.
Is There a Free Plan?
Unfortunately, ConvertBox does not have a free plan at the time of this writing. The lifetime package is relatively cheap compared to other form builders, and there's a 30-day guarantee. If you try it and don't like it, you can return it with minimal headache.
---
Convertbox Alternatives
If you're unsure about ConvertBox's future, or the price tag is too steep, here are some alternatives. Some of them provide more functionality, but they're also more developed.
Find the one that fits your needs and dive in.
OptinMonster
If you're looking for a lead generation tool that has been around the block a few times, OptinMonster is it. It's hard to find a more well-established, efficient tool than this.
It provides all the features you would need to get your email list up and going. Reporting, segmentation, customer recognition, integrations — it's all there for a very reasonable price. The basic plan starts at $9 and goes up to $49 per month.
Unfortunately, there's no free trial with OptinMonster, so you're semi-committed if you decide to try it. Some of the integrations are paid as well, which can be annoying.
Still, with one of the best reputations in the business, it's hard to overlook OptinMonster. It's worth a shot if you are looking for a more complete list building tool.
---
Thrive Leads
If you want the features of ConvertBox at a lower price, try ThriveLeads. For $97 a year, you can have just about everything you want and need to grow your list. It has an easy to use visual editor, myriad of templates, analytics, and integrations. If your site sells goods, it integrates with WooCommerce as well.
The one major drawback to Thrive Leads is that it is purely a WordPress plugin. If you use any other type of CMS, you're out of luck. 
To try it for thirty days, just head to their website and sign up for an account. If you want more features, there's a pro plan available for $300 year that might be worth looking into.
---
ConvertPro
ConvertPro is part of a suite of tools designed by Brainstorm Force. They make Astra Pro (used by Elementor sites), Schema Pro, and WP Portfolio, among others. It's a powerful plugin that does exactly what it sounds like: Convert your visitors into fans.
At only $99 a year, ConvertPro packs a punch. It gives you multi-step popups, exit intent technology, mobile-responsiveness, and split testing. The visual builder is easy to use too, even if you don't have a lot of experience with forms.
---
Bloom
ConvertPro is to Elementor what Bloom is to Divi. The main exception is that Bloom is actually developed by the same people at Divi (Elegant Themes), so the integration is flawless.
The visual builder is impeccable, hundreds of templates are available, and the automation is there. Bloom also has integrations with dozens of other email marketing services like ActiveCampaign and Mailchimp.
While Bloom no doubt has their fans, many may find the experience clunky and cumbersome. If you're already a part of the Divi ecosystem though, it's worth a shot.
---
LeadPages
These days, you can't just have an lead capture form and hope your list grows. You also need optimized landing pages and static forms that help you passively collect customer information.
LeadPages excels in this department. Not only do you have your choice of form type (alert bar, opt-in form, etc), but detailed analytics to help you manage it. 
There's no free plan and the pricing starts at nearly $40 per month, but it provides more versatility than even ConvertBox offers.
---
Do I Need Lead Generation Software?
If you have a website, you need some way to collect information from your specific visitors. Even if you don't ever actually plan on using that contact info (which, why not?), you still need to understand more about the right visitor for your site.
Lead generation software will help you gain important metrics about your customers so you can serve them better. And when you can serve your audience better, you get more traffic, which results in you stepping closer towards your goals.