Google Analytics has been website owners' de facto web analytics tool for collecting user behavior. The information is gathers can help improve site performance and turn visitors into clients or customers.
Unfortunately, Google Analytics has changed for the worse through the years.
This isn't the first time Google Analytics removed vital data from its reports.
In 2010, Google no longer showed search queries visitors entered to find a website. It replaced the keywords with "(not provided)," which made optimizing content much more challenging.
Google cites user privacy as one of the reasons for these changes, as evident by the European GDRP law. Users can browse the web somewhat securely, but site owners can no longer collect sensitive customer data for their sites.
So, if you're one of these website owners looking for Google Analytics alternatives that give them back data ownership, look no further! Below are some of the best ones available and why they make for a great alternative to Google Analytics.
Adobe Analytics
Adobe Analytics is part of the Adobe Experience Cloud that helps users understand the customer journey. It does this via visual and real-time analytics data across different channels and devices.
It also offers comprehensive user segmentation features to identify which part of the sales funnel its visitors are in.
Finally, the software leverages machine learning and artificial intelligence (AI). The tool provides users with predictive and actionable insights to fix their site issues.
Pricing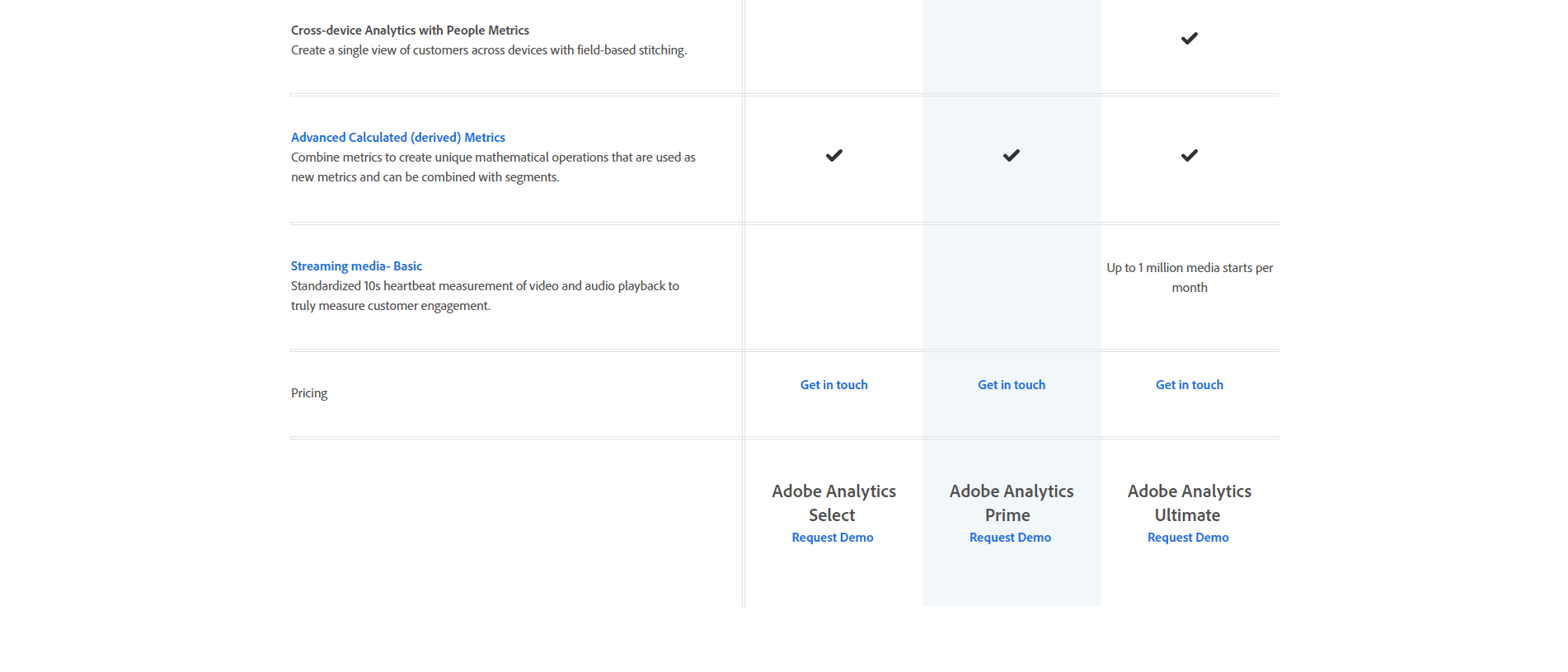 As an enterprise tool, Adobe Analytics lets you choose among three plans: Select, Prime, and Ultimate (its most comprehensive plan).
The higher plans feature more offline data integration and better segmentation. They also allow users to unearth hidden traffic patterns to pinpoint correlations among different datasets.
The site doesn't show the price for each plan. But reports have indicated that Adobe Analytics has an introductory price of $500 and can go as high as $350,000. Your price tier depends on your needs and current site performance.
Pros and Cons
Very flexible segmentation options
Allows you to build detailed reports automatically
No free trial
Not easy to use and set up
Features take time to load, especially their reports
---
Clicky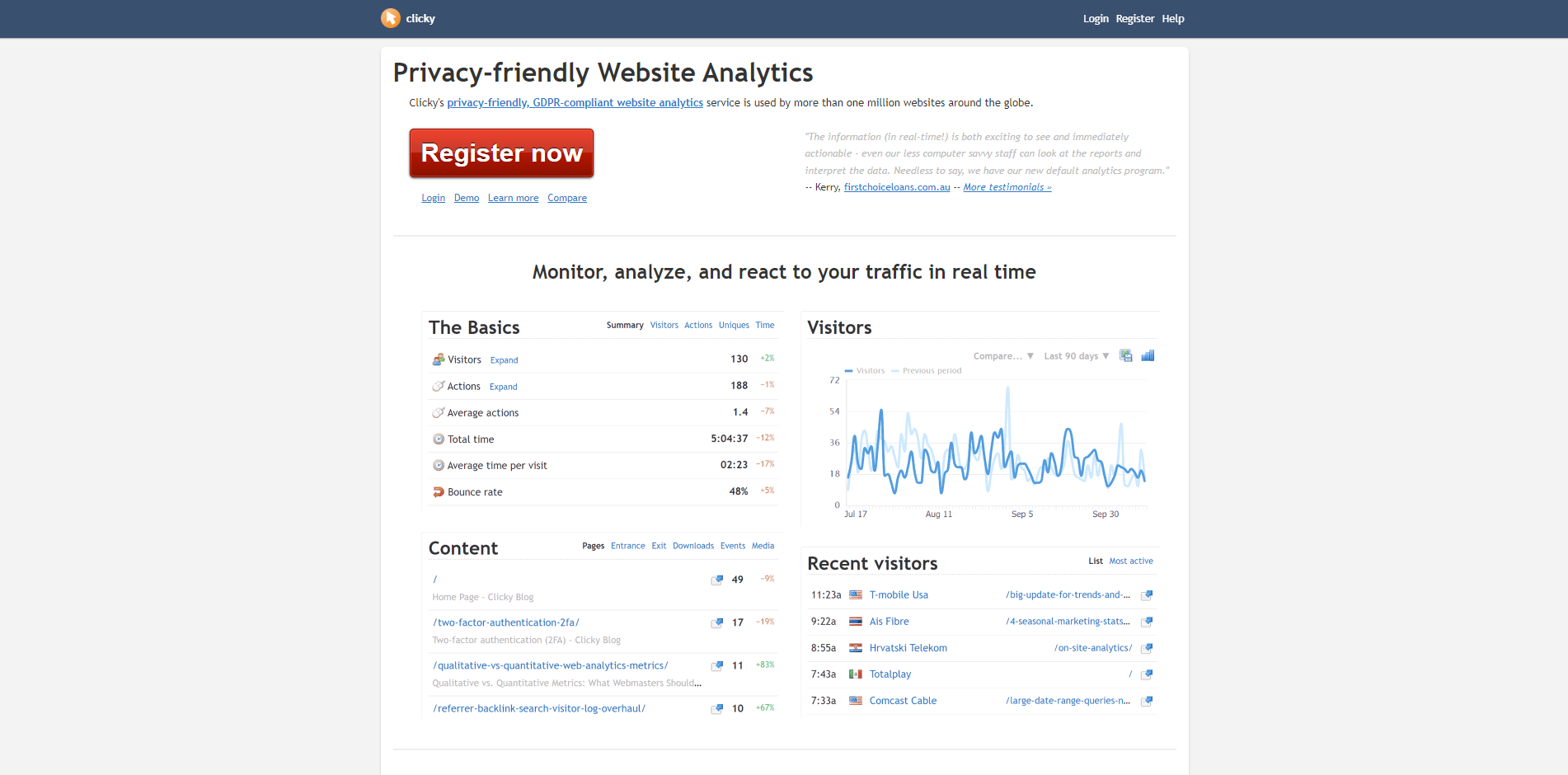 Clicky is one of the oldest Google analytics alternatives available. However, unlike Google Analytics, this privacy-friendly and GDPR-compliant web analytics tool doesn't track personal data using cookies.
Nonetheless, it can provide detailed visitor information in real time while filtering out bot or referrer spam. Clicky also collects heatmap and backlink data. They help you improve your site's conversion rates and link profile for better organic rankings.
Other features include uptime monitoring, video analytics, white labeling features, and more.
Pricing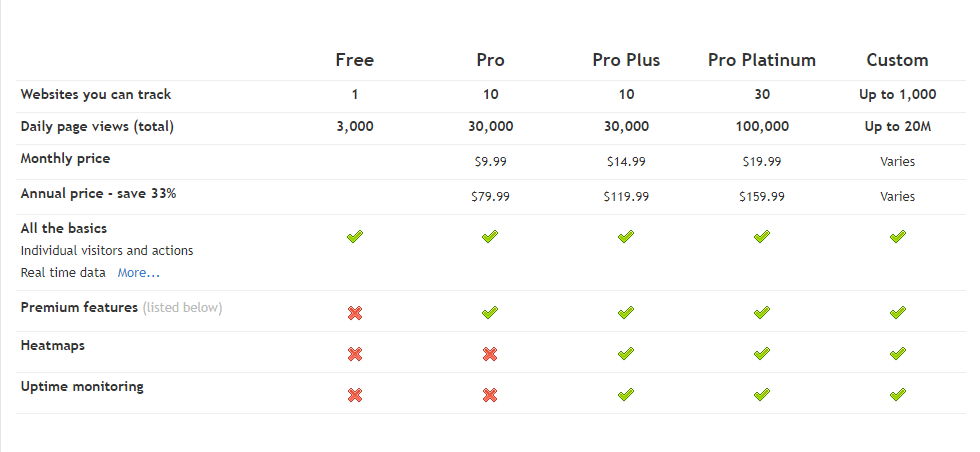 Clicky has a free plan that lets you track one website with a maximum of 3,000 daily page views. You also access its essential features (individual visitor and real-time data, basic segmentation, etc.).
The paid plans, starting at $9.99/month or $79.99/year, let you unlock its premium features for ten sites. These plans include goal tracking, split testing, on-site and video analytics, and more.
Heatmaps and uptime monitoring features are available in the Pro Plus plan and above, starting at $14.99/month or $119.99/year.
Pros and Cons
Provides in-depth and actionable information about visitors
Data is presented in an easy-to-understand manner
Has features not included in analytics tools (heatmaps, backlinks, uptime monitoring)
Clunky user interface needs work
---
Fathom Analytics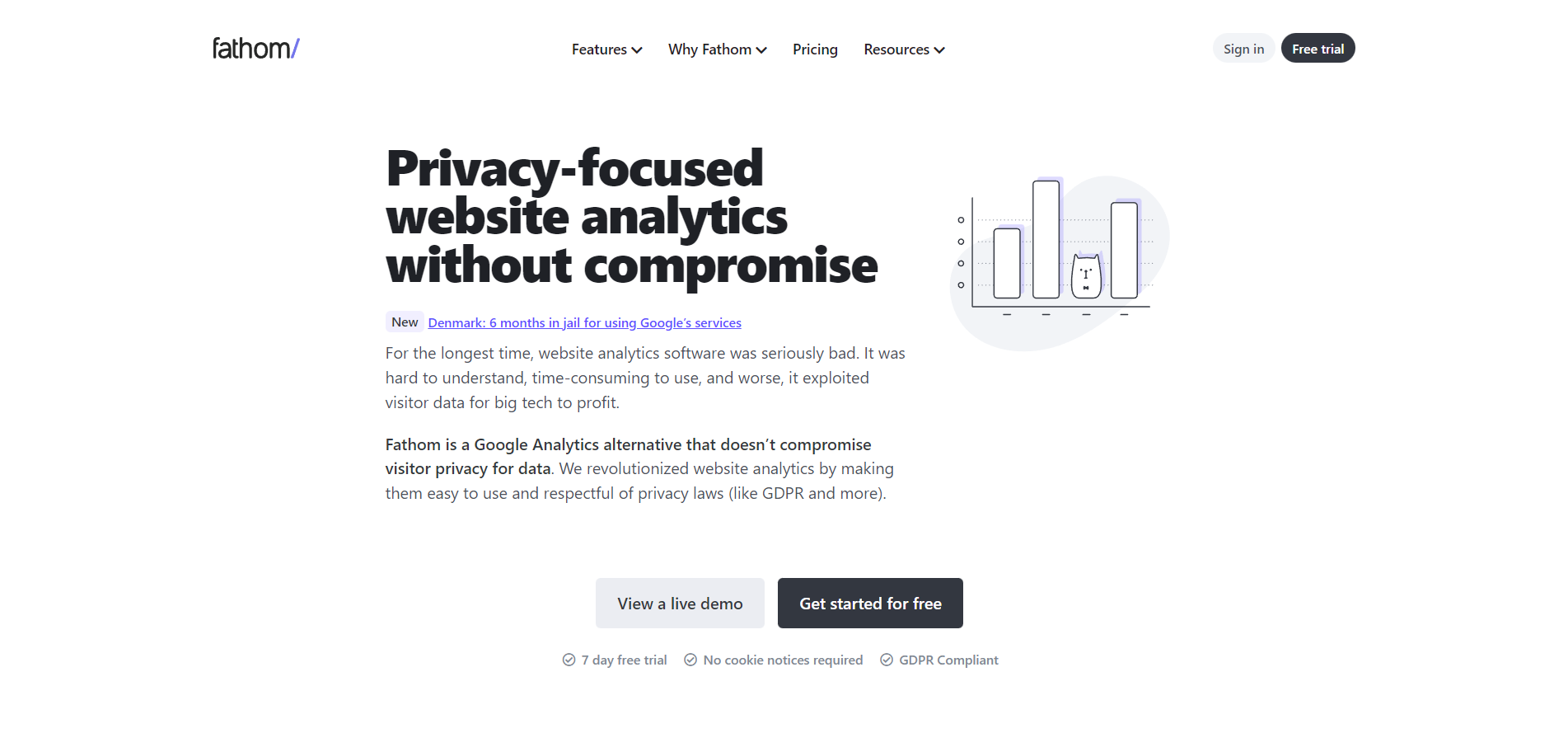 Fathom Analytics is another cookie-less, privacy-focused Google Analytics alternative that lets you take ownership of your data. You don't have to show the cookie notification bar on your website if you plan on using this analytics tool.
Also, ad-blockers will block external javascript like Google Analytics tracking code and prevent users from collecting customer behavior. With Fathom, you can bypass ad-blockers using your custom domains to gather data from all your visitors.
Finally, Fathom Analytics claims to have the world's fastest site analytics. Take their statement with a grain of salt, if you will. But it's best to read it and see where they're coming from with their claims.
Pricing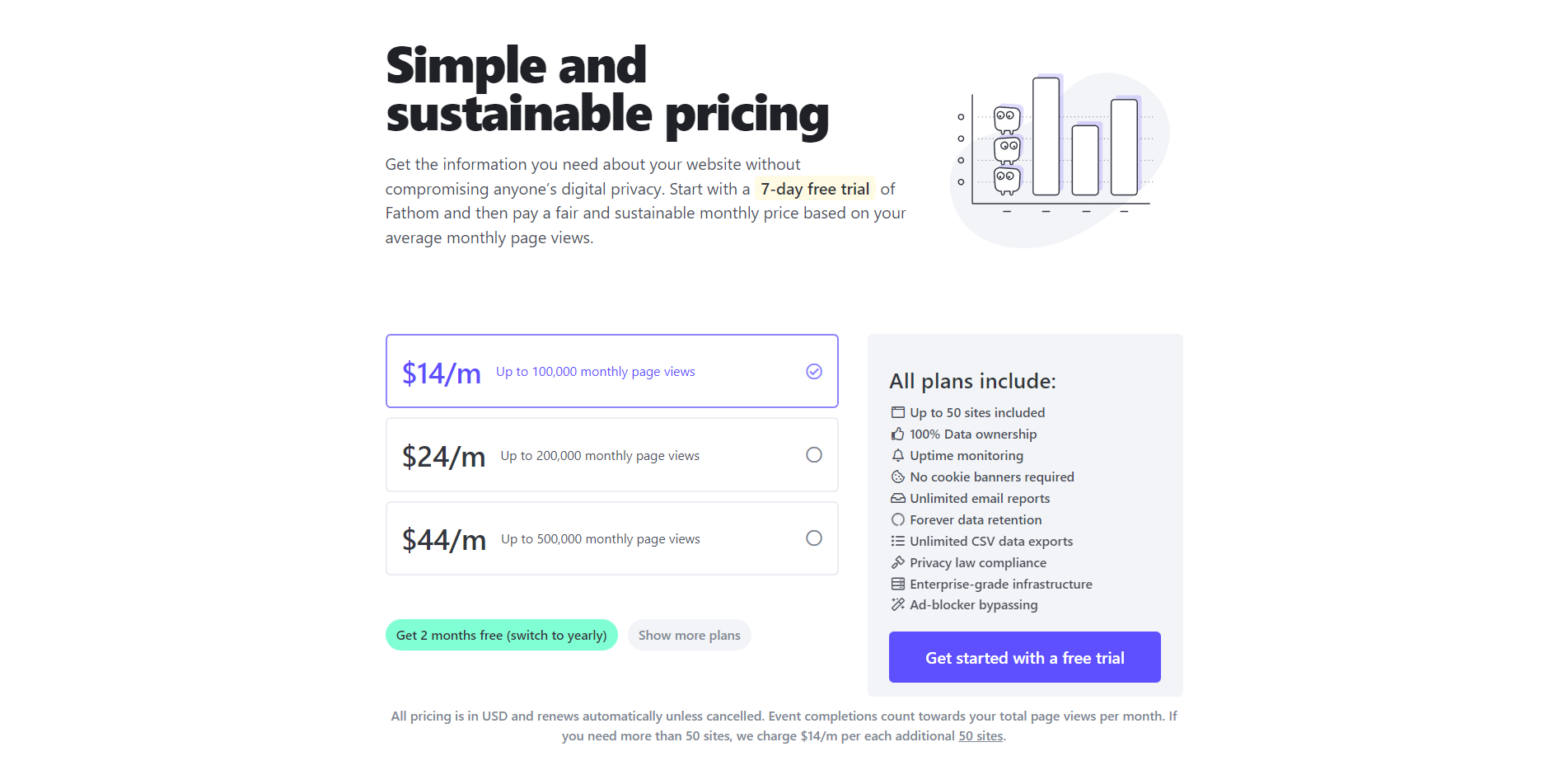 All plans, starting from $14/month, let you monitor up to 50 websites with 100,000 average monthly page views. Features include ad-blocker bypassing and privacy law compliance, among others. The price increases if the monthly page views increase.
You can take Fathom for a 7-day free trial.
Pros and Cons
Minimalist interface that shows only the most critical data you need to know about your site
Bypasses ad-blockers to help you collect data from all your visitors
Too simple; people looking for more data and features may want to check out other tools in this list.
---
Friendly Analytics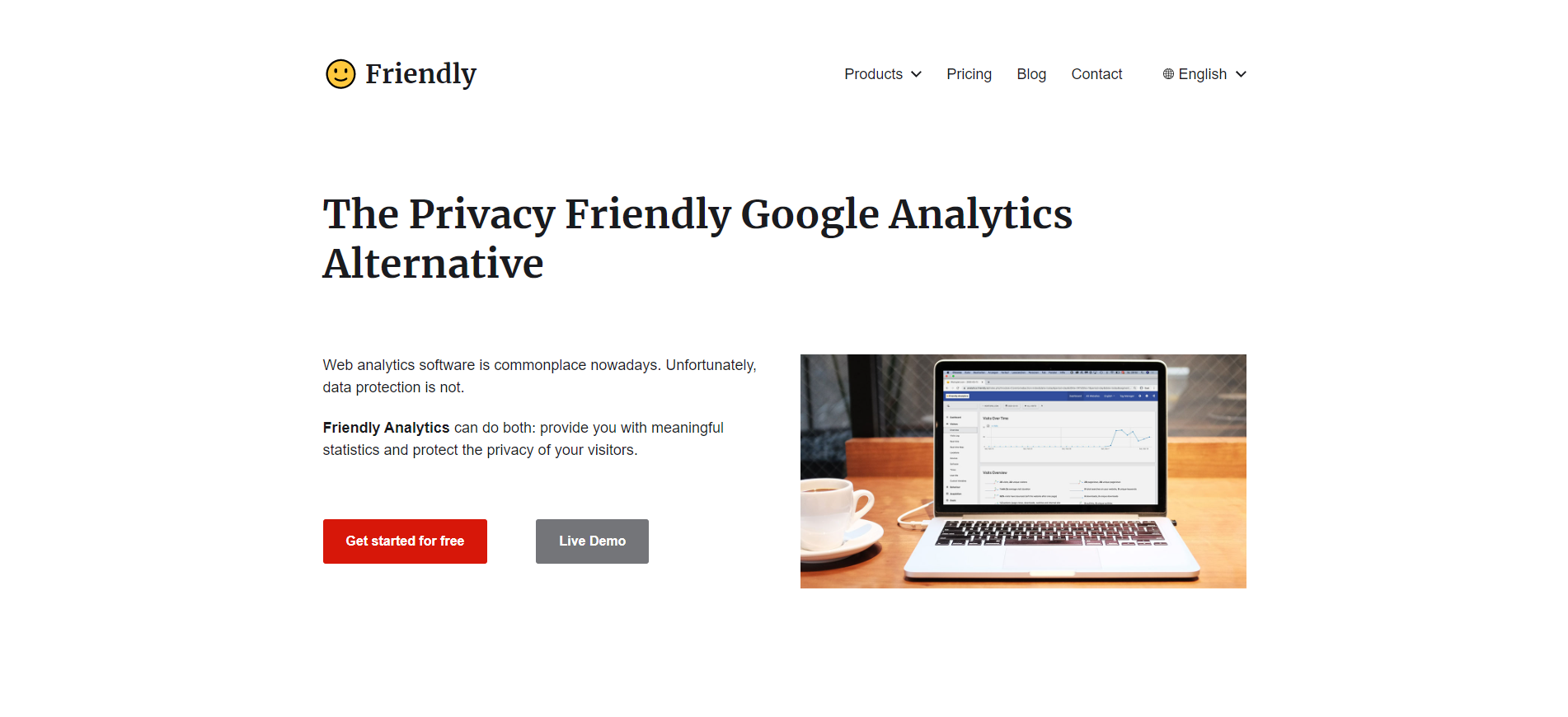 Friendly Analytics is a Swiss analytics platform with marketing automation features.
As an analytics solution, its powerful tag manager lets you track app and website activity and metrics by organizing them to their most relevant tags.
Its analytics features enable you to track your marketing automation efforts. You can see how your email marketing, landing pages, and form have impacted your website for the better.
Also, like a true solid Google Analytics alternative, it neither sets cookies nor stores personal data.
Pricing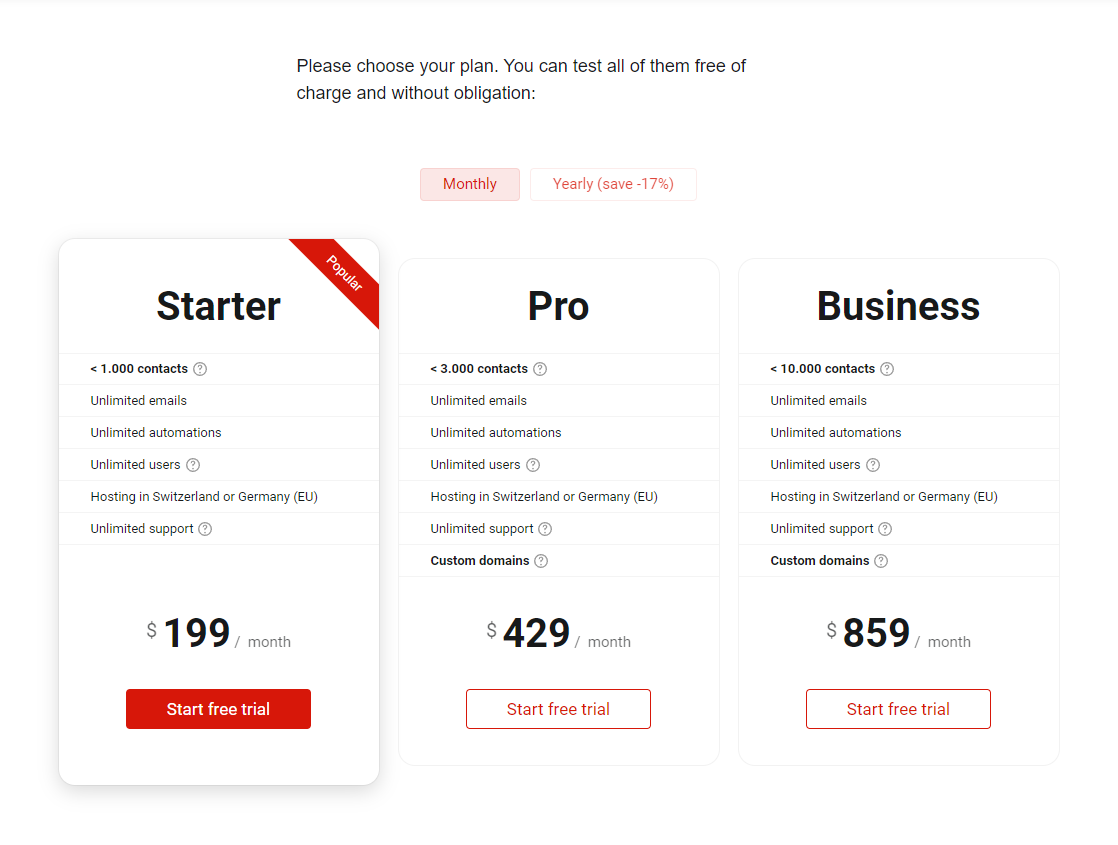 Starting at $199/month, you can send unlimited emails to 1,000 contacts and set up unlimited automation. There's also an option to add your entire team to a single account without limits.
The price increases if you need more contacts and custom domains. You can take Friendly Analytics for a 14-day free trial.
Pros and Cons
Doubles as a marketing platform—you can cancel your Hubspot subscription or similar if you use this tool.
Analytics features take a backseat from its marketing automation.
Features are fairly simple—the platform doesn't have anything others don't have.
---
GoSquared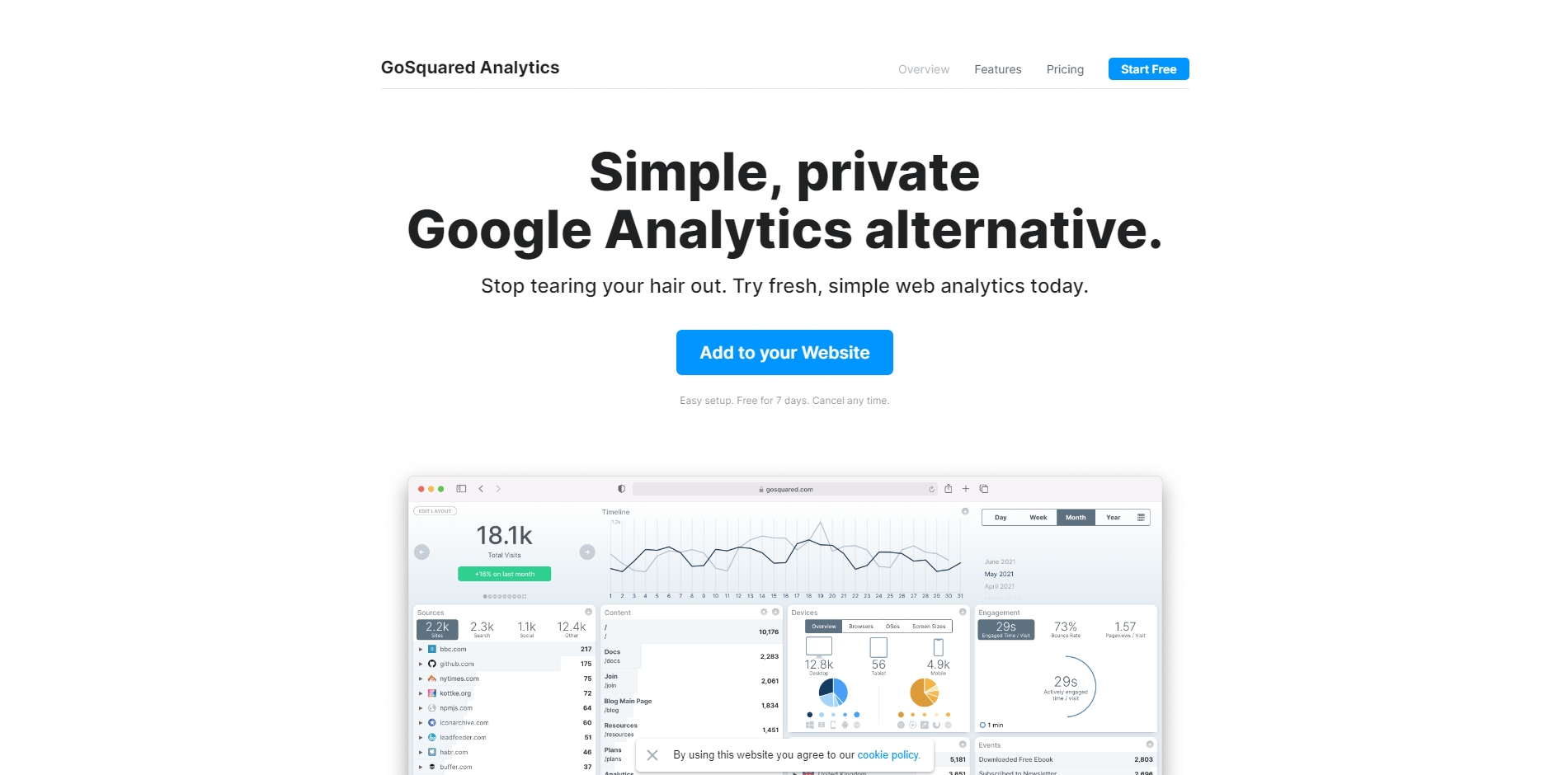 Like Friendly Analytics, GoSquared offers users marketing and analytics features to grow their website traffic and conversions.
As a customer engagement software, users can create personalized email sequences and launch in-app messages for gathering data and feedback. This benefits businesses using the subscription model for onboarding new customers and retaining old ones.
All the data gathered from your campaigns flows nicely into the platform's privacy-friendly analytics tool.
Features include estimated daily and monthly traffic levels based on historical data, identifying potential reasons for bounce rate, tons of native integrations with popular third-party apps, and more.
Pricing

For as low as $9/month and 100,000 page views and three projects or websites, users get unlimited team sharing and data retention. Also, they can email stakeholders reports to communicate their site's progress.
All plans come with a 7-day free trial.
Pros and Cons
Loaded with features to help users make sense of their website data from an intuitive and easy-to-use dashboard
Analytics plan is separate from its customer engagement plan
---
Heap

As a no-code retroactive analytics tool, Heap lets you track events in your customer journey based on visitors' behavior and characteristics. You can customize website traffic data based on individual visitors or your entire customer base.
Ethically tracking user interactions on your website gives you access to patterns and insights that aren't available on many Google Analytics alternatives. Taking action on this information helps you lead your website visitors to your desired action.
Pricing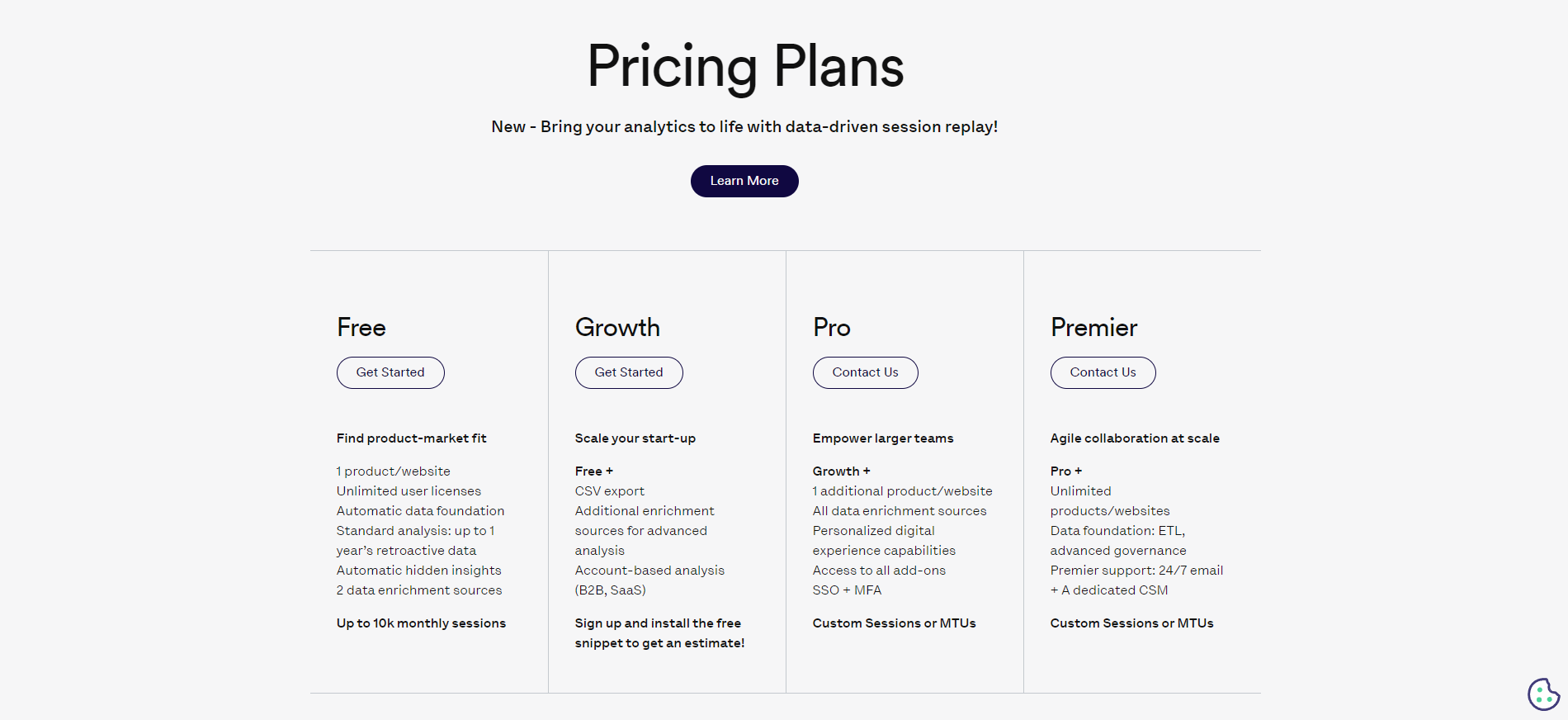 The Free plan is available for users with fewer than 10,000 monthly sessions on a single website. Also, it includes a year's worth of retroactive data, hidden insights based on the gathered information, and more.
Heap doesn't reveal the prices for its paid plans. But TrustRadius says the Growth plan (lowest paid plan) costs $3,600/year for 300,000 sessions per year. You have to reach out to them personally for more information about their other plans.
Pros and Cons
Lets you compare your site's historical performance with its current one for better website analysis to see whether the changes made worked
Free plan allows people to try the platform first before paying for it
Unrefined functionalities, especially with creating definitions on autopilot
---
Hubspot's Analytics Software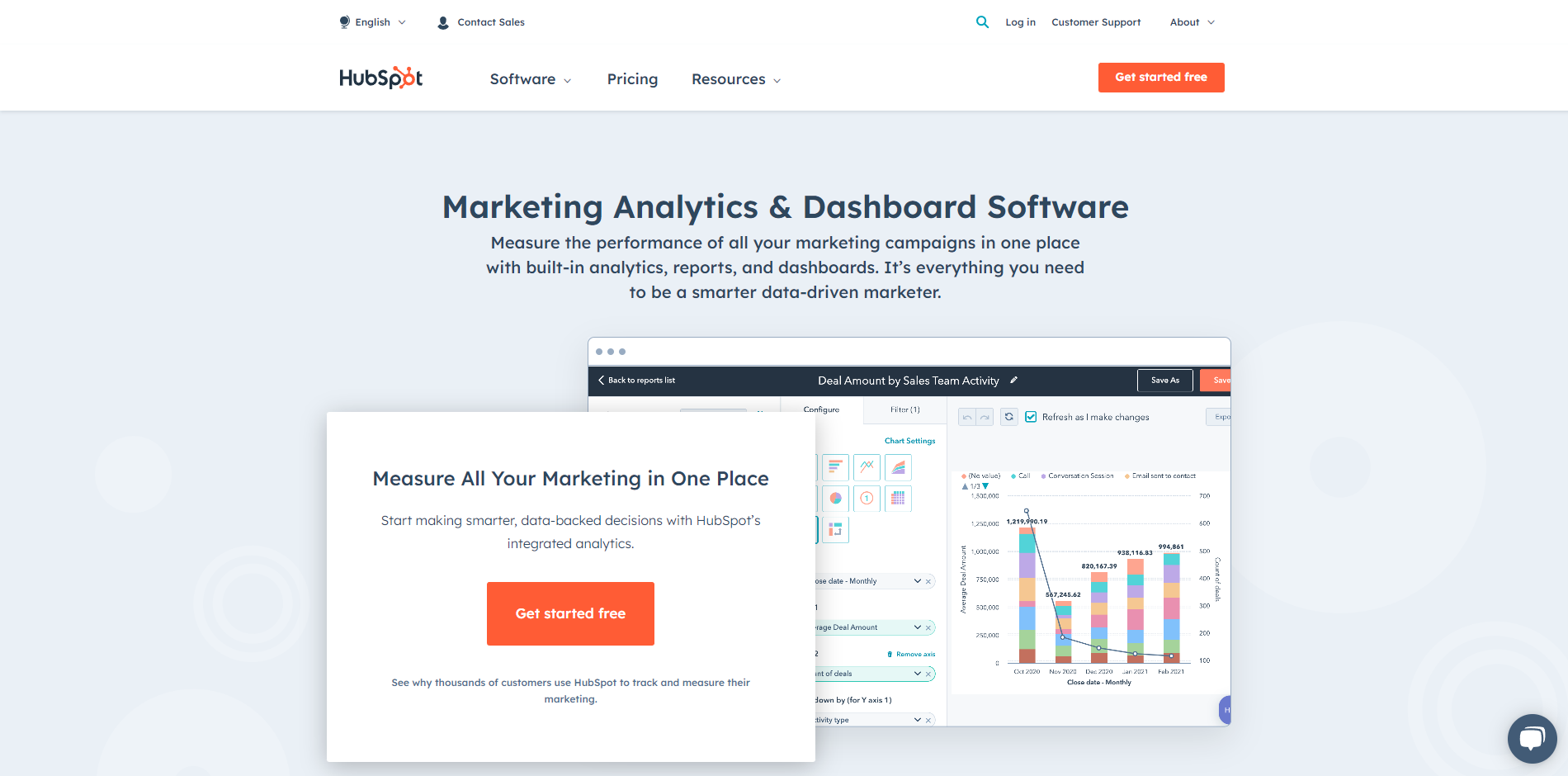 Hubspot Analytics solves the issue of tracking important data from website analytics tools.
While most tools provide detailed data on their analytics dashboard but don't help users to interpret them, Hubspot shows the impact your websites or mobile apps have on your sales and pipeline.
Its data visualization presents information in an easy-to-understand manner focused on your marketing and sales efforts. From here, you can use the data to improve your upcoming campaigns.
Pricing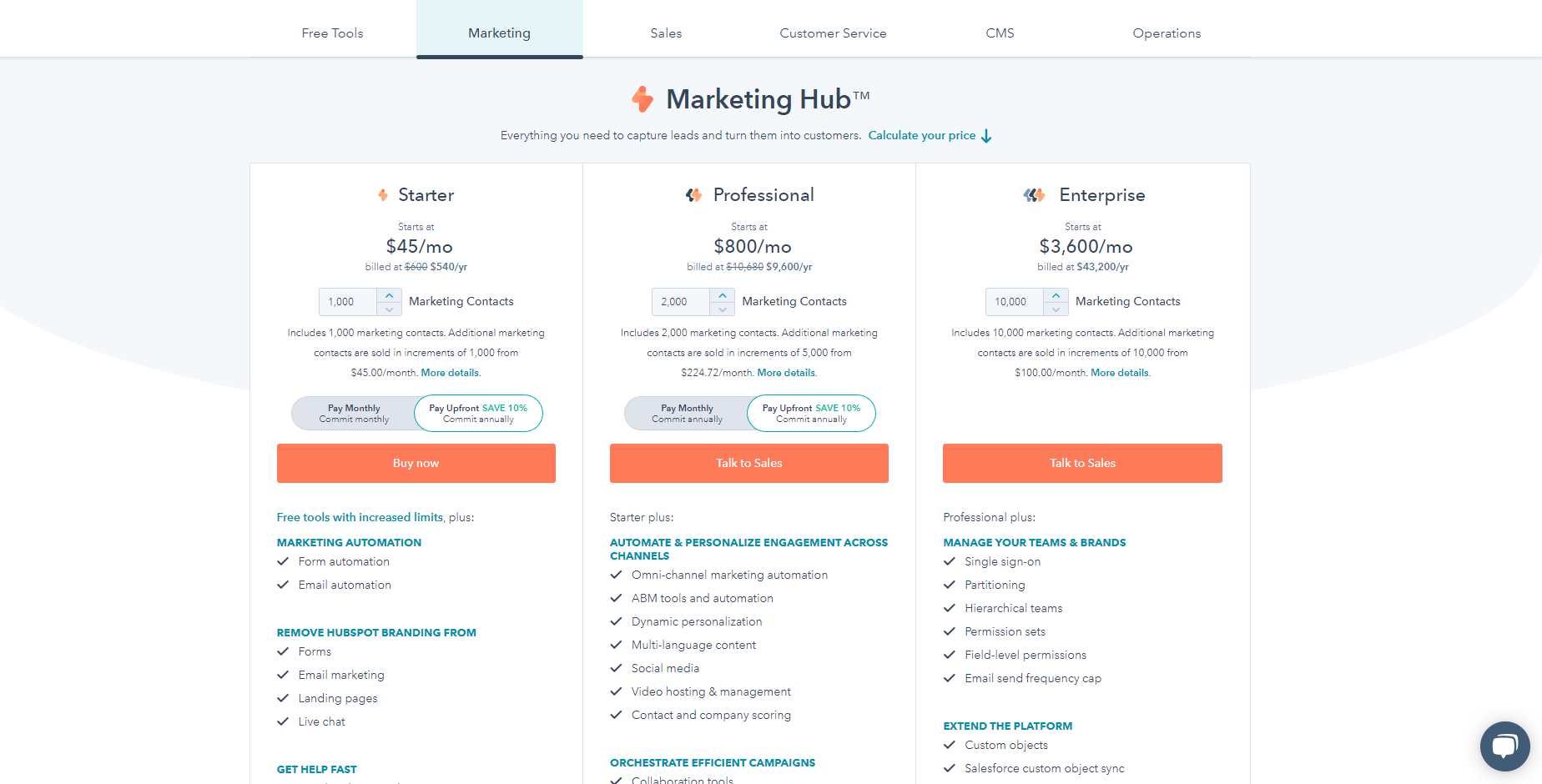 For as low as $45/month or $540/year, users can track and collect 1,000 contacts using the tool's marketing automation features.
However, website analytics is only available on Hubspot's higher plans starting at $800/month. You can also unlock premium features such as omnichannel marketing, campaign optimization (A/B testing, ad conversion event, etc.), and advanced support.
Pros and Cons
Lets you track your marketing automation campaigns for better analysis
Huge cost gap between its lowest plan (Starter) to the next highest (Professional)
Focused more on sales and marketing data, not on website
---
Kissmetrics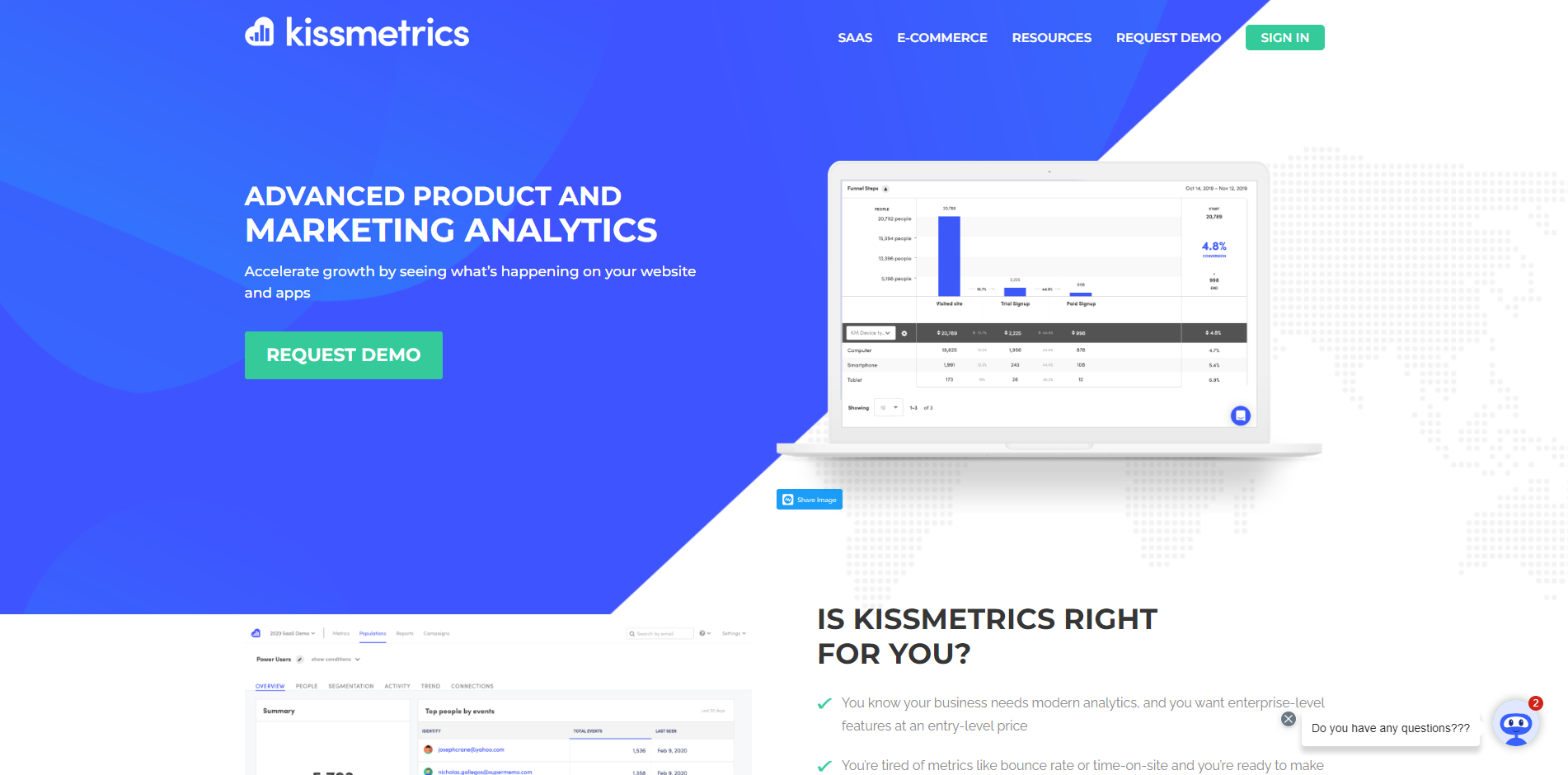 Kissmetrics is another Google Analytics alternative that tracks people, not just page views. It enables you to identify loyal customers so that you can further enrich your relationship with them as well as identify non-paying members so you can come up with ways to convert them into clients.
The tool is divided into two: Kissmetrics for SaaS helps you get more users to sign up for an account in your software and reduce churn rate, while Kissmetrics for E-Commerce helps you optimize your checkout funnels, turn buyers into brand followers, and improve their lifetime value.
Pricing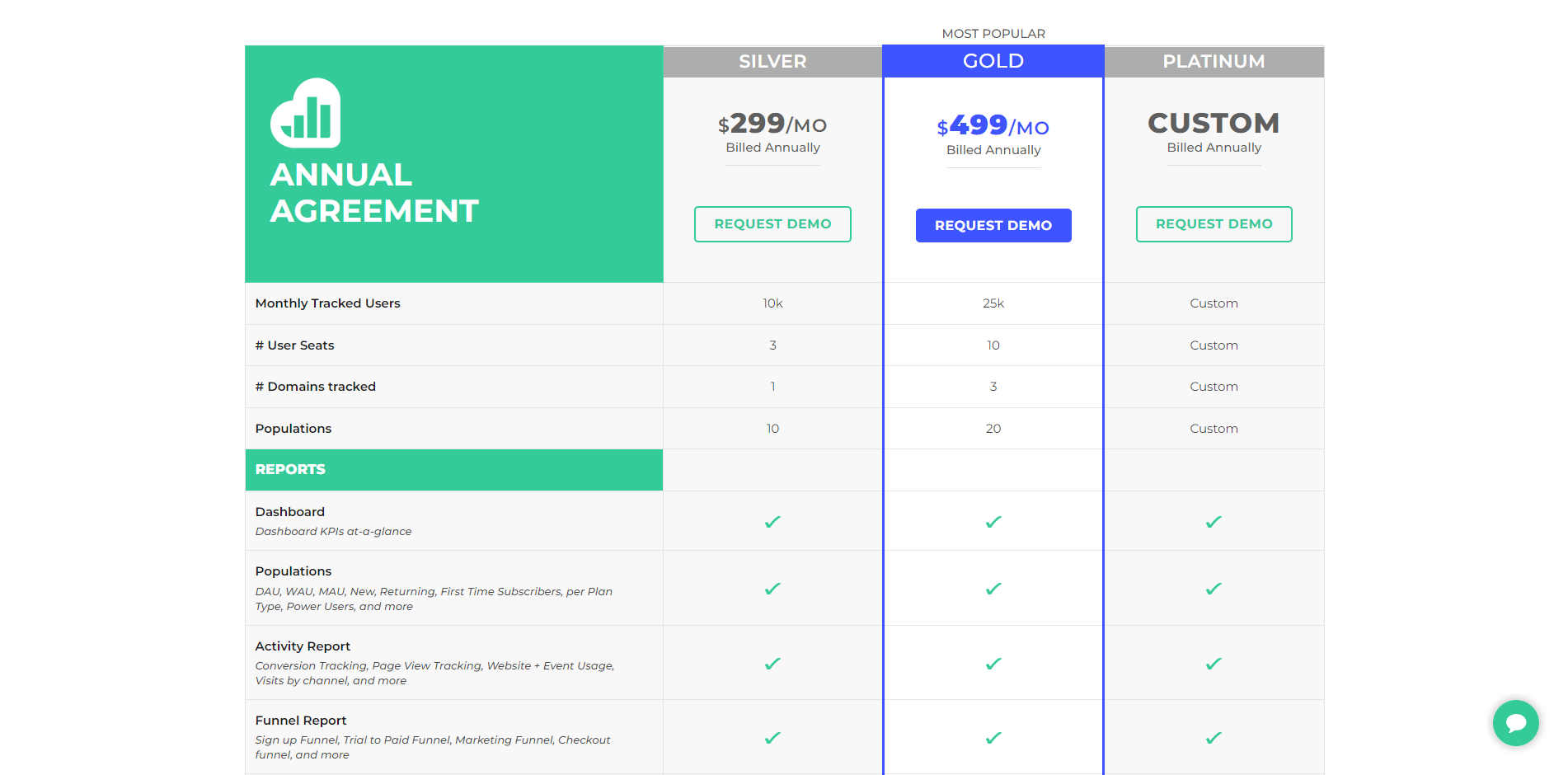 The lowest plan for Kissmetrics for SaaS is $299/month billed annually. It lets you track 10,000 users every month and collect data you can use to identify your software's population, conversion tracking, marketing funnel, and others.
Also, Kissmetrics for E-Commerce costs the same but for 25,000 monthly users.
Finally, higher plans for both include the ability to track more monthly users, A/B testing, cohort reports, and more.
Pros and Cons
Offers qualitative analytics that isn't available on other tools
Very niche-specific
Has a high learning curve for installing and making it work
---
Matomo
Matomo Analytics is an open-source, real-time analytics tool that lets you protect user privacy via data ownership.
The software also doesn't implement data sampling that Google Analytics does. Matomo provides you with accurate data to help you make better decisions.
The tool is available as a SaaS (Matomo Cloud) or self-hosted platform (On-Premises).
The former is easy to use and works similarly to Google Analytics, while the latter is free for download but requires technical knowledge to set it up properly.
Pricing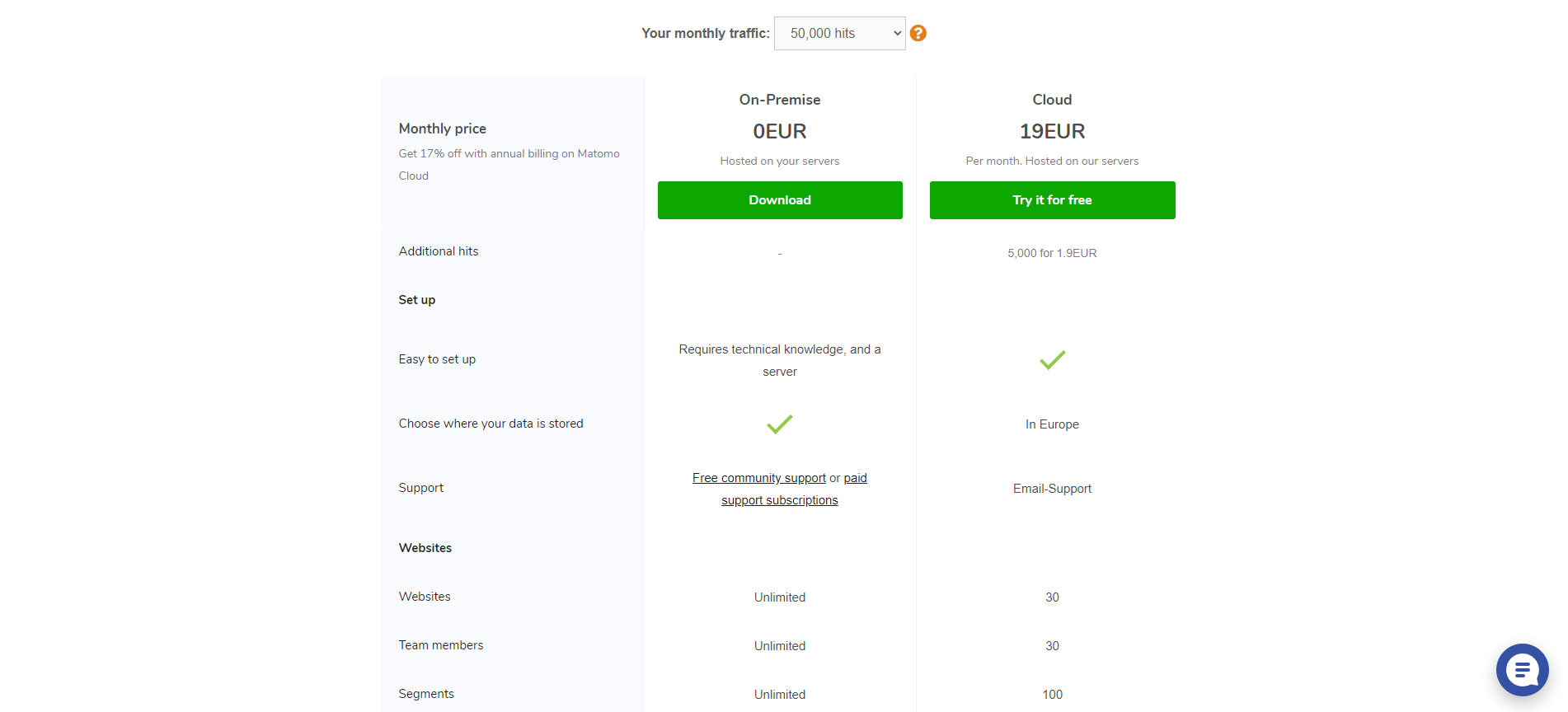 Matomo Cloud costs 19EUR per month for 50,000 monthly visitors. That price increases if your website generates much higher traffic. All Cloud plans let you track 30 websites, create 100 segments and 150 goals, and give access to 30 members max.
Matomo On-Premises is free and has no limits, as you have complete control over the data you gather. But you need to host it on your servers and make it work first before you can use it.
Pros and Cons
Lets you fully customize the platform to provide you with all the info you need
Easy to use once you get the ball rolling
User interface needs work
Can load slowly due to the large sets of data the tool collects
---
Microsoft Clarity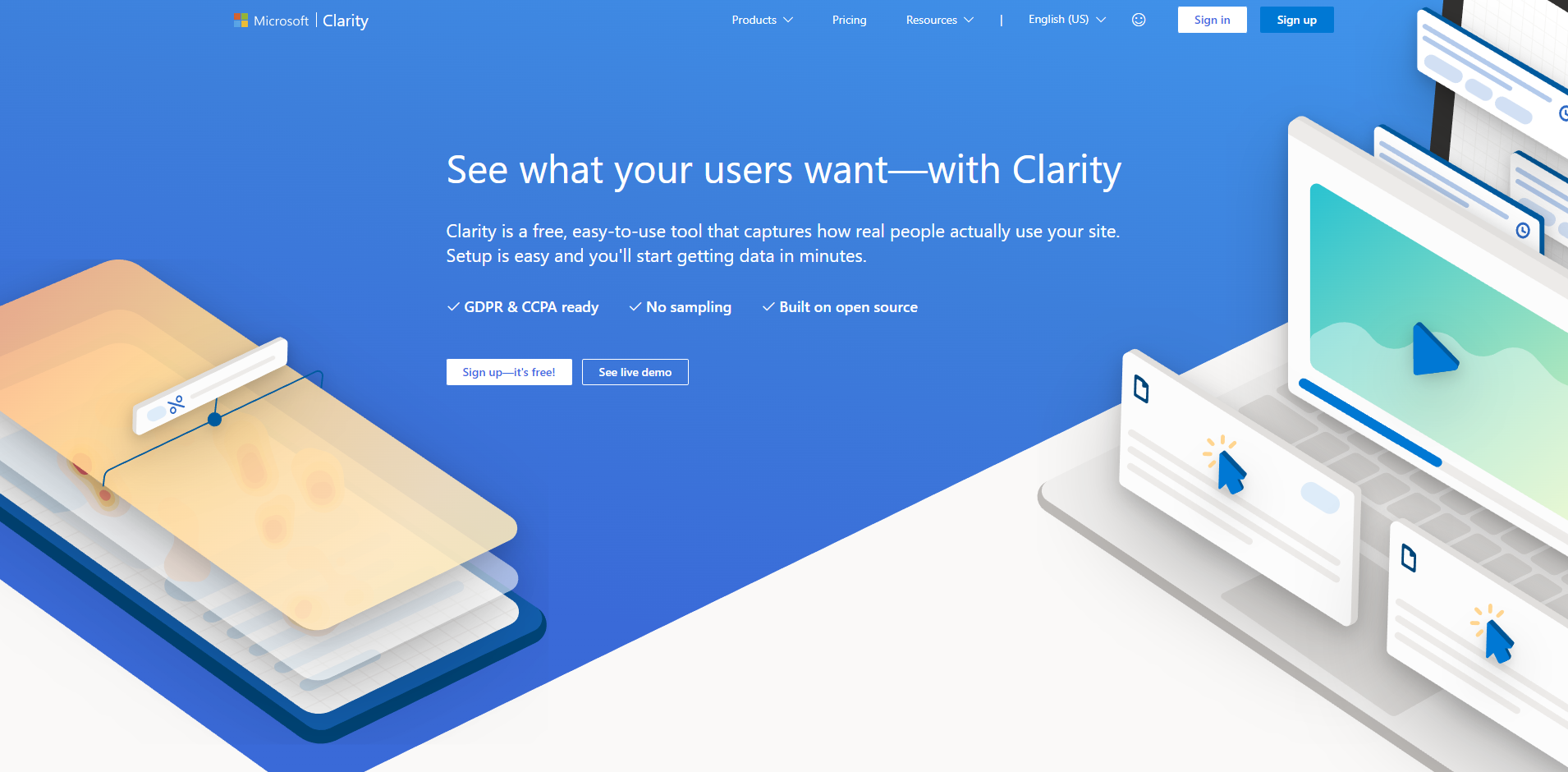 To be clear, Microsoft Clarity works best as a Google Analytics complement instead of an alternative. As a user behavior tracking tool, you can see which buttons users click on your page the most and how far down the page they scroll via its heatmaps feature.
Its session recordings feature lets you see how visitors navigate your website and see if they're using it the way you designed it. Coupled with the tool's powerful insights, you can unearth opportunities to improve your site's performance and conversion.
Pricing
Microsoft Clarity is free for use. Everything is unlimited (traffic, heatmaps, websites, and team members). It's also open-source and doesn't implement data sampling.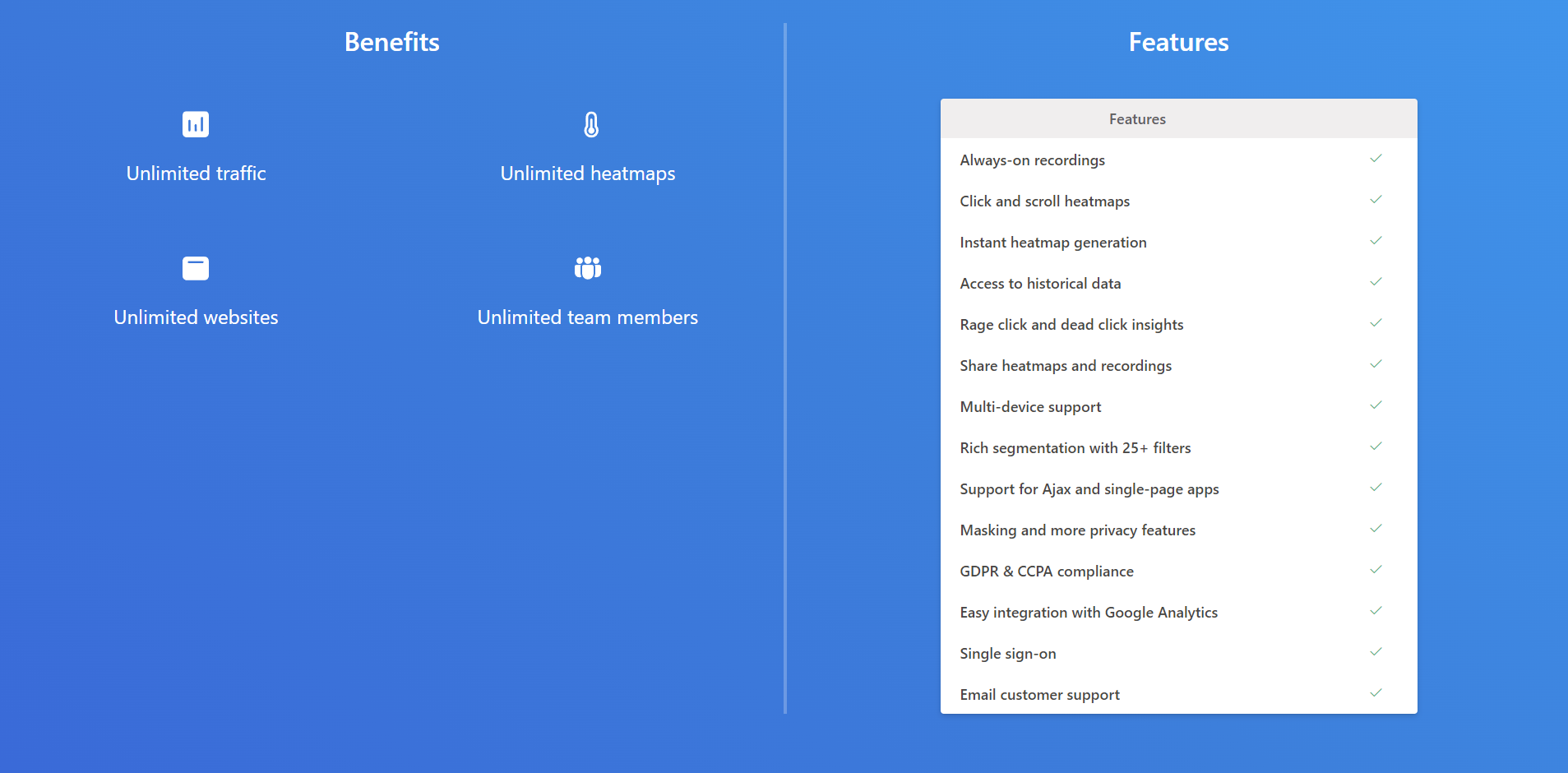 Pros and Cons
Free, easy-to-use tool with unlimited features
Seamlessly connects with your Google Analytics account
Doesn't have enough features to become a true Google Analytics alternative
---
Mixpanel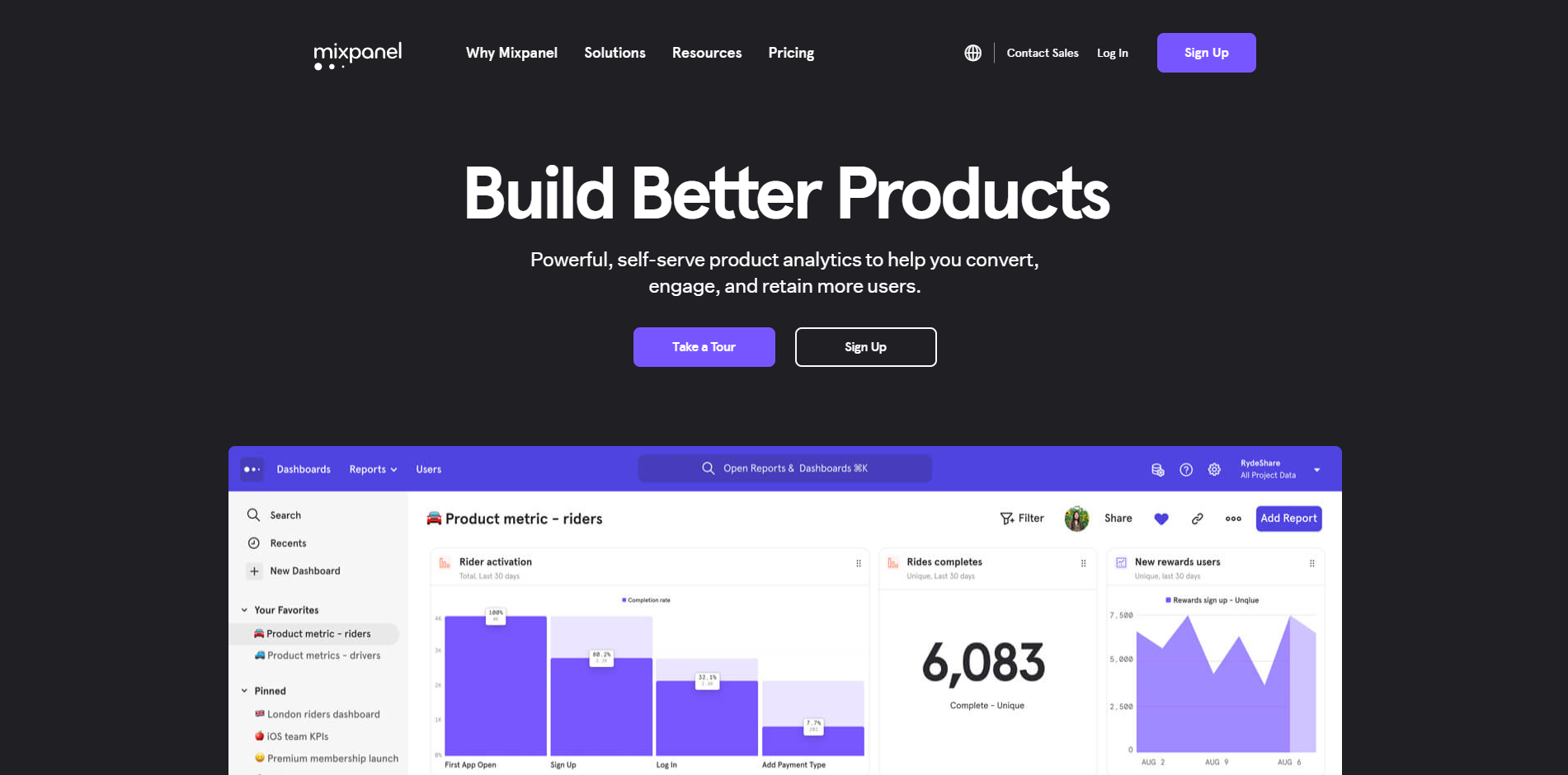 Mixpanel is a product analytics tool in the same vein as Kissmetrics. It helps you understand how customers are using your software and which features are used the most and least. From here, you can find ways to engage with active and non-active customers effectively.
Using its funnel report, you can create retroactive funnels to determine customer journey and measure its conversion rate. The tool's retention report lets you see how long (or soon) users stick with your software and why.
Pricing
Mixpanel has a free plan for tracking 100,00 monthly visitors with access to unlimited data history and core reports.
Paid plans start at $25/month with access to additional features like unlimited saved reports, data modeling, and group analytics. But you must build your plan from scratch, starting at zero tracked monthly users. Increase the number of tracked users, and the price increases as well.
Pros and Cons
Extensive reports to help users understand the improvements their product needs
Tracks users in real-time effectively
Better customer support and resources on how to use it properly
---
Piwik PRO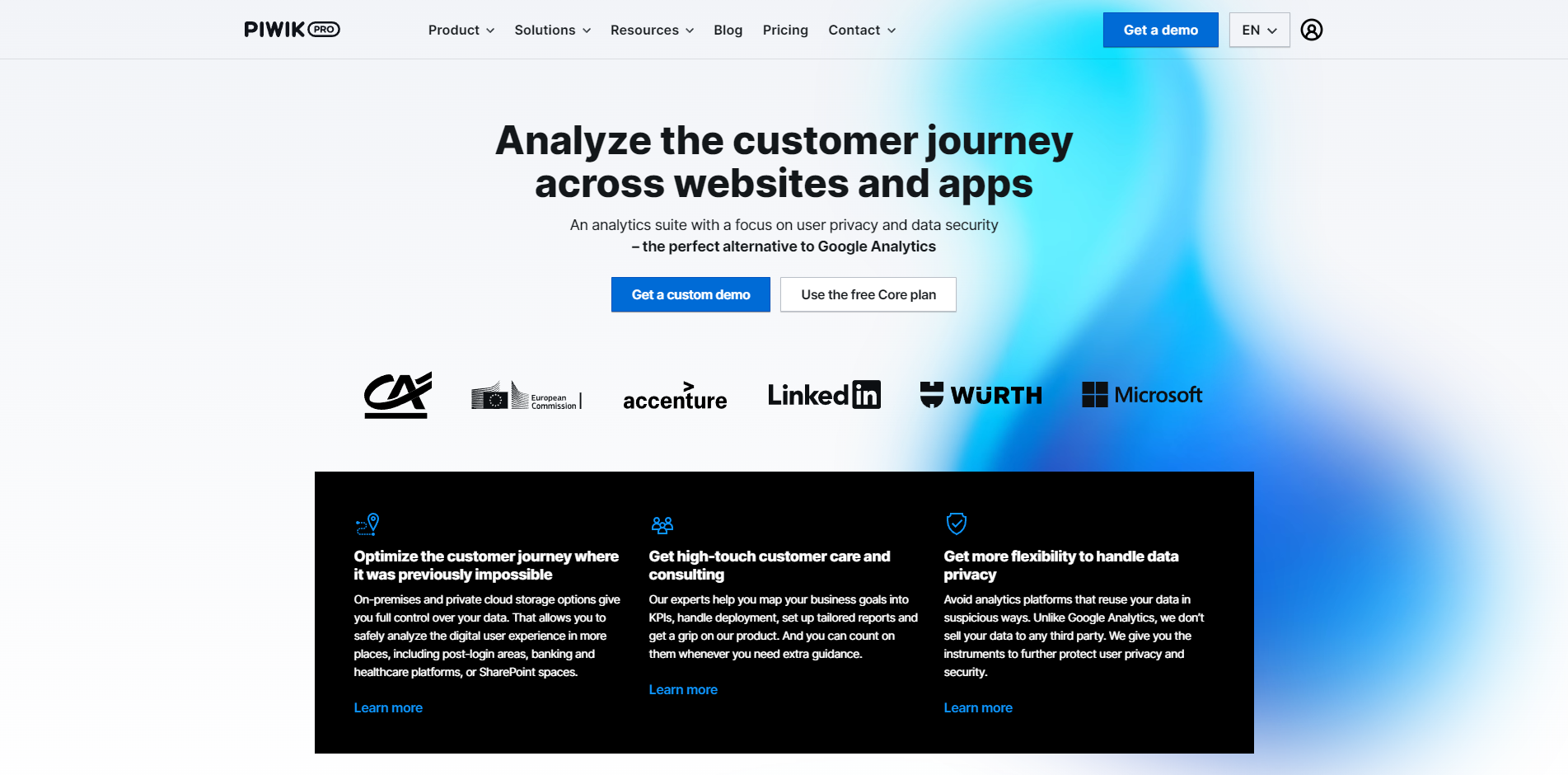 Piwik PRO is one of the best Google Analytics alternatives thanks to its reliable analytics data. By tracking the user flow from your customer journey, you can better understand why your funnel isn't converting as often. You can also use the same data to develop insights on improving your site's performance.
This platform lets you access raw data from your custom dashboard and export it as comprehensive reports in various formats.
Pricing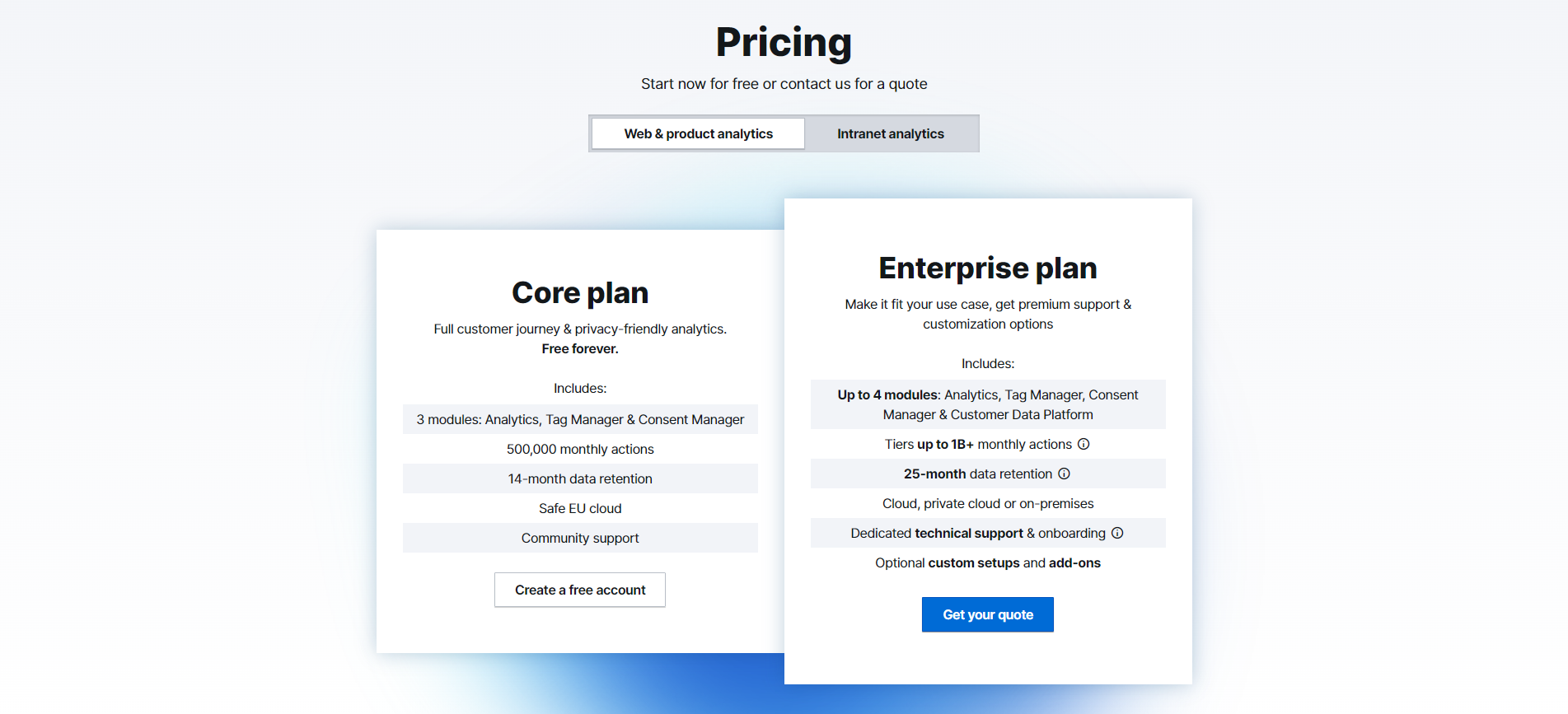 Piwik PRO analytics suite offers two plans: Core and Enterprise. The former is free forever and gives you access to Analytics, Consent Manager, and Tag Manager modules for 500,000 monthly actions.
The latter provides more modules, monthly actions, and longer data retention. You have to reach out to the site to receive a full quote.
Pros and Cons
Seamless authorization management with the Consent Manager feature
Tag management lets you organize tracked user metrics better
---
Plausible Analytics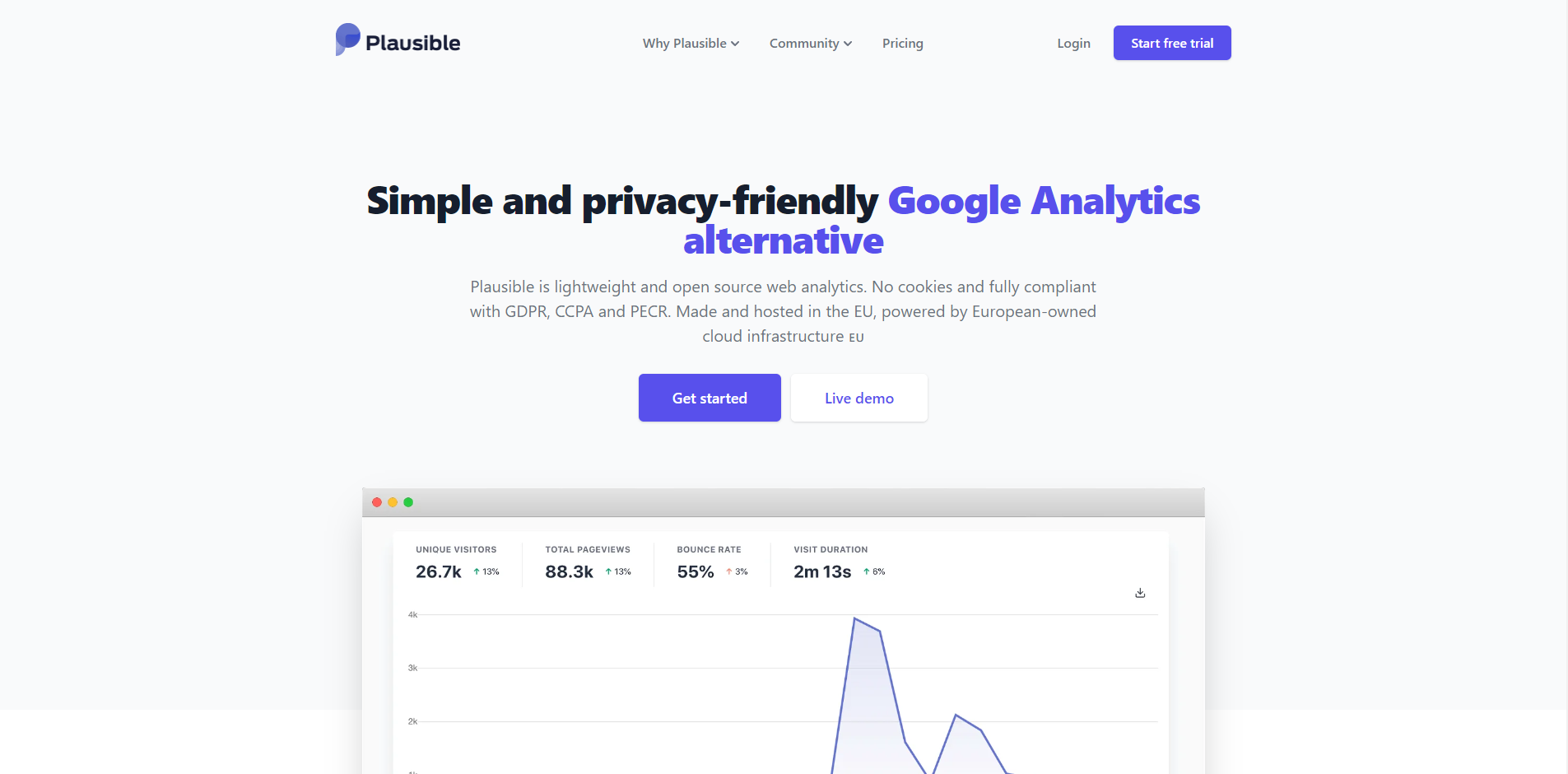 Plausible Analytics offers another lightweight, privacy-friendly alternative for collecting data and analyzing site visitors.
Arguably its best feature is its simplicity—it shows the most important metrics about your website on a single page without the unnecessary menu and the need to create custom reports.
Other features include audience segmentation for your chosen metrics, creating custom events, and making the results public or sharing them with your team members.
Pricing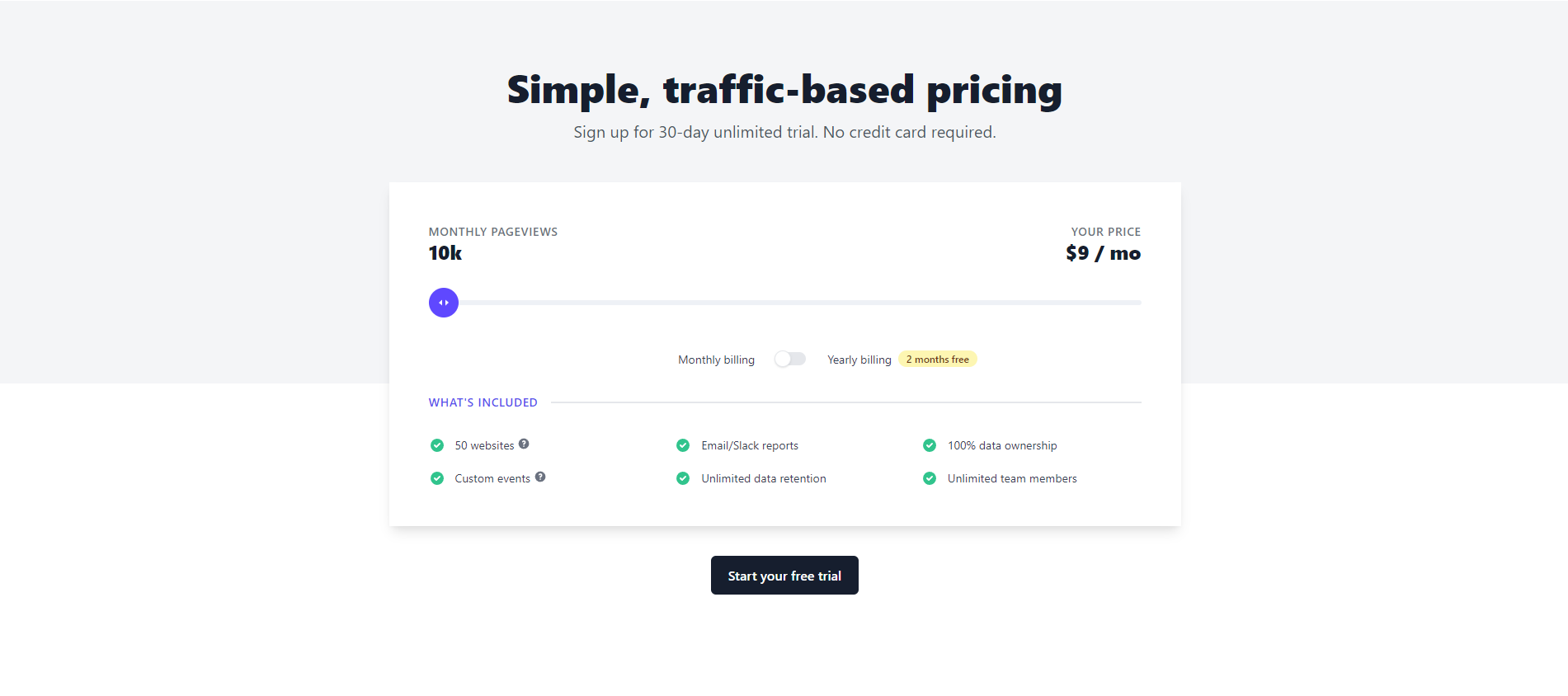 For $9/month, you can track 50 websites max with 10,000 monthly pageviews. The price increases if your sites attract more than 10,000 visitors a month. All plans include data ownership, unlimited data retention, and custom events.
All plans have a 30-day free trial.
Pros and Cons
Simple and easy to use so that everybody can understand what the data on the dashboard is trying to say
Doesn't offer the wealth of data that power users want from their analytics tool
---
Simple Analytics

If you're tired of Google Analytics making websites unsafe for users, Simple Analytics is yet another ethical alternative, as privacy protection is its priority.
The tool doesn't store personally identifiable information (PII), so you don't have to ask for consent from visitors to collect their data. It also encrypts your analytics data, so its EU-based servers won't be able to collect them.
Pricing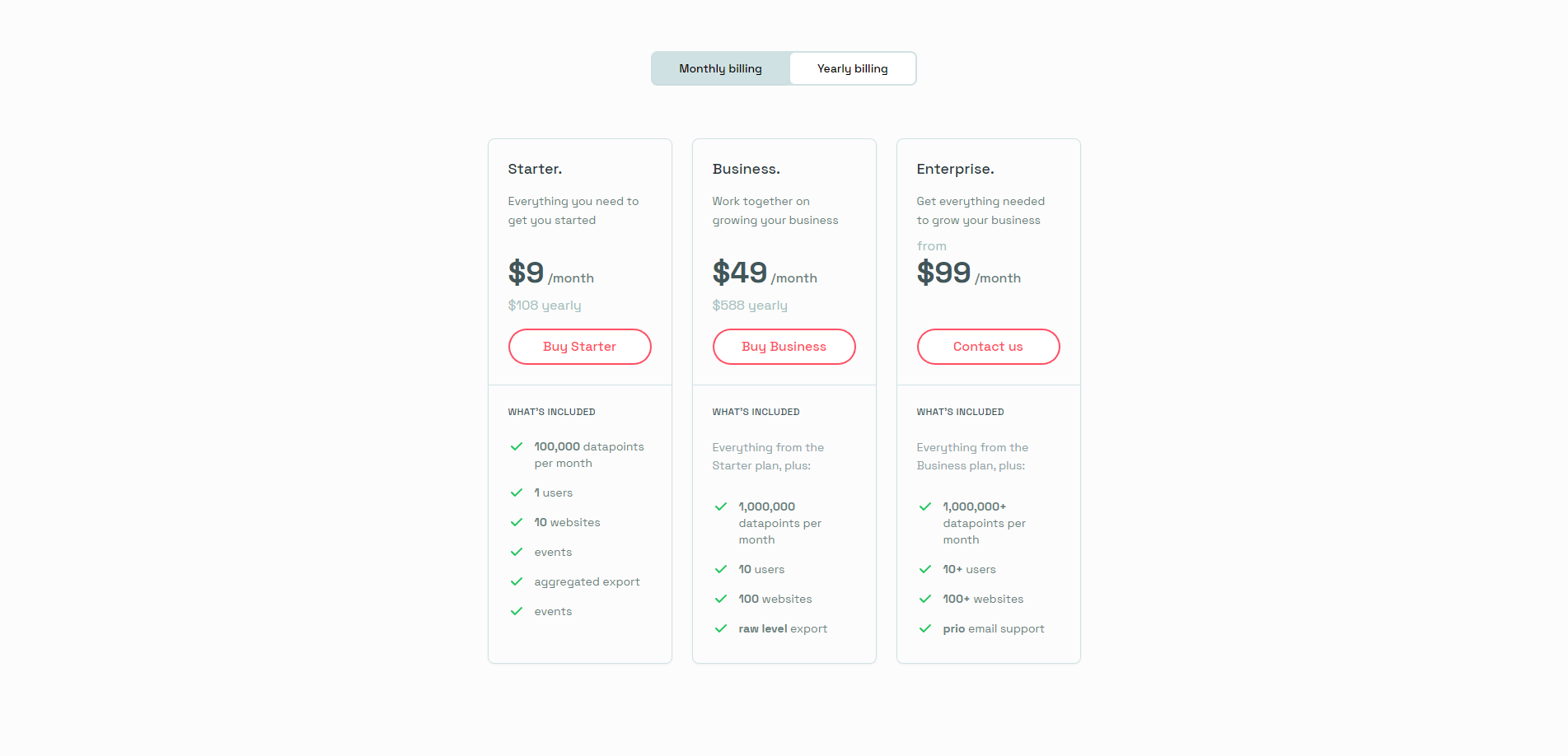 For $9/month, you get a single seat to track ten websites at 100,000 data points per month. Higher plans give you more seats, websites to track, and monthly data points to monitor. All plans include custom events creation, aggregate export, and more.
You can sign up for a 14-day free trial and take the tool for a spin.
Pros and Cons
Import Google Analytics data into the platform, making the transition much more accessible.
Export data to your analytics slack to help improve your workflow.
As with most cookie-less analytics tools, it doesn't collect as much data as you'd want.
---
Woopra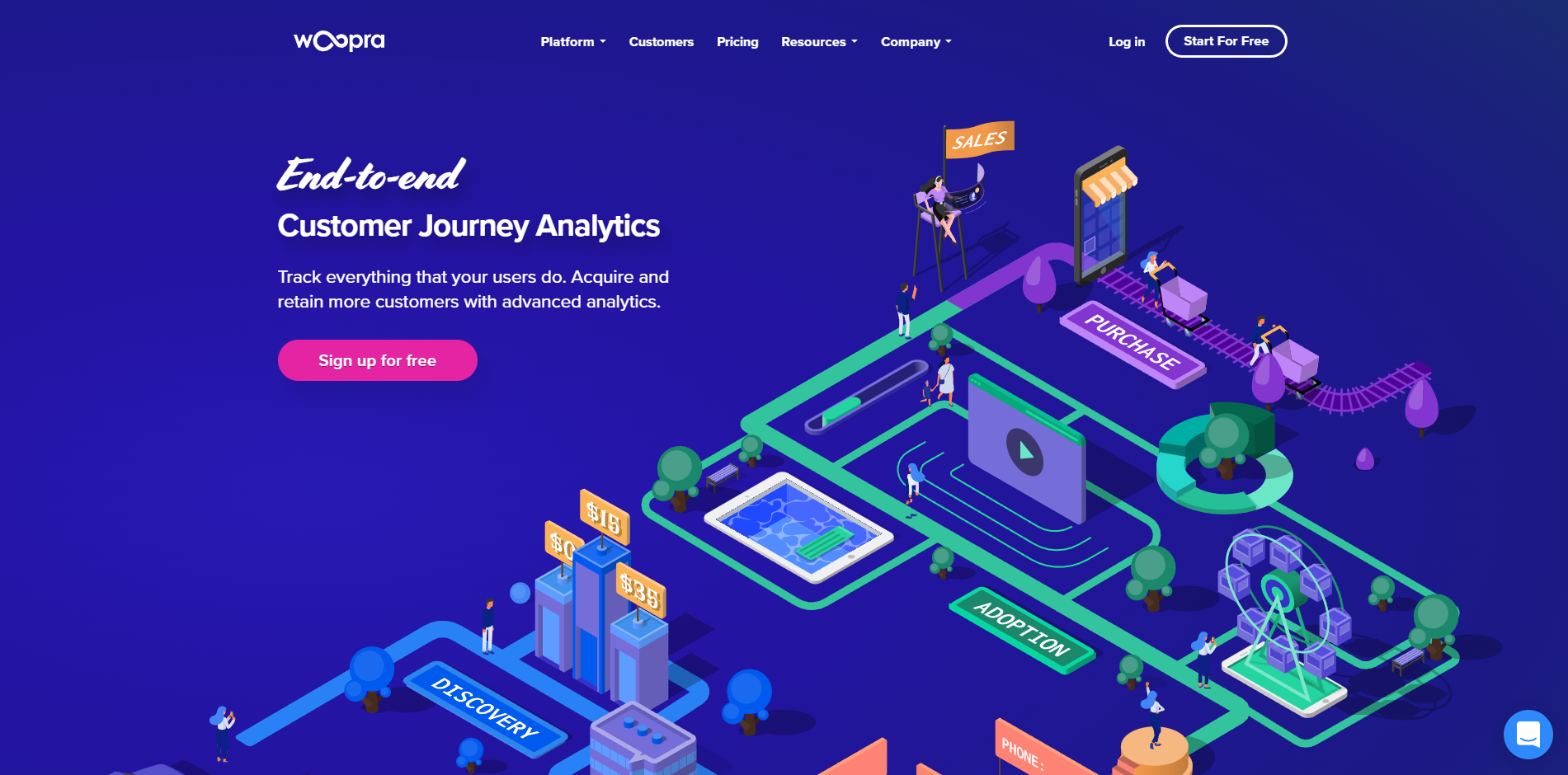 Another product analytics software, Woopra tracks every step of your customer journey to help you understand how to make your user interactions more meaningful. In doing so, you can expedite your company's success by generating more customers and keeping them.
The tool uncovers opportunities for growth based on information gathered from your product, marketing campaigns, and website. The tool reveals these patterns by monitoring user trends, cohorts, and retention reports.
Pricing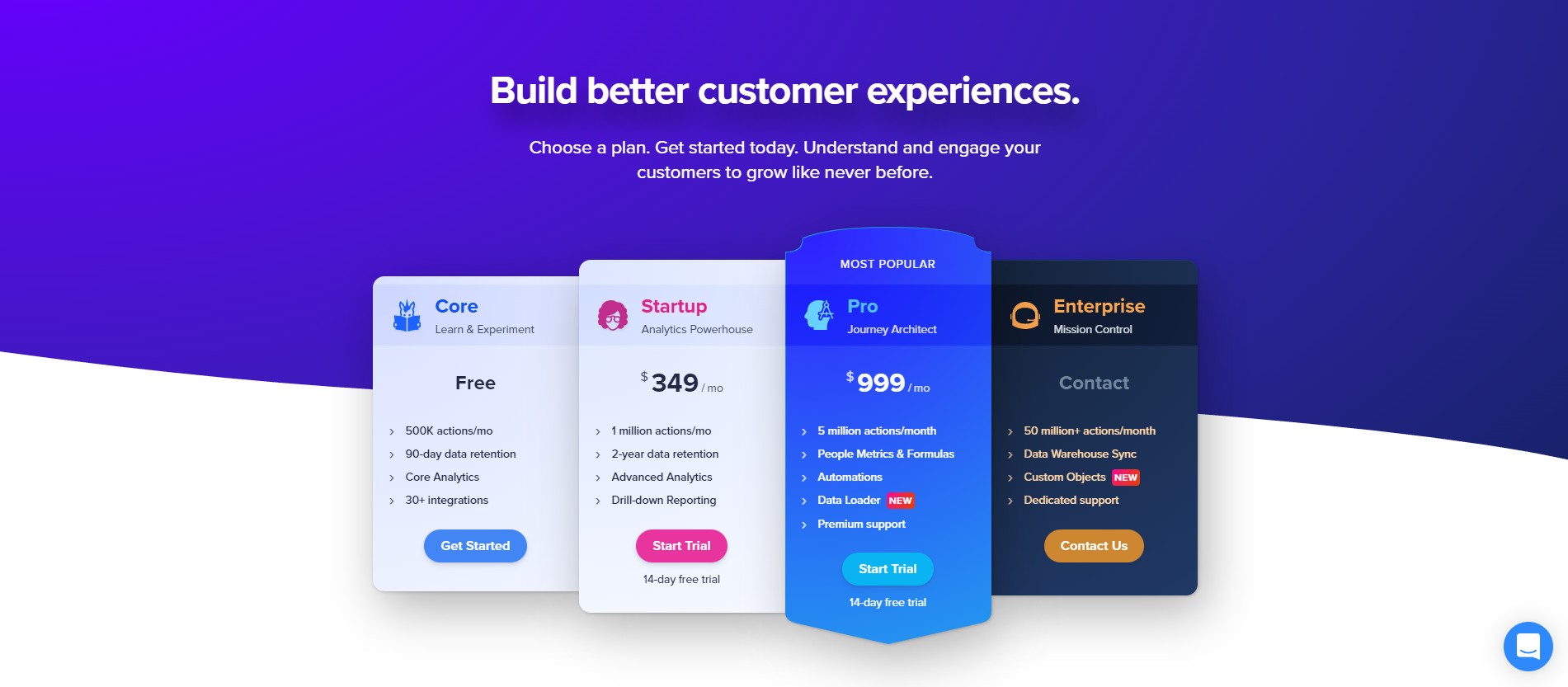 Woopra has a free plan that gives users access to its core analytics and 90-day data retention as long as they have less than 500,000 monthly website actions.
Paid plans, starting at $349/month, provide more advanced analytics features such as behavioral segmentations, analyzing non-linear journeys, and drill-down reporting, to name a few.
Pros and Cons
Generous free plan
Really good funnel analytics reports for breaking down customer journeys
Customizing reports and dashboards can be a pain.
Final Thoughts
One thing is clear about all the Google Analytics alternatives above: they help keep the online world much safer and more private.
They allow you to collect data from website visitors without cookies or showing a cookie notification bar. You can then focus on getting website visitor data and unearthing their insights to improve your site's marketing strategies and conversion rates.
At this point, it's a matter of choosing the best Google Analytics alternative that suits your needs.
If you're looking for simple and cost-effective analytics tools, Clicky, GoSquared, Friendly Analytics, and Plausible Analytics fit the bill.
For those who want to track their customer journey and monitor user activity within their product, Kissmetrics, Mixpanel, and Woopra are great choices.
Finally, tools like Clicky and Microsoft Clarity make tracking heatmaps and visitor sessions easy.
Make sure to test the tools first before you decide which Google Analytics alternative to use moving forward.
For more information on using Google Analytics for blogs and the type of metrics you can expect to track with Google Analytics, these articles will help you compare to these alternatives.