It's easy to find products to sell online – these days, people will buy just about anything on the internet. What can be tricky, though, is knowing how to sell online.
When it comes down to it, there are two main ways to start selling online: on a marketplace, or on your very own website. 
But which marketplace do you choose, and how do you even get a website?
Read on as we guide you down both routes. We'll show you how to sell online in a way that works for you, with 15 great options that'll help you to start selling in no time.
Choose what to sell
Before you start an online store you need to know what it is you're selling. 
You might already have that bit covered – maybe you've been making your own products to sell online, or perhaps you know a wholesaler who can supply you with bulk items.
Even with crystal clear online business ideas, it pays to do some extra market research. Selling products isn't easy when you can't attract customers, so find out:
What's trending: Products go in and out of style quickly. Finding trending products can help you to capitalize on high customer demand.
What's going to last: While trending products are exciting, think about which items will encourage customers to revisit your online store. 
What's profitable: Selling stuff online can come with tiny overheads, but think about how much money you'll make after sourcing your products.
Beyond trends and profit margins, don't forget your personal passions. If you're running your own store, you might as well be selling products that you like
Generate product ideas based on what excites you, as well as what you think potential customers will buy from you over any other online sellers. 
Ready to dive into the online world and start selling products? Let's show you how:
Sell online via your website
One of the very best online selling platforms is your own eCommerce store. In fact, if you're serious about being a retail business owner, it's essential – here's why:
Having your own online store will open you up to tons of opportunities. You can sell products to anyone in the world and guarantee that you're providing excellent customer service.
A standalone online shop is key if you want to build an eCommerce brand, too. 
Being able to tailor each search engine optimization (SEO) and marketing strategy, your online store will help boost brand awareness like no other eCommerce platform.
But you're here to find out how to sell online using your own eCommerce website. 
How do you get an online store? How do you sell products online without the help of a bigger eCommerce platform? We have the answers: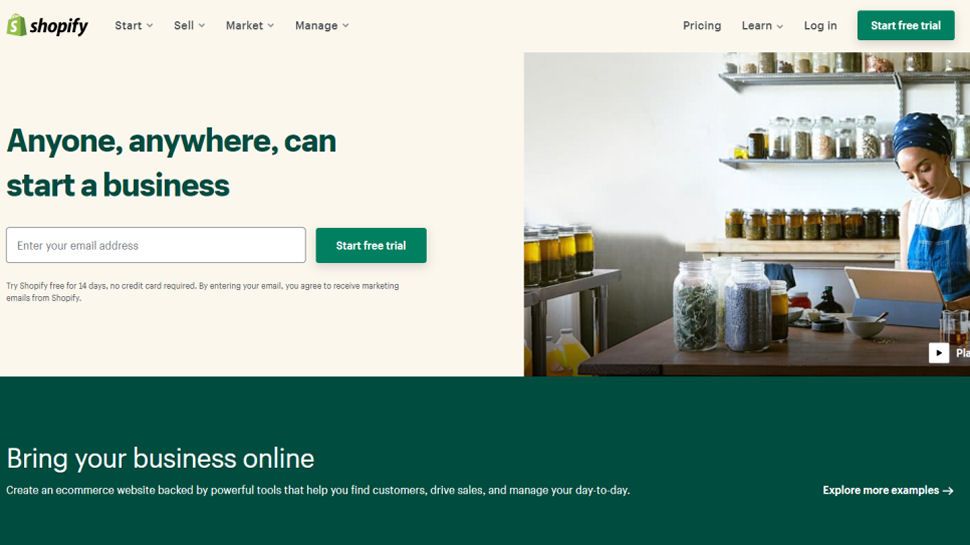 1. Shopify
The easiest and most affordable way to get an online store is by using a website builder. You'll get a custom layout and a secure, hosted platform, as well as all the tools for success.
With plenty of options to help you start selling online, Shopify is one of the best. This dedicated eCommerce website builder has all the essentials needed to launch a successful online store. 
Boasting a long list of sales tools, like multichannel integration and sophisticated product management, it's a favorite of many successful eCommerce businesses.
Pros
Designed to be used to maximize online selling, Shopify is packed with features to help build a profitable business. Let's take a look at the advantages of this platform:
1. Inbuilt point of sale (POS) software means you can use Shopify for selling online as well as in a brick and mortar store – ideal for retail entrepreneurs.
2. Shopify's app allows you to sell both physical or digital products in your online store, plus it helps simplify inventory management.
3. There are add-on themes and apps available if you want added site functionality and a more premium feel to your website.
Cons
Although it's one of the best eCommerce platforms out there, Shopify does come with some disadvantages – let's check them out:
1. There are limited free templates available for building your eCommerce store, with only 8 to choose from. This might be frustrating if you're on a budget.
2. You'll be charged transaction fees unless you use Shopify Payments, and there are only 10 free themes
, so costs will add up.
3. The SEO and marketing tools aren't as sophisticated or detailed as some other website builder options.
Fees
The price of a plan with Shopify ranges from $29 to $299 per month depending on your online selling goals. You'll also be charged 2.2% fees per transaction.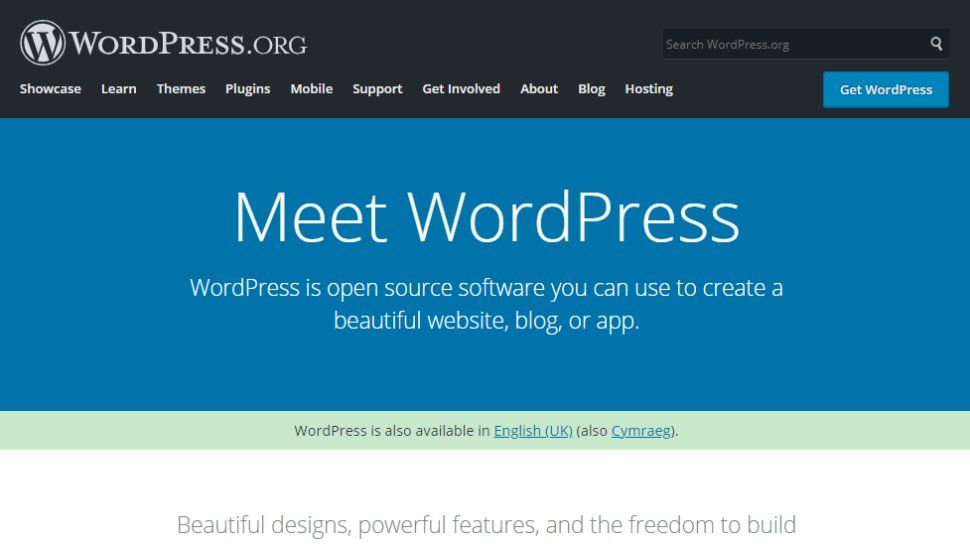 2. WordPress.org
A powerful content management system (CMS), WordPress is behind millions of websites and online stores. If you're serious about building an eCommerce business, it's worth considering. 
Just bear in mind that it is a little more complex to use than a website builder. You'll need to pay separately for WordPress hosting and it helps to have some coding knowledge.
Pros
As long as you're feeling confident and have money and time to spend on building your online business, WordPress has tons of advantages, including:
1. Loads of flexibility when it comes to designing the perfect layout for your website, with hundreds of custom themes and plugins available.
2. You get to build the eCommerce features into your site, meaning you can tailor your store for optimized online selling. 
3. The options for integrations are unlimited, so you can maximize things like social media marketing and product management.
Cons
Of course, knowing how to sell online means knowing how to avoid the pitfalls, and there are some inevitable downsides to using WordPress:
1. There's a steep learning curve for beginners – the WordPress interface isn't the simplest to use, and integrations are often complex to add.
2. It can be costly to use WordPress to its full potential. After paying for hosting you'll be faced with fees for premium plugins.
3. If you don't know which integrations are necessary for selling products online, your eCommerce store might feel clunky to use.
Fees
WordPress is free to use, but you'll end up paying for hosting as well as any premium plugins and themes. It can end up costing anywhere from $10 to $100 per month. 
3. Zyro
A relative newcomer to the website builder scene, but packed with cool features for eCommerce stores, Zyro is a great option for beginners and small business owners.
If you're keen to build a beautifully branded store but need to know more about building a marketing strategy or preparing to scale your business, Zyro is a great option.
Pros
Offering fully-hosted sites with free SSL certificates that are built to show up on search engines, Zyro has a lot to offer if you want to start selling online. Here are the main pros:
1. Customizing the layout of an online store is fun and intuitive. Zyro uses a drag and drop editor with a simple interface and a library of stock photos.
2. All the tools for a successful retail store are there, from sales tax calculators to inventory management dashboards and multichannel integrations. 
3. Zyro also offers an AI toolkit to wow potential customers with your logo design, optimized copy, and enhanced product images.
Cons
There's the chance that Zyro isn't right for you – if you already know how to sell online or you have grand ambitions, here are the possible disadvantages:
1. Features are still limited as Zyro grows, meaning that you'll get necessary site functionality and a cool custom feel, but fewer extras.
2. You can list up to 2500 products online, which might feel more restrictive than other builders which have unlimited packages.
3. The interface might feel too simplified for experienced users who want access to a longer list of add-ons and plugins.
Fees
You can start selling online from $27.50 per month with Zyro, which offers a 30-day money-back guarantee. There are no extra fees for transactions, leaving you free to make sales.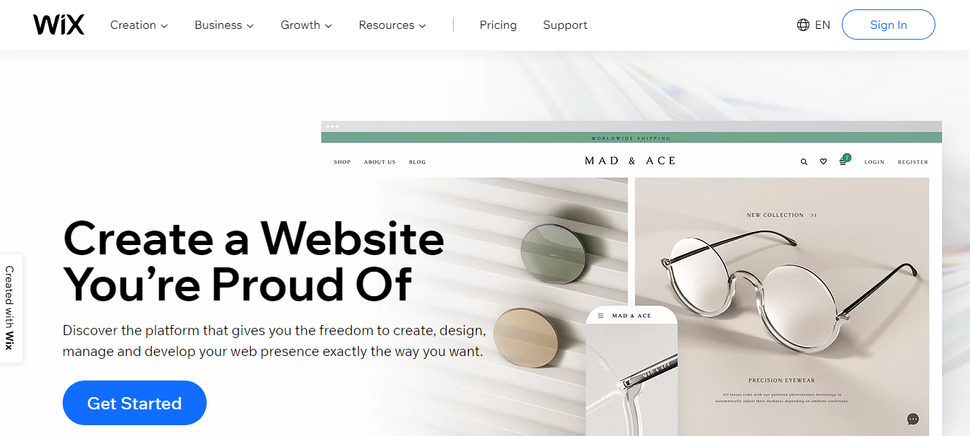 4. Wix
Another super simple option for eCommerce beginners, Wix can help you to get online and sell online with ease, thanks to its user-friendly interface.
This website builder even provides an artificial design intelligence (ADI) tool which can generate a site layout for you – perfect if customizing online platforms sends you to sleep.
Pros
Although it can do all the hard work for you when it comes to design, Wix also has a full-fledged editor and plenty of other features. So what are the main pros? Let's find out:
1. There's a lot of flexibility and you can customize your chosen template as much as you want, giving you a truly unique online store.
2. Wix offers a comprehensive knowledge base which allows users to learn as they go and optimize for online sales. 
3. You can upload unlimited products and, unlike Shopify, there are no added fees on transactions to worry about. 
Cons
Even the most flexible website builders come with their limitations, and Wix is no exception. If you want to sell online, consider the cons beforehand:
1. You won't…


Read More:How to sell online: 14 ways to sell your products in 2021